Dhaniya podi rice or coriander seeds rice, a mixed rice recipe, made with coriander seeds spice powder and rice. It is an easy to make lunch box recipe.
I love rice, being an Indian, a south-indian that too, i cannot live without rice. Mixed rices also known as kalanda saadam are my favorites. Firstly it gets ready in a jiffy, with some crisps by side, you can enjoy a scrumptious meal.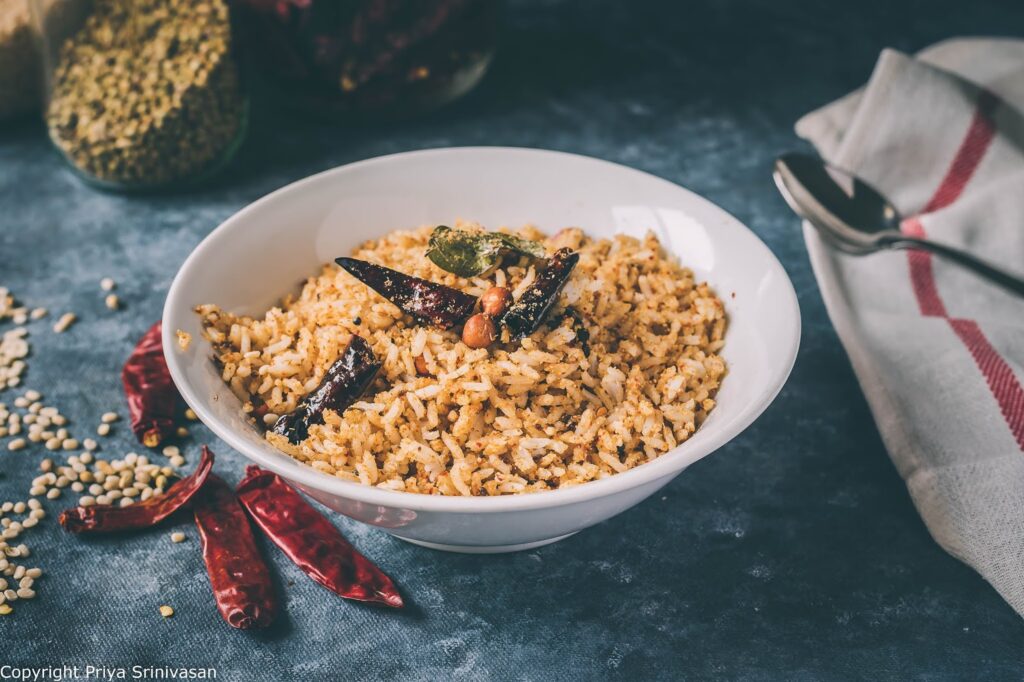 Dhaniya podi rice recipe, one such quick mixed rice recipe. A spice powder made with coriander seeds, urad dal and chilies. This aromatic spice mix is dry roasted and ground to powder. The spice powder can be stored in the fridge for 2 weeks. Add the spice powder to cooked rice, mix well with a colorful tempering and you have a finger-licking rice dish.  
Advantage of such quick mixed rice recipes are they are very good for travel. They are almost dry, so need to worry about leaky contents. This coriander seeds/Dhaniya podi saadam, with the right spices and a delicious tadka makes it mouthwatering to enjoy during travel.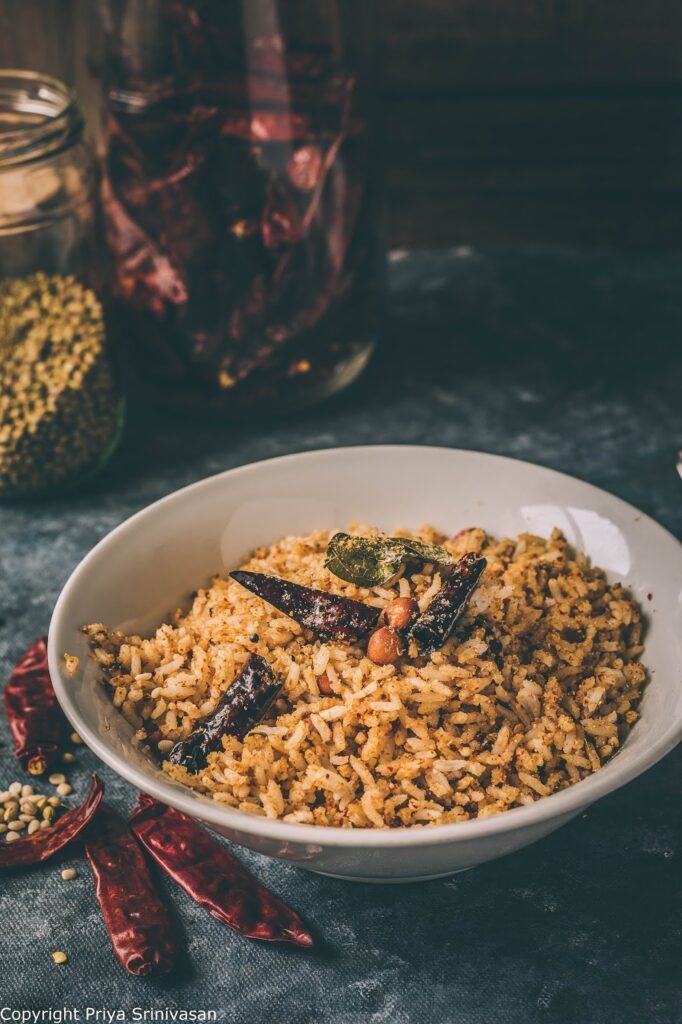 The aroma of coriander seeds would engulf you the moment you take a mouthful of rice in. Coming to the spice powder, this can be made in a jiffy on the day you are making this rice. But, if making a large batch, then make it ahead and store in the fridge for a day or two.
I personally won't recommend keeping this Coriander seeds/Dhaniya podi for longer as it might lose its aroma and vigor. 
While doing the tadka/tempering/thalipu, be generous with the kara-kara/cripsy ingredients. Chana dal, peanuts add a nice crisp to the rice, so when you eat you enjoy a whole different flavor when you bite into those crisp elements.
The Ingredients
Coriander seeds, called Dhaniya vathal in tamil is the star ingredient of the recipe.
Urad dal, black gram dal adds a nutty flavor and also volume to the spice mix. You can use either whole urad dal or split urad dal.
Garlic, adds a wonderful flavor to the rice. Though it is optional, i would recommend not to miss it if you dont have any restrictions
Tamarind, adds a mild tartness/sourness to the spice which oomps the flavor of the rice.
Chilies, i have used red chilies as the spice.
Tempering ingredients, i love lot of crispy elements in my kalanda saatham, like peanuts, chana dal. If you dont prefer peanuts go for other nuts.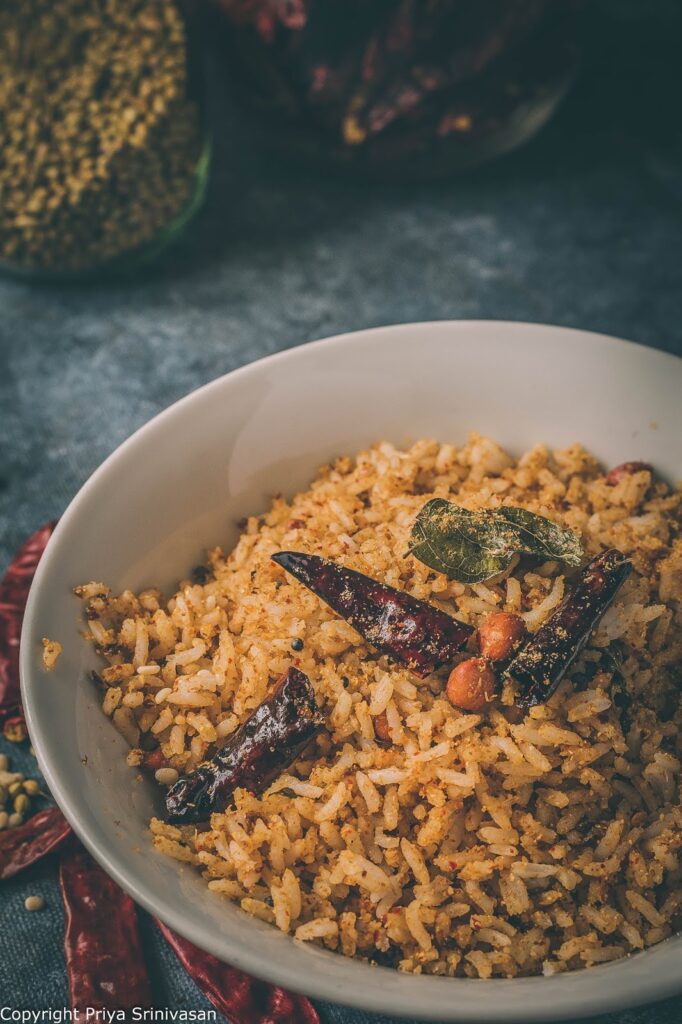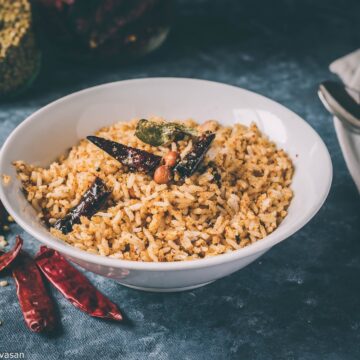 Coriander seeds rice|Dhaniya Podi saadham
Dhaniya podi rice or coriander seeds rice, a mixed rice recipe, made with coriander seeds spice powder and rice. It is an easy to make lunch box recipe.
Print
Pin
Rate
Ingredients
2

cup

Cooked rice

1.5

teaspoon

salt

or to taste
For the spice powder
1.5

tablespoon

coriander seeds

dhaniya vathal

2

nos

red chilies

i use round variety

2

teaspoon

urad dal

black gram

1-2

cloves

garlic

i used only one

a small marble of tamarind
Tempering
2

teaspoon

sesame oil

¼

teaspoon

mustard seeds

½

teaspoon

chana dal

2

tablespoon

peanuts

optional (see notes)

2

nos

red chilies

long chilies

a sprig of curry leaf
Instructions
In a pan, add a drop of oil and roast the coriander seeds and urad dal. When they turn golden brown, switch off the stovea nd add the red chilies, garlic and tamarind, they will get roasted in the residue heat. Let this cool down completely

Once the spices are cool enough, take them into a mixer and grind it to a not so fine powder.
Let us make the rice
In the same pan we roasted the spices, add the oil given under 'tempering', splutter mustard seeds, then add the red chilies, curry leaves, chana dal and peanuts. Roast them until the dal turnsgolden brown. Switch off the stove

To this hot tadka, add the rice and mix well.Now add the spice powder in batches and mix the rice.

The amount said above will make 2 cups of mixed rice, i have used around 1.5 cups of rice, i like the powder a bit strong in my rice, you can either use 1.5 cups or 2 cups according to your taste levels

Add salt to the rice and mix well, please note i haven't added salt to the spice powder, so add enough salt to the rice. Mix well and serve or pack for lunch.
Video
Notes
You can replace the peanuts in tempering with any other nuts. If allergic to nuts, omit them completely.
The above measurements will be enough to mix with 2 cups of cooked rice. Do not add more as you might not feel the taste of the spice powder. 
Serve this finger-licking kalanda saadam with a dry subzi by the side. I would personally like jodhpuri aloo or potato podimas as an accompaniment.
Mixed Rice Varieties
If you have tried this recipe and like it, give it a star rating or let me know in the comments below. You could also share it with me on Instagram using #icampinmmykitchen and tagging me @priyasrinivasan
You could follow me and my recipes on   Facebook  |  Instagram | Pinterest | twitter
Do you like the recipe, PIN IT