For this Month Daring Baker's Challenge,  Jason of Daily Candor challenged the bakers to prepare two dishes. One is the Armenian Nutmeg cake and the other is Armenian Nazook.  Armenian nutmeg cake is a twist on traditional coffee cake. The Cake has a 2 layers, a crunchy bottom and a soft fluffy baked top. The taste was different from the normal cakes we bake. Due the strong taste of Nutmeg, my kiddo didn't like it much, but my Hubby and his office buddies liked it most. These days, whenever i bake, i keep a slice or two and send the rest to my hubby's Office. Sharing means Caring and keeps the weight distributed!!!!!
This Cake is baked in a Spring-form Pan, since i didn't have one, i used removable-base pan. I will be posting the Armenian Nazook Recipe tomorrow.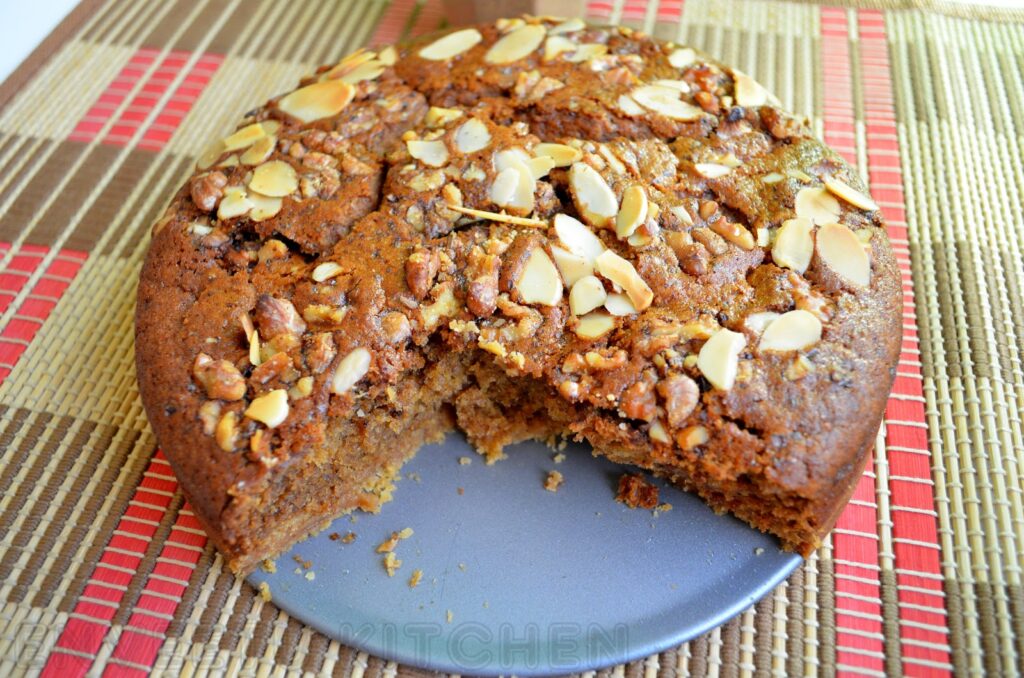 1 cup milk (i used Low-Fat)
2 cups brown sugar, firmly packed (see notes)
3/4 cup unsalted butter, cubed
1/2 Cup of Almond and Walnuts mixed
1 ad 1/2 tsp ground nutmeg 
1 tbsp Flax Seed Meal mixed with 1/4 Cup Warm Water
Preheat oven to 350°F/175°C.

Mix the baking soda into the milk. Set it aside.Sift together the flour and the baking powder into a large bowl. Add the brown sugar. Add the cubed butte and Work it through the Flour-Sugar Mixture with your hands.Take HALF of this resulting crumbly mixture into your springform pan. 

In another bowl, take the flax-seed meal mixed with water. Add nutmeg to it.Start mixing slowly with a whisk attachment and then increase to medium speed, Once it's mixed well,  pour in the milk and baking soda mixture. Continue to mix until uniform. Pour in the rest of the crumbly mixture. Mix that well.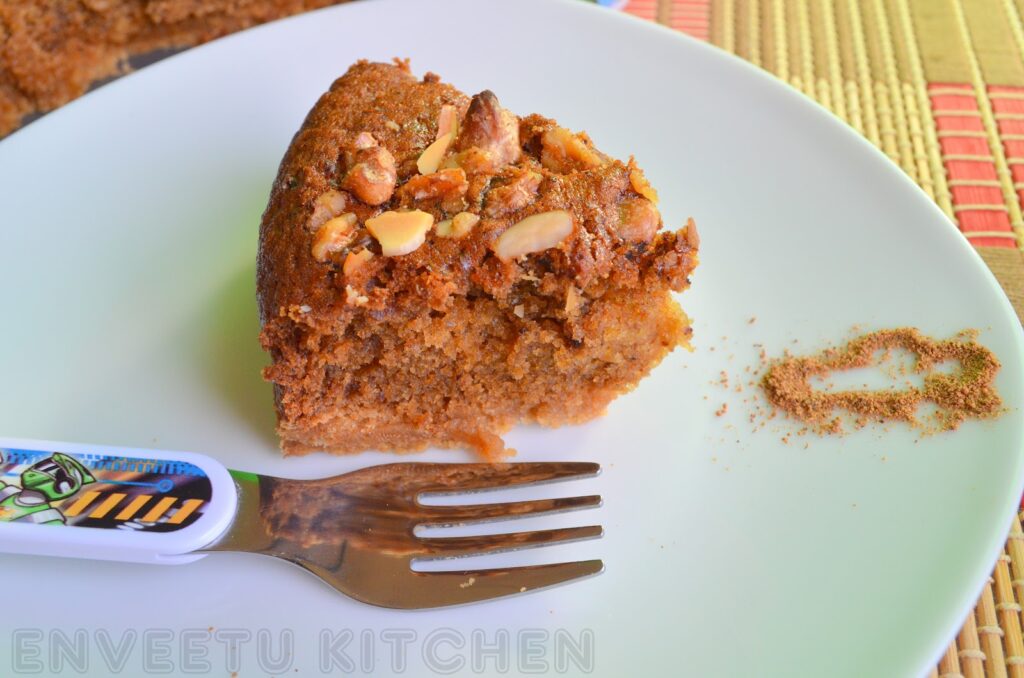 Pour the batter over the base in the spring-form pan. Gently sprinkle the Nut pieces over the batter.

Bake in a preheated moderate oven for about 40-50 minutes. You'll know it's done when the top is a golden brown, and an inserted toothpick comes out clean.

Allow to cool in the pan, and then release. Enjoy!
Notes
2 cups of Sugar was definitely more for us, if at all i make it next time, i will use only 1.5 cups or even 1 cup.
Bake time differs from oven to oven, so bake accordingly