Kuttu was home last week, had a mild viral fever, suddenly. Though it was a manageable fever, i didn't want to take risk by sending him to school and moreover, other kids might get infected too . When he is at home, he never rests, the moment fever goes down to normal, he will start his cutting and pasting work. Oh yes, he keeps making something from scrap paper, card-boards, if there is nothing available, he will start drawing. When he sits with all his craft supplies, bala will also sit with him and start pulling things from his hands!!! Oh my, third world war!!!! 🙂 Somebody rightly said, with two kids you become a referee! 🙂
When both the kids are at home, they want to eat something interesting, away from the usual stuff. Kuttu started pestering me to bake a chocolate cake, because it is long time, since i baked one. So, i made this Microwave Chocolate Cake for him. Both of them enjoyed it to the core, i baked only 2 small bowls, both had one bowl each and i had to bake one more for their Dad, when he came in the evening. It was very moist, fluffy and too good for a microwave cake.
Recipe Source: Tarla dalal's Cakes n Bakes
2 tablespoon cocoa powder
¼ cup Oil/ butter (i used oil)
½ teaspoon vanilla essence
1 or 2 teaspoon castor sugar/powdered sugar
Sieve the flour, cocoa, baking soda together in a large bowl. In another, mix together curd, sugar, oil and vanilla essence.

Add the wet ingredients to the dry ingredients, add water and whisk well to combine.The batter must be smooth and of dropping consistency.

Pour the batter in 2 greased, microwave safe bowls. Fill only ½ the cup, coz the batter will rise well to fill the cup.

Microwave on high for 2 minutes and 30 seconds. Check

the cake with a tooth-pick, if it comes out clean then it is done.

Remove from the microwave, cool slightly and unmould.

Dust with castor sugar and decorate with some maltesers. Serve warm.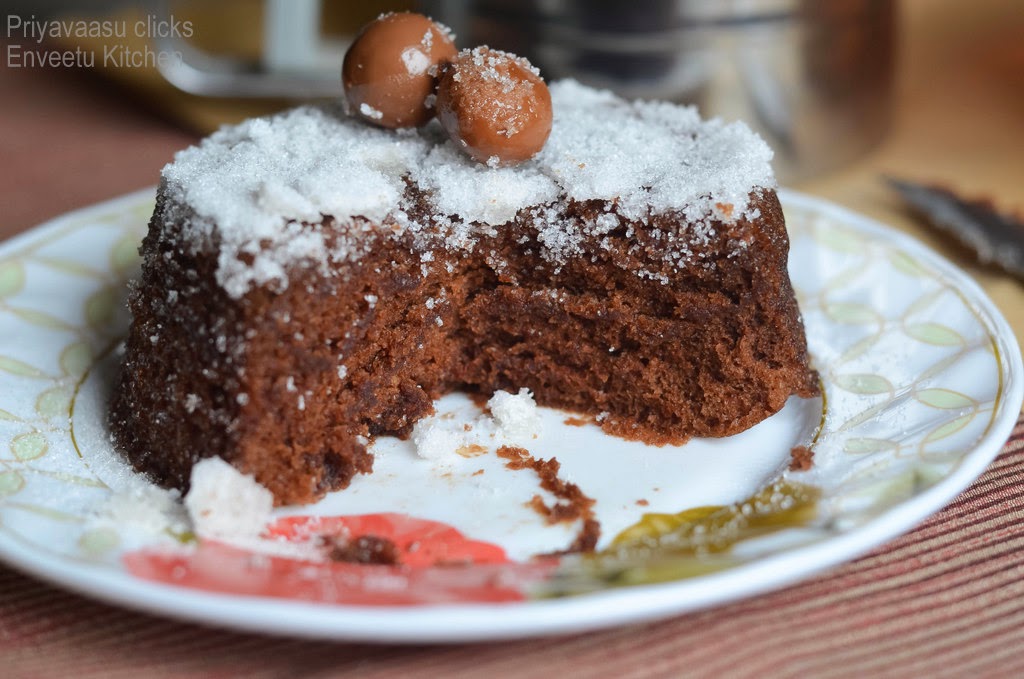 The cake stayed soft even after refrigerating. If serving from the refrigerator, warm it for 20 seconds in a microwave and serve.
Microwave settings vary from Oven to Oven, so bake accordingly.

In the Original recipe, it was baked as a single cake in a 7" cake pan, so it took 4 minutes for the whole cake to bake.Since, I have made it in 2 separate bowls, it took only 2 minutes and 30 seconds.

I would suggest you to bake for 2 minutes first, check the cake with a tooth-pick, if it comes out clean then take it out of the oven or else bake for another 30 seconds more.

Another method to check the doneness is to touch the cake top, it should spring back.

Do not bake the cake for more time, or else it would become too dry.