I planned to make sweet samosas for today's post, but got too engrossed in other work,and couldn't find time to make them. Anyways we still have time and I have all the ingredients in hand.
Today cake is from my drafts. Well not the post, but the pictures. Last month, while cleaning the pantry I saw a bottle of IKEA blueberry-raspberry jam in the corner of a shelf. This was my younger ones favorite jam for sometime. Kids favorites never last long! Okies now I was staring at the jam bottle, thinking what to do! It was weekend, I was planning to bake a cake, so I decided to use the jam in the cake. Since it was the week my parents were visiting us, I thought it would be nice to show off my cake to them.
I couldn't take a picture of the cut cake while i was clicking as I wanted to cut it with my parents, so I made some muffins the next day to show the texture of these pretty cake.
The cake batter has a beautiful amber hue because of the jam, but as it bakes the color turned a bit dark.
I have added some jam to the whipping cream to give it a pretty color. So this cake a fitting addition to your celebration table, with pretty pastel colors. Do try it this festive season and let me know how you liked it.
1.5 cups/225 grams of whole wheat flour
250 grams of blueberry raspberry jam
2 tablespoon flax seed meal mixed with¼ cup of water (2 eggs)
1 teaspoon vanilla extract
Preheat the oven to 180c and line your muffin pan with liners. This batter makes spring 6-8 muffins depending upon the size and 2, 5 inch cakes or 1, 8 inch cake. If using cake pan, grease them With oil and line with a parchment

First let us make the flax eggs,mix 2 tablespoon of flaxseed meal mixed with ¼ cup of water. Let this sit until we prepare the other ingredients.

In a large bowl, take together flour, baking powder and baking soda and whisk it well. Now add brown sugar to this and whisk again to form a uniform mixture

In another bowl, add jam and milk and mix it together to form a liquid. Now I strained my jam liquid as it has some seeds, from the raspberries, if you are ok with the seeds then do not strain, my kids are too fussy so I strained the liquid. To the strained jam-liquid, add flax eggs, oil and vanilla extract and whisk well

.
Now slowly add the dry ingredients to the wet ingredients and using a spatula l, slowly mix them together in one direction. See to that there is no trace of flour. While mixing take care not to mix vigorously, be gentle with the batter, so your cakes will be fluffy!!

Now pour the prepared into the muffin moulds or cake pans.

Bake them in the preheated oven until done. The muffins need around 25 -30 minutes, whereas the cake takes around 40-50 minutes.

Once done remove them on to a Wire rack for cooling.

Cakes need to sit in their pans for 5 minutes, then use a blunt knife, run around the corners to loosen the cakes and slowly remove on the wire rack for it to cool. If serving as such I recommend serving while it is still warm.

Since I was frosting it, i cling-wrapped And let it sit in the refrigerator for a day and frosted in next day.
Frosting
the cakes/muffins
3 tablespoon of blueberry-raspberry jam.
Chill the cream well before whipping. It is recommended to chill the vessels and the bowl used to whip the cream. But since the climate was cold here, I skipped that step.

Take the chilled cream in a deep bowl, add icing sugar to it, and whip it using a electric beater until stiff peaks form.

Now add the jam to it and mix roughly to get a marbled whipping cream. Refrigerate the cream until use. I normally make the cream, when i m about to frost the cake.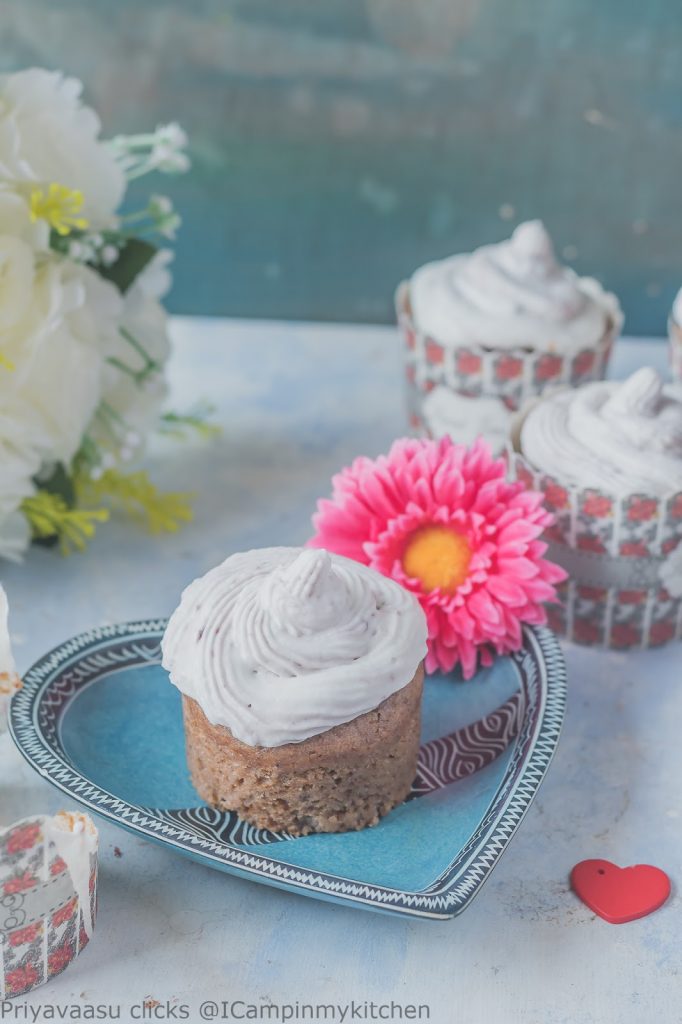 Chocolate Hearts
Melt 100 grams of dark chocolate in the microwave. I usually keep my chocolate outside before melting, so it just needs 2 times 30 seconds heating in the microwave, and voila i get a smooth silky melted chocolate.

Spoon the melted chocolate on to a parchment paper in the shape of hearts and refrigerate it until you serve the cake.
Frosting the cakes
Remove the cakes from the refrigerator. Scrap the top of the cakes.
Put a blob of frosting on a cake board or a plate. This helps to hold the cake in its place while you frost.
Place a cake layer on top. Brush the top with simple sugar syrup. Fill the top of the cake with whipped cream frosting. Place the second layer bottom side up. Brush the top again with simple sugar syrup.
Crumb coat the cake with frosting. This seals the crumbs well and gives a neat finish to the final decoration. Refrigerate the cake for atleast 10 minutes before decorating it further.
I added another layer of frosting and and garnished with some big chocolate hearts. Let th

e cake rest for 10 minutes before slicing.

For f

rosting the muffins,i used a round nozzle and piped some cream on top.