This carrot cake has been in my todo list for a long time. I personally wanted to try handmade cake-liners she has made, may be some other time. Carrot cake with cream cheese frosting is a classic i believe, i never tried cream cheese frosting, totally loved it, it was finger-licking good, my kiddos actually licked half a cup of frosting as such for snack!!! 
I made them for Valentine's day for my three brats and made them again the very next day. Coz, the one i made for V-day, didn't last for the click. so had to do again, this time i made them as 2 cakes, saved one for frosting and click and the other one was devoured, moments after it came out of the oven!!!
Recipe source: Kurryleaves
Ingredients
1 ½ teaspoon Cinnamon powder
2 teaspoon Vanilla extract
1 tablespoon apple cider vinegar
Method
Preheat oven to 170C.Line the baking tray with baking paper . I used a small loaf pan and a round pan to bake.

Whisk together all the dry ingredients all purpose flour,sugar,baking soda,baking powder,cinnamon powder and salt.

Now add the grated carrot and mix well.Keep aside.

In another mixing bowl combine water,oil,vanilla essence and vinegar. Slowly add this to the dry ingredients and mix until combined(Do not over mix)

Pour into the prepared pan. Bake for 40 to 45 minutes or until a cake tester inserted into the center comes out clean. Let it cool in the pan for 10 minutes and completely on a wire rack. If not frosting, Slice and serve slightly warm.If frosting, refrigerate the cake until frosting.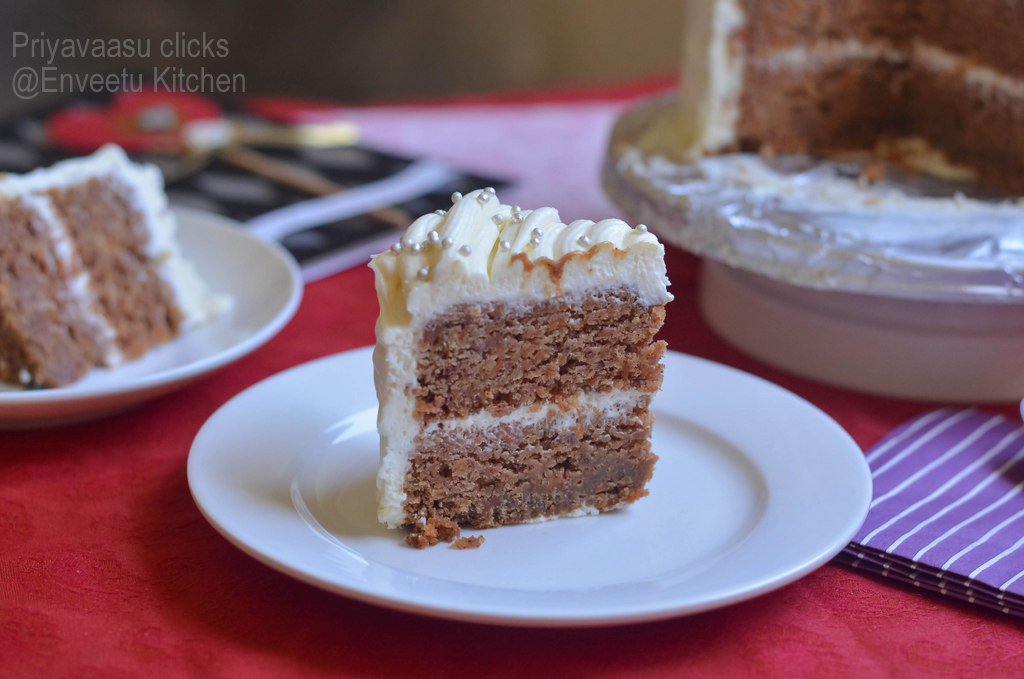 Cream Cheese Frosting
Ingredients
1 Cup cream cheese, room temperature
½ Cup/1 stick unsalted butter, cut into pieces @ room temperature
1 cup powdered sugar
1 teaspoon pure vanilla extract


Method
Place cream cheese in a medium mixing bowl. Using a rubber spatula, soften cream cheese. Gradually add butter, and continue beating until smooth and well blended. Sift in confectioners' sugar, and continue beating until smooth. Add vanilla, and stir to combine. Refrigerate until use.


Frosting the cake
I m no expert in this area, so did something decent to make the cake look a tad bit good.

Take out the cake, cut in the center horizontally. 

Put a blob of frosting on the plate/cake base on which you are going to place the cake, this ensures the cake remains in its place while frosting.

Place a portion of cake, apply frosting generously on top, close it with another slice of the cake. Cover the cake from all sides with a coat of cream cheese, this is called the crumb coat.
Let the cake sit in the fridge for an hour or two for the crumb coat to set, take it out and give nice finish by applying another layer of frosting.

i used a piping bag and piped some swirls on top and decorated with sugar pearls.

If you don't want to do any of these, just apply a good layer of frosting on top of the cake and enjoy it.