Banana bread, you must be thinking, how many different recipes are there in the world?I myself have quite a few here in my kitchen and i bet there will be few hundred on the web.
We love bananas and also banana bread, mix and match of few ingredietns you can bake a different one everytime.
I had some frozen banana's in the freezer, it is almost 3 months after navrathri, i haven't used them yet. Thanks to bake-a-thon, i remembered and baked these loaves yesterday.
The best thing about banana breads, everybody loves it at home. My kiddos are happy that they have something to snack everyday for atleast 3 or 4 days other than fruits and nuts. yeah, i m lazy to make evening snacks, i either give them a banana or nuts, my lil one likes to have an apple, but if there is cake/bread at home, they are happy.
Baking in take-away containers are easy for me, i feel they are portion controlled in the first place, easy to store and if at all i m packing it to my hubby's office, it is easy and mess-free.
Feel free to use the normal loaf-pan or even muffin pans to bake these. They will yield 12 good plump muffins. Top it with some caramalized bananas and dulce-de-leche for a yummilicious treat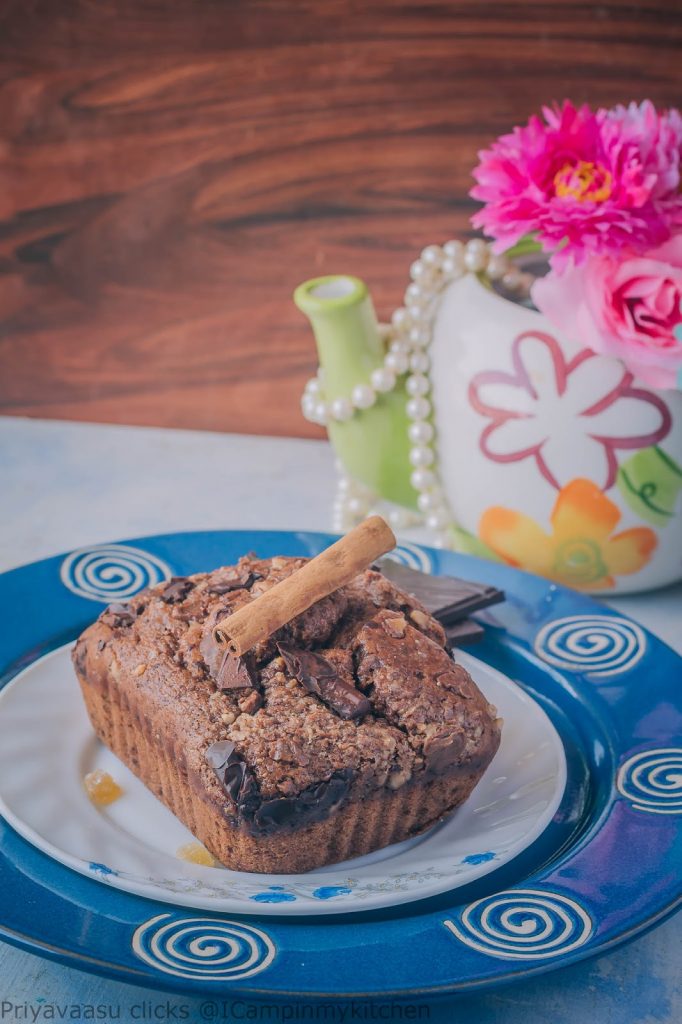 1.5 cups of whole wheat flour
3 nos frozen banana (i used philiphines banana)
Preheat the oven to 170C. Line a loaf tin with parchment. i have used 3 take-away aluminium containers for baking.

Remove the frozen banans from the freezer, place it in a microwave safe plate/bowl. reheat it for 15-20 seconds. The bananas will turn soft.

Take the soften bananas in a blender jar, add sugar and 1/2 cup milk and blend smooth. To this now add flour, cocoa powder, baking powder and baking soda. Mix roughly with a spatula. Run the blender in short pulses for the ingredients to mix.

Add oil finally and run again in short pulses. Using a spatula, scrape down the sides. Divide the batter amongs the 3 baking tins.

Top them with toffee bits and dark chocolate. Bake in the preheated oven for 35-45 minutes or until done.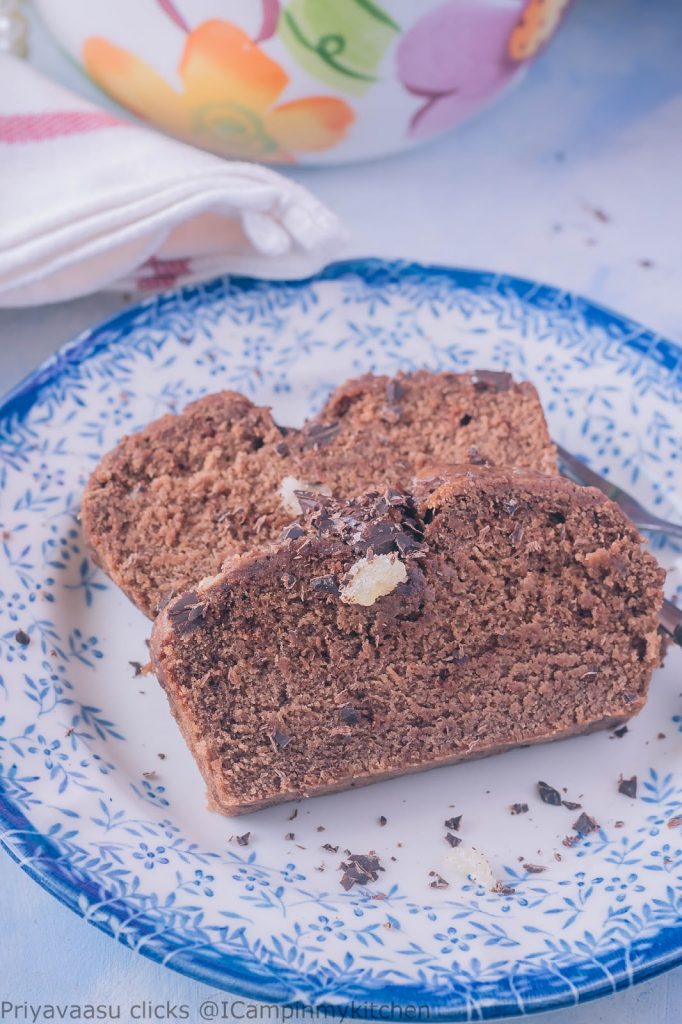 Remove the baked loaves on to a wire rack, after 5 minutes, unmould them, let them cool. Serve it warm with evening coffee/tea.