The first post of this Bake-a-thon was my drafts and coincidentally the last post too is from my drafts. This is the cake i made for my kiddo's 2016 birthday. Though i had some decent photos, i really didnt get to post the recipe till day. Now you got to believe, things happen for good! 😀
It is the last week of 2017, kids at home and hubby too took a week off to spend time with his munchkins, oh yes, he took leave from his otherwise busy work to spend time with his kids, mommy is J😬
With all the boys at home, my schedule is thrown out of the window. I feel as if i m working all the time, no definite time for eating or sleeping, they just want to laze around and my house is a mess! With all these things, me sitting with my blog has become a tough job, if i try to squeeze some time, everybody complains that i m always sitting with my laptop! I just want the holidays to end soon, and school to reopen!😓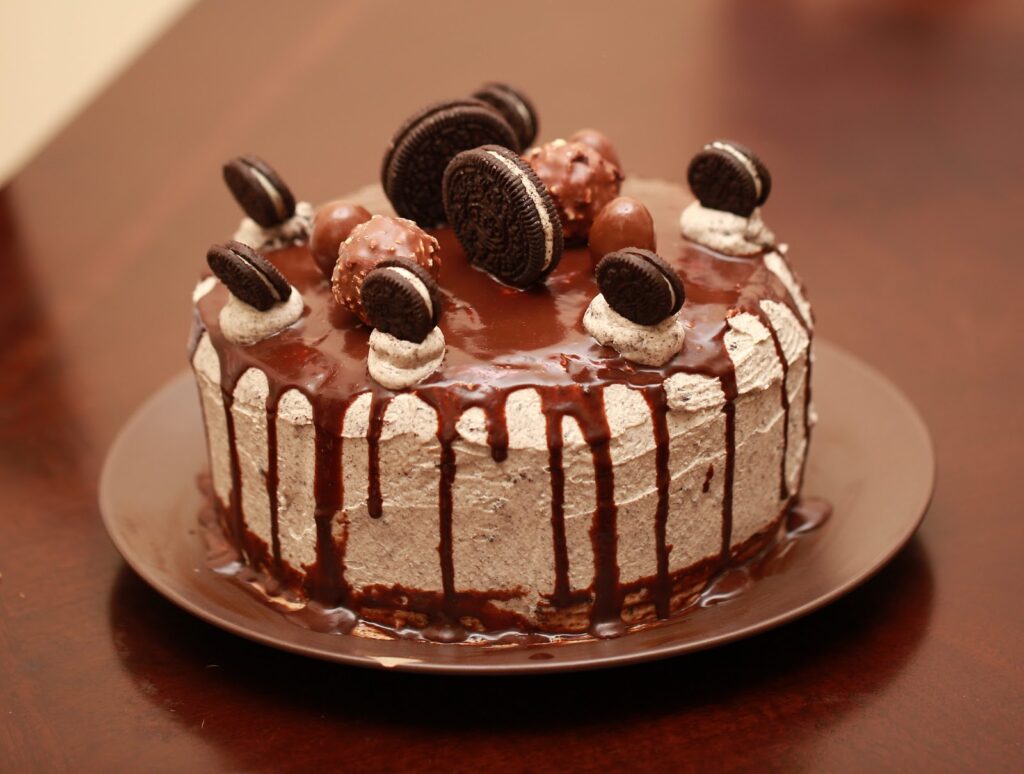 So, now i made 2 things for the blog and still haven't clicked them. So thank god for this cake in my photos, i could make today's post, since i wanted the last post of Bake-a-thon to be something pretty and i know this cake is somthing more than pretty!
A simple chocolate cake filled and frosted with oreo buttercream. The cake and the cream blend so pretty and it was super duper hit with the kids at the party. All i got to click was a messy plate with just one slice left. But i loved it, this is how it should be, gone in seconds!
This is my goto recipe for chocolate cake, just like my Vanilla cake with buttermilk, this is one too
never dissappoints.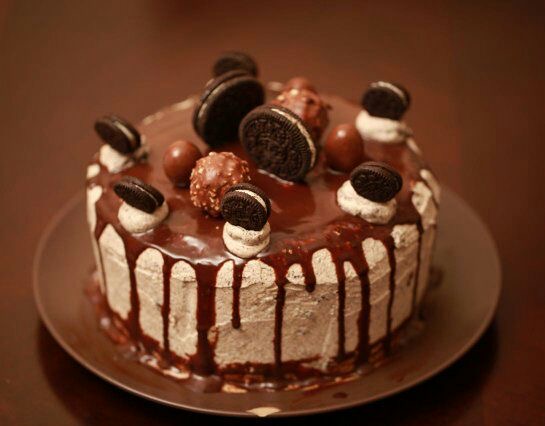 1.5 cups Whole Wheat flour
3 tablespoon cocoa powder
1 cup buttermilk @ room temperature
1 teaspoon vanilla extract
Few mini oreos for garnish
For the oreo butercream frosting
200 grams butter, i used amul unsalted @ room temperature
4-5 squares of dark chocolate, i used lindt 70%
Just melt them in the microwave, just before using it on the cake.
Method
Preheat the oven to 180C. Grease and lay the pan with parchment. You can use 2 5 inch pans or 1 8 inch pan for this.I made 3 cakes and sliced them into 2 layers each and made them into 2 cakes with 3 layers each.

In a large bowl, take together whole wheat flour, cocoa powder, baking powder and baking soda. Whisk them well together. I these days use my whisk to mix it all together. You can also use a sieve to sieve them all together for a homogeneous mix. Add sugar to this and whisk again.

In a measuring jug, take buttermilk, add oil and vanilla extract to this and mix well. Now add this liquid ingredient to the dry ingredient. Using a spatuala , mix it together in single direction.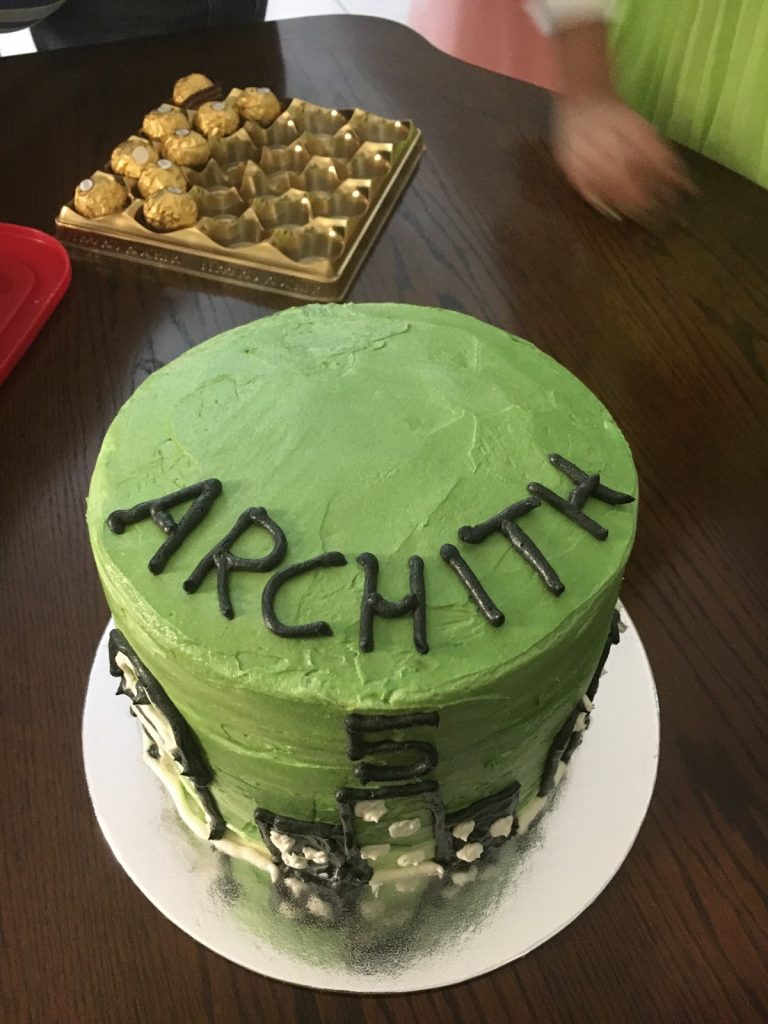 Same chocolate cake with Green buttercream frosting
Now pour the prepared batter into the pans and bake in the preheated oven for 40-45 minutes or until a toothpick inserted in the centre of the cake comes out clean.

Remove the cake from the oven, let it sit in the pan for 5 minutes, then using a blunt knife loosen the edges of the cake from the pan, and slowly unmould it on a wire rack and let it cool there completely.

Same chocolate cake with ganache

If serving as such, then slice it warm and serve along with coffee/tea. Since i frosted the cakes for my son's bday party, i allowed them to cool completely and cling wrapped them and refrigerated until neeed.
Oreo Butter cream frosting
Take the oreo biscuits in a ziploc pouch and pound them well with your rolling pin. Keep them ready by the side.

Take butter and whisk it with an electric beater, until light and fluffy. Now add sugar 1 cup at a time and whisk well. Once done, add the pounded oreo biscuits and milk to it and whisk again.
The buttercream must be smooth and spreadable, if it is too thick add another teaspoon of milk to it and whisk.

Once done, either frost your cakes, if storing, cling wrap it well and refrigerate. I normally make the cream just before i frost them.
Fill and frost the cakes.
I have a cake slicer from IKEA. I used it to slice my cakes into two. It is a pretty easy tool to use. Adjust the level of the blades according to the thickness you require and hold hte cake with one hand and slice/saw thru the cake using the other hand. That is how i do it, there might be other ways, do check the youtube for best ways to slice a cake into two using a cake slicer.

Refrigerated cakes are easy to slice through. Once sliced into two, let us frost it.

Put a blob of frosting on a cake board or a plate. This helps to hold the cake in its place while you frost.

Place a cake layer on top. Brush the top with simple sugar syrup.Fill the top of the cake with oreo butter cream frosting. Place the second layer bottom side up. Brush the top again with simple sugar syrup.
Crumb coat the cake with oreo buttercream frosting. This seals the crumbs well and gives a neat finish to the final decoration

Refrigerate the cake for atleast 10 minutes before decorating it more.
I added another layer of frosting, Drizzled some chocolate on top and piped some more cream on top for holding the mini oreos garnished with some mini oreos and chocolates.