My first bundt for #BundtBakers and it is sooo festive and christmasy with warm flavors of ginger and other spices and drizzled generously with cream cheese frosting. Ohhh, i m loving it every bite!!!
Though i joined this fun group in august, somehow i couldn't bake along with them all this time. Again thanks to our December Bake-a-thon, my oven is working non-stop this month!!!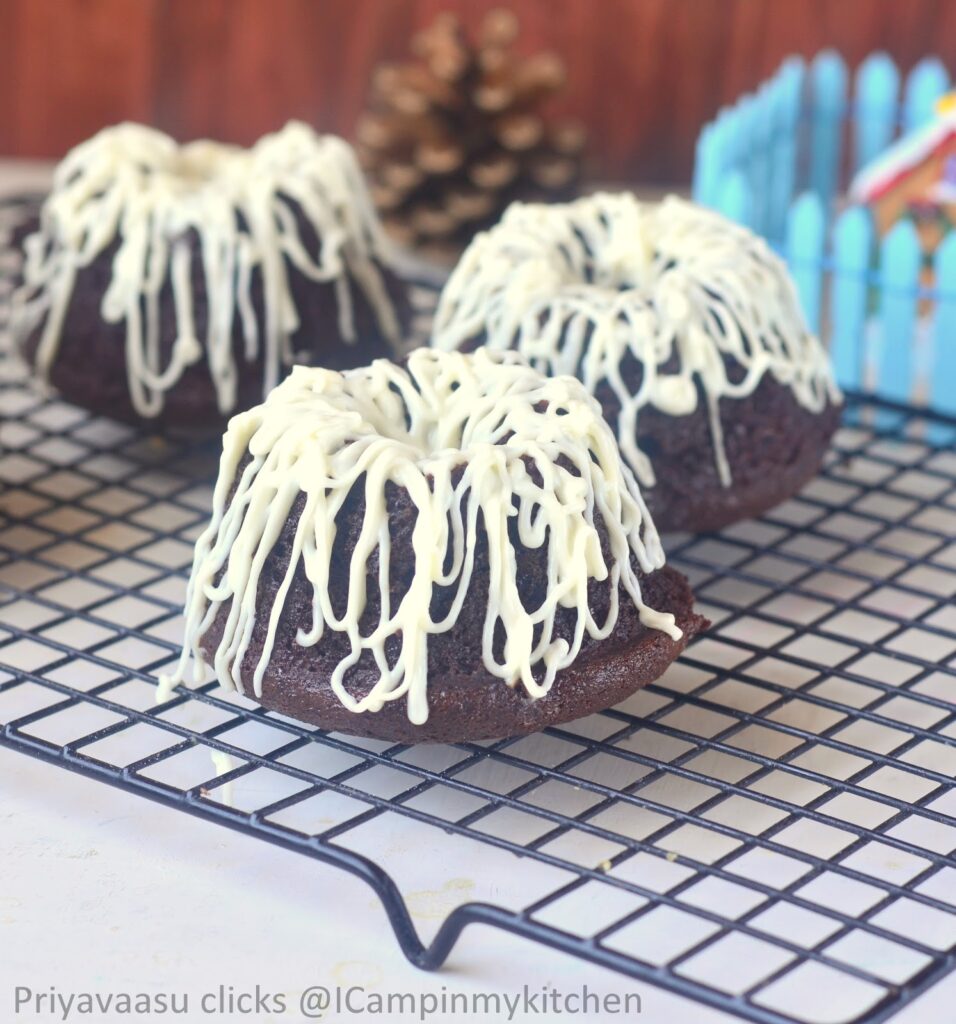 Ok, now this month theme for Bundt Bakers was Naughty or Nice, hosted by Liv for Cake,  http://livforcake.com. I originally wanted to bake something Naughty with Vodka!!! hmmm, if only my wish gets granted! Had to settle with a Nice ginger bread bundt, with no compromise in flavors. To make it even more wonderful, it is drizzled with yummmy cream cheese frosting, that compliments the flavors in the bundt. 


Inspired from : Sally's Baking Addiction
Ingredients
½ cup Wheat flour (Chapathi flour)
2 teaspoon chopped crystallized ginger (optional)
½ cup Molasses/Honey (i used honey)
¾ cup Jaggery powder/Brown Sugar (i used jaggery, powdered cane sugar)
2 pinches of clove powder
½ teaspoon cinnamon powder
¾ teaspoon freshly grated ginger
3-4 cardamom pods, crushed
Method
In a sauce pan, take together oil, jaggery, along  with ¼ cup of water, heat until the jaggery melts, take it off the stove, add honey and give it a good stir. If using Molasses, you can add the molasses along with oil and jaggery, and heat together. Since honey shouldn't be heated for a long time, i added it after taking the mixture off the stove. 

To this warm mixture, add the spices clove,cinnamon, cardamom , fresh ginger, and pepper. Let this cool completely before used in the bundt. 

Grease a bundt cake pan with oil and flour. I used my mini bundt pan and got 4 small bundts and a small muffin.  Preheat the oven to 180C.

In a measuring jar, take buttermilk, add baking soda and give it a stir. Let it sit for 5 minutes, the buttermilk would become light and frothy. After 5 minutes, slowly add the honey-spices mixture to the buttermilk and mix gently. Take care not to disturb the air, by whisking vigorously. 

In a wide bowl, sift flour and cocoa together. Add the chopped crystalised ginger to this.
Pour the liquid mix, into the flour-cocoa mixture. Mix gently using a spatula. Move in one direction, while mixing the ingredients.

Fill the batter upto ¾th of the greased bundt pan. Bake the cake for 25-28 minutes or until a skewer inserted in the center, comes out clean. Mine was done at 28 minutes.

Remove the pan, from the oven, let it cool for 5 minutes, then remove the bundts onto a wire rack to cool completely.

Just before serving, frost it with cream cheese, you can even top it with some chocolate sauce and enjoy!!!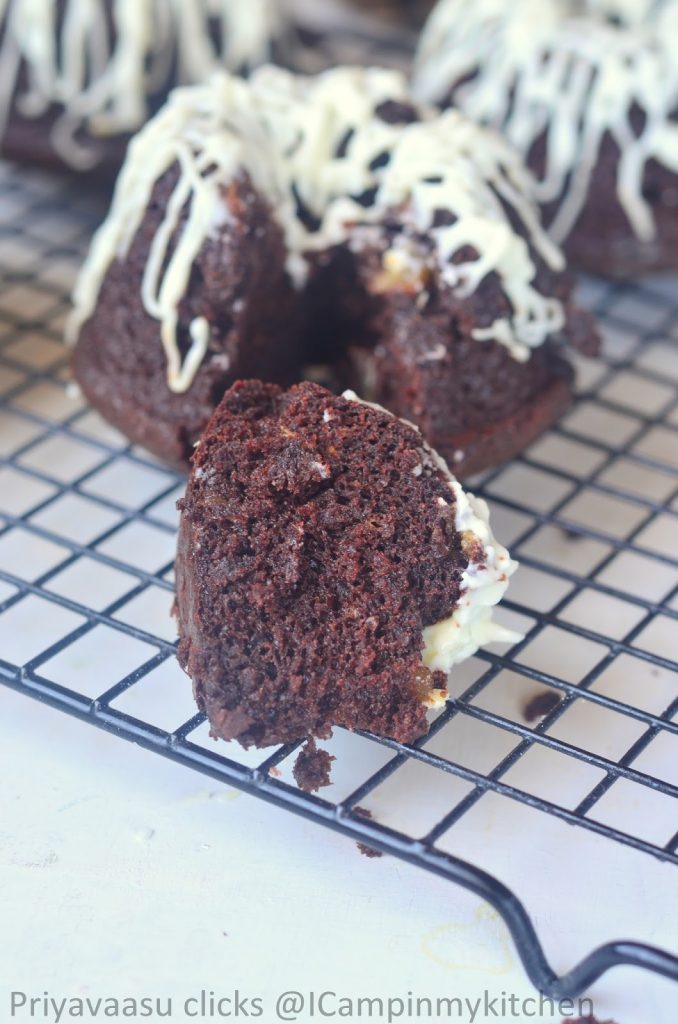 Frosting
I made the frosting in my cream cheese jar itself. I had about ½ a jar of cheese left, about 100grams, i topped it with milk and sugar and shaked the jar well to combine. Voila, got a thick pipe-able frosting. 

If making it in a bowl, whisk together all the ingredients until light and fluffy, adjust milk according to the consistency of the frosting.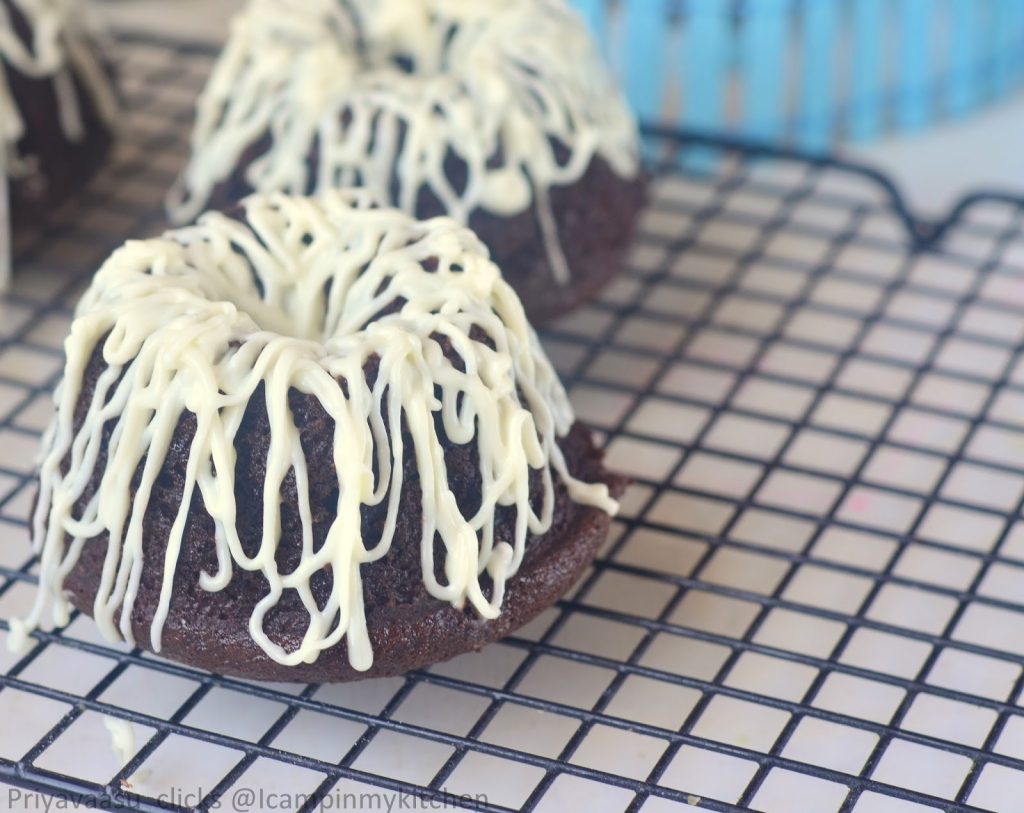 If you want a pour-able consistency, increase milk by 1 more tbsp. Transfer the cream into a ziploc pouch or a frosting bag, snip of the end or use your favorite frosting tip and go creative. I just sniped the end off and drew some random designs. Serve and enjoy the warm winter flavors. 
#BundtBakers is a group of Bundt loving Bakers who get together once a month to bake Bundts with a common ingredient or theme.  You can see all of our lovely Bundts by following our Pinterest Board.
We take turns hosting each month and choosing the theme or ingredient.
Updated links for all of our past events and more information about BundtBakers can be found on our homepage.