The last in the series of cooking for one, is a Dessert. A simple Chocolate Mocha Mug cake. A warm delicious dessert to enjoy on a wintery afternoon. Oh i loved it so much when i had it yesterday with a teeny-weeny scoop of ice-cream on top. The ice-cream melted in the warmth of the mug cake and enhanced the flavor of the cake.
Enough said, let us get to the recipe, a simple recipe, just dump everything in the mug and MW for a minute or even less. I didn't have Cocoa powder, daaaannnng(shocking music at the background), never expected this to happen, thank god for a good stock of chocolates in my freezer. I have used 6 Hershey kisses chocolate for this, add 2 more if you think it is less, but don't reduce the 6!!! Just go make it and enjoy this warm mug of deliciousness and let me know how you liked it!!
Ingredients
3 tablespoon all purpose flour
6 nos Hershey kisses, or 1 tablespoon cocoa powder 
1 tablespoon sugar
¼ teaspoon baking soda
1 teaspoon instant coffee granules, i used davidoff
¼ teaspoon vanilla extract
1 tablespoon sunflower or any neutral oil
3 tablespoon water


Method
In a Mug, first take the chocolates, microwave it high for 1 minutes for it to melt. To this melted chocolate, add flour, baking soda, coffee and sugar, give it a good stir. 

If not using cocoa powder, just add it along with the above said ingredients and give it a good stir,

To this flour mix, now add oil, vanilla extract and water and mix it well with a fork.

Microwave cook for 40 seconds – 1 minute. Mine was done by 1 minute. I first cooked it for 40 seconds, the top was wet when it came out, so i again tucked it in for 20 seconds.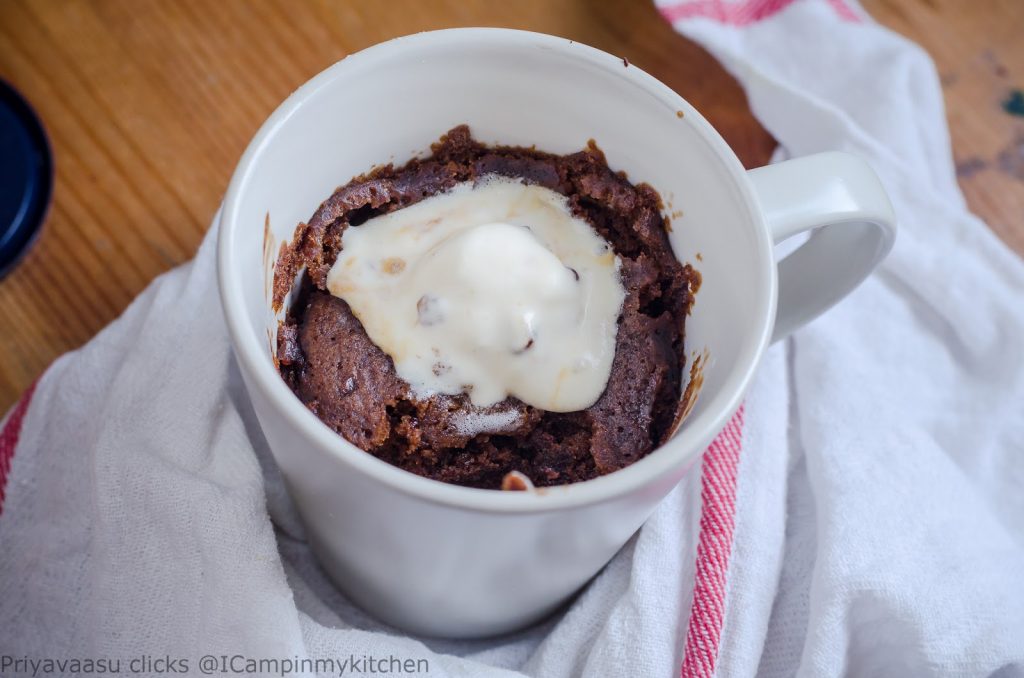 Remove it from the Microwave, add a scoop of ice-cream of your choice and dig in! Enjoy your own mug of cake and ice-cream!! 
Check out the Blogging Marathon page for the other Blogging Marathoners doing BM#70