The weather here is amazing from last week. Weekend it was a bit sandy and dusty, but then by evening it settled down. It was drizzling a bit and cold wind blowing all over your face. With such a climate, you just want to huddle yourself inside a blanket and enjoy a warm dessert. With a theme of 1 hour sweet treats, i m spoiled with lot of choices and was completely lost on what to choose and what to leave.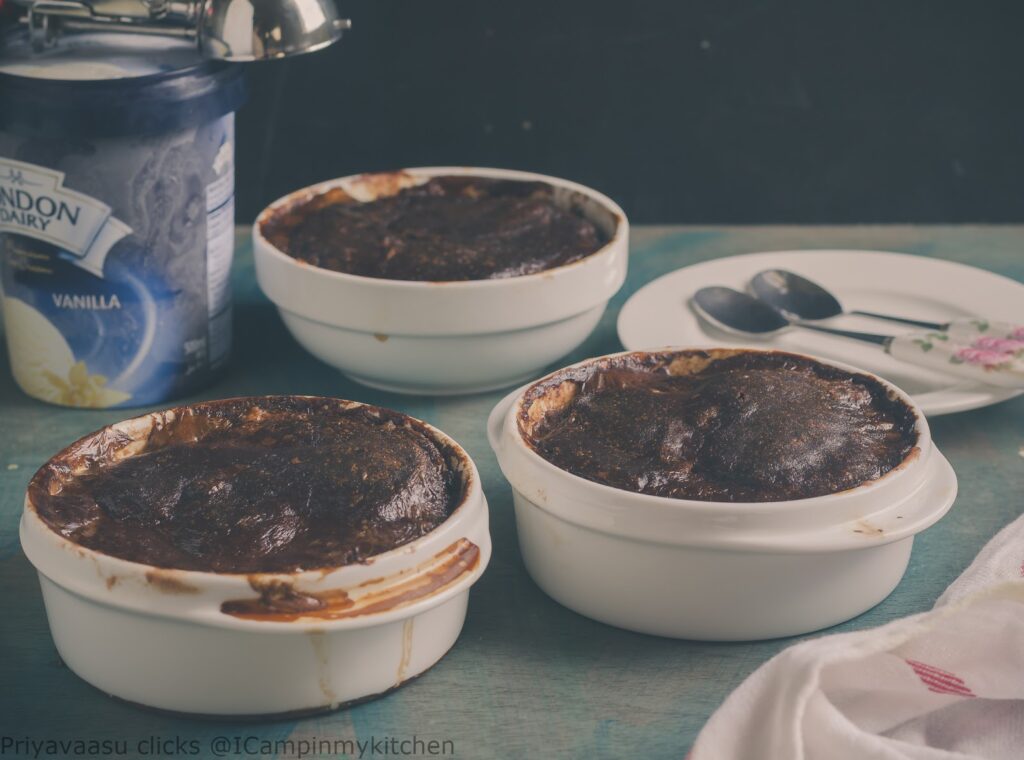 On Friday we enjoyed a warm apple sheera/apple & semolina pudding, and for yesterday i made this yummy self-saucing chocolate and mocha pudding, needless to say, it was mopped clean after lunch. The warm pudding with cold ice-cream was an excellent combination, next time i might try to add some more spices to make it even more warm and cozy, for now enjoy this coffilicious pudding!! 🙂


Ingredients
1 cup whole wheat flour (you can use all purpose flour also)
1.5 teaspoon baking powder
¼ teaspoon salt
¾ cup brown sugar
2 tablespoon cocoa powder
½ cup milk
¼ cup oil/butter
1 tablespoon instant coffee powder
½ teaspoon vanilla extract
Vanilla ice-cream to serve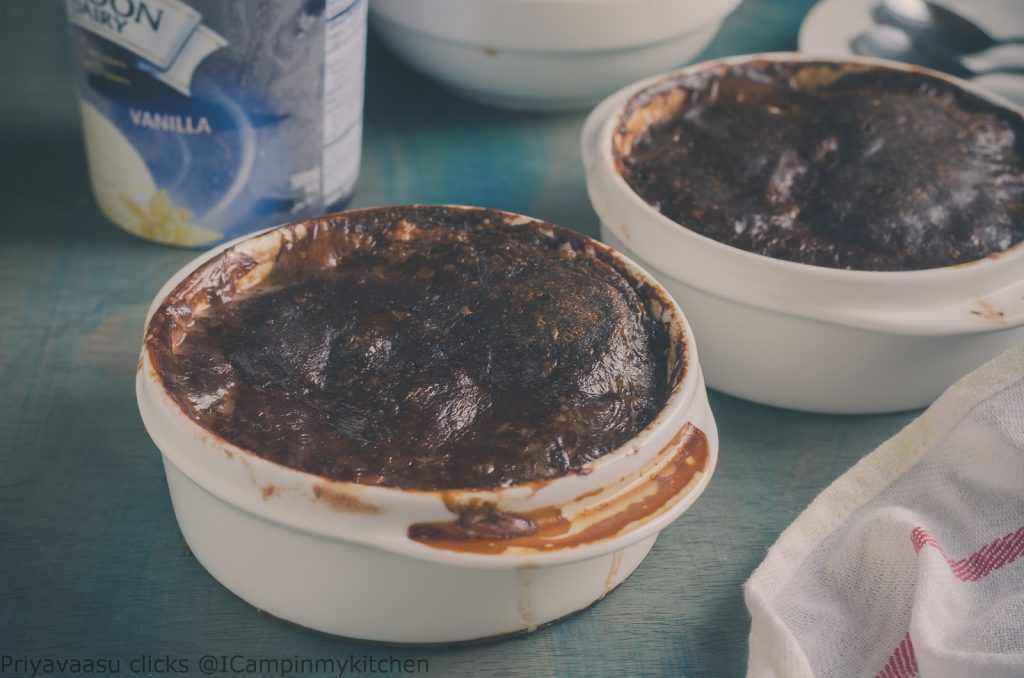 For the Sauce
1 cup boiling water
1 tablespoon coffee powder


Method
Preheat the oven to 180C.

Sift together flour, baking powder, salt, cocoa powder. To this sifted flour mix, add brown sugar , coffee powder and mix well.

In a measuring cup, take milk, vanilla extract and add oil to it and mix. Add this liquid to the flour mix and using a spatula and mix. Mix it in the same direction and be gentle.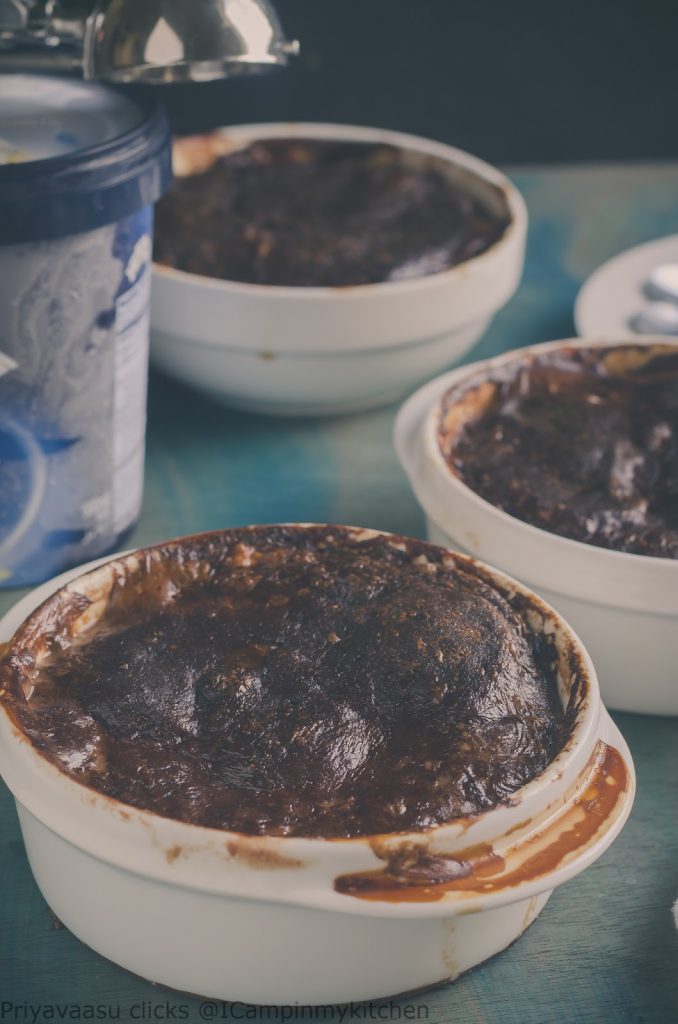 I have used 3 small bowls to bake the pudding, you can either bake it a square brownie pan or as individual servings in ramekins. If using ramekins you might need 6-8 ramekins.

Grease the baking bowls with oil/butter and divide the batter amongst the baking bowls. Fill the batter only up to half. You will be adding boiling water on top for the sauce. So do not fill the batter till the rim.

To the boiling water, add coffee powder and divide the liquid amongst pudding bowls, do not stir.

Bake the pudding for 25-28 minutes. Remove it from the oven. Serve it warm with Vanilla ice-cream on top.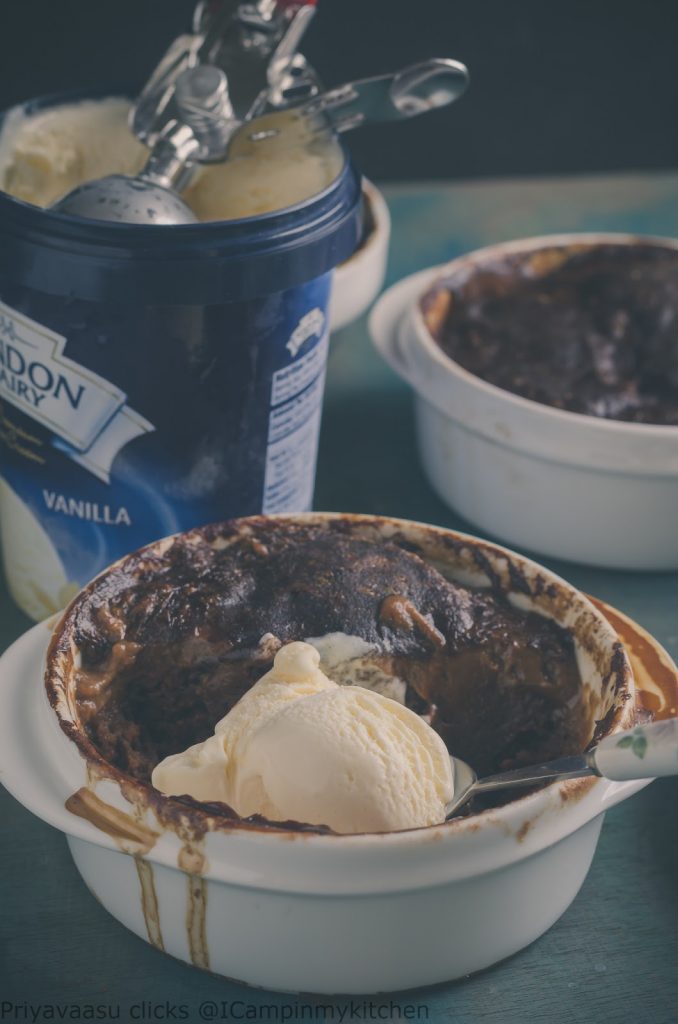 Check out the Blogging Marathon page for the other Blogging Marathoners doing BM#73