Time for another Blogging Marathon. This Group is growing with every season, this time Srivalli had to divide us into 3 groups. The 3rd Group Start their Marathon from today and this fun goes on till 24th of this month.  My Theme for this season is 7 Days of Cakes. yeah, i have lot of bookmarked Cake recipes, some of them waiting in my draft for some days. So, Lets get our Oven Mitts ready and do some Baking!!!!!
This Recipe is from Anushruti's Divine Taste : Date and Cashew Olive Oil Cake. The taste was awesome, with chopped dates and cashews popping here and there and the mild taste of Olive Oil. My Photo's aren't as awesome as the taste, Please bare with me!!!! 
Ingredients
2 cups plain flour
1 ½ cup Dark Brown sugar (Jaggery can also be used)
150 gm seedless dates, chopped
100 gm cashew nuts
½ cup plain yogurt
½ cup olive oil
1 cup milk 
2 tablespoon molasses (Date Syrup can also be used)
2 teaspoon cinnamon powder
1 teaspoon vanilla extract
2 teaspoon baking powder
1 teaspoon baking soda
Method:
Grease a loaf pan/Round (8″)Cake pan with butter/oil. I baked as a Loaf in my 26cm Pyrex Loaf Pan.Sieve the flour, baking powder and baking soda, in a Large Mixing Bowl.In another bowl add the yoghurt, oil,Brown sugar,molases and milk and beat with a wire whisk or a spoon.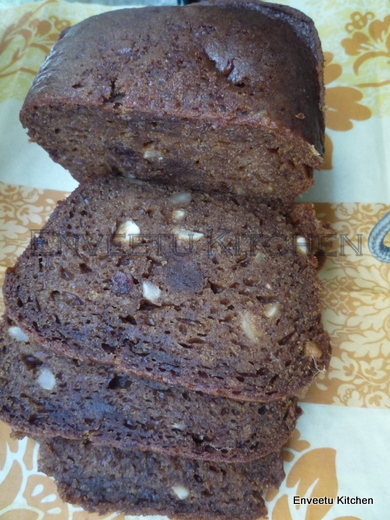 Mix in the sifted flour mixture and beat with a spoon or a wire whisk until there are no lumps.Stir in the dates, cashews, cinnamon powder and vanilla and mix well.Transfer the contents to the greased and lined tin and bake in a preheated oven at 150 degree centigrade for 1 hour or until a skewer comes out clean