These days i have started replacing All Purpose flour with Whole Wheat and Multi-grain flour in baking. Don't know how successful the bake will be, but, then we will know only when we try isn't it. These cookies are made with Whole Wheat Flour, they came out so nice, Cripsy outer and a chewy center. Kids Enjoyed them a lot. I got about 2 dozen cookies with the below measurement. But, if you make them a tad bit bigger, you will end up with 15-16 cookies.
Ingredients
¼ cup Butter-scotch Choco-chips/White Choco-chips
¼ cup unsalted Butter, @ Room Temperature.
¼ cup of almond silvers/flakes
½ teaspoon Vanilla essence
Preheat the Oven to 170C.  Sieve  flour, cocoa,  baking soda and powder together. In another mixing bowl, take sugar and butter and Beat until creamy.   Add Vanilla Essence and mix.
Add the mixed flour, almond flakes and choco chips to it and gather everything to make a dough. While doing so, add Milk 1 tablespoon at a time and form a dough. 

Shape the dough into a Log and Cling Wrap it and refrigerate for 10 minutes.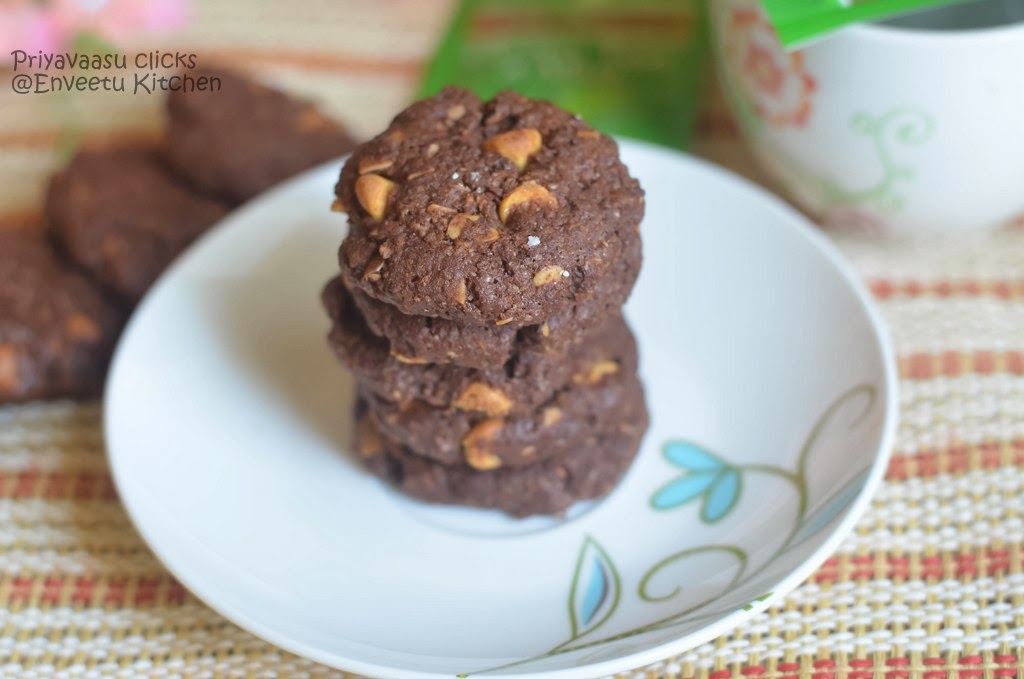 After 10 minutes, take the dough out, and slice it with a serrated knife. or else pinch the dough into balls, flatten the balls over a lined cookie tray  with enough space in between as the cookie tend to expand. 

Bake for 18-20 minutes. 

The Cookies might little soft, but will turn a bit crisp after cooling.
Cool in wire rack  and store in air tight container. 
Sending this to Kids Delight-Potluck Party, happening @ +Srivalli Jetti  Space.
Check out the Blogging Marathon page for the other Blogging Marathoners doing BM#33