We in Baking Eggless Group this month, baked a Chocolate Heaven!!! yup, a "Perfectly Chocolate " Chocolate Cake from Hershey's!!! This time also i have used Silken tofu as Egg Substitute. I followed Lataji's Advice and Checked DK's Chocolate cake where she has also used Silken tofu to get a Moist Cake. I followed the tips DK has mentioned in her recipe. Voila!!! Amazing results, the Cake was super moist and with the Chocolate Ganache, it was another heaven. The Plus of this Cake is, it tastes amazing the next day.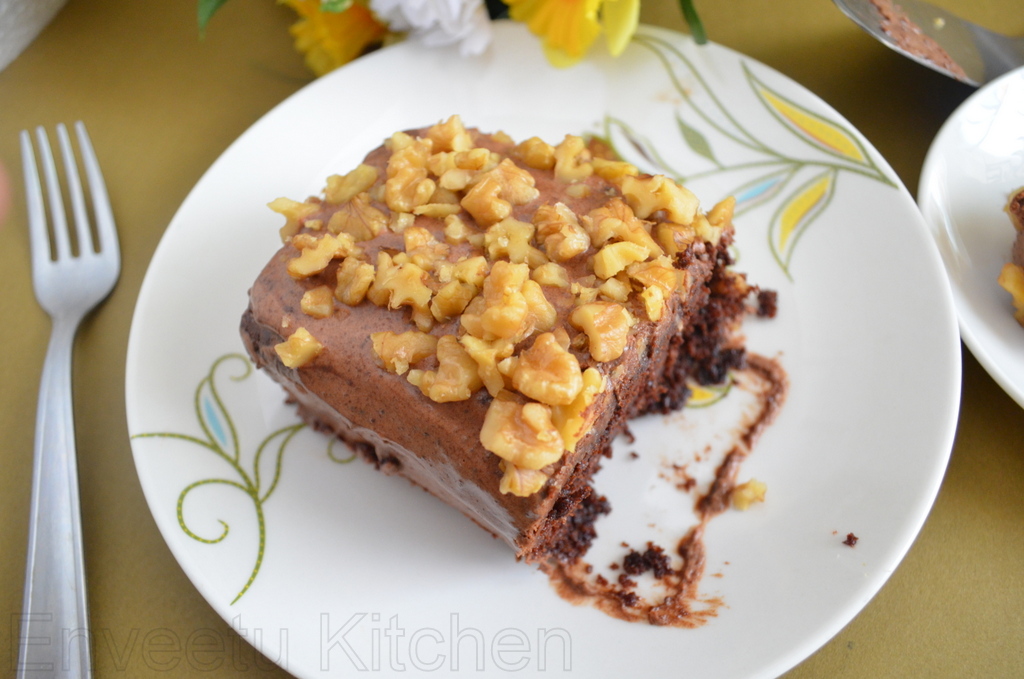 I made this Cake twice. Once it was gobbled up my family. The next time, i baked this again for my BIL's family outing. They even made a Ice-cream Sandwich with it!!! It was Delicious and definitely a Perfectly Chocolate Cake!!! Thanks to Gayathri and Gayathri of Gaju's Kitchen for this Wonderful Recipe!!!
Ingredients
1-½ teaspoons baking powder
1-½ teaspoons baking soda
½ Cup Pureed Silken Tofu (for 2 eggs)
2 teaspoons vanilla extract
Chocolate Ganache
100gms Dark Chocolate(i used lindt 80% Cocoa)
100gms Milk Chocoalte (i used Galaxy Smooth)
Method
To make Cake Flour
Measure the said amount of Flour in a Large Bowl.
Remove 3-½ tablespoon of Flour from the bowl.
Add the same amount, i.e. 3-½ tablespoon of Corn flour to the bowl.
Sift 3 to 4 times. Cake Flour is ready.
Bake the Cake
Preheat oven to 160C. Grease and flour two 9-inch round baking pans. I used 3 small rectangle aluminium-foil containers.

Puree Silken Tofu in a Blender and measure half a Cup exactly. Now add Milk and Sugar to this pureed silken tofu and blend again once. Add Oil to this Mixture, Stir

Once and Keep it in the fridge until use.

Sift together Flour, cocoa, baking powder, baking soda and salt in large bowl.

Take the Silken tofu-Sugar-Oil Mix and Add little by little to the flour and Mix slowly with a spatula. Move the Spatula in a Single direction.

Add Boiling water and Vanilla Extract to the cake mix and Stir Slowly. Pour the batter into the prepared cake pans. Bake 45 to 50 minutes or until wooden pick inserted in center comes out clean. Cool 10 minutes. remove from pans to wire racks. Cool completely. Chill in Fridge until frosting.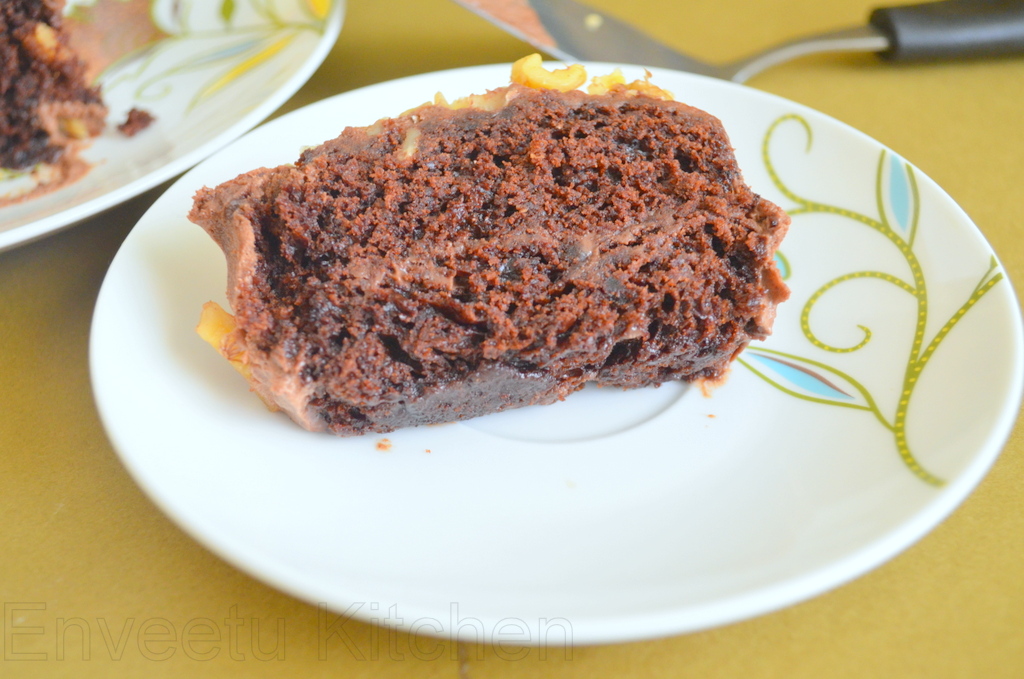 To Make Ganache
Chop the Chocolates and take them in a bowl.

Heat cream and butter in a saucepan. When it begins to boil, take it of the stove and pour it over the chocolate.

Let it sit for few minutes undisturbed. When it cools a bit, slowly whisk to form a smooth ganache.

Chill until use.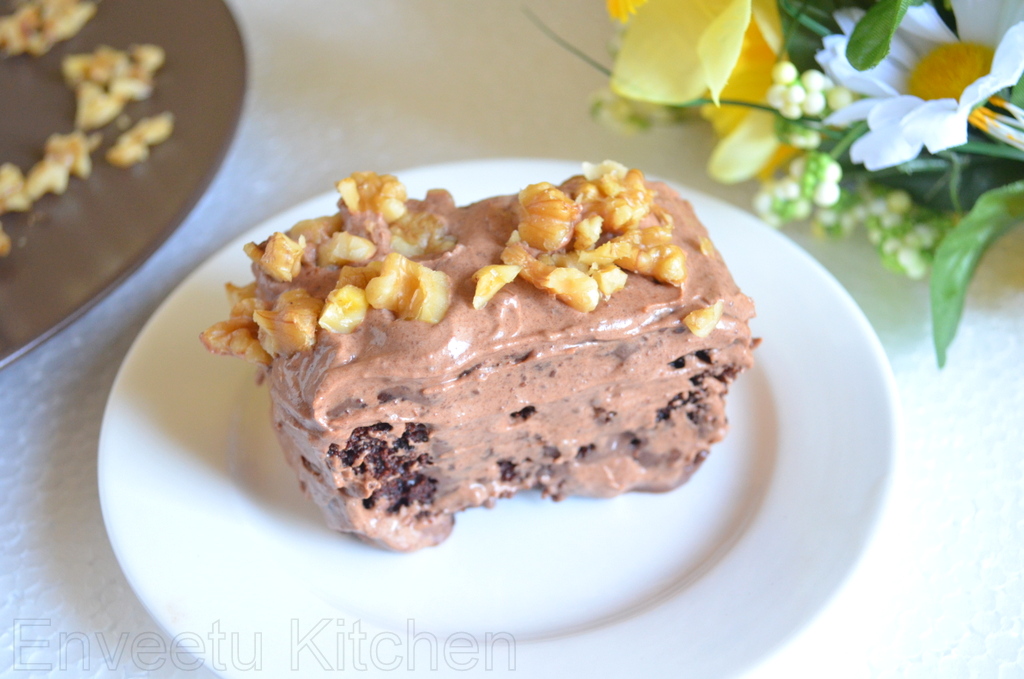 To Do the Frosting
Since i used a Rectangle Foil to bake the cake, i got 3 Rectangle loaves. I sliced the loaves lengthwise into two.

Apply Ganache smoothly over one loaf and close it with another. Roughtly spread the ganache all over the cake. This is called the crumb coat. Refrigerate for an hour.

After an hour, take the cake out and Apply a thick layer of ganche using a blunt knife and smooth it out using the same.i used my Cake Server Cutlery fo this.

Toast a handful Walnuts and chop them roughly. After applying smooth layer of Ganache, Spread some chopped walnuts on top, Chill for an hour or two. Cut n Serve.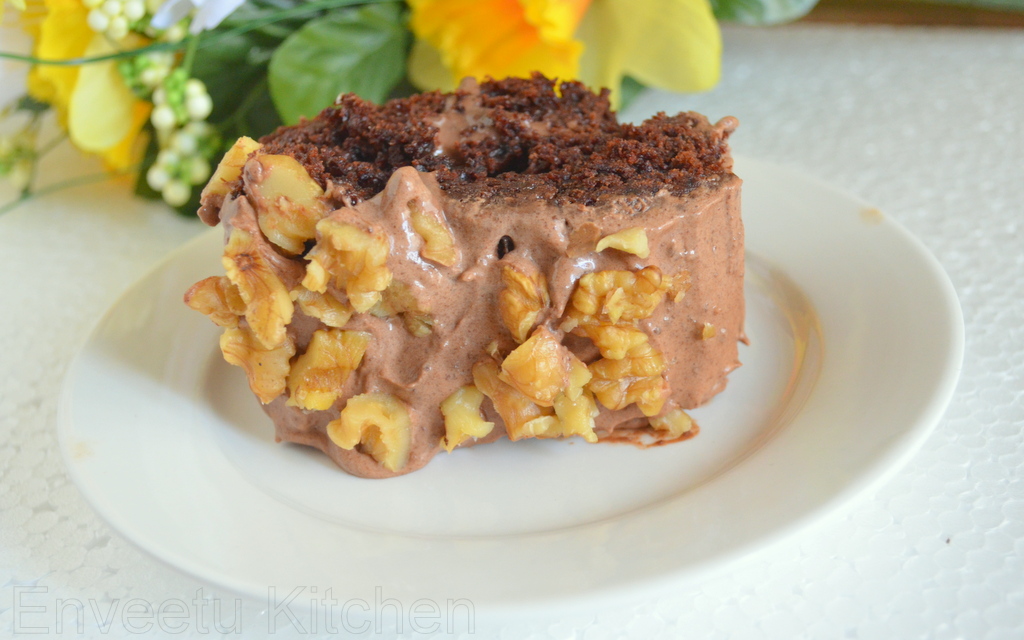 The Same Cake can be baked into many Variations:
ONE-PAN CAKE: Grease and flour 13x9x2-inch baking pan. Heat oven to 350° F. Pour batter into prepared

pan. Bake 35 to 40 minutes. Cool completely. Frost.

THREE LAYER CAKE: Grease and flour three 8-inch round baking pans. Heat oven to 350°F. Pour batter into

prepared pans. Bake 30 to 35 minutes. Cool 10 minutes; remove from pans to wire racks. Cool completely.

Frost.

BUNDT CAKE: Grease and flour 12-cup Bundt pan. Heat oven to 350°F. Pour batter into prepared pan. Bake

50 to 55 minutes. Cool 15 minutes; remove from pan to wire rack. Cool completely. Frost.

CUPCAKES: Line muffin cups (2-½ inches in diameter) with paper bake cups. Heat oven to 350°F. Fill cups

⅔ full with batter. Bake 22 to 25 minutes. Cool completely. Frost. About 30 cupcakes.