A strong masala chai, is what many need on a wintery evening, once such evenign i got the idea of making this masala chai cake. Since i was making a vegan cake, i wanted a vegan cream to compliment it well.
My friends say i make a good saffron tea. It is a regular during our meet up in my place. So when i made chai cake, i wanted saffron in to it, but instead of adding in the cake i added it to the vegan cream made of cashews and coconut milk.
Oh man, that color, that beautiful golden yellow is from saffron, no artificial color added. The cake is super hit at home, it has got all the magical flavors of masala chai, so beautifully complimented with golden saffron cashew cream.
This is a perfect cake to enjoy on a cold evening while lauging your hearts out with your buddies or enjoying a cozy evening with your loved one.
I have made this cake again now, for some better pictures, would update the post soon with some decent pictures, till then enjoy this masala chai cake!
Ingredients
1 & ½ cup Whole wheat flour
1 teaspoon cinnamon powder
1 & ¼ cups of strong black masala chai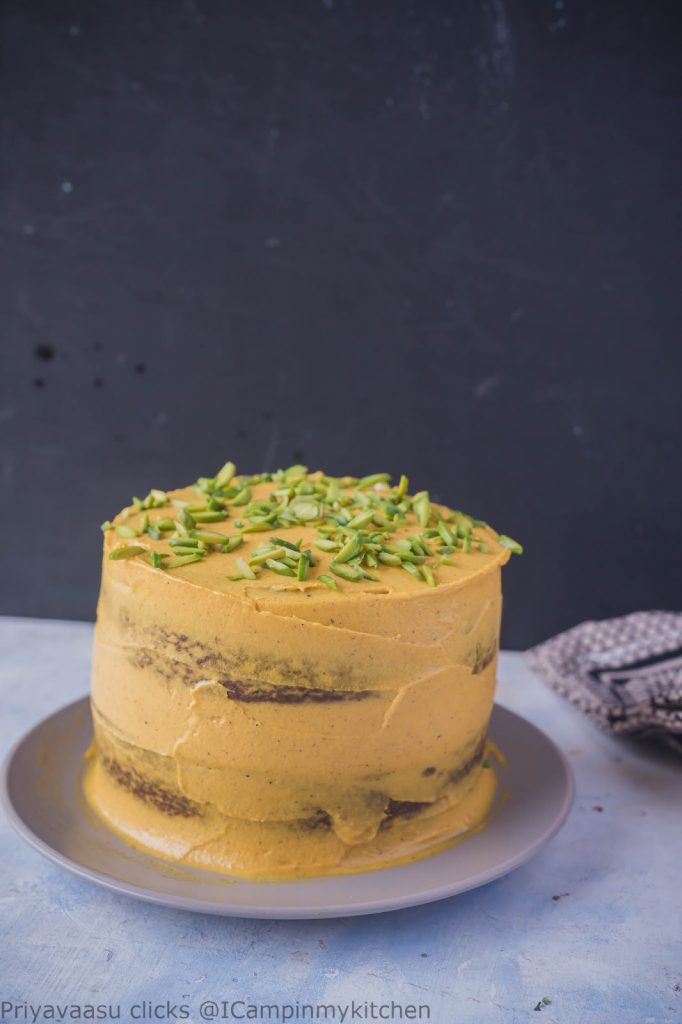 To Make Strong Masala Chai
8 nos whole cardamom, pounded
a small piece of cinnamon
For the Cashew cream frosting
1 cup of raw unsalted cashewnuts
2 generous pinches of saffron
Method
Let us make the masala chai first

Heat 1.5 cups of water, add 2 tablespoon of black tea, add the pounded cardamom, pounded cloves and cinnamon to it.

Let it boil for 10 minutes, take it off the heat. Let this cool completely. Strain the water and set aside.
Let us make the cake.
Preheat the oven to 180C. Grease and line 2 5 inch pans or 1 8 inch pan with parchment.

Take flour, baking soda and baking powder together in a wide bowl. Add cinnamon, shreded ginger and sugar to this bowl. Whisk it all together.

Now In a measuing jug, take the strong black tea, mix oil to it, whisk it well. Add this liquid to the flour mix. Using a spatuala, mix the ingredients together in one direction. Don't mix it vigourosly, be gentle.

Pour the prepared batter into the baking pans, bake the cakes in the preheated oven for 40-50 minutes or until a skewer inserted in the middle of the cake comes out clean/

Remove the cake and let it sit for 5 minutes, then slowly unmould the cake on to a wire rack, let it cool completely.

If serving as such, serve it warm with your evening coffee. Since i frosted it with cashew cream, i let it cool well and cling-wrapped the cakes and returned it to the fridge until it was frosted.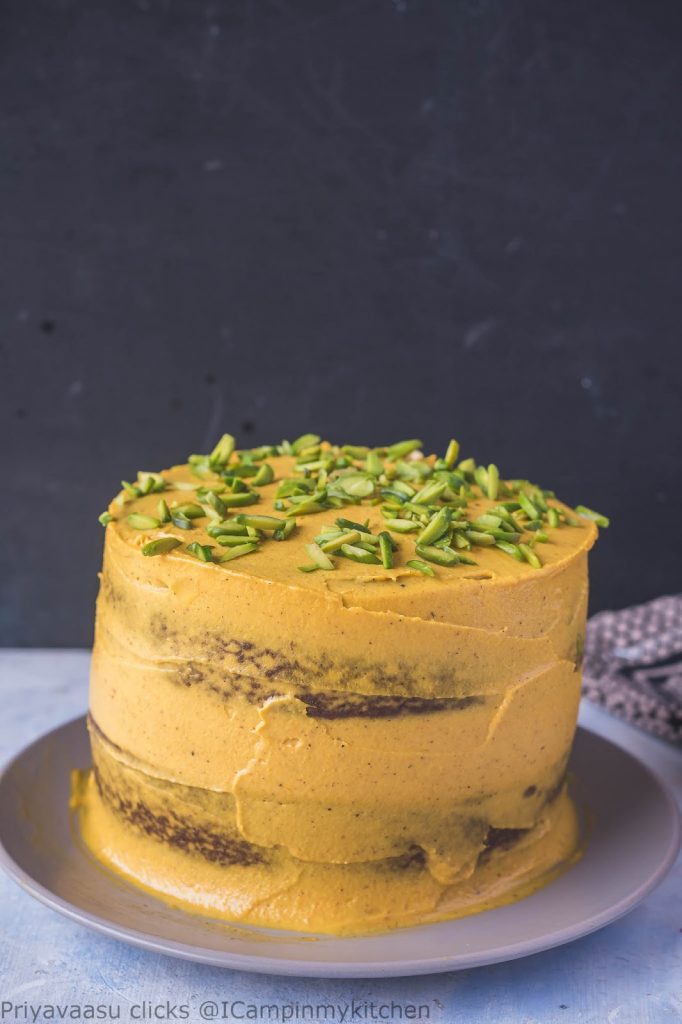 Cashew-cream Frosting
Make this frosting a day ahead. The frosting needs to thicken, which is possible only when it is refrigerated.

Soak cashews in plain water for 6 hours or overnight. Soak saffron in 2 tablespoon of hot water. If you need to quicken this process, soak it in hot water for 3 hours.

Drain the cashews, take it along with saffron soaked water, coconut milk, sugar in a blender and blend smooth. Remove the cream to an air-tight container and refrigerate.
To Frost the cake
Remove the cake and cashew cream from the refrigerator.

Put a blob of cream on to a cake board, place one half the cake, spread 2-3 tablespoon of sugar syrup on top. Place 4-5 tablespoon of cashew cream on top, smoothen it with a spatuala. Place the second cake on top, spread 2-3 tablespoon of sugar syrup on top.

Put another 4-5 tablespoon of cashew cream and smoothen it using a spatuala. I wanted a naked cake, so i applied a thin layer of cashew cream around the cake. Garnished the top with some chopped pistachios and served.