In the list of orange muffins, today it a whole wheat orange-y muffins. The only liquid here is Orange juice. It also counts to Vegan muffin, if you omit the cream cheese frosting. I have tried this muffins with ½ cup orange juice, topped with ½ cup water, they have come out good then too. But with 1 cup of OJ, it is like eating orange!! 🙂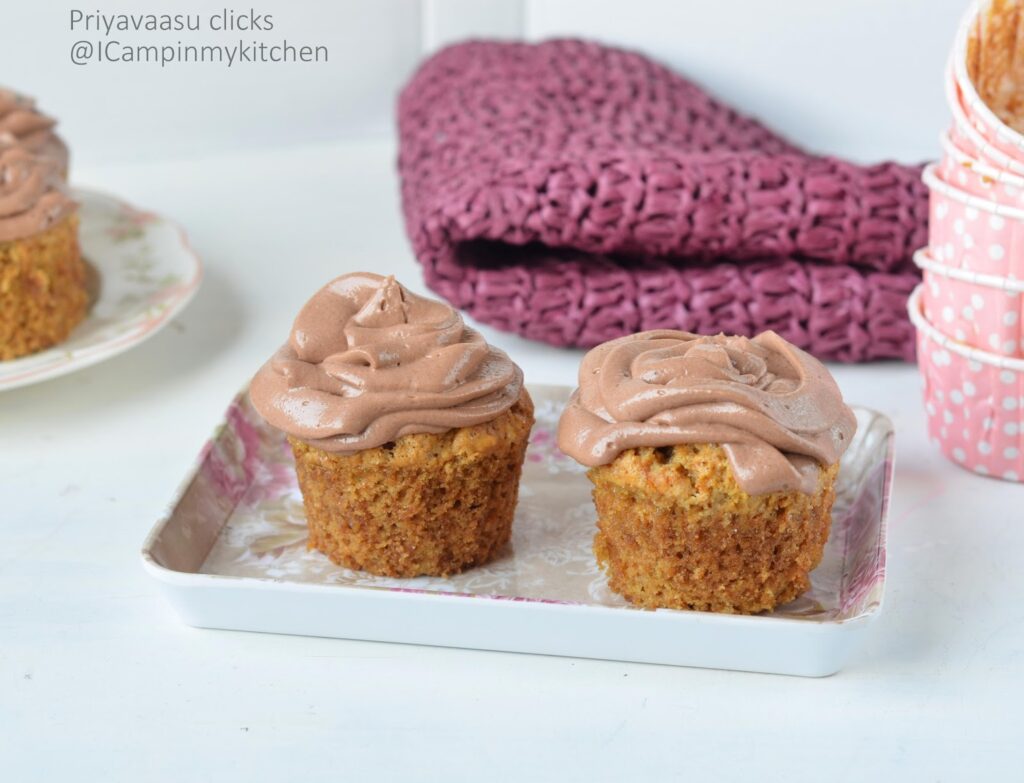 The frosting is something i whipped to make it a bit more attractive for my kiddos. Needless to say, it worked, while clicking these muffins, my Lil one came near and asked "Whatch you r making amma???, i m sooo hunggrryy, amma? I want caikee!! He mopped one muffin clean, licking his fingers with the frosting!
Ingredients (makes 7 medium muffins)
1 cup whole wheat flour (i used our normal atta)
½ cup raw sugar (you use normal sugar)
1 cup orange juice (freshly squeezed)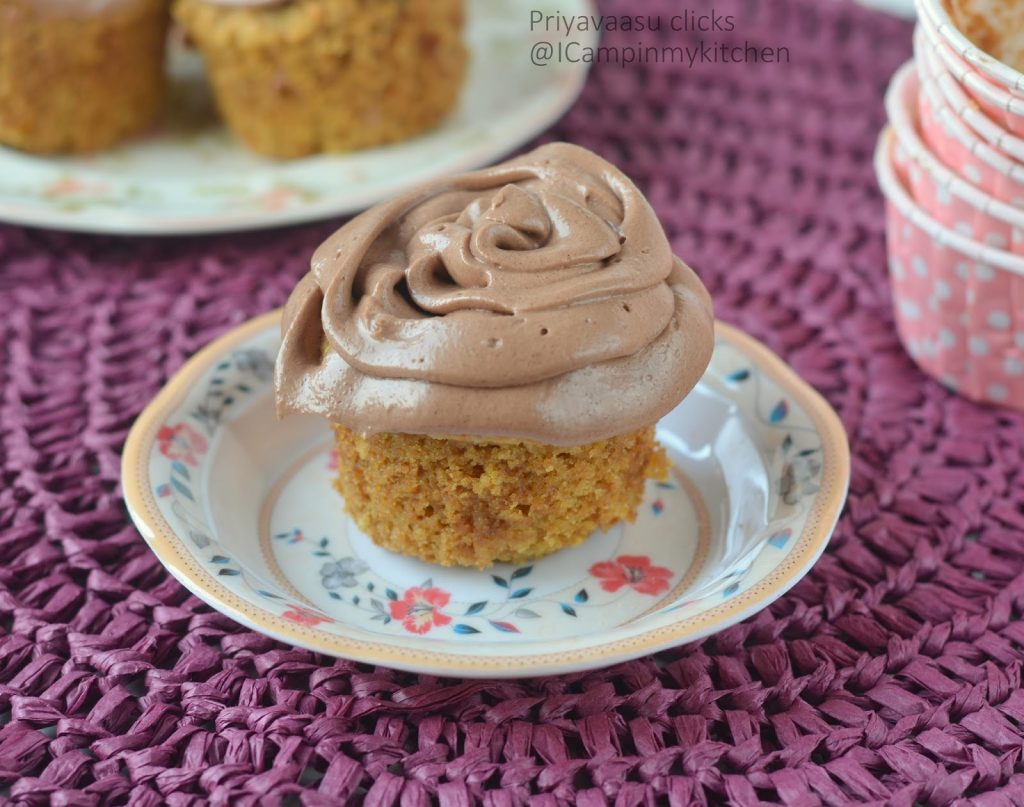 For Frosting (can frost 8 muffins)
for the chocolate cream cheese frosting
2 tablespoon cocoa powder
½ teaspoon vanilla extract
Method
Preheat the oven to 180C for 10 minutes. Keep a muffin pan ready with liners. I used my 6 cup muffin pan and one silicon mould.

Take flour, corn starch, baking soda, baking powder, sugar and salt together in a wide bowl. Whisk well to combine.

In a measuring jug, take the liquids orange juice, oil and zest together. Whisk well combine.

Add the liquid to the dry ingredients. Mix to combine using a spatula. Mix in one direction, light movement.

Spoon the orange batter into the muffin pan, fill up to ⅔rds. Bake in the preheated oven for 22-25 minutes or until a skewer inserted in the middle comes out clean.

Take it out of the oven, move to a wire rack for it to cool completely before frosting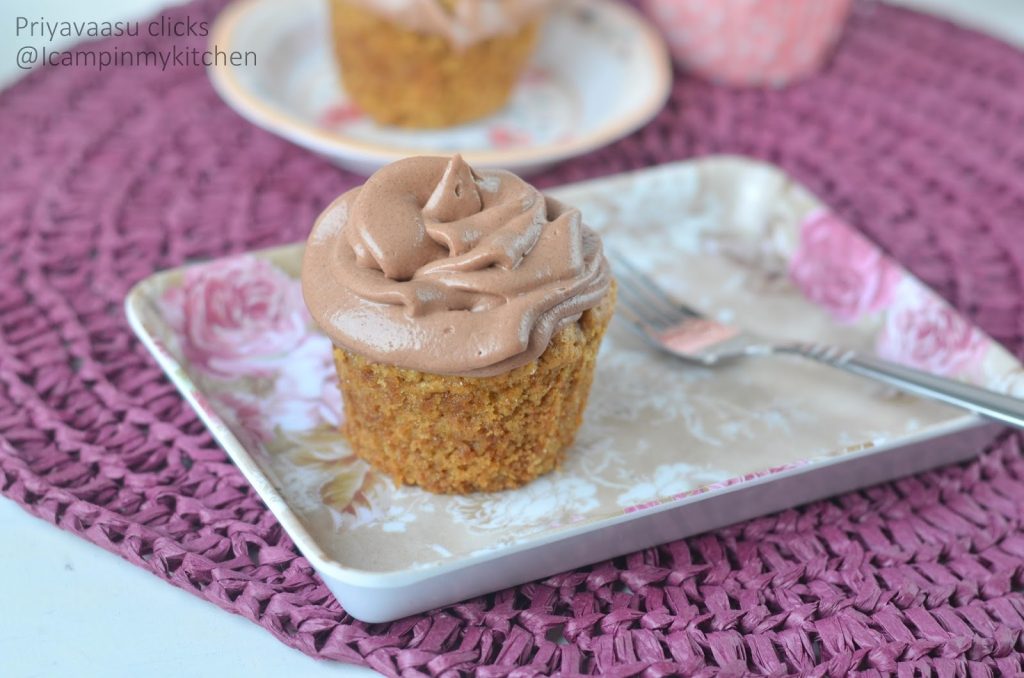 To Make the frosting
In a wide bowl take butter and cream cheese together, using a electric beater/whisk, whish well untils soft and fluffy.

Add sugar, cocoa powder, vanilla extract and salt and whisk again until fluffy. Refrigerate until use.

To frost, fill the frosting in a piping bag and decorate the muffins and serve immediately or refrigerate until serve.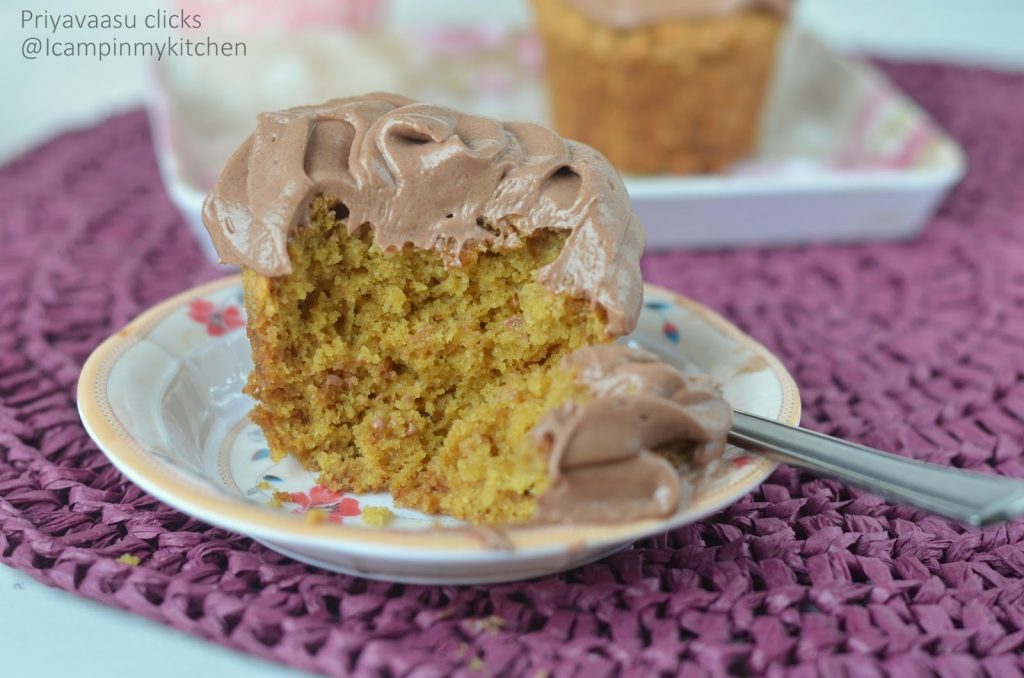 The weather is very hot here, my frosting started oozing out even after refrigerating. I have managed to pipe something acceptable by my kiddo's as frosting and immediately tucked it into the fridge.