How come i not make a strawberry cake when it is in season! Every week when we go for vegetable shopping, these fresh berries, scream at us, asking us to pick few boxes home. My lil one loves the fresh jam i make with these berries. For that matter, this jam is very popular amongst our friends, last year i remember gifting them to many of them.
This year the first batch i made, i gave it to my non-strawberry loving friend, who loved the jam, she took some lolo buns too with them, and she messaged me saying that she loved the combination. This is the second batch of jam i made and used it all up in this cake.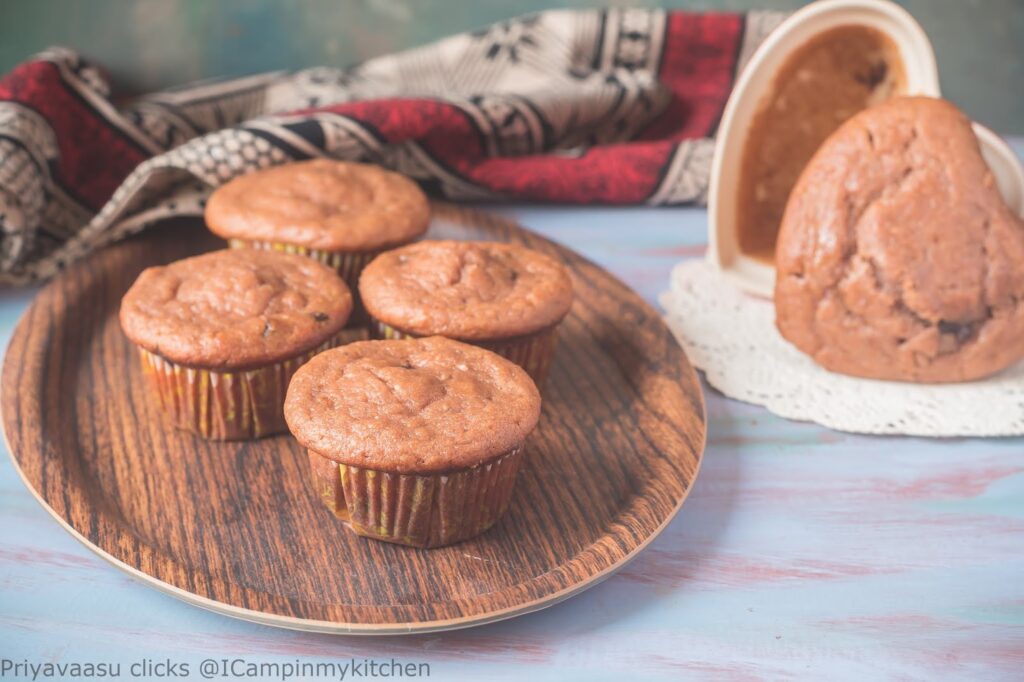 The recipe is adapted from my
Mango cake recipe
, I just replaced the mango puree with strawberry jam. One can also use fresh strawberry puree in the recipe, if using fresh puree, kindly increase the sugar to ¾ cup. Since the jam contains enough sugar, i have added only ¼ cup of sugar to the muffins.
This recipe can be baked as a cake too, i baked a little batter in a bigger heart-shaped ramekin, the texture was pretty good, except it takes a lil longer time than the muffins.
Ingredients
1.5 cups whole wheat flour
1 teaspoon vanilla extract
½ cup dark chocolate chips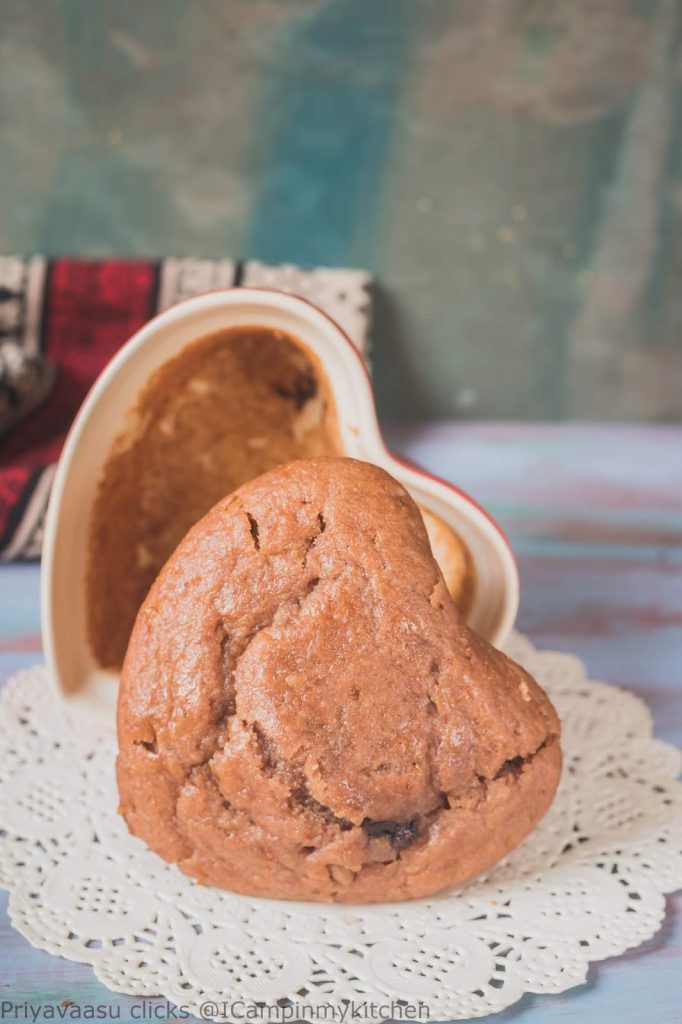 Method
Preheat the oven to 180C. Line 12-hole muffin pan with liners. I got around 12 usual muffins and baked one in a slightly bigger heart-shaped ramekin. if you want to bake it all muffinss then you might get 14 normal ones.

Take the strawberry jam in a wide bowl, add milk to it and whisk it smooth. Pass this mixture through a sieve, to remove the seeds of the strawberries. If you and your people at home, don't mind that crunchy texture of seeds in the muffins, then you can skip straining. My kids have micro sensors in their mouth, which can go 'beeeeeeppp" when they sense something unusual in their bakes. So i strained the liquid.

Now to this strawberry milk, add oil and whisk smooth. In another bowl, sieve together, flour, baking powder and baking soda. To this flour mix add chocolate chips and mix.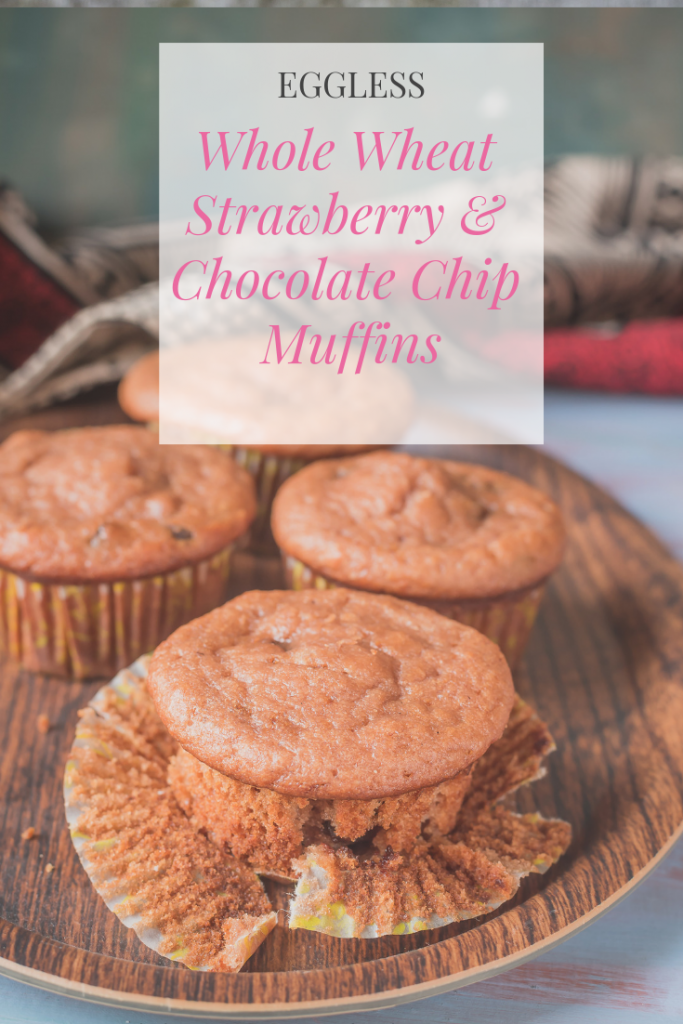 Now slowly add the dry mix in to the wet mix in 3 batches. Using a spatuala mix it in. Take care not to mix vigourously, mix in single direction.

Now using an ice-cream scoop, fill each hole of the muffin pan with the prepared batter. I used my small ladle.

Bake the muffins in the preheated oven for 20-25 minutes or until a skewer inserted in the middle comes out clean.

Once done, remove the muffin pan from the oven, remove the muffins onto a wire rack, let it cool completely. Enjoy the muffins warm along with your evening coffee or tea.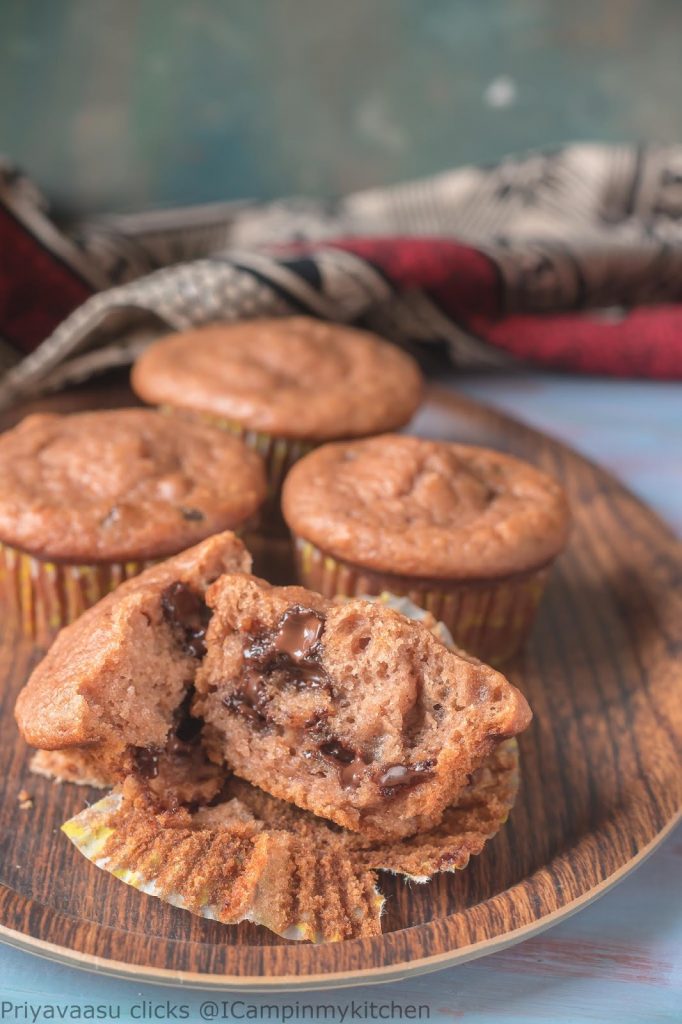 Notes
I have used my homemade strawberry jam, which already has enough sugar, so i have used only ¼ cup sugar in this recipe.

If you are going to use fresh strawberry puree, kindly use ¾ cup of sugar for the muffins.