All these days i thought pinacolada to be a funky name given to a simple pineapple drink, until last month's Baking Eggless Challenge.
It was a Pinacolada cake,suggeted by Meena. The Original recipe was in polish, which
+Gayathri Kumar
translated for us. While going through the recipe, i came to know the proper origin and ingredients for a pinacolada.
How ignorant am I!!!
The piña colada, an official beverage of Puerto rico, is a cocktail made with rum, cream of coconut, and pineapple juice, usually served either blended or shaken with ice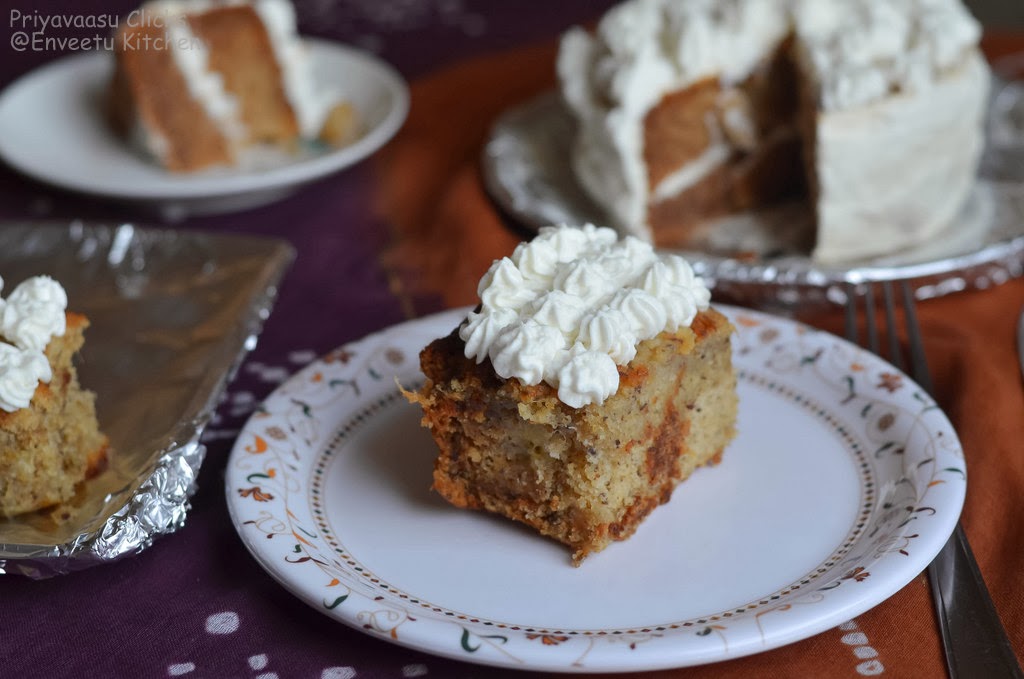 I have mixed and matched the ingredients to my taste and knowlege and came with this recipe, though the cake came out a bit densed, the taste was very good. First time i baked this with flaxmeal as egg subsititue and second time i used vinegar. Both the cakes cameout good.
Ingredients
1 teaspoon vanilla extract
1 ½ cups all-purpose flour
½ cup unsalted butter, room temperature
3 tablespoon flax-seed meal dissolved in ¾th cup of warm water (see notes)
1 cup Sweetened Coconut flakes (see notes)
1 cup crushed pineapple,drained (i used delmonte canned pineapples)
1 tablespoon of Rose Essence
Method
Grease a Square baking pan with butter/oil. I have used 7" x 6" (almost square) pan. Preheat the oven to 180C. Drain the pineapple from the tin, crush them roughly with a fork or if you have a fussy kid like mine, better to pulse it in a blender to to get a coarse fruit instead of chunks.

In a small bowl, combine coconut milk and vanilla. Set aside. Dissolve flaxmeal in ¾th cup of warm water and set aside.

In a medium-sized bowl, sift together the flour, baking soda, and salt. Set aside.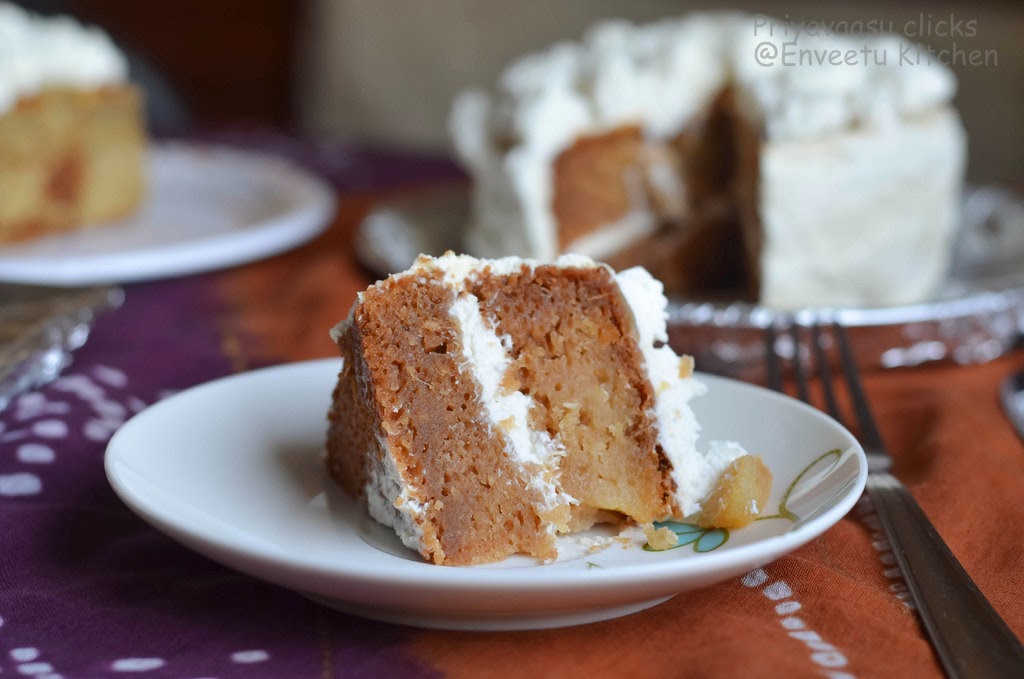 In a large mixing bowl, beat butter and sugar until light and fluffy. Add flaxmeal to the sugar mixture and beat well.

Alternately add the flour mixture and the milk mixture, beating well after each addition.Fold in the coconut and pineapple.

Pour the cake batter into the greased pan and bake for 35-40 minutes or a tooth-pick inserted in the centre of the cake comes out clean.
Frosting Instructions
Take Cream along with other ingredients in a bowl and whip until soft peaks forms.

Fill the frosting in a piping bag and frost the cake.

I have cut the cake into squares and then spread the frosting using star nozzle.
The above mentioned measurements i frosted a 6inch square cake and 4 portions(out of 12) of square cake.
Notes
For Sweetened Coconut flakes, i have used powdered coconut burfi(coconut squares) which i made for diwali. You can use store-bough coconut flakes of follow the link for homemade sweetened coconut flakes.

I halved the above recipe for the round cake and used vinegar as egg substitute

If using vinegar, use 1 tablespoon for an egg. I have used apple cider vinegar. Mix it along with coconut milk and vanilla extract in the above method.
Sending this to Cake Mela happening @ +Srivalli Jetti space.