These Colorful Cookies where in my Baking list for a long time. Saw these cookies @
Sharmi's Space
and decided to bake them for Christmas  When i finally had the time to bake these cuties,the 2 packs of tutti frutti which i bought were way beyond their life time, so had to trash it!!! 🙁 This time i bought a fresh pack and remembered to use them properly. 
Kuttu loves to take cookies to his school and Drawing Class Snack Box. He was so eagerly waiting for the Oven to give that Beep Sound. The moment he heard that, he started pestering amma "can i taste?". Thank God, he waited for them to cool down a bit, he took one, had a bite " mmm!!! Tasty!!!, can i have one more?" yup i passed and the recipe is a keeper for me!!!!
Ingredients
Method
Preheat the oven at 170C.Grease a Baking tray and line it with parchment.
In a mixing bowl Cream Butter and Sugar until light and fluffy using a whisk. Add maida, tutti frutti and mix well.

Add milk little by little to form a soft dough. Form the dough to a log shape and cover it with parchment and refrigerate the dough for 30 minutes.
Take the log out, and slice them as thick disc using a sharp knife. Transfer the cut cookies to the baking tray. Leave some space in between the cookies, the cookies doesn't expand much while baking. I baked 12 Cookies @ time, where i normally  only 7-8.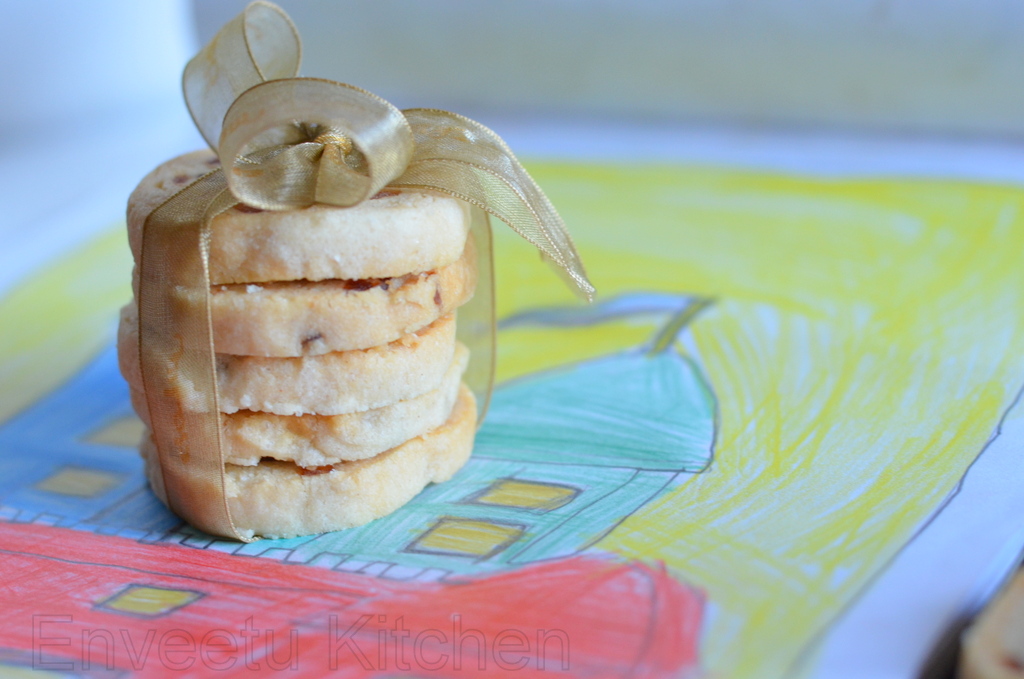 Bake them for 12-14 minutes. Keep an eye after 10th minute, when you see the edges turn brown, they are done. The Cookies will be soft while taking out of the oven, they will be crispy, once cooled down.

Transfer carefully on to a wire rack and cool completely. Store in airtight container. 
Check out the Blogging Marathon page for the other Blogging Marathoners doing BM#26