The next bake on the Twist & Roll theme is a Swedish Tea ring/Swedish Coffee Cake. Also known as Vetekrans,it is just like cinnamon rolls/Kanelsnegle. But the only difference it is shaped different and can be topped with either pearl sugar or almonds. The bread can also be braided like a pulla/challah, to give it even more a rich finish. 
But i loved this shape, like a wreath and the cuts that make it more beautiful. While reading about how it is cut, i came across a blog that said, it is ok to make mistakes, coz once baked it doesn't show, except for the beauty of cinnamon and almond studded bread drenched with sugar glaze.
So, do not worry about the shape or the cut, just roll and do the cuts the way you want. Here i tried to divide the dough into two halves and shaped one half the traditional way, like a wreath and trying to have the cuts that show the inside of the bread like a layer. Whereas the second half, i have more and less made it like a diamond shaped bread. So, just go with your imagination, in the end all that matters is the taste and that i can guarantee, your people will be licking their fingers after eating the bread!!!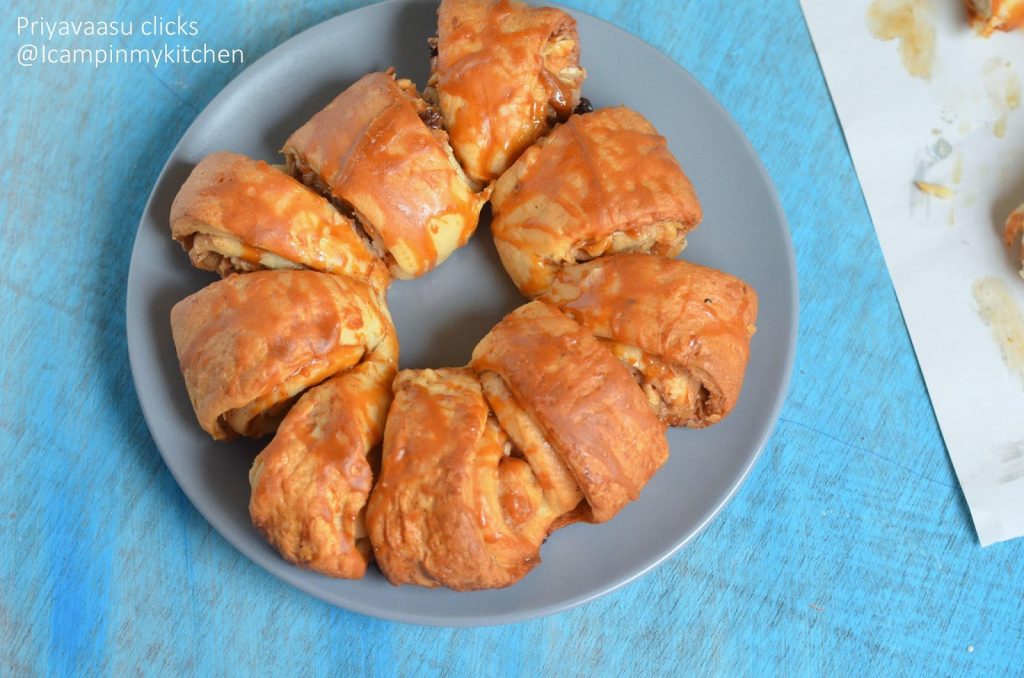 Source : Simplyrecipes
Ingredients
Bread:
1 teaspoon ground cardamom
Filling
1 cup golden raisins (optional)
1/2 cup slivered almonds (optional)
1 tbsp oil +3
 Tbsp milk mixed togetehr
1 cup powdered sugar or 
1 Cup peanut butter chocolate chips
Method
Take Milk in Microwave glass/bowl and heat for 30 seconds. The milk should be hot but not boiling, to this hot milk add butter. 

I have used my food processor to knead the dough, you can knead the dough by hand also. Take the flour, sugar, salt, yeast and cardamom powder in the food processor bowl. Pulse it twice to give a good mix. 

Now to this slowly add then Butter & Milk mixture and knead a  soft dough. Knead for about 3-5 minutes to get a soft dough that pulls away from the sides of the bowl. If kneading by hand, you have knead for about 7-8 minutes. 

Once kneaded, place the dough in a oiled bowl, covered with a kitchen towel , keep it in a warm for an hour or until it has doubled in size. If you are in a cold place, i suggest, keeping the dough inside the oven with the lights on. 
Once doubled, take the dough out, punch it down and divide the dough into 2 halves. I was going to make it as two rings. You can even make it as a braid.

Dust your work surface well with flour, Take one portion of the dough, roll it out into an rectangle of 8 X 16. Brush generously with butter and then sprinkle generously with sugar and cinnamon, top it with silvered almonds, all this leaving an inch of border. 

Now roll the dough tightly like a jelly roll, away from you. Transfer the rolled log on to a baking tray lined with parchment. Bring the edges together to form a ring and pinch the edges to seal.

Using scissors, cut most of the way through the dough, cutting on a slant. Work your way around the dough circle. After each cut, pull out the dough segment either to the right or to the left, alternating as you go around the circle. The dough circle will look like a wreath when you are done

Repeat the same with other half of the dough, roll, fill and make a wreath like this. Let the wreath, rest for an hour again. 

During the last 15 minutes of second rise, heat your oven to 180C. Mix the cream and oil together, brush it on top of the wreath and bake them for about 25-30 minutes or until golden brown on top.
Do not bake for more time as they might get burnt on top. If you feel the wreath;s are getting brown early in the oven, then cover them with foil in the mid-way and continue baking.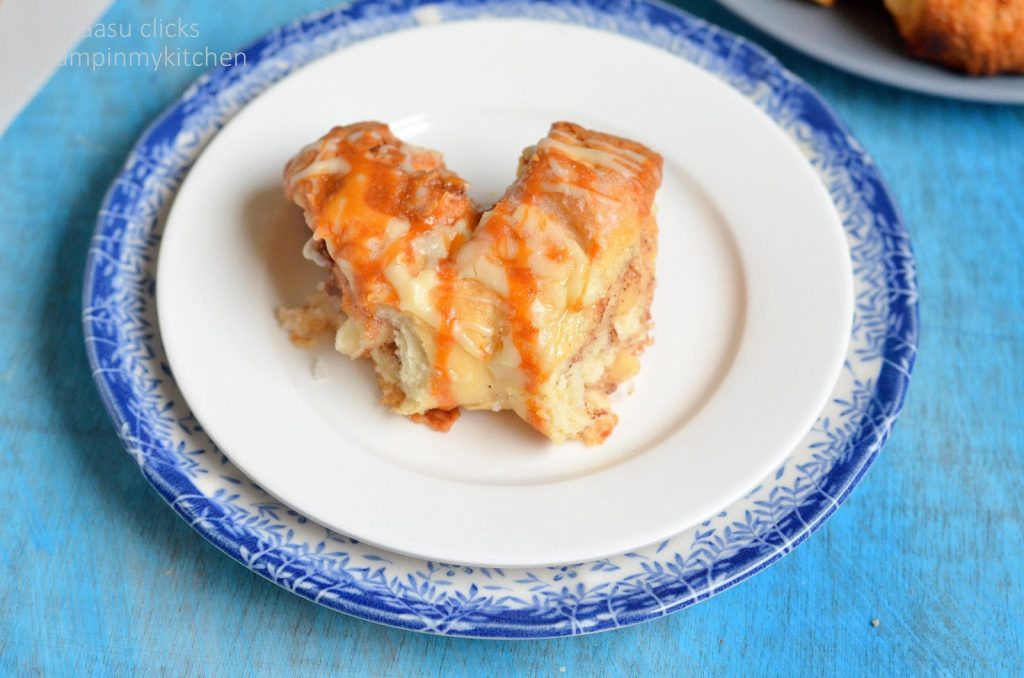 Once done, remove from the oven onto a wire rack to cool completely. To glaze rings, if you want sugar glaze, then mix powdered sugar with a tbsp of water and using  a fork or a using a pastry bag, drizzle it over the wreath.

If using Chocolate glaze, melt the chocolate chips in the microwave and using a fork or a pastry bag, drizzle it over the wreath.

Cut and serve. It tastes better when served warm. If storing, cling-wrap and cover it with alu -foil and store it in the refrigerator. While serving, reheat it for 20 seconds and serve warm.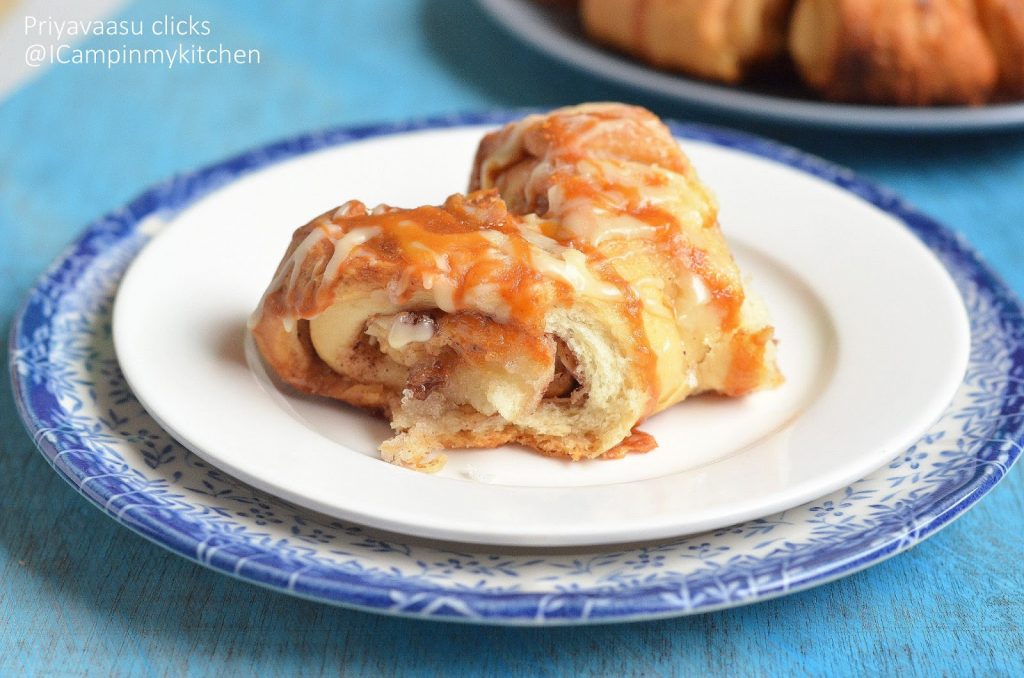 If storing it for more than a week, i would suggest freezing it. Cling-wrap the tea ring and cover it with Aluminium foil and put it in a zip-loc and mark the date and freeze it. You can keep it for a maximum a month or two. If using from freezer, then cover the tea-ring with aluminium foil and bake it again @ 150 for 15 – 20 minutes and serve.