Banana bread, there must be some 100 + recipes on the web for this loaf of deliciousness! Every passionate baker will have their own recipe of banana bread, yes me too have one. I just keep experimenting with my base recipe to get a different taste every time. Like this one, i tried to surprise my kiddos with a yumm cream cheese in the center of this loaf i baked today. 
We love banana breads,  there will be a loaf for my boys to enjoy during their weekend. Sometimes, we wantedly leave a banana to over-ripe, so i can make banana bread for the weekend.  I spiced the bread with cinnamon, you can use vanilla instead. Whatever spice it is , the aroma of banana bread in your oven, just fills the entire house. Kids come floating in air to the kitche, just like jerry mouse swifting mozzarella cheese.
I have used brown sugar, so the loaf has turned like a chocolate loaf, if you want a chocolate loaf, try replacing buckwheat flour with cocoa. Since both the flours are dense, do not skip sifting, helps in aerating the flour-mix for a fluffy loaf. Ok, enough of the banter, lets get to the recipe.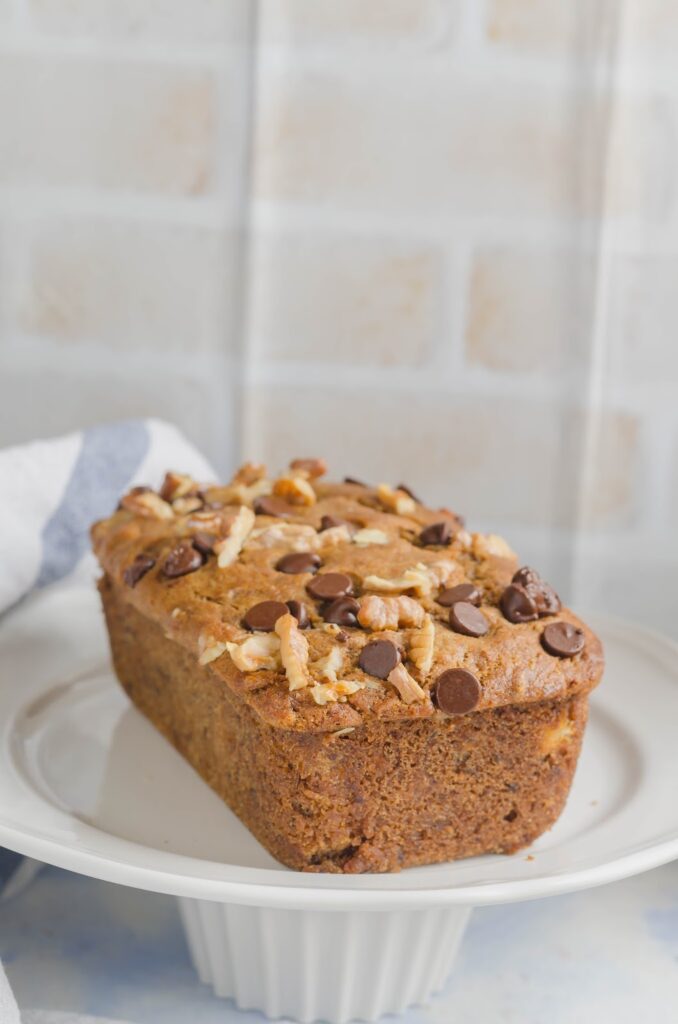 Ingredients
3 small banana's (i used indian poovan pazham), If using philiphines banana 2 is enough
1 teaspoon cinnamon powder
3 tablespoon chocolate chips
2 tablespoon crushed walnuts
Cream cheese center
¼ teaspoon vanilla extract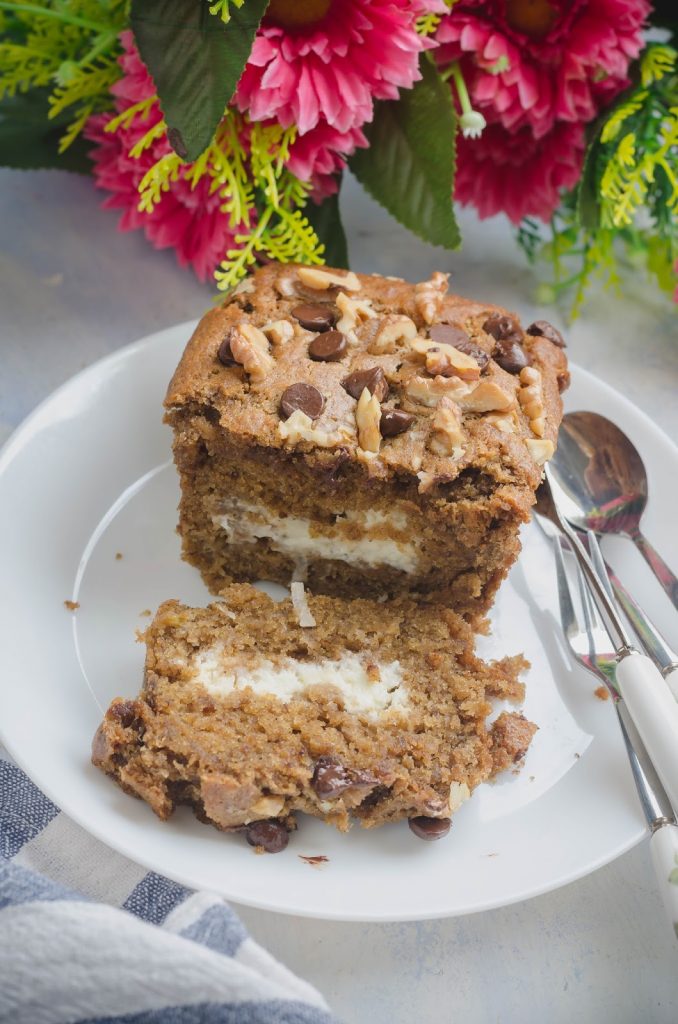 Method
Preheat the Oven to 180C. Grease two mini loaf tins with oil. Whisk together cream cheese, vanilla extract and powdered sugar until fluffy and keep aside until use.

Take the banana's in a large bowl, and mash it well with a fork. To this mashed banana add brown sugar and mix well.

Take both the flour in a flour-sifter, i used my Ikea flour sifter, Add baking powder and baking soda and cinnamon powder. Sift it directly into the banana-sugar bowl.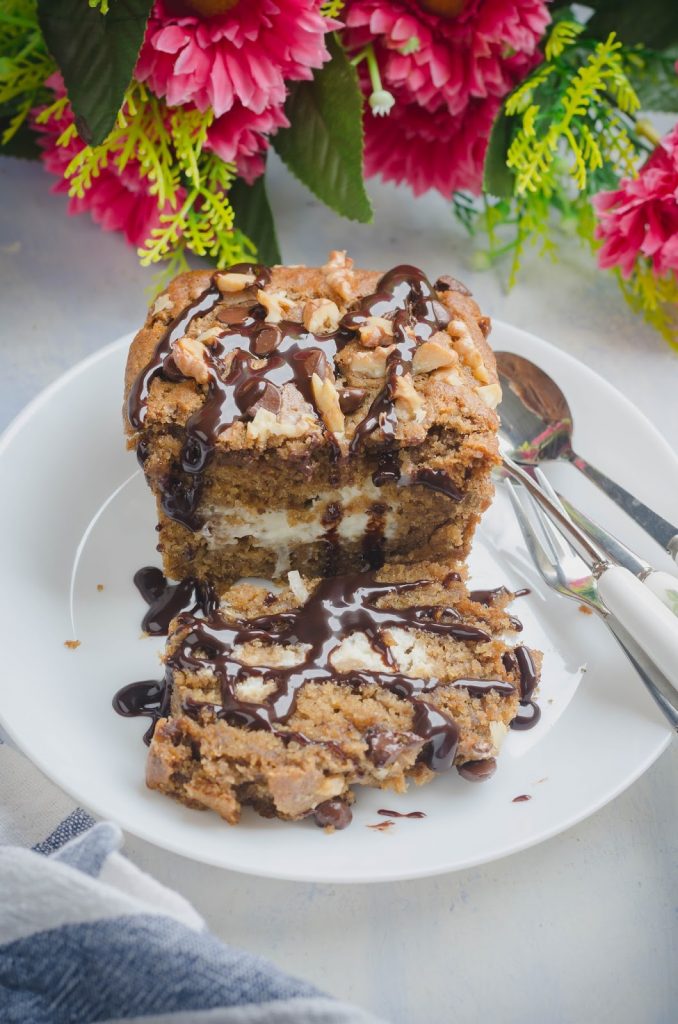 In a measuring cup, take milk and oil and mix well. Add this liquid to the flour-banana mix and using a spatuala combine everything together. Do it gently, in one direction, this ensures the air is well incorporated and the loaf turns fluffy.

Fill half the loaf tins with the batter and add 2 ice-cream scoops of cream cheese into the loaf tins on top of the banana bread batter. spread it in the center with a spatula, do not stir.

Divide the remaining batter on top of the loaf tins, covering the cream cheese. Gently tap the loaf tins to release any trapped air. Sprinkle chopped walnuts and chocolate chips on top.

Bake the loaves for about 45 minutes or until done. It was done at 45 minutes for me. Oven temperatures differ from oven to oven. so please check the loaves after 40 minutes. If a toothpick inserted in the center comes out clean, it is done.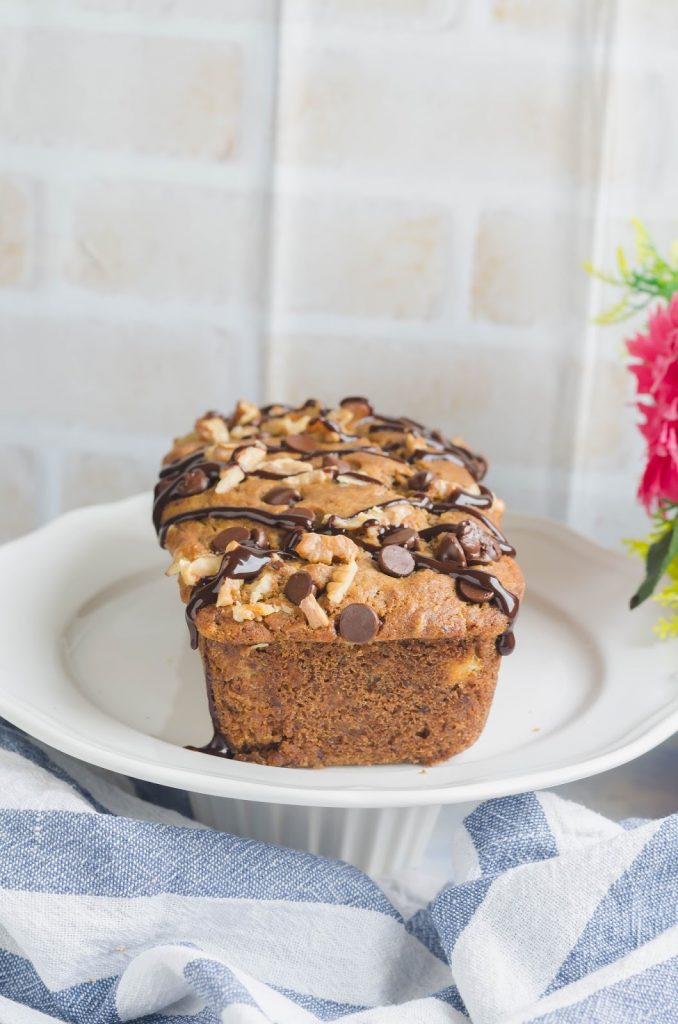 Remove the loaf tins onto a wire rack, let it sit for 10 minutes. Slowly release the edges with a blunt knife and invert the loaves onto the wire-rack. Let it sit for another 10 minutes and become warm. Slice and enjoy. My boys enjoyed with a drizzle of chocolate sauce on top.