Carrot cake and cream cheese frosting are match made in heaven. Any human being with a sweet tooth would agree on this. I personally love cream cheese frosting, but only next to buttercream. Buttercream and me are kind of love at first sight. Maybe it is because i got a decent frosting with buttercream.
So when i decided to make a vegan orange carrot cake today, i wanted some other flavor in the cake. While googling for some ideas, i came across this orange blossom water, luckily i had it in my pantry. I have used this to flavor the cake as well the frosting.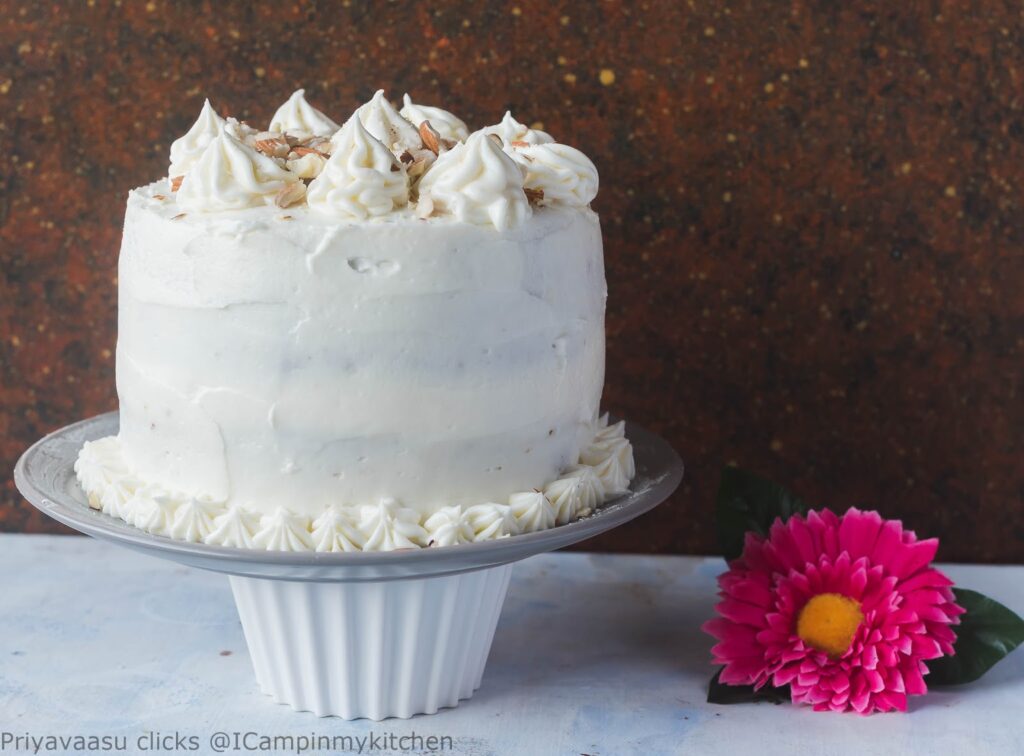 The cake has got a beautiful crumb, i have added 2 tablespoon sooji in my regular cake recipe, as last time when i baked some carrot muffins, though the top was dry, the bottom was very soggy, when i tried reading about it, some say that the extra moisture from the carrots might have done it. I m not sure, whether it was the moisture that caused it, so far a safer side, i added semolina and indeed the cake was perfect.
I have to experiment with the same muffin recipe again to confirm this. Anyways everybody at home loved the orange blossom water flavoring in the cake and as well in the frosting. My hubby even suggested that i should bake this cake for a birthday, as he finds the sugar perfect in the cake.
I would definitely recommend this cake for celebrations. If your people like marmalade, you can spread 1 or 2 tablespoon of it in the middle while filling the cake. Except for my hubby rest of us despise marmalade! I cannot stand that taste, dont ask me why!
Go ahead make this cake and if you bake from here, do tag me in your social media posts #icampinmykitchen or
@priyasrinivasan
in Instagram. Would love to see your cakes.
If you are looking for some orange cakes and muffins, here is a list from my kitchen

Ingredients
1.5 cups whole wheat flour
2 tablespoon semolina/Sooji
1.5 cups of shredded carrots
2 tablespoon black raisins
2 tablespoon chopped almonds
1 tablespoon orange blossom water
½ cup oil
Few chopped almonds for garnish
Method
Grease 2, 5-inch round baking pans and line it with parchment. Preheat the oven to 170C.

In a wide bowl take flour, baking powder and soda. Whisk well to combine

To this add semolina, almonds, raisins and sugar. Whisk well to combine. Add shredded carrots to the dry mix and mix well.

In a measuring jug, take orange juice. Add oil and orange blossom Water to it and whisk well to Combine.

Pour the wet ingredients to the dry and using spatula mix well. Take care while mixing, mix in a single direction.

Divide the batter amongst the 2 baking pans and bake in the preheated oven for 45-50'minutes or until a skewer inserted in the center of tb cake comes out clean.

Remove the cake from the oven to a wire rack, let it cool for 5 minutes, then slowly remove it from the pan and let it sit on the wire rack until it is completely cool.

If serving as such, i would suggest to serve it warm.

If frosting, let it cool completely. Cling wrap the cakes and refrigerate until frosting

.
100 grams butter, @ room temperature
100 grams cream cheese, @room temperature
1 teaspoon orange blossom Water
Take together all the ingredients in a wide bowl. Whip using a electric beater until nice and fluffy.
Remove the cakes from the refrigerator. Scrap the top of the cakes.

Put a blob of cream cheese frosting on a cake board or a plate. This helps to hold the cake in its place while you frost.

Place a cake layer on top. Brush the top with simple sugar syrup.Fill the top of the cake with cream Cheese frosting. Place the second layer bottom side up. Brush the top again with simple sugar syrup.

Crumb coat the cake with cream cheese frosting. This seals the crumbs well and gives a neat finish to the final decoration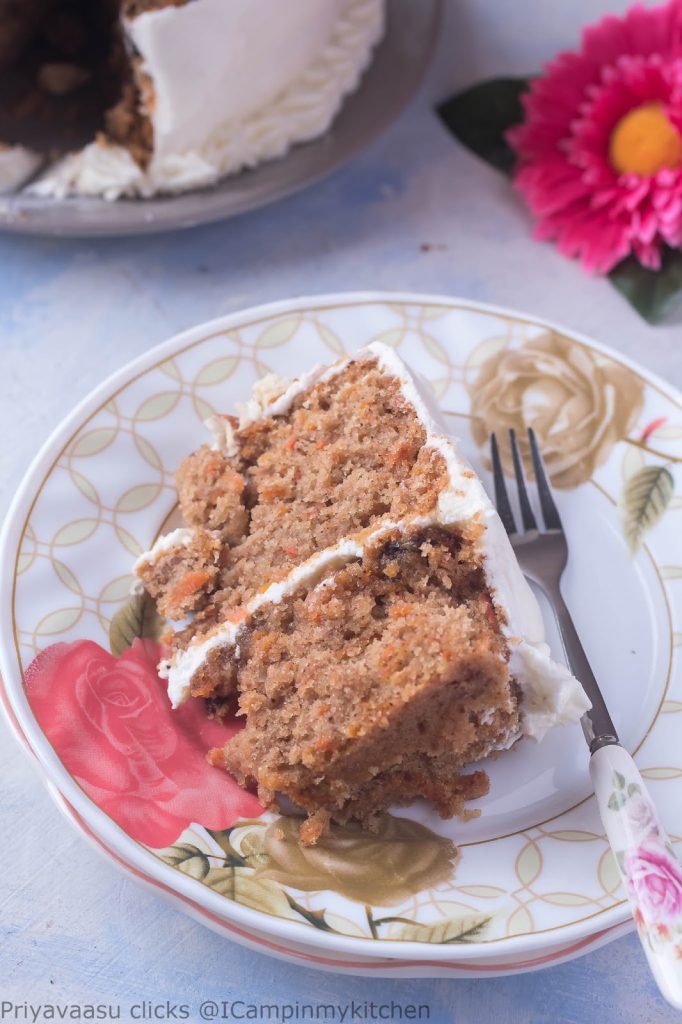 Refrigerate the cake for atleast 10 minutes before decorating it with cream.

I added another layer of frosting and piped some cream and top and garnished with some roasted almonds. Let th

e cake rest for 10 minutes before slicing.