When we think about fall fruits, the first fruit that pops in my head is apples. Yes, now they are available all throughout the year, but web says in northern hemisphere fall is when they are harvested.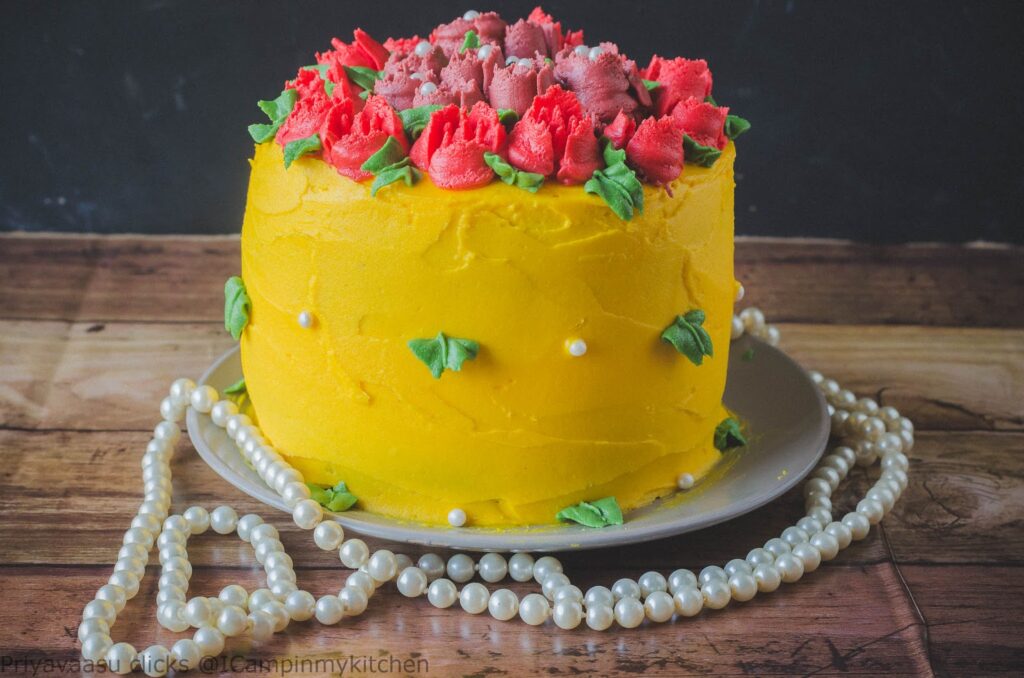 There are numerous desserts that we can come up with this bright red fruit.
i have quite a few apple desserts here
Now this pretty cake too adds up to that list. Chunky apple cake filled with cinnamon buttercream frosting. First i thought of keeping the cake plain, with just a dust of icing sugar. But then, I had some leftover buttercream frosting didn;t want to waste it, so filled and frosted and piped some roses and tulips using the russian nozzles.
This is one of the best cakes i have made this date. The recipe is same as that of my Vanilla sponge cake, i have used curd here instead of buttermilk and thinned it down with water. The cake turned out super soft and fluffy. I have added apple chunks to the batter and also to the top of the cake. One of the reason i frosted it is to hide this, or else my lil one wouldn't have liked it. They don;t like anything peeping from their cakes.
I wanted to fill the cake with some apple compote to give it more of apple pie taste, but then again, i wasn;t sure whether the kids would love it. If making for adults, i would definitely recommend that compote filling inbetween the cake layers. Go ahead and bake this cinnamony apple cake, with frosting or not ,you would enjoy it anyway!
1.5 cups of whole wheat flour
½ cup of curd, @ room temperature
1 teaspoon cinnamon powder
2 teaspoon candied ginger
1 medium sized Royal gala apple
½ teaspoon fresh lemon juice
For the buttercream frosting
300 grams unsalted butter
½ teaspoon cinnamon powder
few sugar pearls for garnish
Purple color = red + blue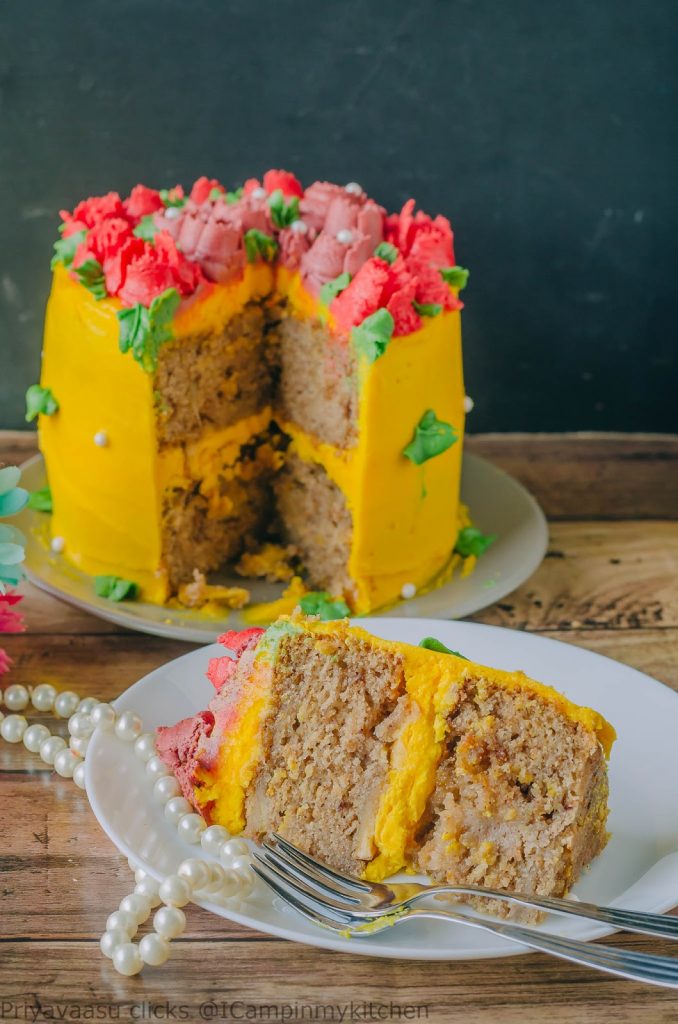 Method
Grease 2 4 inch cake pans and lay it with parchment paper. Preheat the oven to 180C.

Wash the apple, peel it, core it and chop it into small chunks. Add lemon juice to it and toss, this well prevent the apples from getting brown.

In a large bowl, take together wheat flour, baking soda , bking powder and cinnamon powder, whisk them together. This ensures even mixing of all the dry ingredients.

Now add half the apple chunk to this flour mix and toss well. Now add sugar to this and whisk well.

In a measuring jug, take the curd, add water to it and mix well to combine. To that mixture add oil and mix.

Now add this liquid to the dry ingredients in two batches. Using a spatula, combine it together. While mixing, use the spatula to mix in one direction only. Be gentle, while mixing. Adding liquid in batches will help in proper mixing then dumping everything and mixing at a time.

Divide the prepared batter into two pans. Now divide the leftover apple chunks and spread it on top of the cake. Bake it in the preheated oven for 30-40 minutes or until a tooth pick inserted in the center of th cake comes out clean.

Once done, remove the cake onto a cooling rack. Let it cool down for 5 minutes, then run a blunt knife around the edges of the pan to release the cake. Slowly invert it onto the wire rack and let it cool completely before frosting.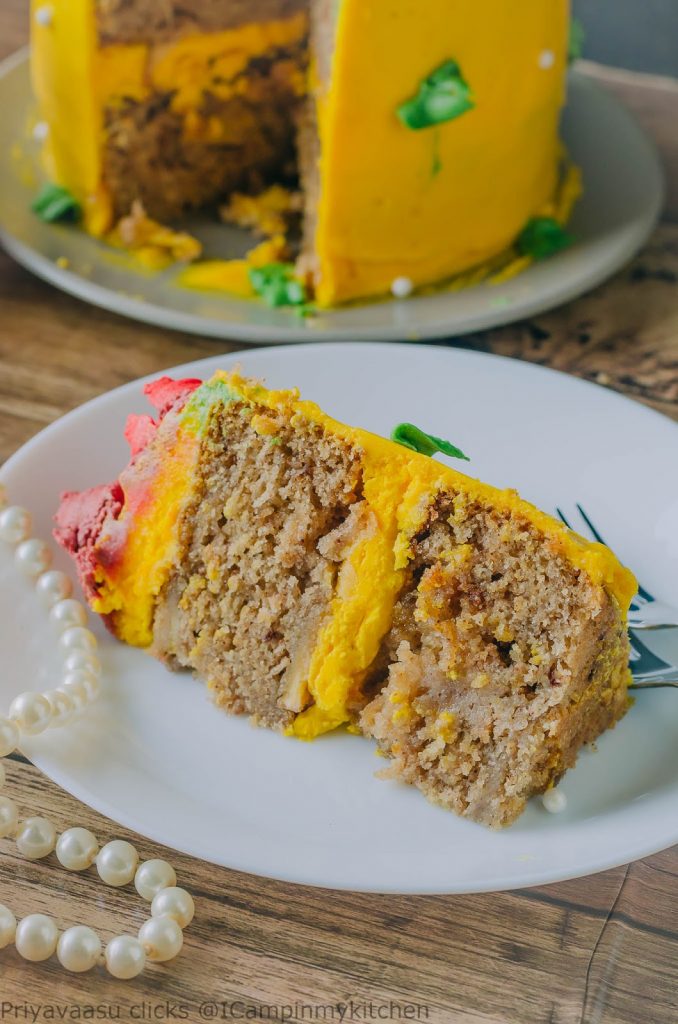 Buttercream frosting
Take butter in a wide bowl, using an electric beater, beat it until light and fluffy. Now add 1 cup of icing sugar at a time and whisk again.

Once all 4 cups are added, add cinnamon powder and milk to it and whisk. The buttercream should be airy, and smooth.Once done, divide it in 3 bowls. add colors to each bowl and mix with a spatula.

I have use yellow buttercream to fill and frost the cake. And red and purple color for the flowers and little green for the leaves. I have used russian nozzles to pipe roses and tulips on top.
To Frost & Fill the cake
Mix 3 tablespoon of icing sugar with ¼ cup of warm water and keep ready.

Take a round cake board, add a blob of buttercream to the center and place one round cake in the middle. This blob makes sure, that the cake stays put on the board without sliding.

Spread half of the sugar solution on top of the sponge, this keeps the cake soft. Add a thick layer of yellow frosting on top. Spread it to cover the entire cake surface, do not forget the edges.

Now stack the second cake on top of this with its bottom facing the top. Spread the sugar solution on top of the cake.

Now add a thick layer of yellow buttercream on top and crumb coat the sides with yellow buttercream. Place the cake in the refrigerator for 10 minutes for the crumb coat to set.

Once set, add thick layers of yellow buttercream on top and using a offset spatuala smoothen it to set.
Again refrigerate the cake for 10 minutes before adding any extra details. Russian nozzles are pretty easy and cool to use. They do make lovely flowers with little effort. If you are artistically handicapped like me, then these nozzles do help a lot.

For piping the roses, use the rose nozzle, fit it in a disposable piping bag, fill the bag with red buttercream.
Pipe a little base first, without removing your hand, pipe, twist and remove for a perfect rose. Same way for tulips, pipe a little base, pipe and remove. I saw some yoututbe videos before perfecting the technique. I would suggest the same for others too. Once done, let the cake rest for few minutes in the fridge then cut,slice and enjoy.