There comes a time, where you suddenly gain confidence of something, which you were long afraid of. Decorating cakes is one such thing for me. I never had the confidence of decorating a cake. Baking was something which i enjoy the most. It is my kids who pushed me to decorate their birthday cakes, i know the cake would taste good, but the look also matters and i didn't want to disappoint them on their special day.
Its been a year, since i have started decorating cakes for special occassions inside our family and to our close friends, who are more than my family. This was the second cake, i did last year, after doing my elder one's birthday cake. This is a simple vegan cake, filled with chocolate ganache and frosted with buttercream.
A cake which i made so relaxed, knowing it would come great and it did came out great.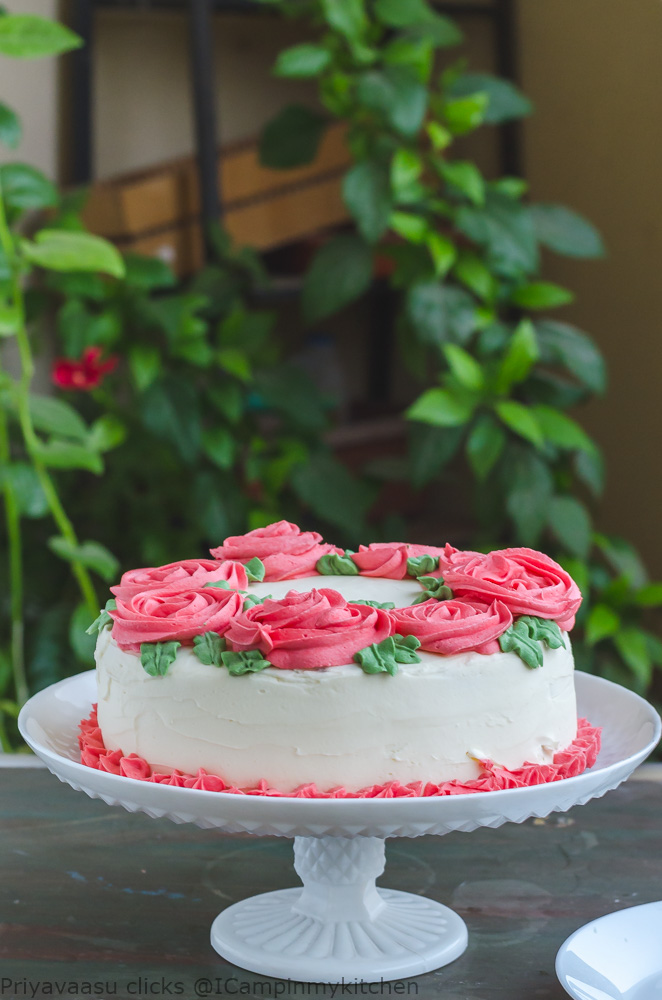 Every year, December,
+srivalli jetti
and few other blogger friends, have this crazy idea of doing a bake-a-thon. Yes we are that group of misfits, who blog every month and also run two marathons every year along with this bake-a-thon. None of us do the real running, or i certainly don't to that, but we are ready for anything food!!!
This cake is my savior for today, though i have baked dish ready, i m yet to click pictures of that dish. This cake was in my magic folder, so here it is, seeing light of the day!!!
Ingredients for the Cake (i use 250ml cup) (Makes 1 8 inch cake or 2 6 inch cakes.)
1.5 cups of Whole Wheat flour
¾ cup sugar
1 teaspoon baking powder
½ teaspoon baking soda
1 & ¼ cups of Orange Juice (fresh or store-bought)
zest of an orange
½ cup oil


For the chocolate Ganache
200 grams Lindt 70% cocoa, dark chocolate @Room temperature
250 ml whipping cream
1 tablespoon coconut oil or butter


For Buttercream
200 grams of salted butter, @ room temperature
4-5 cups icing sugar
2 teaspoon of pure vanilla extract
2-3 tablespoon of milk
Pink food color for roses
green food color for the leaves
Method
Preheat the oven to 170C. Grease an 8 inch pan with oil and line the bottome with a parchment paper.

Sift together whole wheat flour, baking powder, baking soda in to a large bowl. Sifting is important, it helps in making the flour mixture airy and fluffy, resulting in a spongy cake.

To this sifted flour mix, add sugar, orange zest and whisk well combine. In a measuring cup take orange juice, to this add oil and mix well.

Now slowly add the wet ingredients to the dry and using a spatula mix to combine. Take care not to mix it vigorously. Do gently and mix in single direction.

Pour the prepared batter into the greased pan and bake the cake in the preheated oven for 40-50 minutes. Mine was done at 45 minutes, cooking time varies from oven to oven, so please keep a watchful eye from 40 minutes.

The cake is done when a skewer inserted in the centre of the cake comes out clean. Remove the cake from the oven and let it sit on the counter for 5 minutes. Then slowly unmould the cake on to a wire rack, let it cool compleltely.

At this stage, if you are plannig to serve it as such, cut and serve while it is slightly warm. If you are planning to frost. Let the cake cool completely. Cling wrap the cake and refrigerate until you frost.
I make the ganace a day earlier or atleast 8 hours prior to filling/frosting my cakes.

Chop the chocolates into small cubes and keep it ready, before prepping the cream.

Take cream in a microwave safe bowl, heat for 30 seconds in high, the cream has be warm to melt the chocolate.

Pour the warm cream over the chopped chocolate. Let it sit untounched for 8-10 minutes. After the said time, using a spatula, slowly mix the chocolate with the cream. The chocolate should have melted and the ganache should smooth and glossy.

If you still find little chunks of chocolate in your ganache, then microwave it for 15 seconds and try mixing again.

Once the ganache turns smooth, let it cool completely on the kitchen counter. If you are planning to pour the ganache over the cake, then you can do so after the ganache cools down.

Since i was making it to fill the cake, i wanted it a bit thick, so i refreigerated the ganache. Cover the bowl well with a cling wrap and refrigerate, so it doesn't pick up any other smell from the fridge.

After few hours of refrigeration, the ganache will thicken naturally.
Take the butter in a large bowl, using a eletric beater, beat until smooth and fluffy, for abotu 3-5 minutes. Next add sugar, vanilla extract to the fluffybutter and beat again until sugar is completely incorporated with butter, Now check the consistency, it will be a bit thick, add 1 tablespoon of milk to it and mix well, to get a smooth fluffy butter cream

.

If you still feel the cream is too thick, add another tablespoon of milk and whisk. I usually make the buttercream, just before i frost my cakes.

Remove a cup of buttercream from the bowl, add few drops of food coloring and mix well.

Remove ¼ cup of buttercream from the bowl, add few drops of green food coloring, mix well and keep aside.
Sorry, for badly cut cake, my kidoo was nibbling the other half of it
Frosting the Cake
Mix 3

tablespoon of icing sugar with ¼ cup of warm water and

keep ready.

Take a round cake board, add a blob of buttercream to the center and place one round cake in the middle. This blob makes sure, that the cake stays put on the board without sliding.

Spread half of the sugar solution on top of the sponge, this keeps the cake soft. Add a thick layer of yellow frosting on top. Spread it to cover the entire cake surface, do not forget the edges.

Now stack the second cake on top of this with its bottom facing the top. Spread the sugar solution on top of the cake.

Now add a thick layer of yellow buttercream on top and crumb coat the sides with yellow buttercream. Place the cake in the refrigerator for 10 minutes for the crumb coat to set.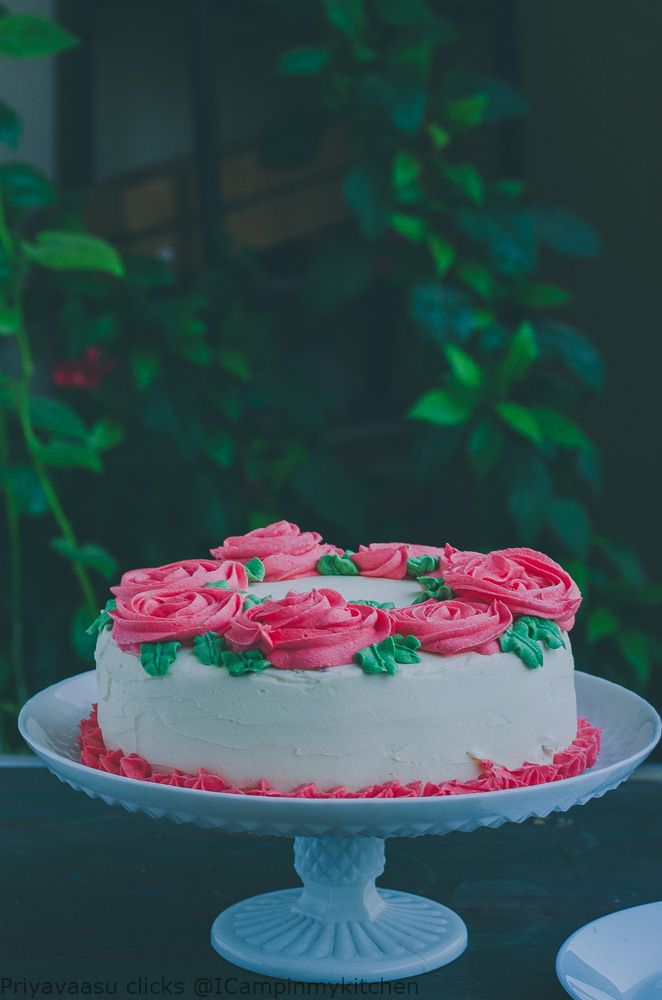 Once set, add thick layers of yellow buttercream on top and using a offset spatuala smoothen it to set.

Again refrigerate the cake for 10 minutes before adding any extra details. Fill the colored buttercream in a piping bag, fit with rossete tip. The roses are made in anticlockwise direction. Pipe and swirl anticlockwise to get a perfect rossette.

To complete the look, i added some leaves too. For that use green color buttercream in a piping bag, fitted with leaf top, pipe 2 or 3 leaves around a rose to complete the look!

Chill the cake 10 minutes for the roses to set, then slice and serve.