Basic eggless vanilla sponge cake, made using whole wheat flour. A simple and easy basic sponge recipe, can be frosted and filled as per your choice.
My elder one is turning 11 this weekend, and  this year too, i m making his birthday cake. Till last year, i didn't have the guts to bake and frost cakes for occasions. After much persuasion from both my kiddos and my dear hubby too, decided to overcome that fear of mine.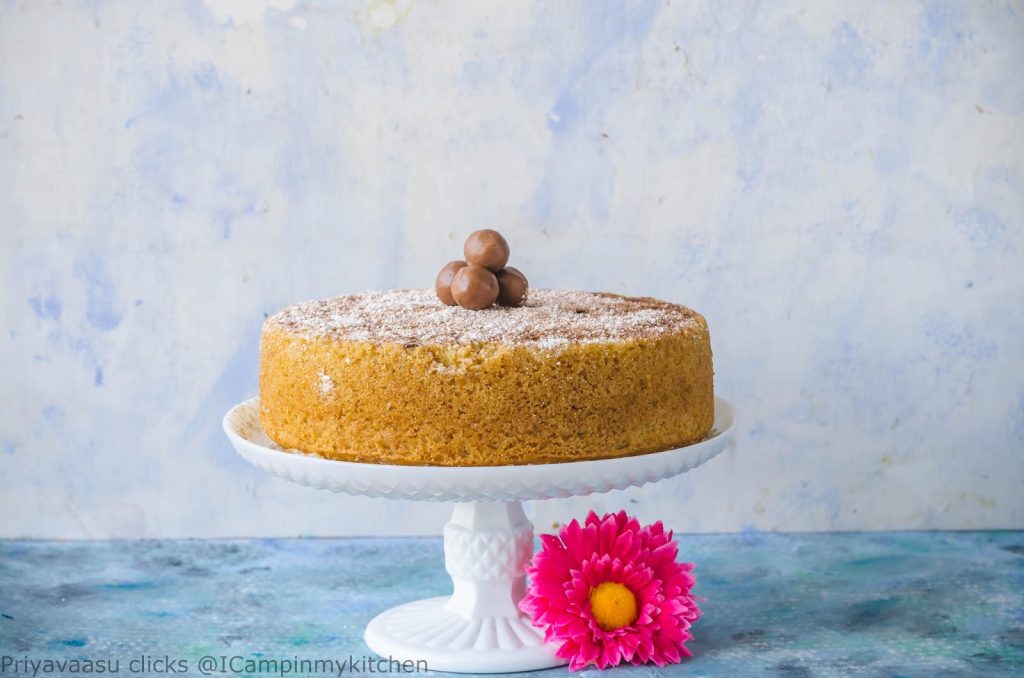 So far, i have baked and frosted almost 9 birthday cakes. The sad part is, i haven't clicked even one decent picture of any of  them, it is a shame isn't? That too, being a food blogger, where we never miss an opportunity to capture the food.
I have failed 9 precious opportunities to click gorgeous cakes, sorry for the arrogance, yes they were gorgeous! So now on, i m determined, to feed the cakes to my camera first, and then to my people.  
This vanilla sponge, is a basic cake, can be filled, frosted as per you choice. My personal preference is buttercream.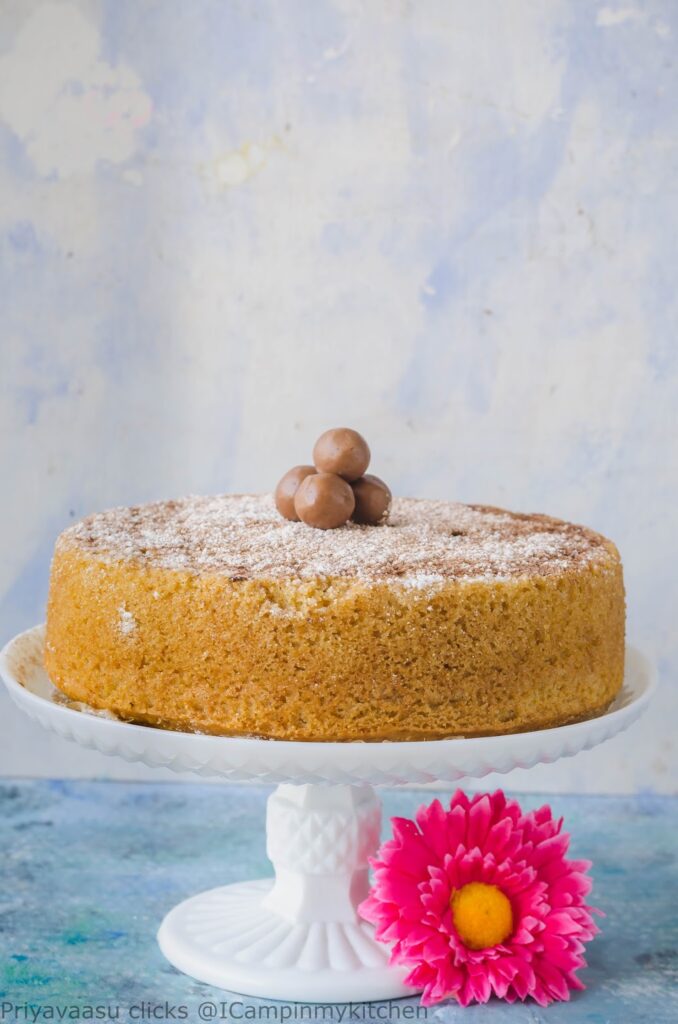 The ingredients
Whole wheat flour, for personal reasons i bake only with whole wheat flour. You can use All purpose flour instead of whole wheat flour.
Buttermilk, is the replacement for eggs in the recipe. Incase you dont have buttermilk, you can use ½ curd and ½ water and blend well.
Fat, i have used oil instead of butter, i have not tried using butter in the recipe yet, will update the recipe when i try it.
Sugar, baking powder and baking soda along with vanilla are the other ingredients most common to baking.
Make sure all ingredients are at room temperature.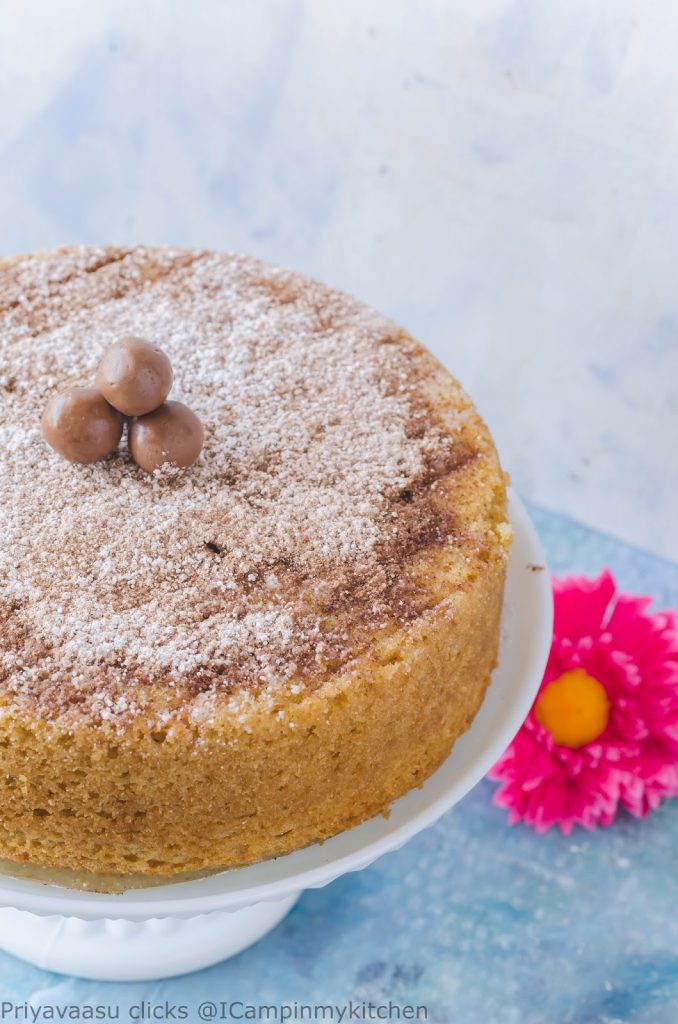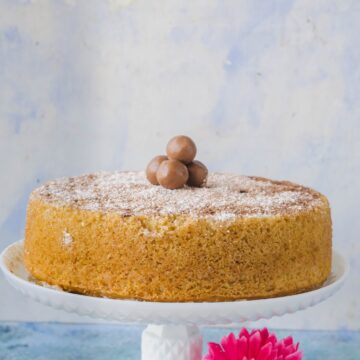 Eggless Whole Wheat Vanilla Sponge cake | Basic Sponge cake recipe
Basic eggless vanilla sponge cake, made using whole wheat flour. A simple and easy basic sponge recipe, can be frosted and filled as per your choice.
Print
Pin
Rate
Ingredients
1½

cups

Whole wheat flour

i have tried with Aashirwad , Pillsbury and Al Baker brand

1

teaspoon

baking powder

½

teaspoon

baking soda

¾

cup

sugar

1

cup

buttermilk

at room temperature, please read notes

⅓

cup

oil

1

tablespoon

vanilla extract

¼

cup

water

please read notes
Instructions
Preheat the oven to 170C for 10 minutes. Grease an 8 inch pan with oil and parchment paper at the bottom.

Sieve together flour, baking powder and baking soda. This step is very important, do not skip this step.

Sieving the flour helps in making the mixture light and airy that results in a a fluffy cake.I use my IKEA flour sifter and sieve it once.

To this sifted flour, add sugar and whisk well to combine. 

In a measuring cup, take buttermilk, to this add oil and vanilla extract and mix to combine. Slowly add this wet mixture to the flour mix and using a spatula, mix  in one direction to combine.

Please be genteel while mixing,it is not idly/pancake batter to whisk vigorously, so be slow and gentle. Take care not to have any unmixed flour.

The batter would be a bit thick, not pour-able consistency. If you feel it is too thick, then add ¼ cup of water to it and combine. 

Pour the mixture into the prepared pan, bake the cake in the preheated oven for 45-50 minutes or until a skewer inserted in the middle comes out clean.

My cake got done by 50 minutes, Oven temperature differs from Model to Model, so keep an eye after 45 minutes.

Once done, remove the cake from the oven, let it sit on the counter for 5 minutes to cool. Then slowly unmould it from the cake pan on to a wire rack and let it cool completely.

Allowing the cake to rest is very important before removing the cake from the tin. Been there and done that, be patience or you will end up with half the cake in the pan and half in your hand.

Once done,you can either serve it with a dusting of cinnamon sugar on top or frost it with your favorite frosting and enjoy.

I made this cake for my kiddo birthday party, so couldn't cut it the day i made. Will share a picture of the cake on the day it is cut.
Notes
I have used only ¾ cup sugar, since the cake will be frosted either with buttercream or ganache and also will be drizzled with sugar syrup prior to frosting, which will be too much sugar for us. If you will not be frosting the cakes and prefer a little extra sugar, then go on and use 1 cup sugar.
The cake batter will be thick, like that of idly batter, it will not be pourable. If it is too thick for you, then add ¼ of water and mix to combine. 
If you don't get or have buttermilk in your place, you can dilute ½ cup thick curd with ½ cup water and whisk well to make 1 cup buttermilk. I do this at times i don't have enough buttermilk in hand
Disclaimer
I m not a Doctor or a Nutritionist The Nutrition information provided above comes from the plugin and is only an estimate.
Looking for Vegan Cake Recipes
Like this recipe, PIN IT
Vanilla Cakes frosted with Buttercream