Carrot cake and cream cheese frosting are match made in heaven. This cake is infused with fresh ginger juice too, which takes it a notch above all. We as a family are big fans of cooking shows. We watch Masterchef Australia, Nigella's Table, Jimmy and Jammy's food fight, the list is endless. During one such food episode of Nigella, we saw her make this ginger and carrot cake, my lil one wanted me to make this immediately. He will be on my back until i make it for him. So i made this the same weekend, with him standing next to me and checking whether i m following all the steps, Nigella showed in her cooking. The cake was amazing, bursting with lovely flavors of ginger.
Inspired from Nigella's Recipe
Ingredients
1.5 cups whole wheat flour
¾ cup - 1 cup brown sugar
1 teaspoon baking powder
½ teaspoon baking soda
½ cup oil
2 carrots, peeled and grated
1 tablespoon freshly grated ginger or 2-3 tablespoon candied ginger
½ cup of chopped walnuts
¾ cup buttermilk


For the icing
200 grams cream cheese
1 cup icing sugar
1 tablespoon freshly squeezed ginger juice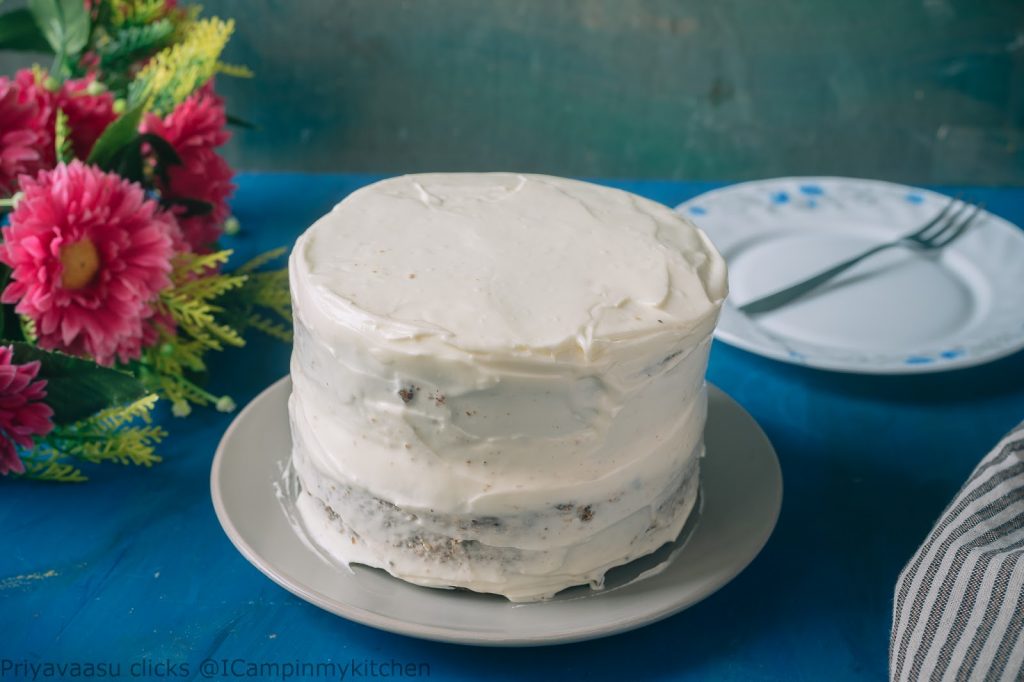 Toppings
½ cup chopped walnuts
1 tablespoon butter
¼ cup brown sugar


Method
Preheat the oven to 180C. Grease baking pans with oil and lay it with parchment paper. I have used 2

Sift together flour. baking soda and baking powder.

Add grated carrots and fresh ginger/candied ginger to this and mix well. Finally tip in the chopped walnuts to the dry flour mix and give it a good stir.

Let us get to the wet ingredients, Take butermilk in a wide bowl, add sugar to it and mix well. Next add oil to it and whisk well to combine.

Now add the flour mix to the wet ingredients in batches and whisk. I use a spatuala while mixing, mix in one direction, be gentle while mixing. please ensure all the flour is mixed well.

Divide the batter among the 2 prepared cake pans and bake them @ 180C for 40-45 minutes or until a skewer inserted in the middle comes out clean.

Let the cake sit in the pan for 5 minutes, then slowly loosen the edges using a blunt knife and unmould the cake on a wire rack. Let it cool completely if you are planning to ice it.

If serving as such, serve a warm slice with your evening cup.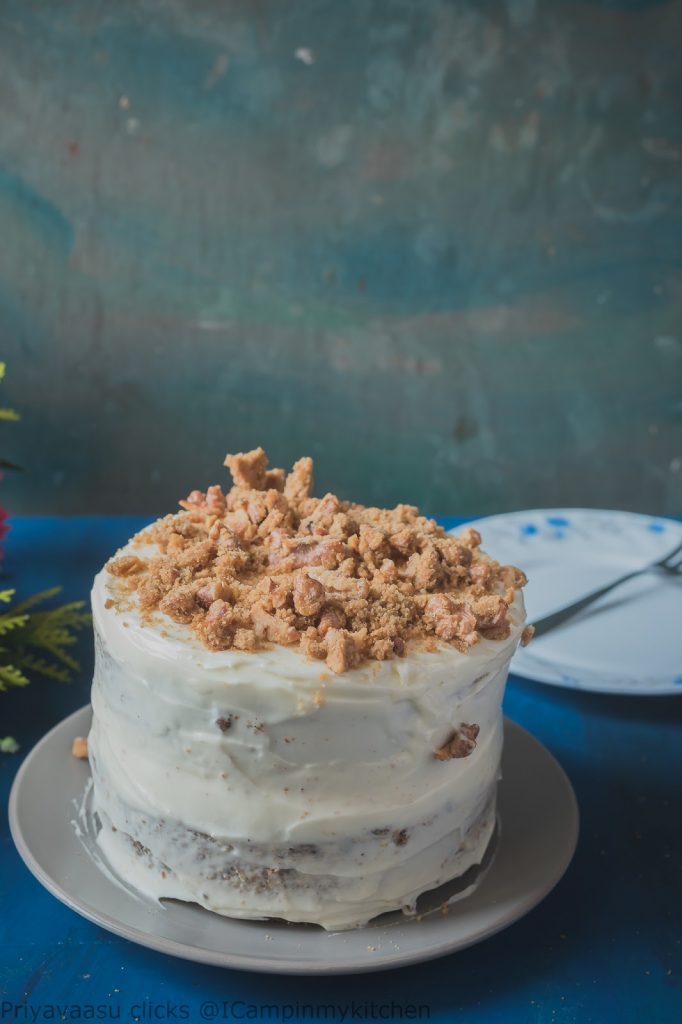 Topping
Mix chopped walnuts, with butter and brown sugar. Spread it on a baking sheet and bake for 15 minutes @ 180C. Remove and let it rest on the counter until it is cool to touch, if it too clumpy, just break it down.

Frosting
Take cream cheese in a bowl, add icing sugar and ginger juice to it and whip until it soft peak forms.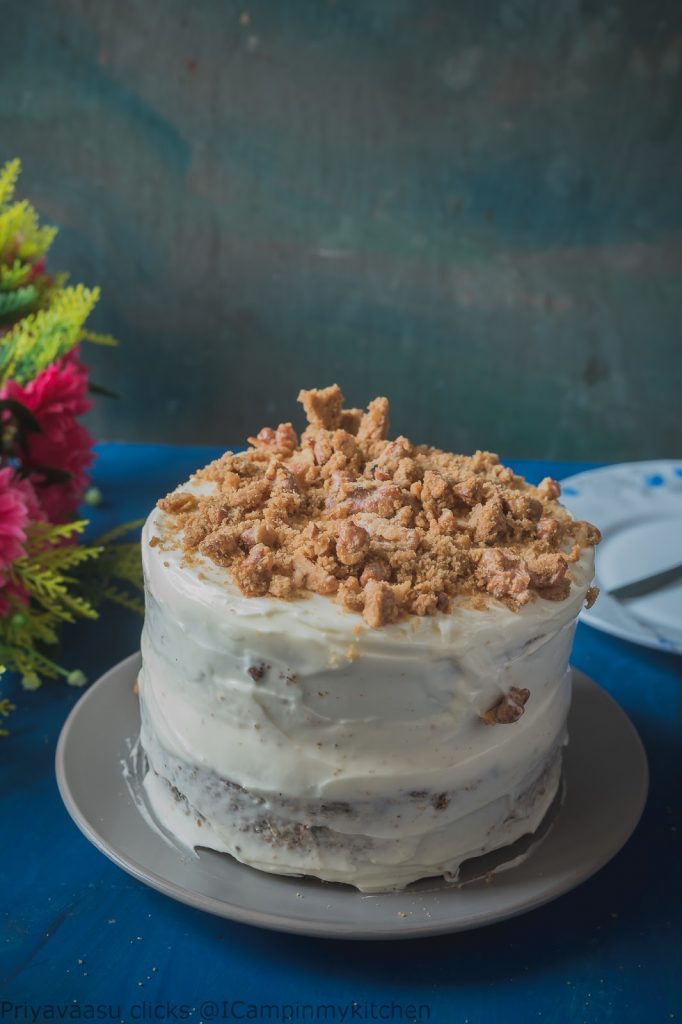 Assemble the cake
Remove the cakes from the refrigerator. Scrap the top of the cakes.

Put a blob of frosting on a cake board or a plate. This helps to hold the cake in its place while you frost.

Place a cake layer on top. Brush the top with simple sugar syrup. Fill the top of the cake with whipped cream frosting. Place the second layer bottom side up. Brush the top again with simple sugar syrup.

Crumb coat the cake with frosting. This seals the crumbs well and gives a neat finish to the final decoration. Refrigerate the cake for atleast 10 minutes before decorating it further.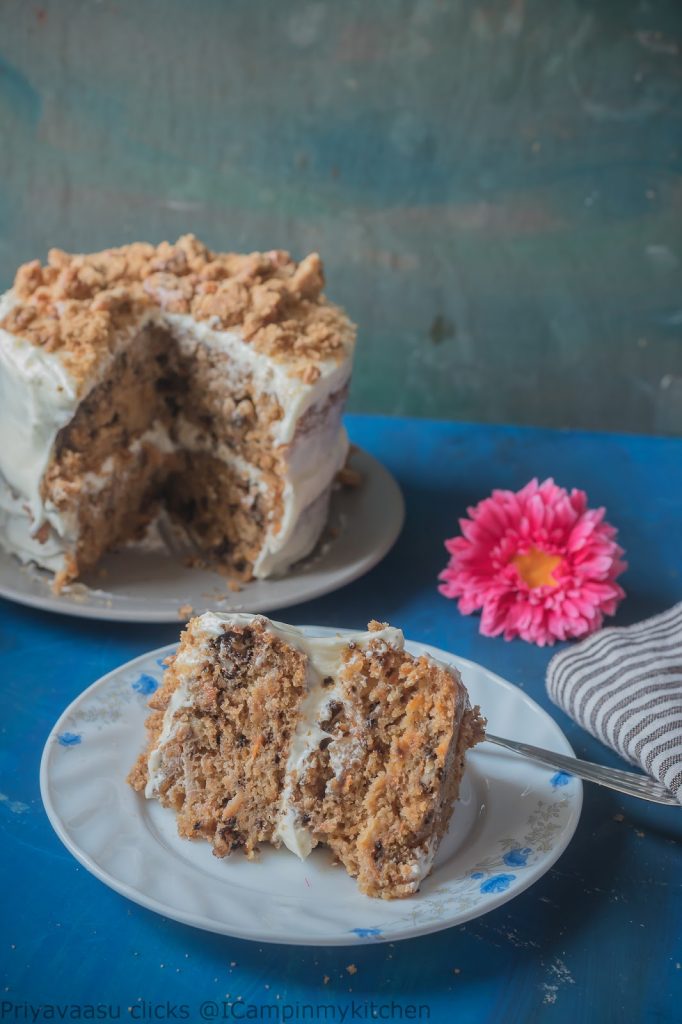 I added another layer of frosting and and topped with walnut crumbs. Let th

e cake rest for 10 minutes before slicing.