Once Vinayagar chathurthi begins, the season of festivities begins with it, we just enjoyed navrathri last month, now begins the preps for Diwali. My FB feed is overflowing with diwali snacks and sweets videos and photos. I haven't started to make a list. With both of us in a calorie deficit diet, even a simple kheer becomes too much and it sits in the fridge for 3 or 4 days, waiting for someone to finish it.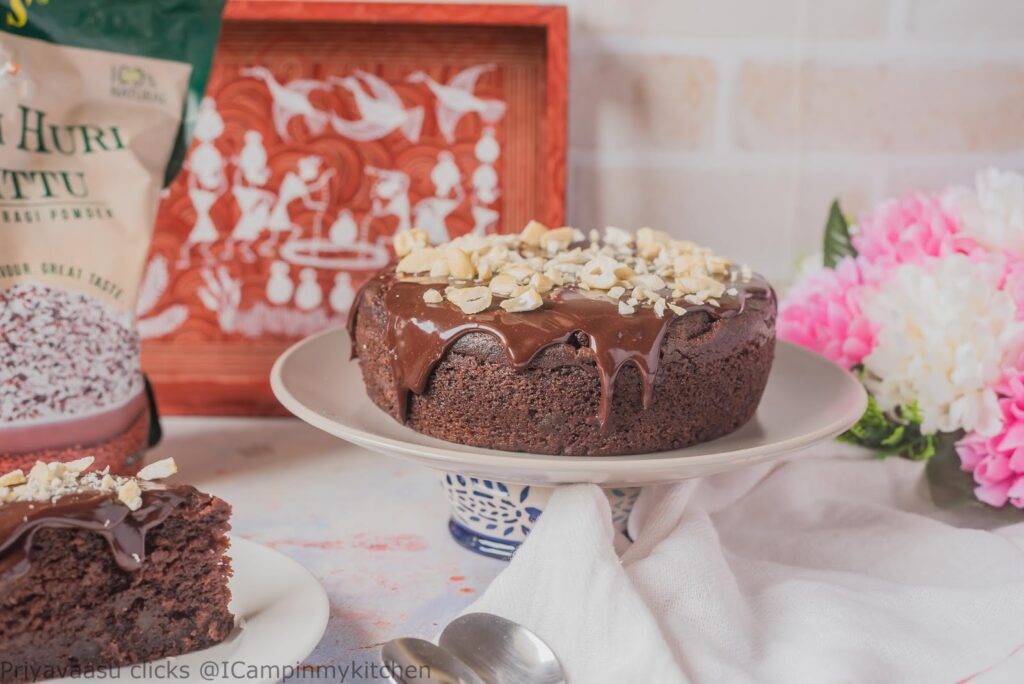 Though i made some murukku last week, which got over by yesterday, kids just want some more murukku and nothing else. So as of now, there is no plans for any diwali treats at home.
November month's BM begins with all this dilemma at home. I picked up Millets as my theme for the first week. I love to cook millets any day, before starting my quanitified nutrition, i used to cook only millets for myself, Millets are very versatile, you can almost cook everything that you make with rice. Here is a list of millet recipes from my kitchen, if you are planning to cook millets today.
The first recipe under today's theme is a yummilicious chocolate cake using ragi flour. The cake was too good and it was given a big thumbs up by my lil one. I dressed it up with some ganache on top, the cake was very moist and doesn't have the taste of ragi flour. This cake can be used as a sponge cake and decorated more elaborately for any occasion, i bet none would know it has got ragi in it.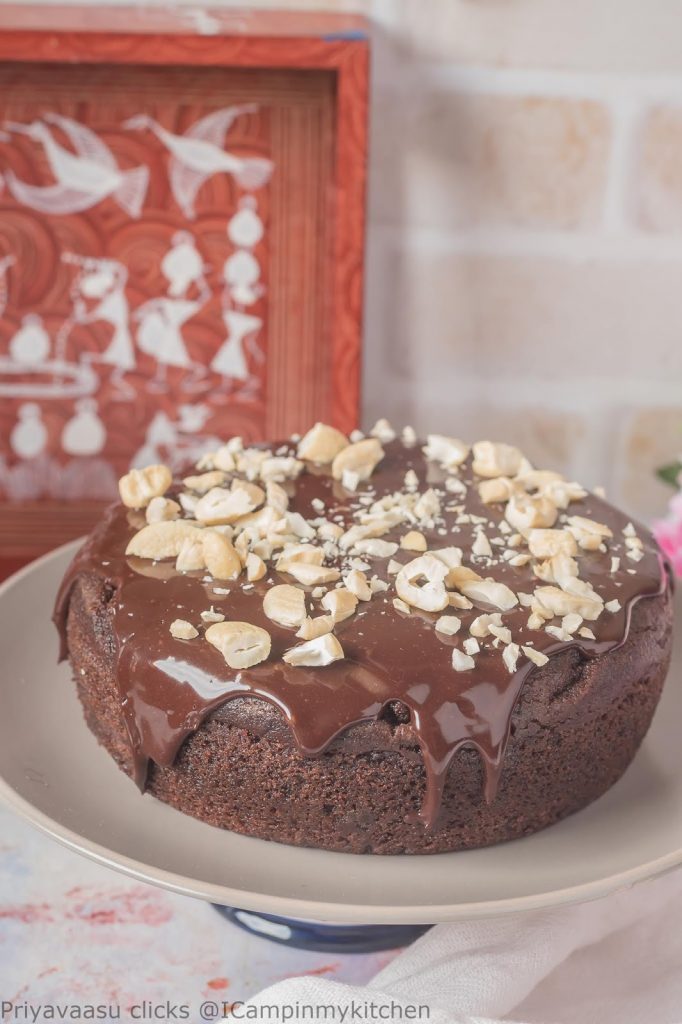 Ingredients
¾ cup ragi flour (i used popped ragi flour, you can use normal ragi flour too)
½ cup semi-sweet chocolate chips
1 cup buttermilk (see notes)
¼ cup warm water mixed with 2 tablespoon instant coffee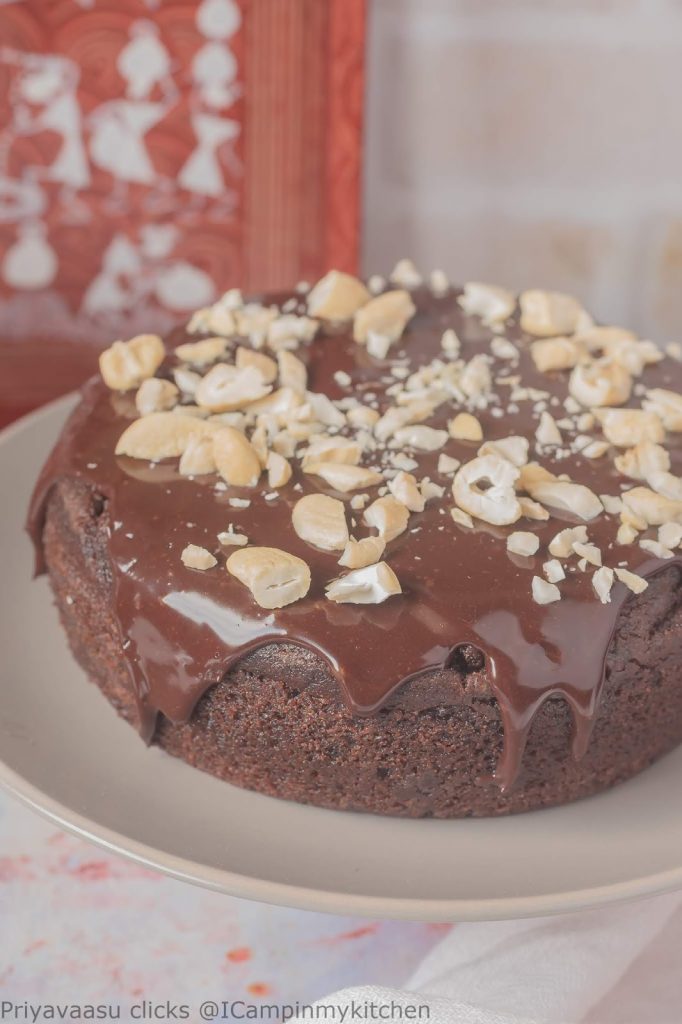 Ganache topping
100 grams lindt dark chocolate
Heat the whipped cream and pour it over chopped dark chocolate. let it sit for 2 minutes, just mix it smooth using a spatuala or a spoon. let it sit until use.

Method
Preheat the oven to 180C, grease 2 5 inch cake pans with oil and line it with parchment paper.

In a large bowl, sift together wheat flour and ragi flour and cocoa powder. In another bowl, take buttermilk, mix sugar to it. To this add baking soda and baking powder and whisk well to combine. Next add oil and whisk again.
To this wet mix, add the dry flour mix in two batches and mix with a spatuala. Take care not to mix vigorously. Be gentle. Finally tip in the chocolate chips and give a final stir.

Divide the batter between the two cake pans, give it a good tap and bake the cake in the preheated oven for 40-45 minutes or until a skewer inserted in the middle comes out clean.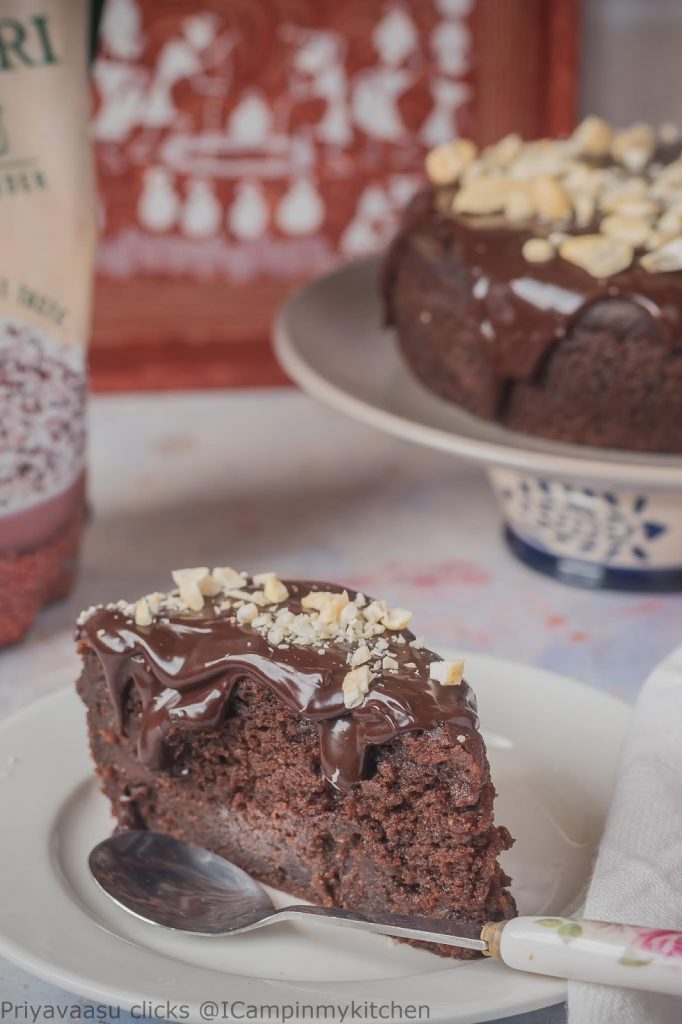 Remove the cake out of the oven, let it sit for 5 minutes in the pan, once it is fine to touch, unmould the cake onto a wire rack.

If planning to ice the cake, let it cool completely. If serving as such, serve it warm. I Poured some ganache on top and garnished with some cashewnuts before serving.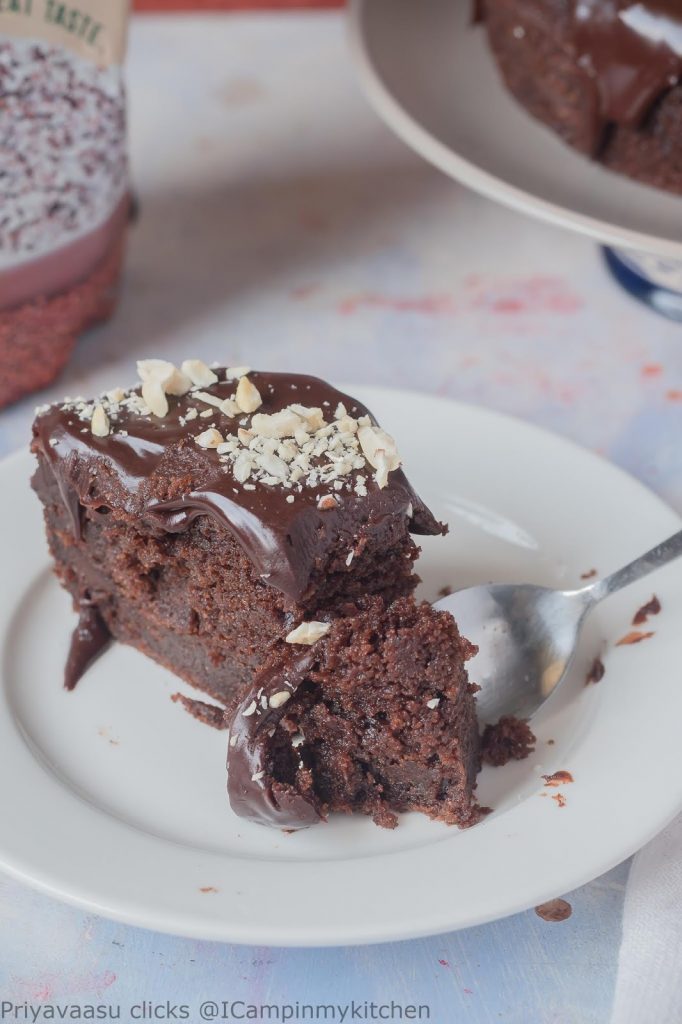 Notes
The recipe uses buttermilk, if you cannot source buttermilk, use ½ cup curd and dilute it with ½ cup water or you can use 1 cup of milk with 1 tablespoon of apple cider vinegar.