Jamie of Life's Feast and Ria of Ria's Collection, invited us to bake this Yeasted Coffee Cake for this Month's Daring Baker's Challenge. The Actual Recipe, involved Meringue Filling along with Nuts. Since, i dont use Eggs, i was busy hunting all SuperMarkets for a Vegan version of Meringue Powder, I couldn't get one. I remembered Gayathri's Pasta Frolla and Crostata, where she has used Paneer and Condensed Milk Blended Mixture as a Filling. I tried that as an Substitute for Meringue. Voila!!!! The Cake has come out great!!!!
Ingredients
2 Cups of All Purpose Flour
1 and ¼ teaspoon of Active Dry Yeast
¼ teaspoon Salt (Oops!!! i missed this)
2-3 tablespoon of Sugar
¼ Cup Butter
2 tablespoon of Water
6 tablespoon of Milk
1 heaped tablespoon of Flaxseed Meal, blended with ¼ Cup Warm Water - Replacement for 1 Egg


Filling
3 tablespoon of Cashewnuts, chopped
3 tablespoon of Walnuts, chopped
2 tablespoon of Dark Choco Chips
2 tablespoon Powdered Sugar


Instead of Meringue
¼ Cup Crumbled Paneer (Indian Cottage Cheese, I have used Store bought)
½ can Condensed Milk
3-4 pods of Cardamom
Method
Soak Flaxseed Meal in Warm Water.In a Sauce Pan Warm Butter, Milk and Water together, Do Not Boil. Take ¾ Cup of Flour, Sugar, Salt and yeast in a big bowl. Add the Butter-Milk-Water Liquid to Flour-yeast mixture and Beat with an electric mixer, until well blended, in a medium speed for 2 minutes.
Add the Flaxseed-Water Mixture to this and Blend Again. Add the remaining flour to this mixture, using a wooden spatula, stir well, to make a sticky dough. Turn the dough onto a floured surface and knead well for 8-10 minutes. Grease your hands with little oil while kneading. It helps!!!!
Straight out of the Oven!!!!!!
Place the dough in a bowl, greased with little oil, cover with a cling film and let it sit for an hour, where it doubles up in Volume!!!!
Meanwhile, Prepare the Filling, Just mix up the ingredients given under "Filling". For the Meringue Substitute, take ingredients in a blender and Blend well to a smooth mixture.
After an hour, take the dough out of bowl, punch down the dough. I have divided the dough into two and baked 2 separate cakes. If you want you can make it as one big wreath!!!!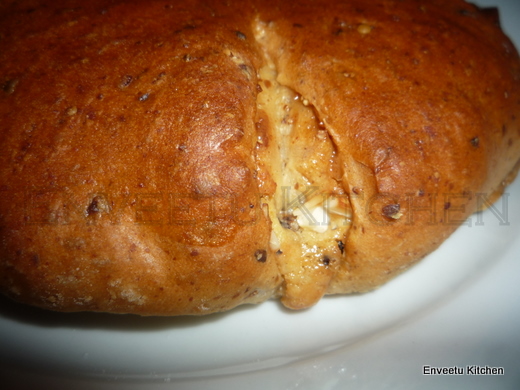 Roll the dough into a rectangle(20 x 10inch)on a floured surface. Spread the Paneer-Condensed Milk Mix First, then spread the Nuts-Choco Filling. Roll into a Log, and bring the edges together to make a doughnut shape. Using a sharp knife/scissors make incisions/small cut on top of the Cake. Brush the top of the cake with some milk.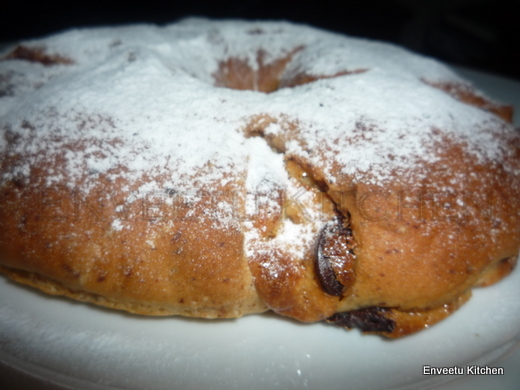 Dusted With Sugar and Waiting in the Fridge for my Hubby!!!!
Preheat the Oven to 180C and bake them for 25-30 minutes, till the top turns golden brown. Mine was done @ 28 minutes. The baking time, varies from oven to oven, so keep a watch on the wreath after 25 minutes.
When tapped, the wreath gives a good hollow sound, that should confirm, it has baked well!!!!Take it out of the Oven, let it cool on the Wire rack. Dust it with some icing Sugar, Slice and Serve with Coffee/Tea!!!! My Kid really enjoyed the surprise Nutty Filling, when he took a bite of the cake!!!!
You can vary the filling and make a savory cake too!!!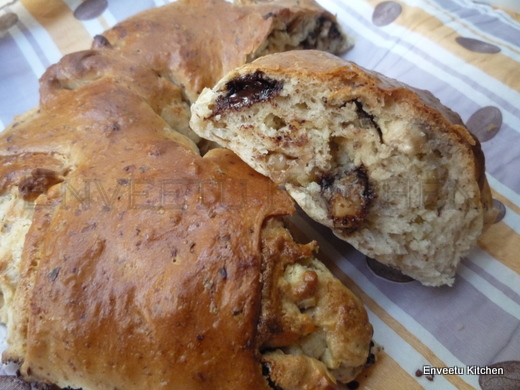 It was a joyful feeling to see the top change into Golden brown and when sliced, Nuts-Choco filling oozing through the layers of beautifully baked yeasted cake!!!! It is amazing!!!! Since i try to bake Eggless Version of the Daring Bakers Challenge, every month's challenge is an adventure, which i very eagerly expect!!!!