Foccacia or salt foccacia, is the common-known focaccia, also called schiacciata; it is a flat oven-baked Italian bread, which may be topped with herbs or other ingredients. I have already baked this normal foccacia. 
Foccacia Caprese is nothing but a basic Focaccia dough topped Caprese style. "Caprese" refers to something that comes from or is in the style of Capri, an island off the Italian coast near Naples. Capri is famous mostly for its villas, grottos and jutting limestone towers, and also for the salad named after it – "Insalata Caprese" whose signature is fresh tomatoes, basil and fresh buffalo mozzarella (Mozzarella di Buffala).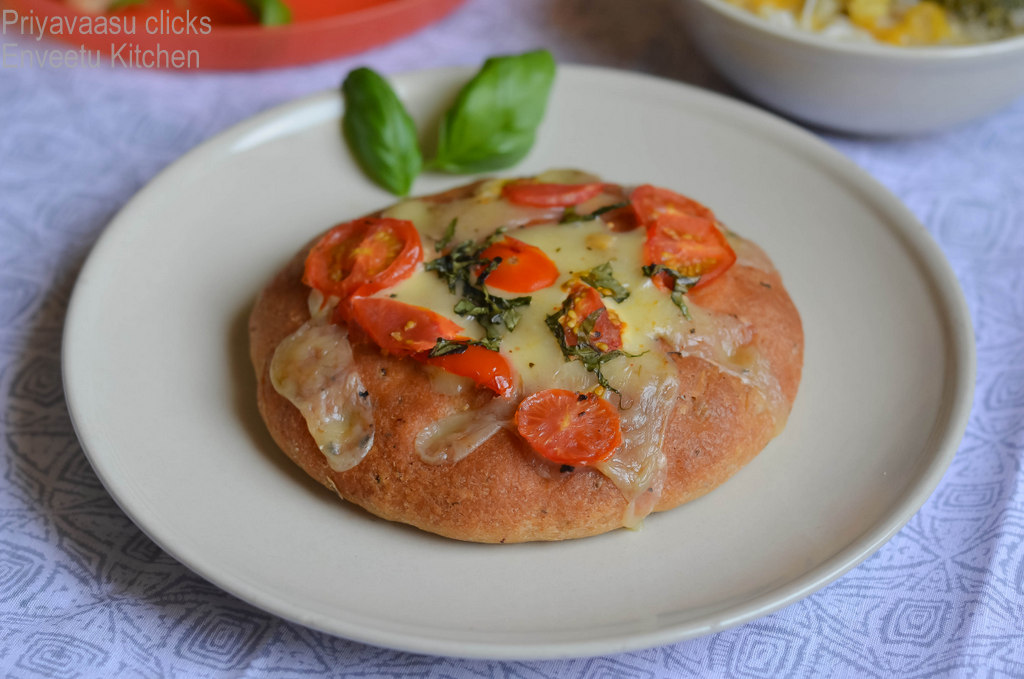 This means that the topping of the Focaccia Caprese is sliced tomatoes, mozzarella and basil, in addition to the usual olive oil and herbs that are typically used in this flatbread.
I got some cherry tomatoes for the first time  used the normal mozarella, since i forgot to get fresh mozarella. We have fresh cheese counters here in all big supermarkets, like Lulu,carrefour and Spinney's.May be next time i will get some an try this again.
I served the foccacia along with soup for our dinner. I divided the dough and made small single serving foccacia's. We had 4 for our dinner and i have frozen the rest of the 2. Makes a filling dinner or lunch along with some warm soup.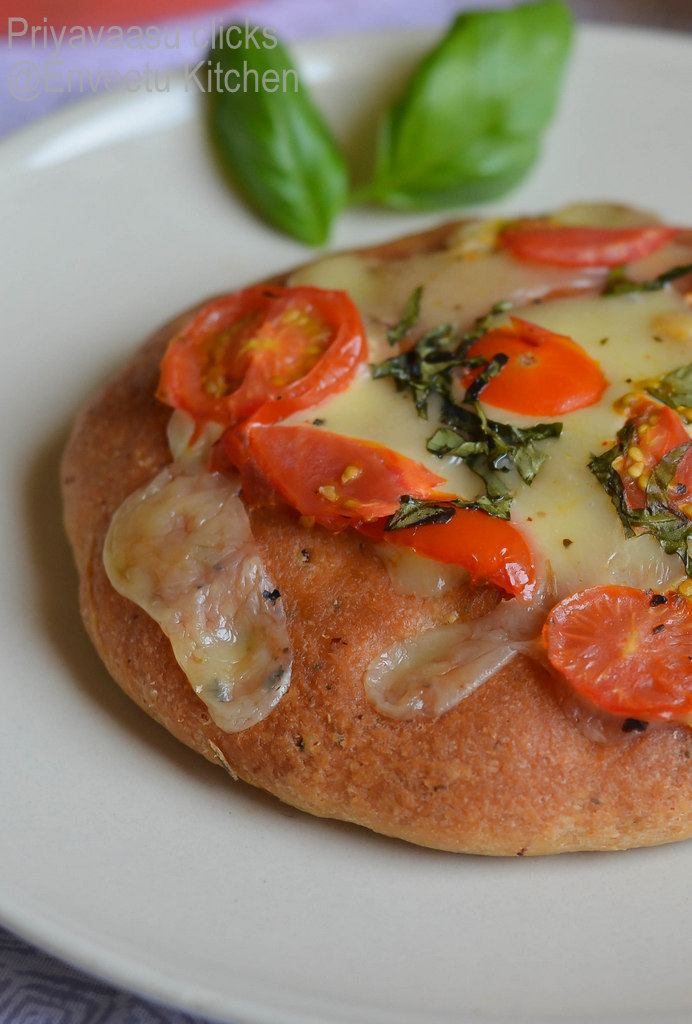 Ingredients
For the Dough
1.5 Cups All Purpose flour
¼ cup herbed oil (recipe given below) 
A little more herbed oil for brushing dough (another 2 tbsp)
For the Topping
8-10 cherry tomatoes, sliced into 3 or 4 pieces
½ Cup Fresh mozzarella, cut into ¼" slices (i used regular mozarella cheese, almarai brand)
½ cup fresh basil leaves, cut into thin strips
¼ to ½ teaspoon red chilli flakes
½ teaspoon finely minced garlic/ paste
Method
Herbed Oil
Put all the ingredients in a bowl and whisk them together. Keep aside till required.I
 made 2 batches of herbed oil used one to make dough and other to brush the bread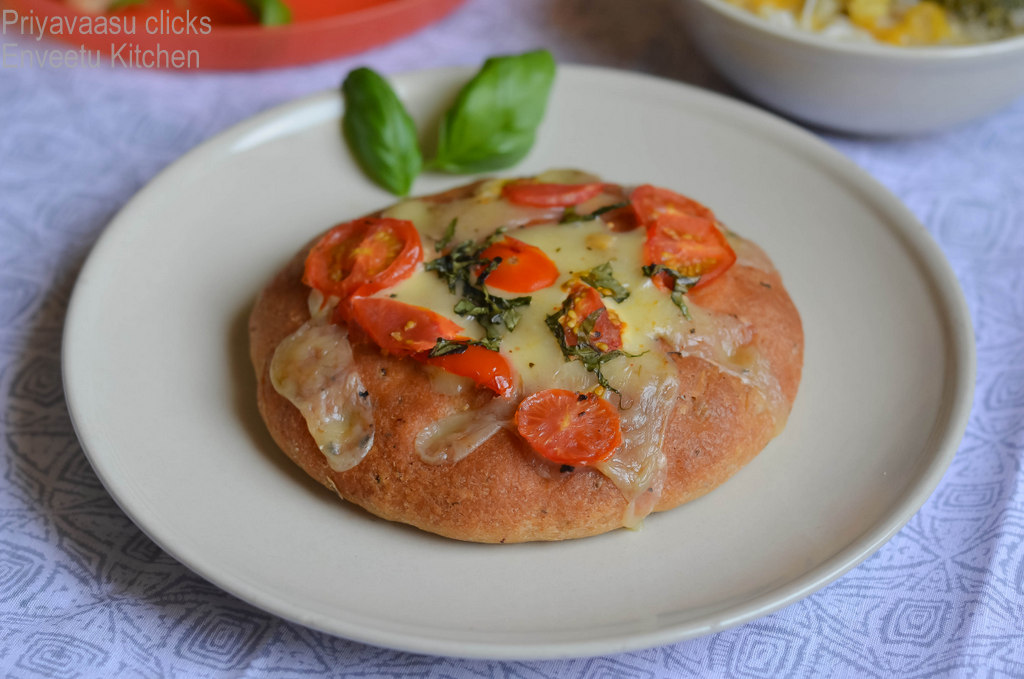 Making the dough
The dough can be mixed and kneaded by hand or machine. Put the yeast, sugar flour, salt and herbed oil in the bowl of the processor and pulse a couple of times to mix well. Then add 1 cup of warm water (and as much more as you need) and knead until you have a soft elastic dough that is just short of sticky.

Remove the dough from the processor bowl, shape into a round and place in a well oiled bowl turning the dough around so it is coated. Cover and let it rise till almost double in volume,about an hour.

After the required timing, Punch out the excess air out of the dough and divide the dough according to need. I weighed the dough it came around 900gms. So i divided into 6 pieces weighing approximately 150gms each. Shape them in to 5-6 inches roundels.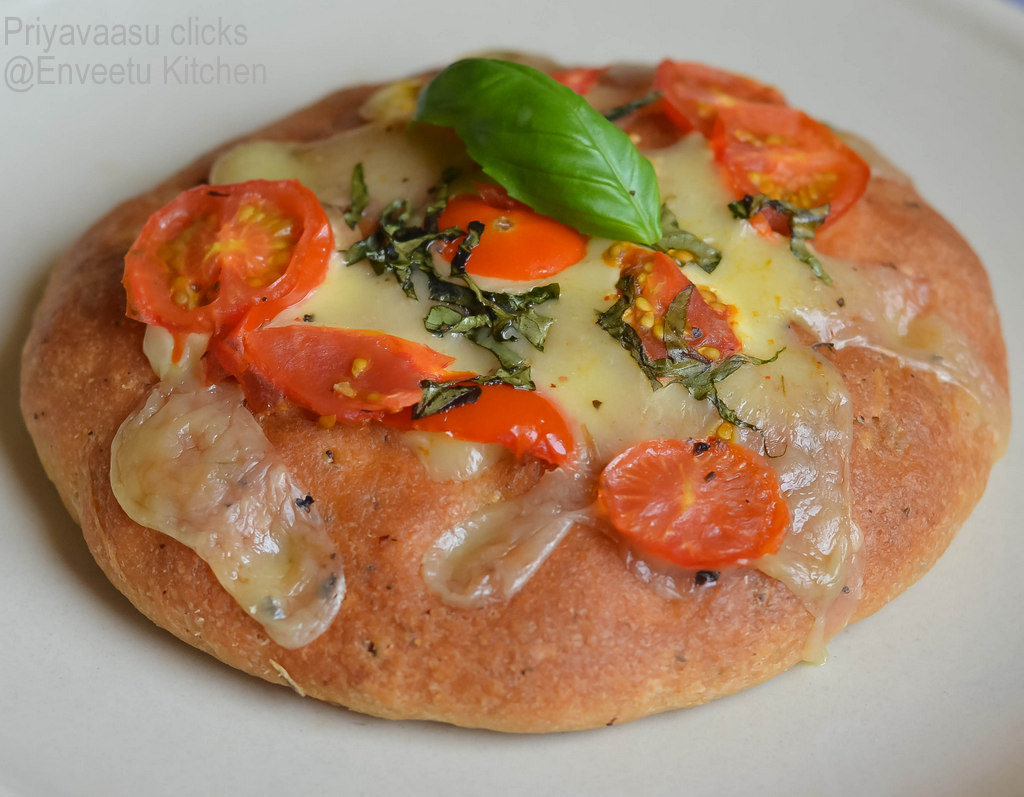 Transfer the dough to the baking tray. The dough will shrink a little. Use your fingers and push it out a bit making sure it's evenly thick throughout. Let it rise for 20 minutes. Lightly oil your finger tips and press into the dough creating evenly spaced "dimples" in it. Generously brush the surface with oil.

Bake at 210C (410F) for about 18 to 20 minutes till it is almost done and is beginning to turn golden brown. Take the Focaccia out. Lightly drizzle some of the Herbed Oil over the Focaccia and then evenly arrange some slices of mozzarella over the bread, leaving very little space between them. Arrange the tomato slices over this and a little sprinkle the chopped basil over this. The topping should cover most of the surface of the bread.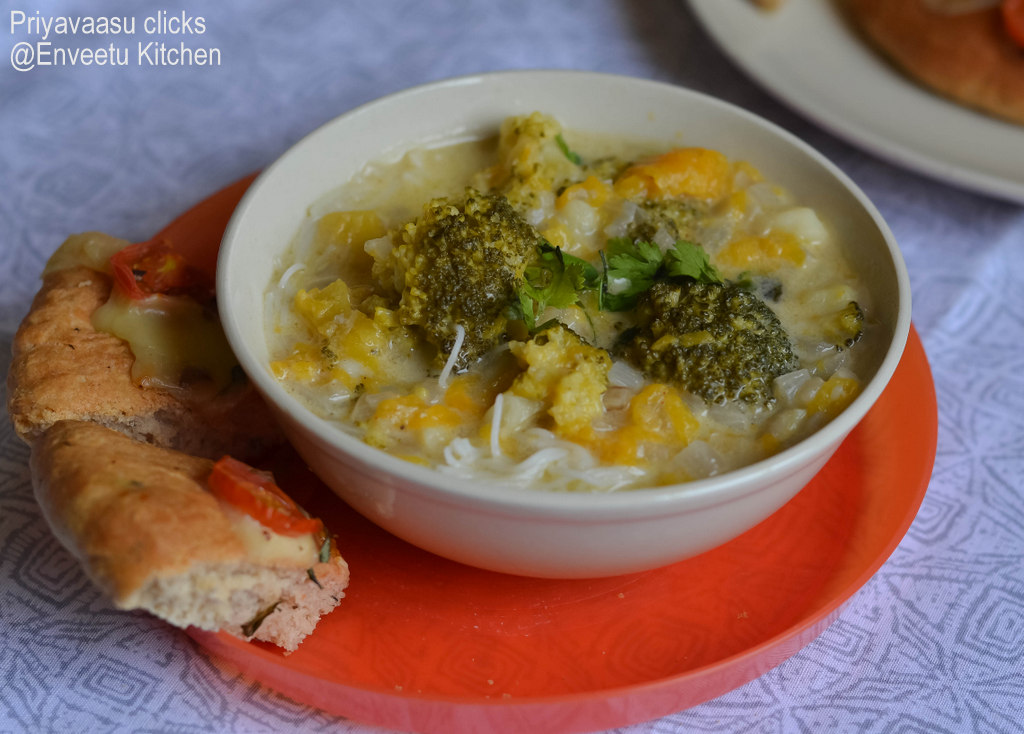 Drizzle some more Herbed Oil over the topping and return the bread to the oven. Bake the focaccia for 5 to 8 minutes or until the cheese has just melted. Remove from the oven and garnish with fresh basil leaves.

Cut the Focaccia into slices and serve while it is still hot. 

I served it for our dinner with coconut and Vermicelli soup.