It is officially crazy weather. Last week it was super hot for 2-3 days and suddenly there was little drizzle, cloudy, foggy, dusty, gloomy and then again sun is working in full power now. With this kind of weather, all i want to do is just laze around and do nothing, is it possible??? Not even in my dreams, baby!!!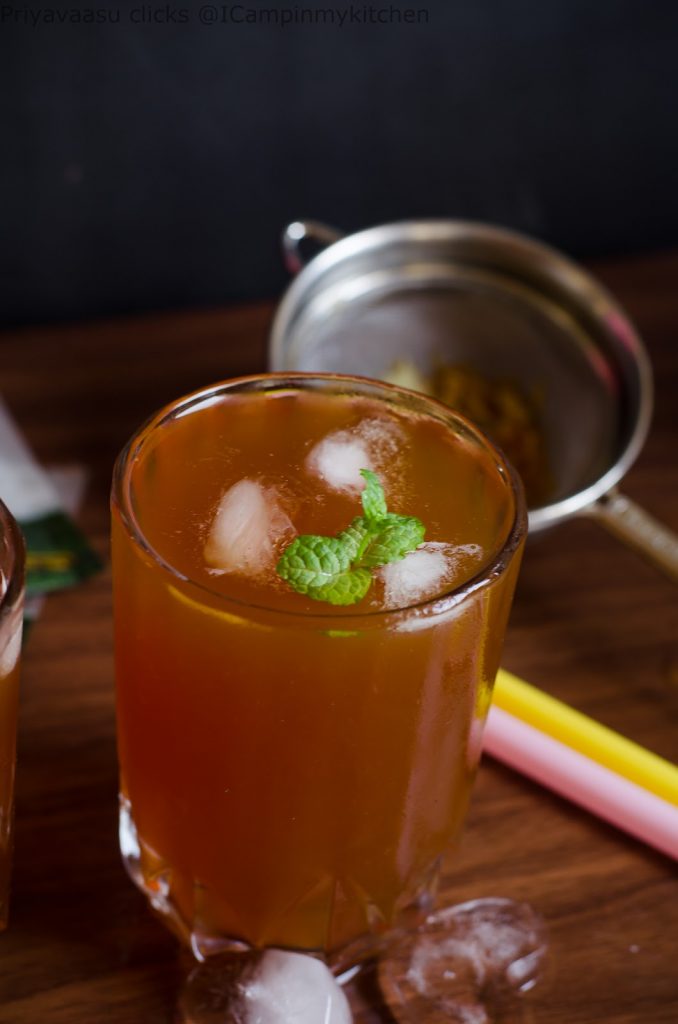 So, the first tip, anybody would give to beat the heat, is Drink Water. But, the problem is I don't drink enough water, never, may be it is in my genes, my dad doesn't drink water at all, i have seen him gulp water during lunch and then maybe after coming home after a tiring day. Other than that, no. On the contrary, my darling hubby drinks only water, he, he!!!
He drinks at-least a liter of water immediately after waking up, to wash all the micro-nutrients in his mouth to his gut, something he learnt from his yoga teacher. So, now with a climate like this, lips chapping, skin dryness, that irritating feeling, follows. To keep me hydrated, now a days, I keep a jug of water with lemon slices and honey mixed in the refrigerator and keep sipping it every 1 hour. So, naturally flavored water, and i m loving it!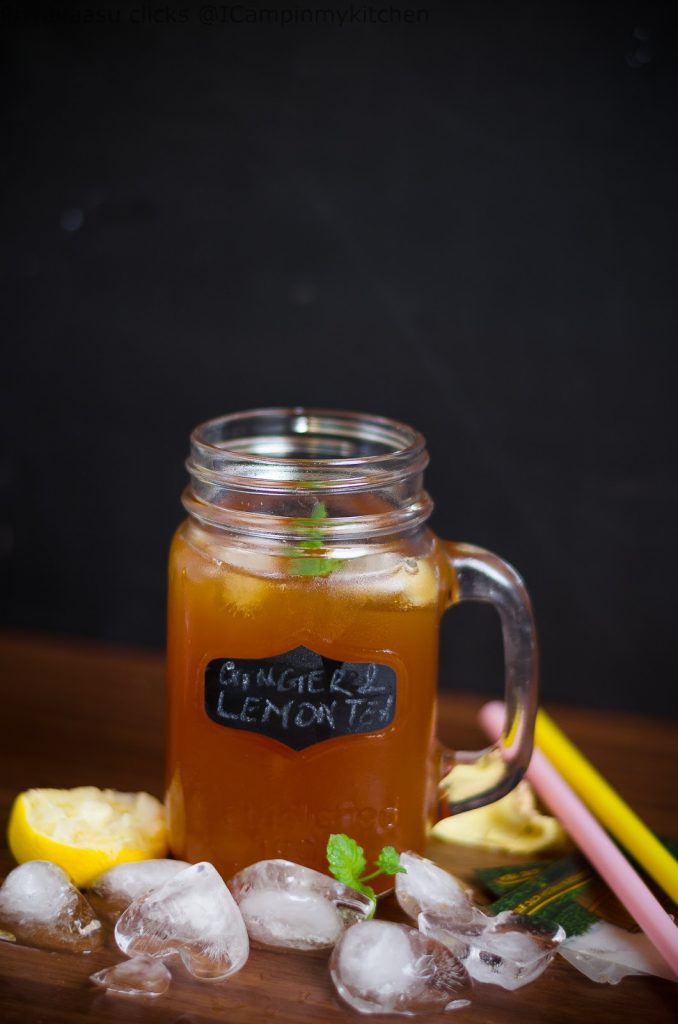 Coming to today's story, sometime back, i received a pack of Assam 1860 Black Tea, i have already reviewed their earlier batch and made a super refreshing Orange Tea with it.
This time, they were kind enough to contact me again and send me their new pack and asked me to share my views. I loved the new pack and made this Ginger & Lemon Ice Tea with it.
The deep color of the black tea along with lemon and ginger was very refreshing in this hot weather. I even shared some tea bags with my Sister-in-law who is an ardent tea lover, she loved the Assam 1860 tea with milk. Just add 2 tea bags to hot milk mixed with sugar and let it sit for 3-4 minutes for the tea to steep and then enjoy. If you prefer a light tea, then use 1 tea bag.
In the meantime if you are looking for a super refreshing summer cooler recipe, do try this iced tea and let me know how you liked it.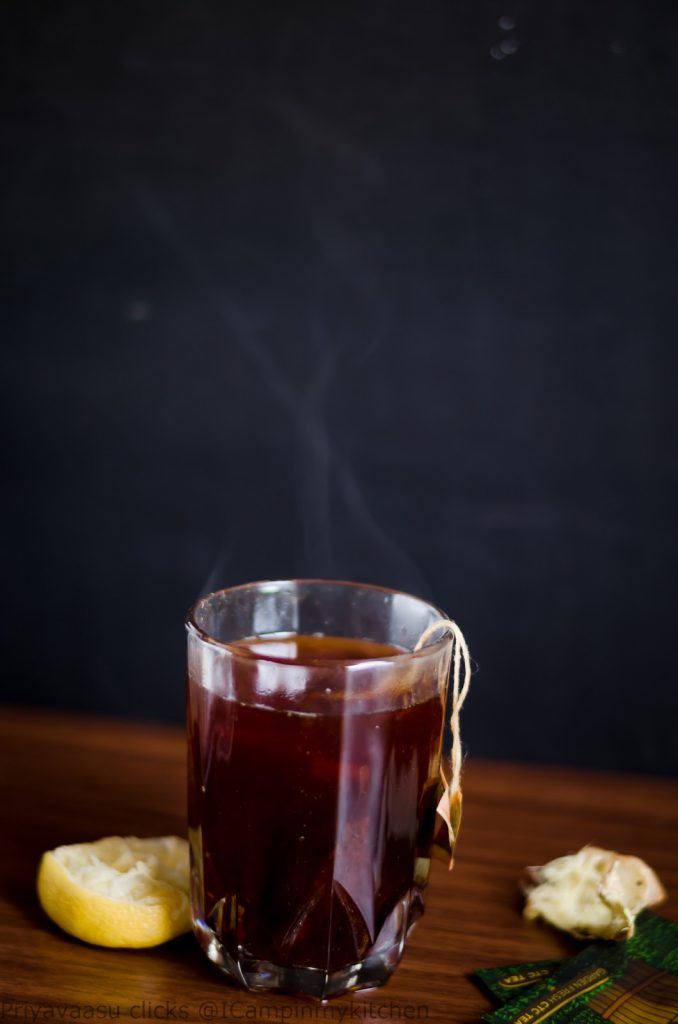 Ingredients (Serves 2-3)
2 Black Tea bags, i used Assam 1860 Black Tea bags
½ teaspoon freshly grated ginger
few ice cubes and sprigs of mint for garnish
For Sugar Syrup
½ cup of sugar ( i used half regular sugar and half raw sugar)
Method
First let us make the sugar syrup. Take water in a sauce pan, add sugar and let it boil and the sugar dissolve completely.Take it off the stove. Let it cool completely. This can be stored in the refrigerator and used in the future. My syrup was golden brown/honey color, because of raw sugar.
To Make the Iced Tea (Makes 1 Tall Glass or 2 small glasses)
Take water in a pan, let it boil, add the tea bags to the water and remove it from the stove. Let it steep for 5-8 minutes. To this Steeped tea, add grated ginger, let it cool on the counter for 10 minutes and refrigerate for 30 minutes. By this time the ginger flavor will get well infused in the Tea.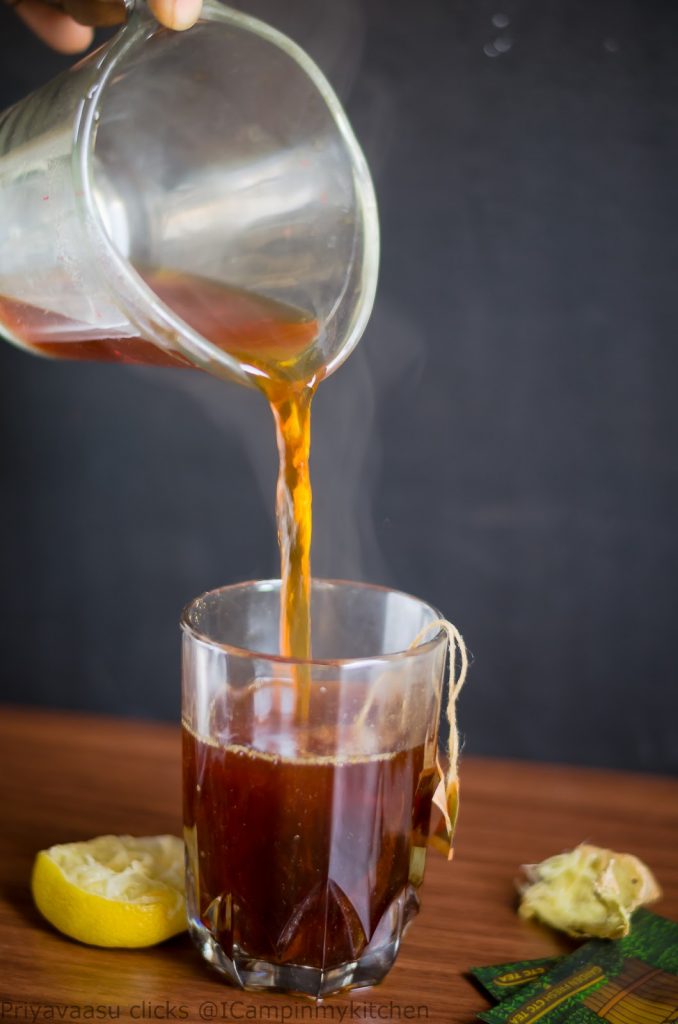 For making the Iced tea, Squeeze the juice out of the lemon. In a pitcher, add ½ cup of sugar syrup, ¾th cup of black tea and lemon juice. Strain and pour it in large serving glass, top it with ice cubes and fresh mint sprigs and serve immediately.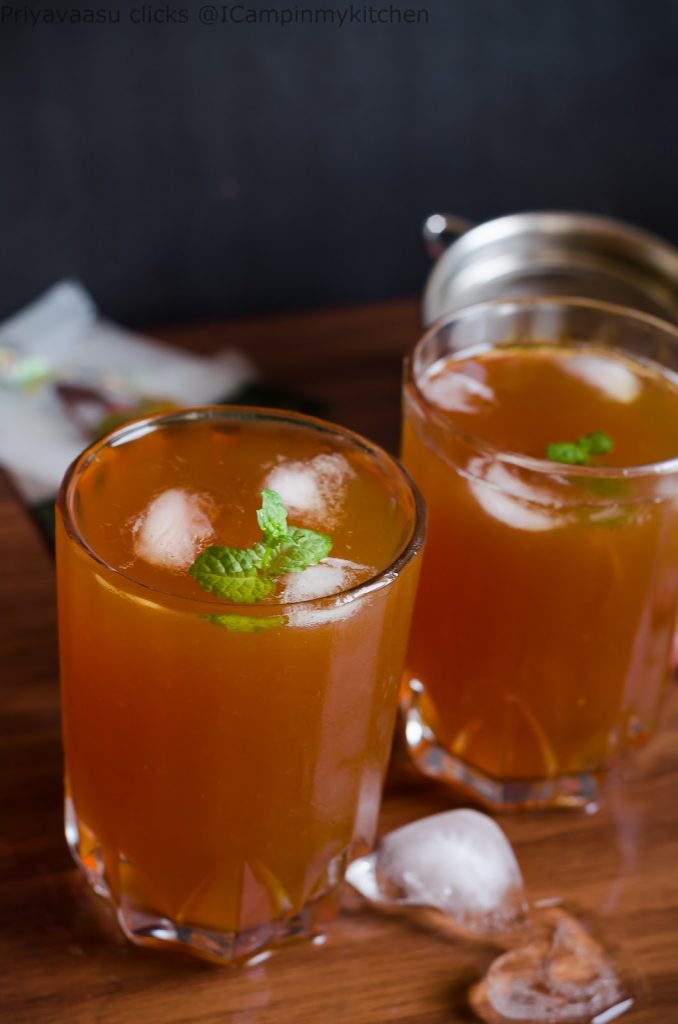 Notes
If you need less sugar, use 4-5 tablespoon of sugar syrup, with this amount, even my lil one loved the tea and enjoyed it.

You can totally skip the sugar and use agave or honey.

Adjust Lemon juice, accordingly. This quantity had the right lemony zing to balance the tea taste.
If you are interested in trying out Assam1860, you can buy online at www.assam1860.com and they deliver all over India.