As part of the International Flat-bread theme, i chose to do Turkish Gozleme today. The breads i chose for this theme are basically unleavened and can be cooked on the griddle. These flat breads make a nice difference to the usual roti's we cook at home.
Gozleme is a savoury traditional Turkish pastry, made of rolled dough that is lightly brushed with butter and eggs, filled with various toppings, sealed, and cooked over a griddle.The name derives from the Turkish word goz meaning "compartment", referring to the pocket of dough, in which the fillings are stuffed and cooked.
Toppings for vary by region and personal preference, and include a variety of meats, vegetables , mushrooms, tubers , cheeses as well as eggs, and seasonal herbs and spices. Traditionally this bread is cooked on a Sac, a large metal or ceramic lid, that looks like a shallow bell, in which bread dough or meat to be baked is placed and covered with a lid, over which ashes and live coals are placed. This traditional method of cooking, preserves the natural taste of the dish and keep the meat juicy.
I made a potato,coriander and feta cheese stuffed gozleme for lunch today. Kuttu loved it as a snack. I just wrapped it in a foil like a burrito and gave him, he happily munched on, so it makes a delicious lunch dabba dish too! Originally it is made using All purpose flour, which makes the doguh to be rolled as thin as possible, but i have substituted half the flour with Whole wheat flour (Qatar mills brand) and i was able to roll the dough the thin.
½ Cup whole wheat flour (Qatar mills brand)
1 no green chili, chopped
1 medium sized onion, chopped
½ cup feta cheese, crumbled
handful of coriander leaves, chopped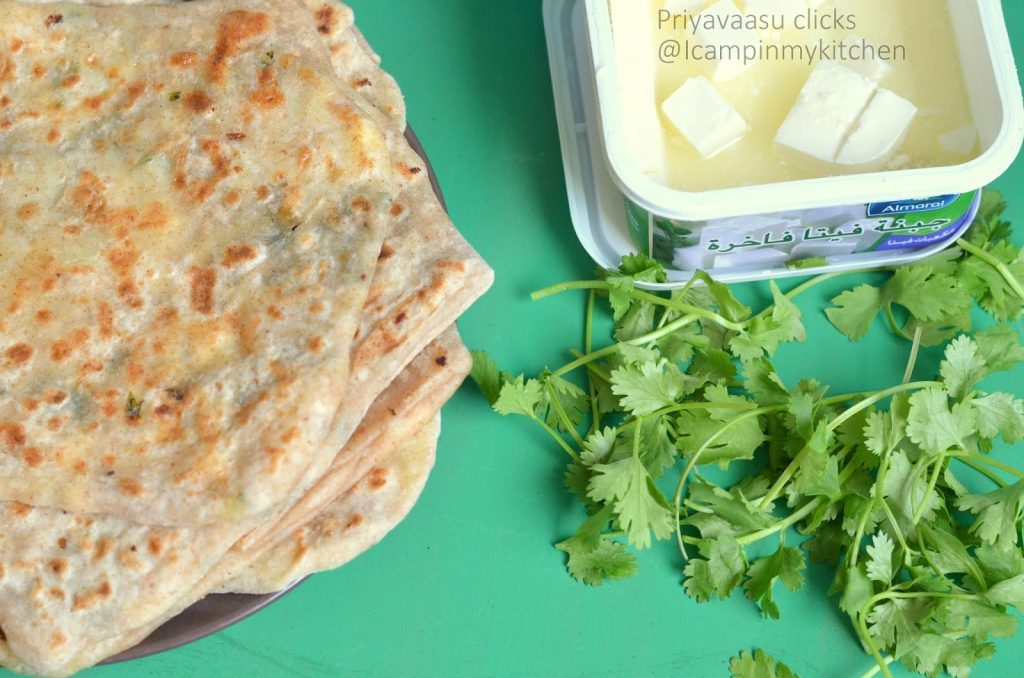 Prepare the stuffing first, boil the potatoes until soft and mash it well. To this add crumbled feta cheese. Heat pan with ½ teaspoon oil, saute chopped onions and chillies until translucent and add this to the potato-feta mixture. Add coriander leaves to this, mix well and keep aside.

I have used my food processor to knead the dough. You can also knead the dough by hand. Take both the flours and salt together in the processor, pulse it twice to mix well. Add warm water and oil to knead a soft dough. If kneading by hand, knead about 4-5 minutes to get a soft dough.

Divide the dough and the filling into 4 portions. Dust our work surface with flour and take a portion of dough and roll it as thin as possible. Place one portion of the filling in the centre of the rolled out dough, fold in the 4 sides like an envelope.

Sprinkle little flour on the folded dough and roll it again into thick rectangle. Repeat the same with the rest of the dough.

The speciality of the dough is even after rolling it thin, stuffed and rolled again, it didn't break, i could roll the dough flat again with much ease.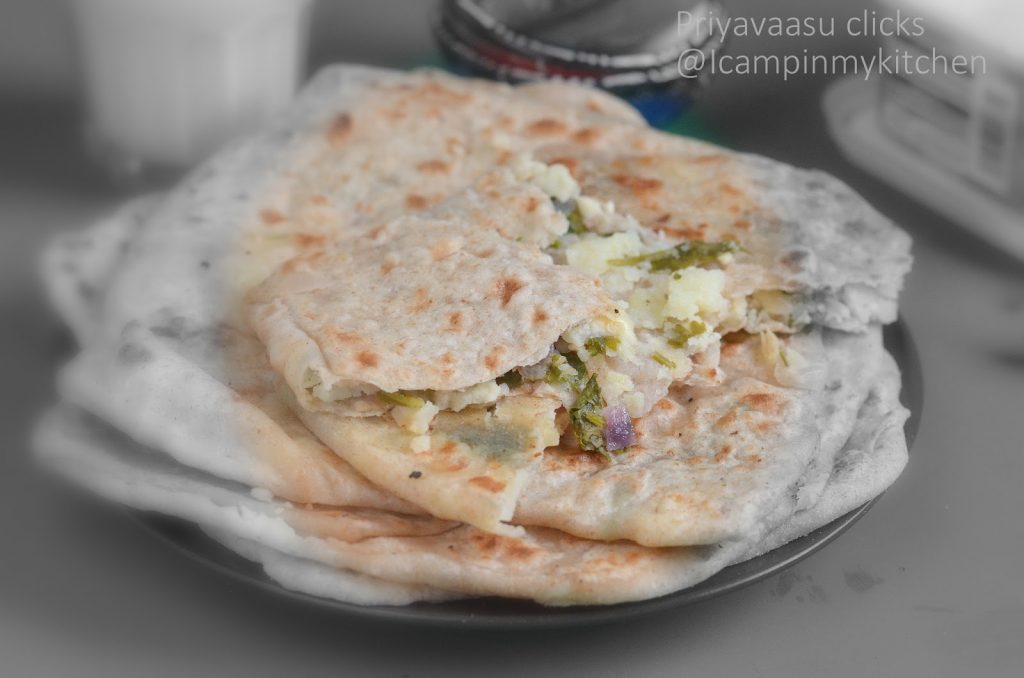 Heat a flat tava and place the rolled gozleme on the hot tava. Keep the flame low and cook the bread until brown on both sides. Add a teaspoon of oil while cooking the gozleme. Serve it warm with a glass of Ayran.
To Make Ayran
Put everything in a blender, blend well and pour in glasses and serve.