Gulab Jamuns, a staple sweet in my household (or should i say in every household) for any festival. Not only it tastes yummy, it was easier to make. All these days it was MTR/Priya/Gits Gulab Jamun Mix, which dominated. But After ICC this month, chuck all those readymade mix out.
I followed the recipe of Indo's blog. It was lot of fun, making them from scratch.
Maida (all purpose flour) - ½ kg
Ghee - 2 cups for deep frying. I used normal Cooking oil.
2 teaspoon of finely chopped nuts (optional)
2 pinches of kesar (optional)
Garnishes for the Sugar Syrup
Pistachios for garnish
Kesar/Saffron for garnish
Rose essence
In a wide mouthed heavy bottom pan add the milk and heat it in a medium flame (add a couple of stainless steel spoons into the milk to avoid burning)
Reduce the milk for 3-4 hours till the milk solidifies and becomes thick. Whip together yogurt and baking soda.

To the khova add the flour and yogurt mixture and knead till it forms a pliant dough. (make sure not to add too much flour, just enough flour to make the khova pliant).

While kneading the dough, add the finely chopped nuts and kesar and knead. This gives a rich flavor to the Jamuns. Make ¾ inch diameter balls and set aside
In a pan add the sugar and just enough water to cover the sugar. Heat till it comes to a boil. Squeeze half juice of a lemon to avoid sugar crystals.

Add chopped pistachios, 2 pinches of kesar or a teaspoon of rose essence to the sugar syrup. This gives a nice aroma and flavor to the jamuns, while it is soaking.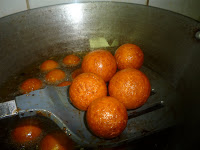 Heat the ghee and deep fry the balls, adding a few at a time till golden brown.

Take care not to touch the balls while it is frying. Just splash the oil around. Remember to keep the flame simmer, while deep frying, or else you will end up with uncooked jamuns.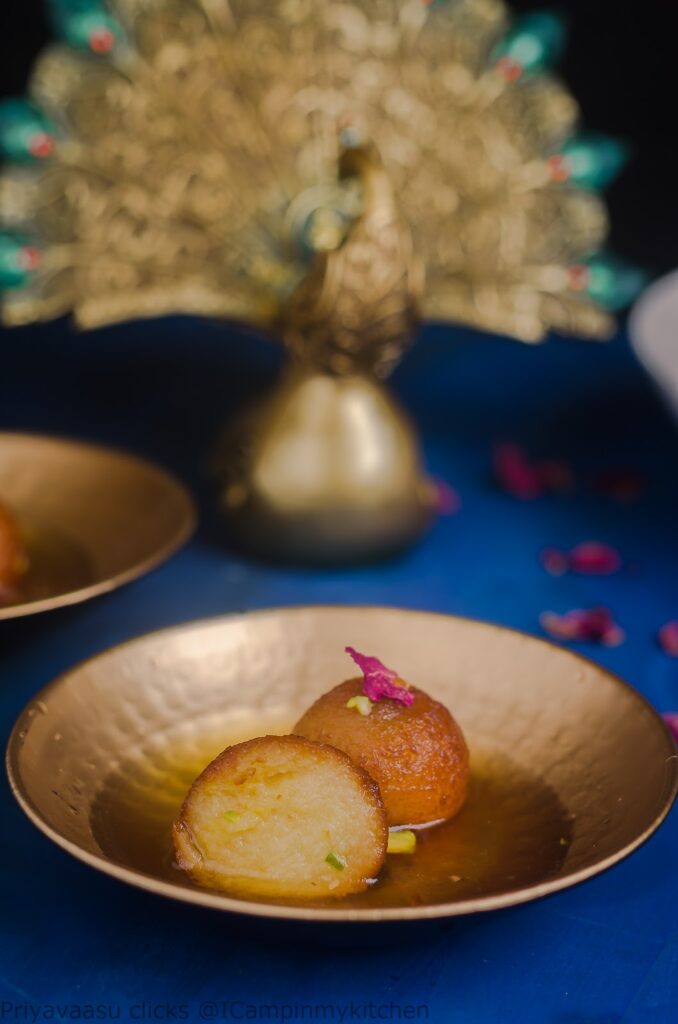 Simmer flame also ensures, evenly cooked and colored jamuns. Once the jamuns cool a bit, add them to the sugar syrup.

Let it soak for a minimum of 4-5 hours for all the flavors to mingle. Serve garnished with pistachios and rose petals.