For the final day of tortilla dishes, i went experimenting a little. First i thought of making a simple quesadilla or a wrap. But them saw these delicious taco recipes here. There were 81 interesting taco recipes, loved each one of them. So, i decided to pick one of them and try for our evening snack.
Since i had some broccoli and canned chickpeas, i went ahead and made them as filling and topped it with some lemon cream. The real excitement was in making of taco shells. It was pretty easy to make at home and felt good to hear that crunch while biting into the tacos.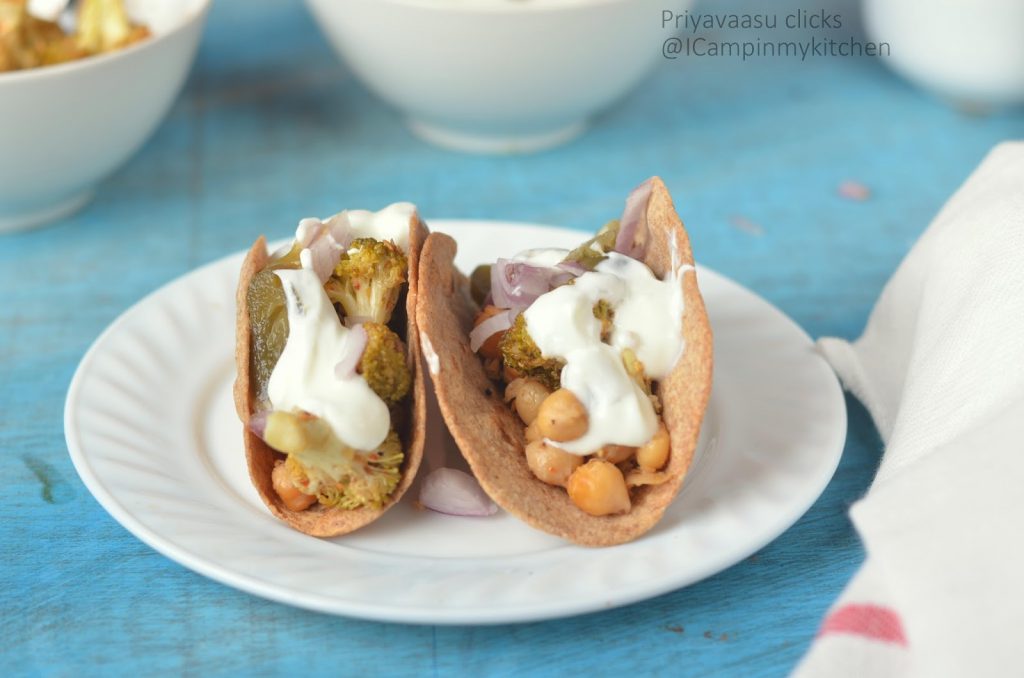 While we both enjoyed the tacos with the stuffing, the kiddos enjoyed the shells as such, crispy and crunchy munching on it!!
Ingredients
5 small whole wheat tortilla (about 3 inches in diameter)
sliced jalapenos, i used canned ones soaked in brine
For Stuffing
½ teaspoon red chili powder
For Lemon Cream
¼ cup hung curd or Greek yogurt
1 green chili, finely chopped
2 tablespoon finely chopped coriander (i didn't have, so didn't use it)
Method
Prepare the stuffing first, Take broccoli florets and chickpeas in a large bowl. In another small bowl, take oil and spice mix, mix well. Pour the spice oil over the broccoli and chickpeas and toss well for the spices to coat well. Let this sit for 30 minutes.
Preheat the oven to 180C. Grease a cake tin, spread broccoli and chickpeas in the tray and bake them for 20 minutes, taking it out and tossing it once after 10 minutes. Let it cool, keep aside until use.
Preparing the Tacos
I had some leftover tortilla dough. Made 5 small portions of it and rolled out 5 tortillas of 3 inches in diameter.
Cook them on a hot griddle until brown spots appear on both sides. Keep them covered in a tea towel, until you cook them all. Preheat the oven to 180C.
Once done, take your grill shelf that comes with your oven, place the tortilla inverted over two bars of the grill. Bake them for around 8-10 minutes or until crisp. Take it out and let them cool well.
Preparing the lemon cream
I used hung curd for the cream. Add lemon juice, chopped green chilies and salt.
Give it a good stir, keep aside until use.
Assembling the tacos
Place the taco shells on the serving plate. Spoon the broccoli & chickpeas stuffing into it.
Place 2 or 3 jalapenos and top it with cream and serve immediately.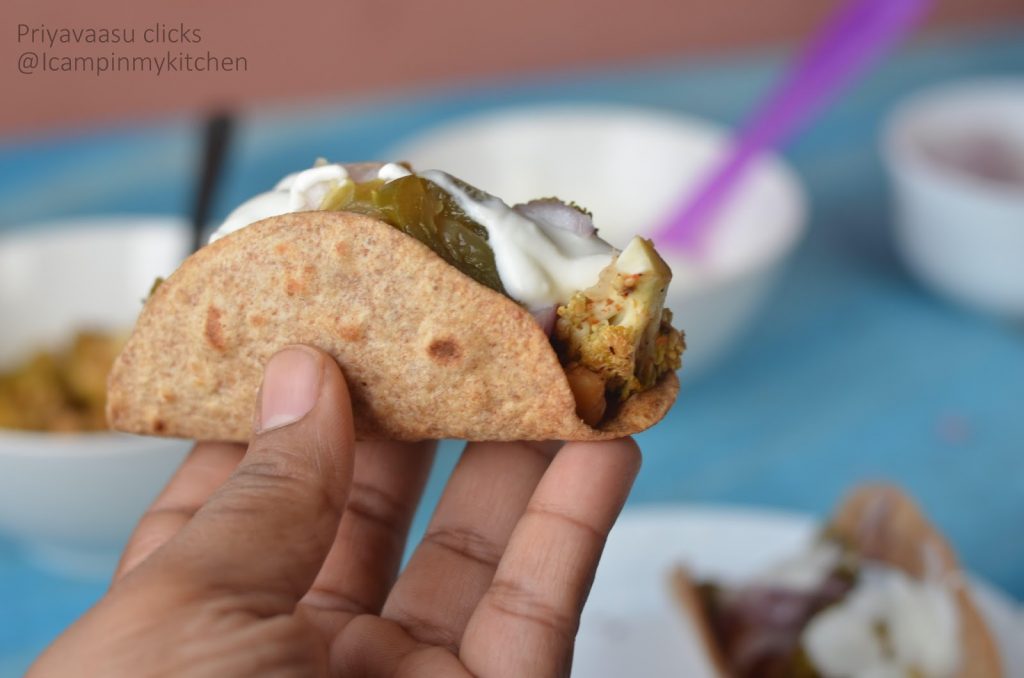 If not serving immediately, store the baked tacos in an air-tight container.
I served two tacos with filling and rest 3 were nibbled by my two mouslings.