We are starting the second week of Fire up your oven, April Baking mega marathon. Last week i blogged under the theme: Twist & Roll. This week's theme is Oats in bakes.  I have planned for some breads, scones and some quick breads. In this genre, today i give you the best Oats bread you would ever bake. This bread was suggested by Veena as part of our Tame the Yeast theme of our regular blogging marathon. I couldn't bake it that time, but when i decided the theme for this baking marathon, the first bake i did was this super  soft and fluffy oats bread. Try it you will definitely agree with me.
Source : Bakingdom
3 cups Bread flour/All Purpose Flour
3/4 cup oats (i have used rolled oats)
2 tablespoons unsalted butter
For Topping
Method
I used my Food Processor to make the dough. In a large bowl, or the bowl of a your food processor, combine the flour, oats, yeast, and salt.

In another bowl, that can hold 2 cups measure, warm the milk so that it's hot enough to melt the butter, but not boiling. Add the butter, stirring until melted, then stir in the  honey.
Pour the milk mixture into the flour mixture,knead until it just comes together to form a dough. Knead for 10 minutes, until the dough is smooth and elastic. Place the dough in a lightly oiled bowl, cover, and allow to rise until doubled, about 1/2 to 1 hour.

Once doubled, place the dough on a clean, dry work surface. If the dough is too sticky, lightly flour the surface before continuing. With your fingers, flatten the dough into a 9 by 12-inch rectangle. Tightly roll the dough, tucking the ends as needed, into a loaf. Place the shaped dough into a 9×5-inch loaf pan, cover with a clean kitchen towel, and allow to rise until doubled, about an hour.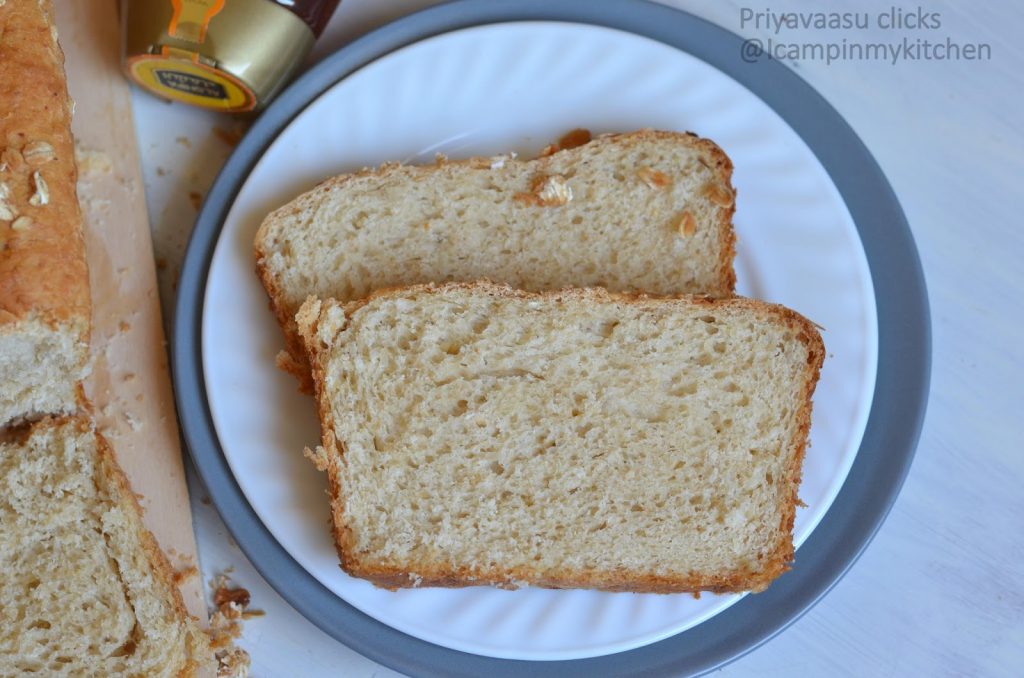 Preheat oven to 180 C. Place an empty loaf pan on the bottom rack of the oven and bring 2 cups of water to a boil.When the loaf is doubled again, brush the top with the warmed honey and sprinkle with the oats.

Place the bread in the oven and pour the boiling water into the empty loaf pan on the bottom rack of the oven. Bake for 40 to 50 minutes, until the bread is deep golden brown. Transfer to a wire cooling rack and allow to cool completely before serving.