The 2 months of vacation in Chennai, though kind-of energized me a bit, but after coming i had huge backlog of so many bakes to be made!!! I never miss We Knead to Bake Challenges, purely for love for Breads and Knowing how my relationship with yeast is developing into a full blown , affair or whatever you name it!!! So, the moment Aparna Announced this month's challenge, i made it the same week!!!
Khaliat Nahal/Bee's hive Bread or HoneyComb Bun's, get their name from the shape the final bake gets. he buns are baked close to each other in a round pan where they form a honeycomb like pattern. Traditionally they're made sweet using slightly sweetened dough filled with cream cheese. After the buns are baked, they're covered with sugar syrup/ glaze which is typical of many Middle Eastern confectionery.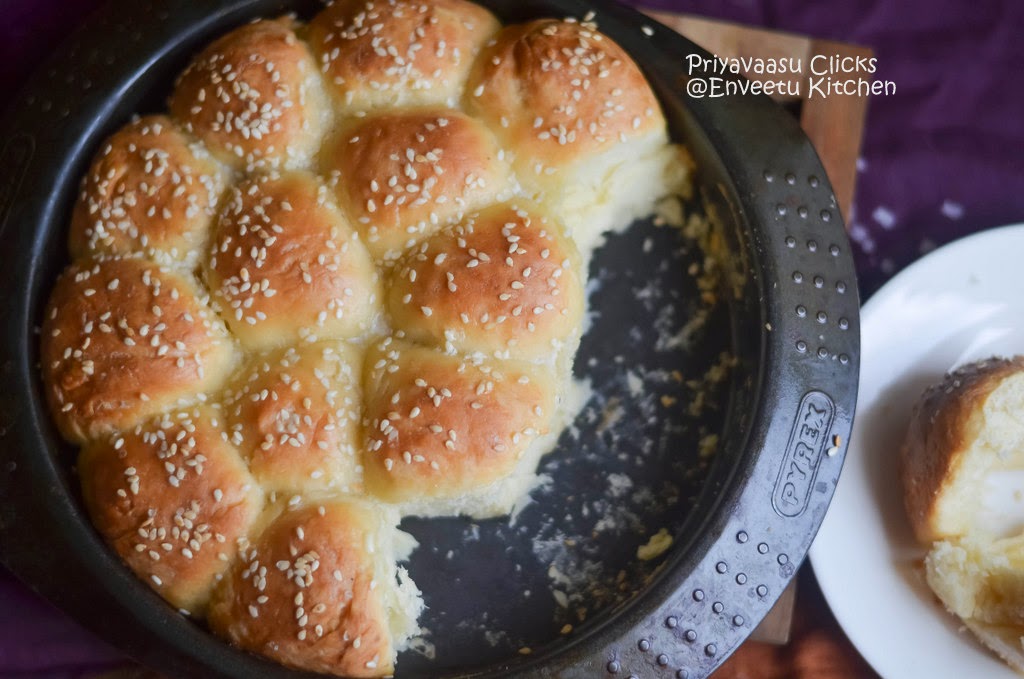 I am happy to bake these as it is my long-time desire to try out the local cuisine, being in dubai for 8 long years, all i have made is falafel and another stuffed bread. So These buns are for a sweet start for my interest in the local cuisine.
For the dough
Ingredients
1 ½ teaspoon instant yeast
1.5 Cups of Whole Wheat flour
1 Cup of All Purpose Flour
3 tablespoon sugar (for sweet bread)
¾ to 1 teaspoon salt (for savory bread) OR ¼ teaspoon salt (for sweet bread)
40 gms or 3 tablespoon of butter, melted
2 tablespoon milk for brushing the dough
2 tablespoon white sesame seeds for sprinkling on top (optional; only for savory bread)
1 cup of filling (approximately) of your choice, either sweet or savory
Savory - cream cheese OR crumbled feta cheese OR crumbled paneer/ cottage cheese, flavored according to your choice. You can also use any other savory filling that you want. I tried Cream Cheese and also Sweet Potatoes, Sauteed with Onions, garlic and Red Chili Powder.
Sweet - cream cheese (traditional filling), or any other filing of your choice like chocolate, dried fruit like dates, raisins, chopped nuts, chopped fruit , sweetened coconut filling, etc. I used Dark Chocolate.
Sugar Syrup/ Glaze : For the Sweet buns only
1 teaspoon lime/ lemon juice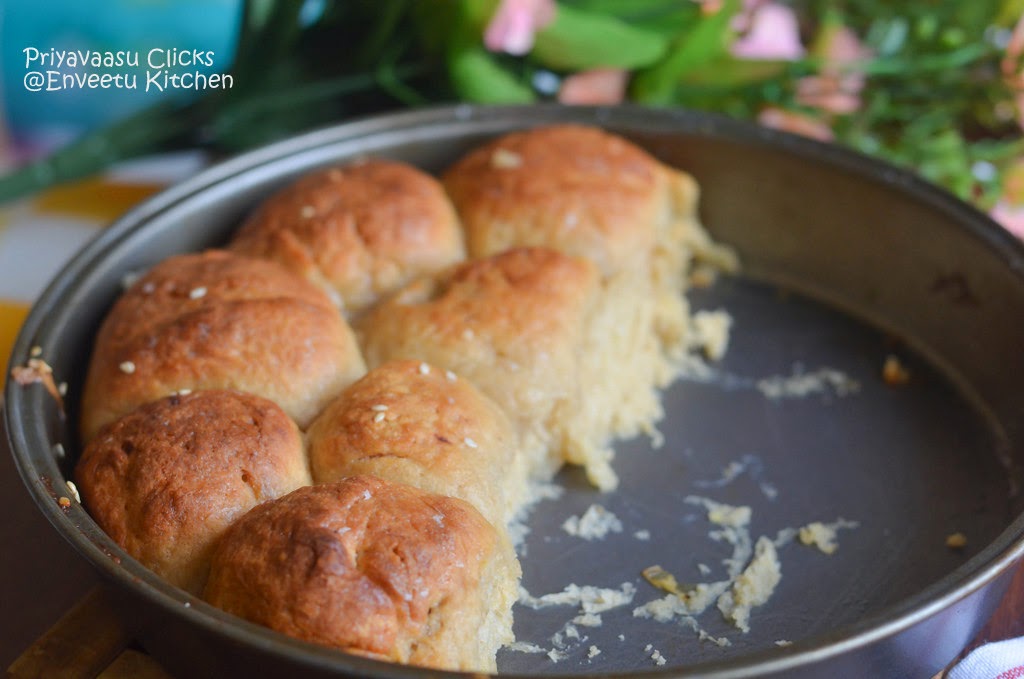 Savory Filling
1 Large Sweet Potato
1 onion, chopped
2 cloves of garlic, chopped
1 teaspoon of shredded ginger
½ teaspoon red chili powder
1 teaspoon coriander powder
¼ teaspoon turmeric powder
Salt to taste


Method
Peel and Chop the Sweet Potato into Cubes and wash them well. Take the cubes in a Microwaveable Bowl, Add water just to immerse the chopped cubes.

Cook

@ Microwave high for 8 minutes. Let it cool, Drain and keep aside until use.

Heat oil in a pan, crackle mustard seeds, add chopped onion, garlic and saute until onion's turn translucent.

Next add the drained Sweet Potates, add red Chili powder, coriander powder, turmeric powder and salt. Mix well.

Let this be on the stove until the rawness of the masala escapes 5-8 minutes maximum. Sprinkle little water if feel the masala's are burning.

Take it off the stove and let it cool, to be stuffed in the buns
Baking Bread
Method
You can use All Purpose flour all together or if using a combo of All Purpose and Whole Wheat, Mix the flour together and keep it ready.

Make sure your melted butter has cooled down a bit before using it. Put 2 cups of the flour-mix, salt, sugar (if making the sweet bread only) and melted butter in the bowl of your processor. Run a couple of times to mix well.

Combine the milk, sugar and yeast in a small bowl and keep for 5 minutes. Add this to the processor bowl and knead until you have a smooth and elastic dough which is not sticky. Add as much of the remaining ½ cup of flour as you need to get this consistency of bread dough. I used all of 2 ½ cups of flour for mine.

Shape the dough into a ball and place it in a well-oiled bowl, turning it to coat completely with the oil. Cover and let it rise till double in volume, for about an hour.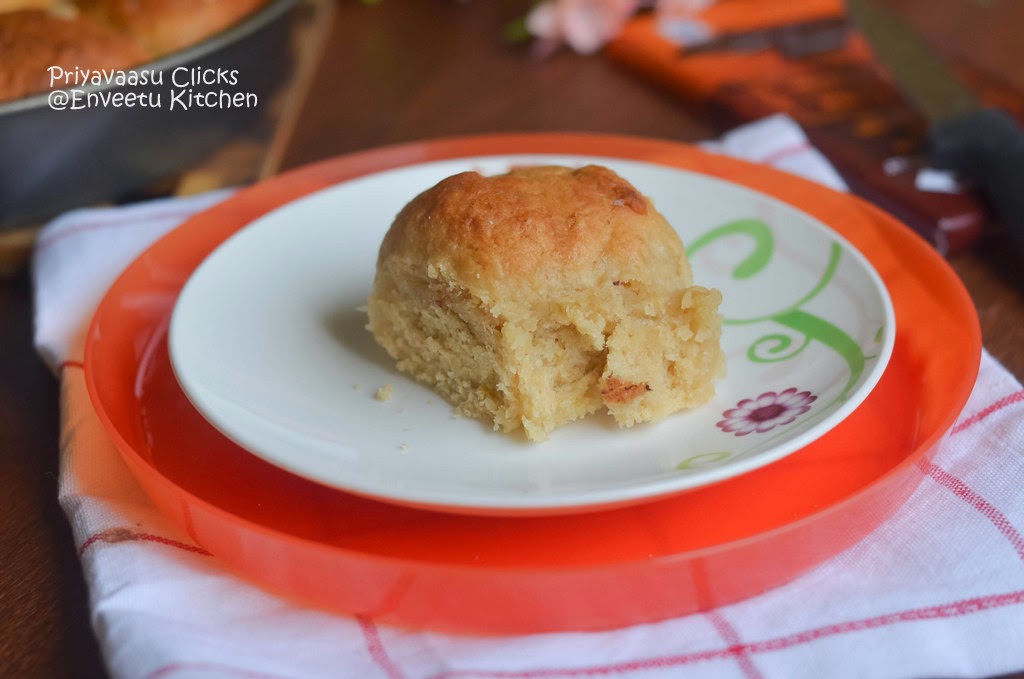 Turn the dough out onto your work surface. You won't really need to flour it as the dough is quite manageable as it is. I weighed the dought, it came out 600gms, so i Cut it into 2 halves, weighing 300gms each. With your palms, roll out each half a "rope" about 9" long. Cut each rope into 1" pieces so you have a total of 18 pieces. If you want Bigger buns, then cut each rope into 6 pieces and proceed.

Take each piece and flatten it out a little and place half a teaspoon of filling in the centre. Pull up the sides and wrap the dough around the filling, pinching it closed at the top. Smoothen it into a round ball. Place this in a well-greased round 9" cake tin. Repeat with the remaining 17 pieces and the filling. Arrange the filled balls of dough in concentric circles, filling the base of the cake tin.
Cover with a kitchen towel and let it rise for about 30 to 40 minutes. Brush the tops with milk and sprinkle the sesame seeds over this. Don't use the sesame seeds for sweet bread, only for the savory one. Bake the buns at 200C for about 30 minutes, until they're done and a nice golden brown on top.Let them cool in the tin for about 5 minutes and then on a wire rack.

If you're making the sweet version, make the sugar syrup/ glaze during the first rise of the dough. For this put the sugar, water and saffron in a small pan and bring to a boil. Turn down the heat and let it simmer for a few minutes until it starts thickening a bit. Take it off the heat and add the honey and the lime/ lemon juice. Mix well and let it cool. Keep aside till needed.
When the sweet buns come out of the oven, pour the syrup all over the top of the "Honeycomb". The bread should be hot and the syrup/ glaze should be cool. If you want your Honeycomb Buns to be less sweet, just brush the syrup/ glaze over the top.

Let it sit for a while for the syrup/ glaze to set a bit. Serve them warm with tea/ coffee.