Alphabet 'H' gave me jitters. Yes, all that came to my mind was haleem, hyderabadi mirch ka salan, Hyderabadi biriyani, khatti dal or burani raita!! Oh my, nothing comes closer to dosa or even the side-dish for dosa!! Then i finally settled for horse-gram dosa and a chutney too. 
Since my foodie brain wasn't happy with the choice, I kept pondering the 5th vedha, The Mighty Internet, with the help of Google mama(uncle), i came across a video(s) featuring this upma masala dosa/butter dosa, a favorite street food in Hyderabad.
Now to check the authenticity of the recipe, i called up my only hyderabadi relative, my sister-in-law +Madhavi Sundaresan. Though she confirmed, that many hotels have it on their menu, but she hasn't tasted it, since upma isn't her favorite food till date(note to self, make some delicious upma for +Madhavi Sundaresan some day).
I got lucky in my search and found relief in this blog post, where the blogger has shared her experience of a breakfast walkthon, in Hyderabad
, where she tasted this awesome dosa along with some Foodies of Hyderabad
. I was jumping in joy, got excited and made this dosa for our breakfast yesterday. It was a burst of flavors in your mouth, literally, the karam chutney, the karam podi, upma along with the potato masala, creates a revolt in your mouth, you need some time to understand the happiness that is happening in there. 
There are many videos on how to make these dosa's and every dosa-vendor has his own style of mixing flavors.  One video showed using Allam pachadi/Ginger chutney along with Erra karam. Whereas another video showed using upma and erra karam and karam podi sprinkled. Another video showed 2-3 tablespoon of butter in every dosa along with the masala or even cheese. I have made mine, inspired from all these videos. 
I loved the 5 different flavors in this dosa, it should served hot straight from the tava, to enjoy this culinary coup. The dosa needs no side-dish, if not all you want, serve it a runny
coconut chutney
to oomp it more!! Do try it and let me know did you have fun!! 🙂
Ingredients
Dosa Batter – as needed
¼ cup Karam Podi/Idly podi/Gun powder
¼ cup of butter (optional)
Ghee/gingely oil for making the dosa


For the Upma
¼ cup of roasted sooji/rava
1.5 cups of water
½ teaspoon oil
1 green chili, chopped
2-3 curry leaves
a pinch of hing
¼ teaspoon mustard seeds


Method
In a pan, heat oil, splutter mustard seeds, add hing, curry leaves, chili and turmeric powder. Reduce the flame and add water and salt. When the water comes to a roiling boil, add the sooji, let the sooji cook. 

The upma should be of liquid consistency, spreadable on the dosa, that is why more water. Once the rava is cooked, take it off the heat, let it sit until use.
For the Potato Masala
1 large onion, finely chopped
¼ teaspoon turmeric powder
¾ teaspoon salt or to taste
3 nos green chilies, slited lengthwise
Wash, peel and cut the potatoes into cubes. Cook them with water, until soft. I cooked on stove top,  you can also microwave it for 10 minutes.

Drain the excess water completely. Mash it well with a a potato masher or back of a ladle.

Heat oil given under tempering in a pan, splutter mustard seeds, add hing , curry leaves.  Sauté for a minute, add onions and saute until translucent. Next add the mashed potato, turmeric powder and salt. Let it cook in a simmer flame for the flavors to mingle.

After 5 minutes, stir and take it off the stove, garnish with free coriander leaves. 

Keep aside until use.
8-10 nos round red chilies
Take the above ingredients in a mixer,  except oil. Grind well to a smooth paste.

Heat oil in a small pan, add this ground paste and sauté until the water evaporates and the paste becomes little thick.
To Make the Dosa
Heat a tava, when it is hot enough(sprinkle little water, it should sizzle), pour a ladle full of batter, in the center of the tava, spread to make a circle using the back of the ladle. Dot the edges with ghee/oil. Let it cook for a minute or until the sides turn crispy brown.
Flip and cook the other side for a minute. Flip again, now put 2 tablespoon of upma and 1 teaspoon of erra karam in the middle. Spread it on the dosa with the turner. Sprinkle a 1 tablespoon of karam podi on top. Place 2-3 tablespoon of masala on one side of the dosa. Add a blob of butter. Fold the dosa. Drizzle little oil/ghee on top. Let it sit for  30 seconds to a crispier dosa. Cut into and serve hot.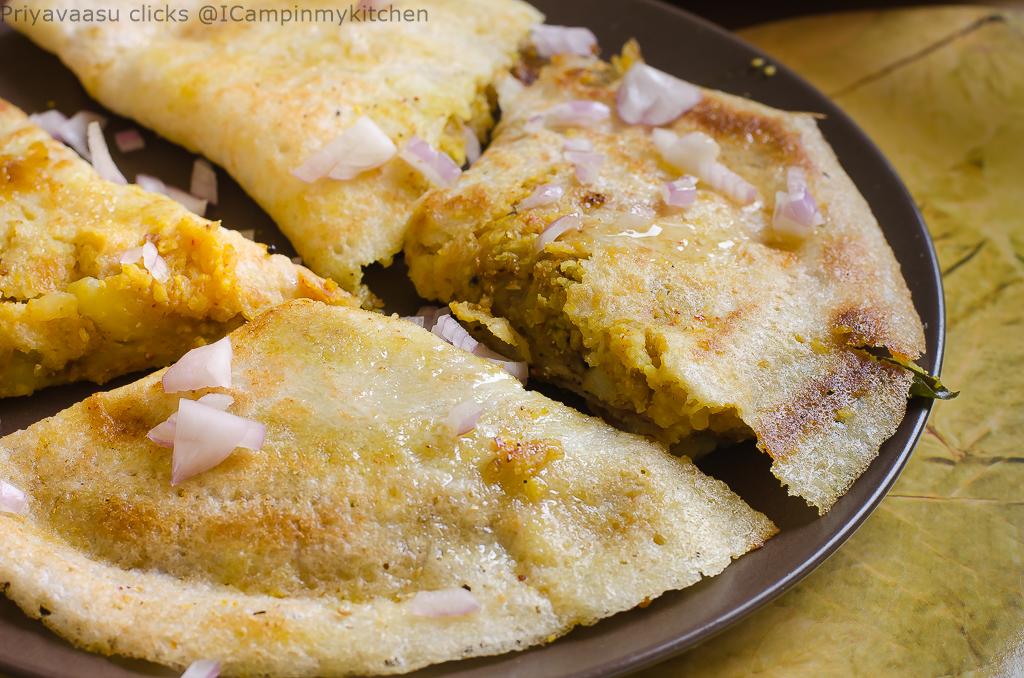 I have avoided adding raw onion in the dosa, since my kids don't prefer it. If you like onions, pls add them after karam podi.