Ragi Dosa, another instant and healthy dosa recipe. This recipe is gluten-free, and i tried this when there was little leftover besan crepe batter, to that i added the rest of the ingredients, it came out good. So, the next time, i experimented with the measurements a little to get a good textured ragi dosa. Unlike wheat based ragi dosa, this besan based ragi dosa holds good shape and can be made crisp and thin too.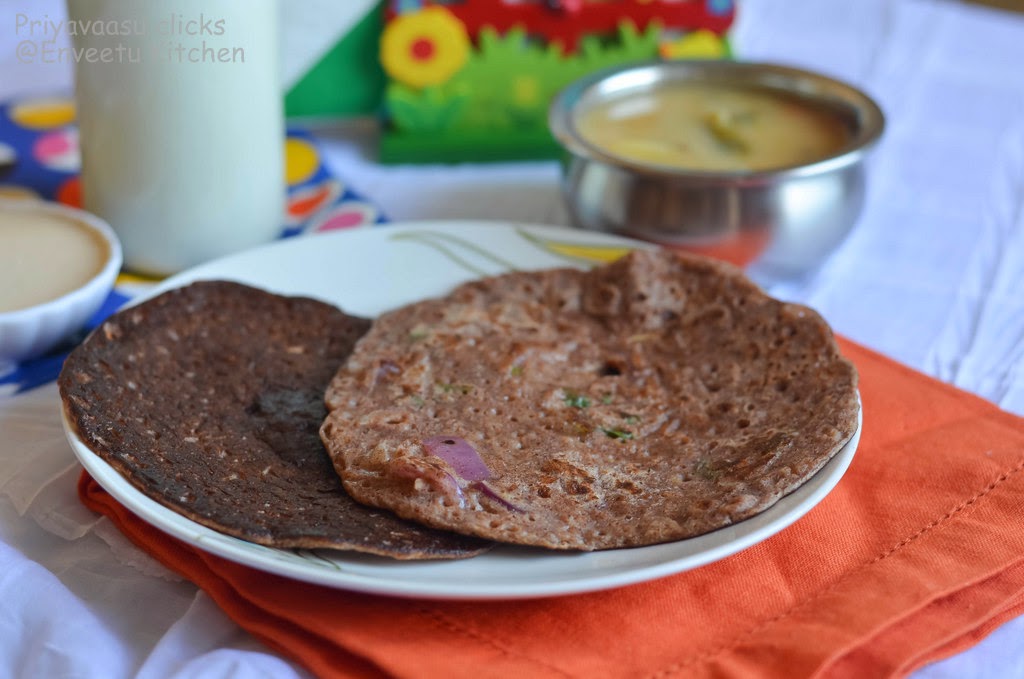 Ragi breakfast keeps you full for a longer time and prevents from snacking in-between.It has a much higher amount of dietary fiber compared to white rice and other grains. It is also a low fat cereal and most of the fats are in the unsaturated form. This makes it the best choice in grains for people trying to lose weight. Though ragi is a carbohydrate rich food , it is all complex carbohydrates, which takes more time to be break down, so it releases glucose slowly into the blood stream and maintains your sugar level.


Ingredients
¾ Cup Ragi Flour/Finger Millet flour/Kezhvaragu maavu
1 Large Onion, finely chopped
1 green Chili, Finely , chopped
2 sprigs of curry leaves, chopped
handful of fresh coriander leaves, chopped
Method
In a large bowl, take both the flours, add salt and whisk well to combine.

Add chopped onion, chopped chilies, coriander and curry leaves, add water and make a batter of pouring consistency.
Heat a Flat pan/tava, when it is hot, add 2 drops of gingely oil, wipe out with a tissue or a cut onion. Pour a laddle of batter in the centre of the pan/tava, spread it a little, but not too thin.

Dot the edges with little gingely oil, let it cook for a second or two , flip and cook the other side for another 2 minutes.
Remove it from the flame and serve it hot with Chutney/Sambhar.