Instant wheat flour appam or Sweet appam, a traditional sweet made for the karthigai festival in Tamilnadu. There are 2 versions of sweet appam, one is the instant version and the other is made by soaking rice and dal.
The instant version of sweet appams, is a quick and easy recipe to make during festivities or for your evening snack. Wheat flour is mixed with mashed banana , jaggery and cooked in an abelskiver pan, what we call the paniyaram pan. The dish is generally made with ghee, which gives it the richness. The delicious aroma of jaggery appams, cooking in ghee, is a bliss to experience.
Karthigai festival
Karthigai festival, a festival of lights in Tamilnadu, India. The festival falls on full moon day of Tamil month karthigai, between November - December. It is during this festival, we decorate our homes with rows and rows of diyas, just like how North-Indians celebrate Diwali.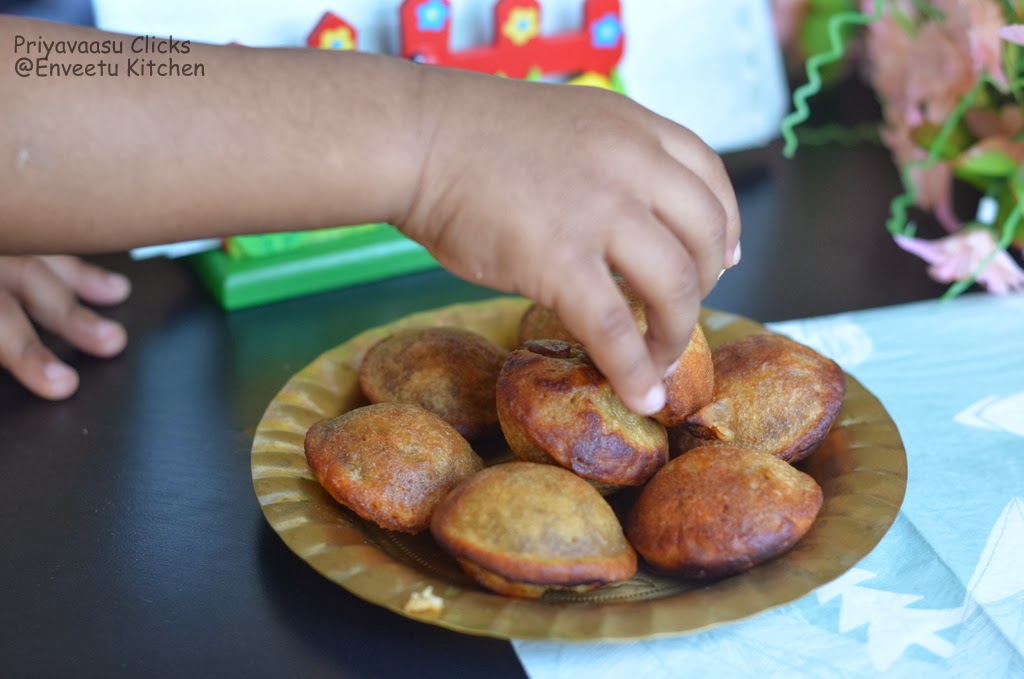 Karthigai festival, celebrates Lord Muruga, the six-face son Karthikeya of Lord Shiva. During the Karthigai month, we light 2 diyas at the threshold of our homes and on the Full moon night, the whole house is decorated with rows of light. It would be such a sight to see the whole neighborhood brightened up with oil lamps.
Apart from the regular festive spread that includes vadai, payasam , karthigai festival has its speciality dishes, like nei appam, Peanut jaggery balls, puffed rice jaggery balls etc.
I personally like to make sweet appams, as they are pretty easy to make and takes just 30 minutes. The ingredients are easily available in the pantry, especially a sad looking banana.
How to make these sweet appams?
To make these sweet appam, first make the jaggery syrup. Take jaggery in a sauce pan, add water, let it boil and the jaggery dissolve. Switch off the stove, and strain the syrup for impurities. Keep aside until use.

In a wide bowl, mix wheat and rice flour together, add a ripened banana, grated coconut, baking soda and cardamom powder. Using your hands, crush the banana and mix it with rest of the ingredients.

Add the strained jaggery syrup to this flour mix and bring the batter to a pouring consistency. Once the batter is ready, heat the paniyaram pan/ableskiver pan and pour the batter into the holes, cook in a medium flame. Cook both sides and remove the paniyaram to a kitchen cloth.

Repeat the same with rest of the batter. Use ghee to cook, if vegan then you go use sunflower oil/coconut oil for cooking.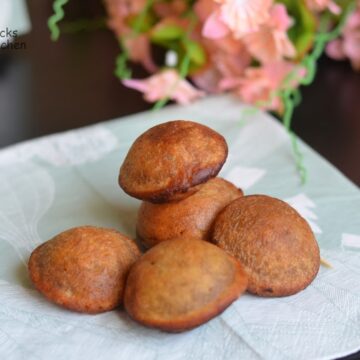 Instant Wheat flour appam | Sweet appam
Instant wheat flour appam, dumpling made for the karthigai festival in Tamilnadu. There are many versions of sweet appam, one is the instant version and the other is made by soaking rice.
Print
Pin
Rate
Equipment
Ableskiver pan/Paniyaram pan
Ingredients
1

cup

wheat flour

i used pilsbury chapathi flour

1

tablespoon

rice flour

1

no

ripened banana

i used philiphines banana

½

cup

jaggery

1

cup

water + ¼ cup extra

2

tablespoon

freshly grated coconut

dessicated coconut can also be used

2

pinches

baking sida

3-4

pods

cardamom seeds alone

crushed

ghee/oil for cooking
Instructions
Dissolve jaggery in a cup of water and melt it on a stove top. When the syrup boils, switch it off, strain the syrup for impurities. The strained syrup measured ¾ Cup. 

In a big bowl, take both flours, add banana,coconut and baking powder. Mix it with your hands. Crush the banana well andmix it with the flours.

Now add the strained syrup and mix it well with aspoon. I required another ¼ cup of water to get the batter to a pouring consistency

Heat a paniyaram pan/abelskiver pan, pour a drop of ghee in all the holes. Pour a spoon of batter into the holes, let it cook, flip it using a fork and cook the other side too. Keep the flame low and cook

Remove it to a kitchen towel and repeat the process with the remaining batter.  The above ingredients will make 2 dozen (24) appams.

Serve Warm. Makes a good after-school snack for kids. The leftover appams can be stored in an air-tight container for a day outside, and 2 days in the fridge.
Notes
I used a non-stick paniyaram/abelskiver pan to make the appams. That makes a huge difference in the ghee/oil we use for making.
I added a drop of ghee in the holes before the batter , another drop of ghee/oil on top of the paniyaram while it is cooking and another drop when i flipped to other side. 
Keep the flame simmer, that is the mantra for getting evenly cooked and good looking appams. 
Disclaimer
I m not a Doctor or a Nutritionist The Nutrition information provided above comes from the plugin and is only an estimate.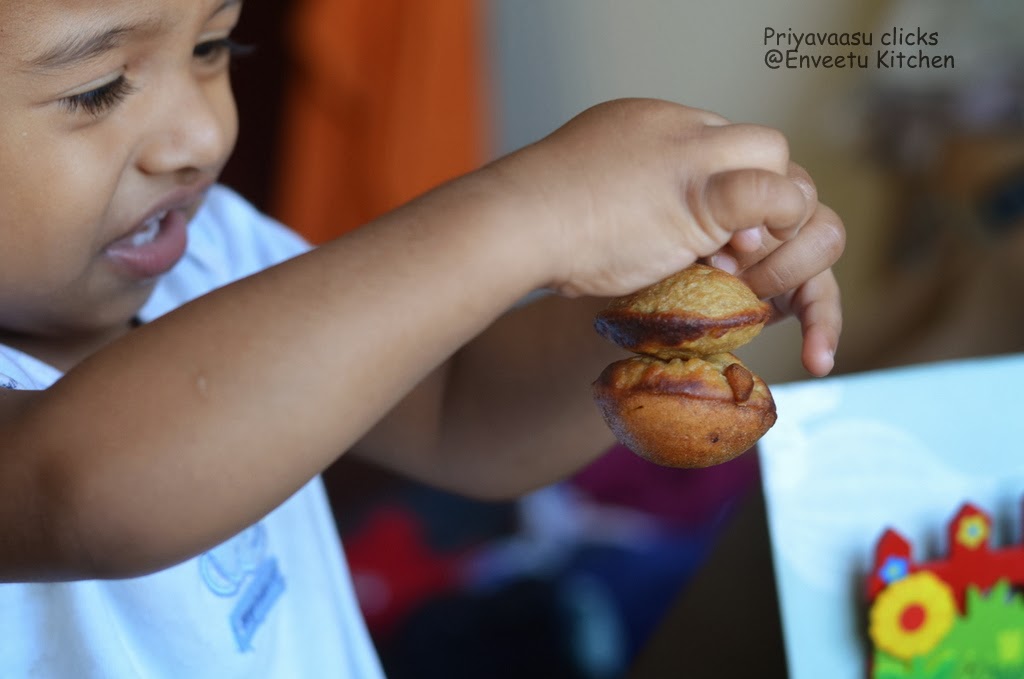 The sweet appams can be stored in an air-tight container outside for a day and in the refrigerator for a maximum of 2-3 days.
The instant wheat flour appams makes a great after school snack. And a delicious recipe to make whenever you have sad bananas looking at you.
If you have tried this recipe and like it, give it a star rating or let me know in the comments below. You could also share it with me on Instagram using #icampinmmykitchen and tagging me @priyasrinivasan.
You could follow me and my recipes on Facebook | Instagram | Pinterest | twitter
Kaarthigai deepam treats
Do you like this recipe, PIN IT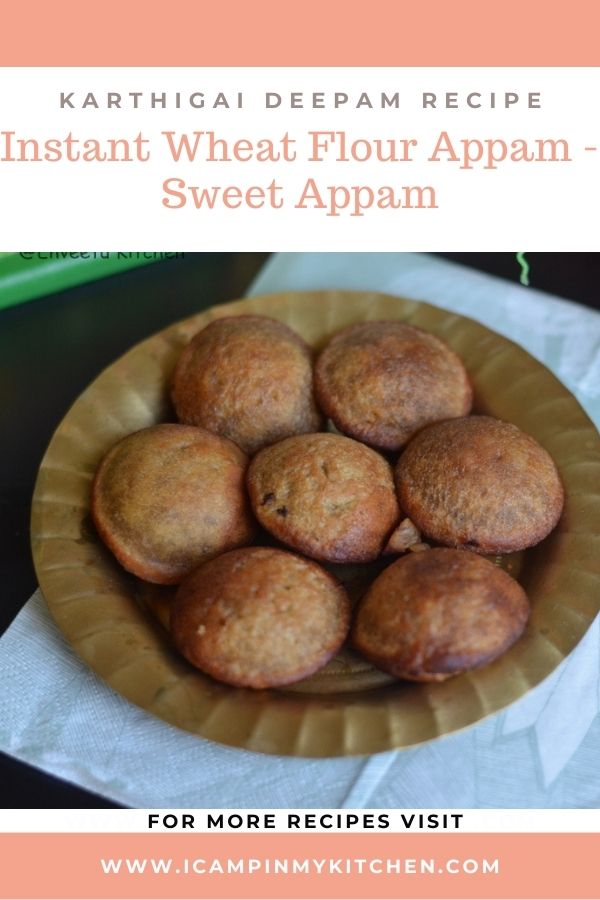 An old recipe posted on November 2013, updated with new content.