I was in a big dilemma on what to make today. I had 3 choices whether to cook bazlama, Laavash or this. Bazlama turkish another leavened bread cooked, laavash again is another middle-eastern flatbread. Finally i decided to make this simple Italian flatbread and serve it along with a Indian Curry. Italian bread served with Indian curry, sounds delicious na!!!
Traditionally this is made using flour, lard/olive oil, salt and water. They are served straight from the stove with prosciutto and fontina. Since i don't have access to these cheeses, i thought of serving it with Indian cottage cheese. Prepare the filling first and then proceed to make the bread. A single piadina with the toppings is a very filling meal for a hungry person. Try it, you will definitely love it.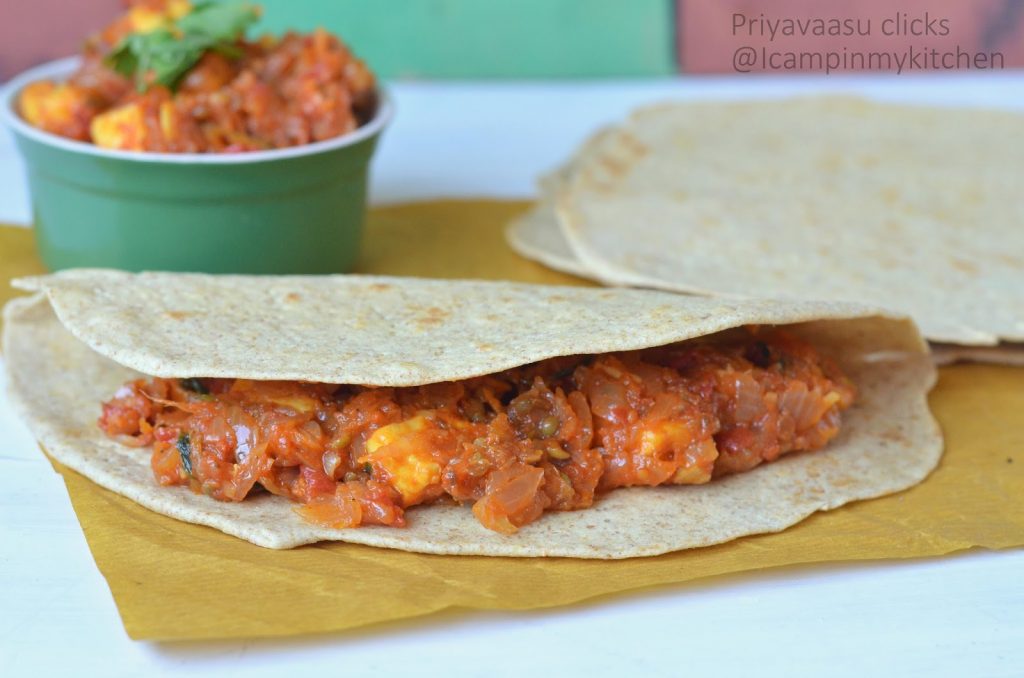 Ingredients (Makes 6/7)
Method
I have used my food processor to knead the dough, it can be kneaded by hand too. Take both the flours, salt and baking soda in the processor, pulse it twice to mix well.
Add water and oil to knead a smooth dough. If kneading by hand, knead about 5-8 minutes to get a soft,supple and smooth dough.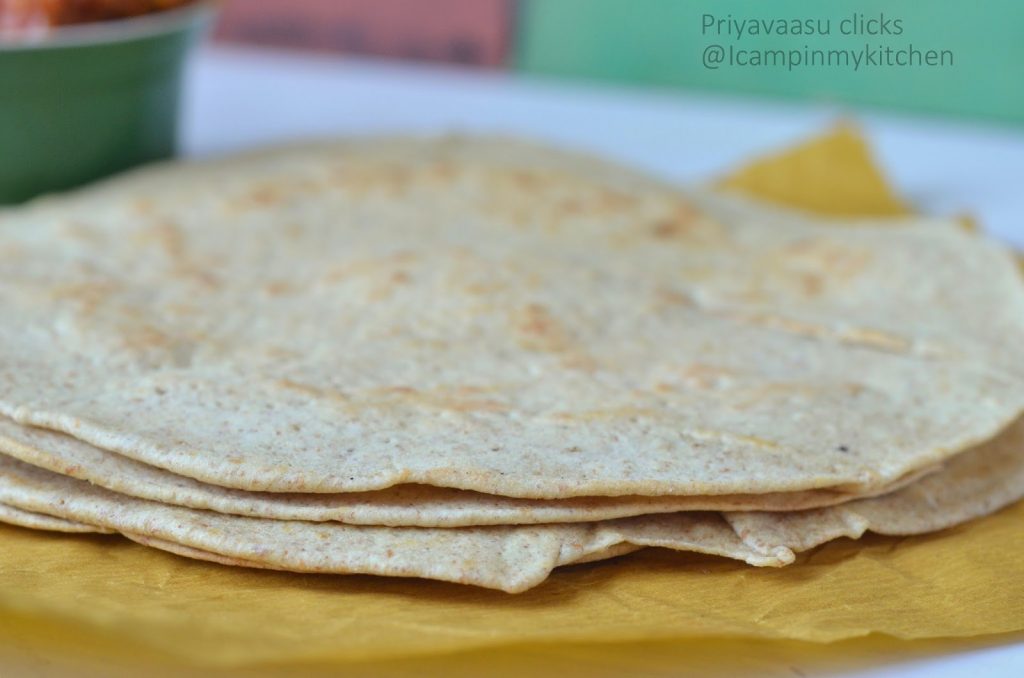 Keep the kneaded dough covered and let it rest for 30 minutes. After the resting time, divide the dough into 6-7 portions. Keep the pan on the stove in a medium flame, let it get hot. I have used my cast iron pan for this.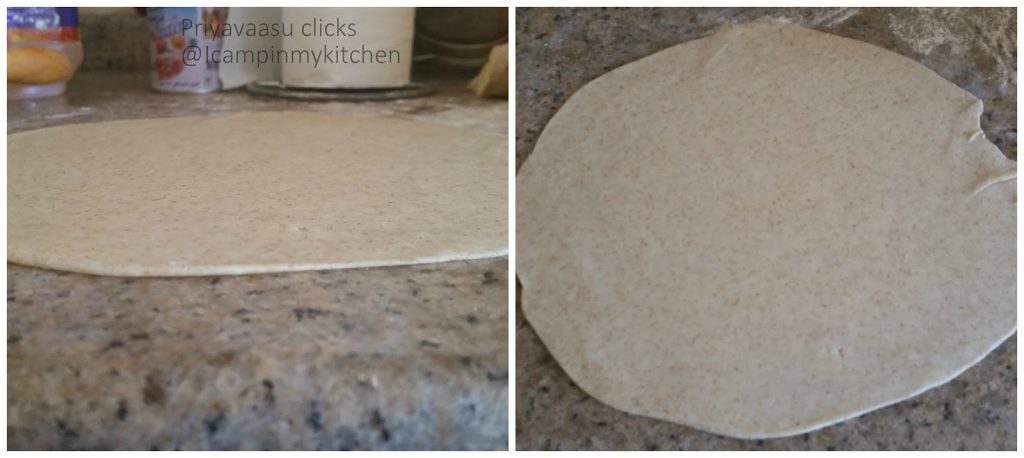 Now dust the working surface generously with flour, take one portion of the dough and roll it as thin as possible.

Now place the thinly rolled dough on the hot pan, keep a fork ready in your hand and prick the piadina all over, we don't want it to puff up, it should be flat.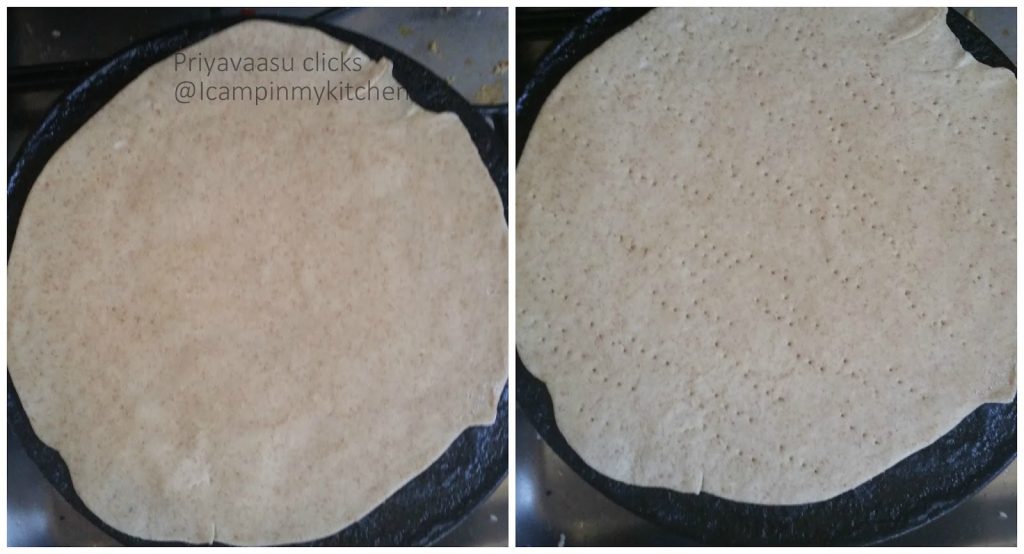 Turn the bread and poke all over and cook for around 2 minutes on both sides, until it gets brown specks all over. Transfer it to another plate, keep it covered until you serve. Repeat the same with rest of the dough.

The Piadina has to be served warm. It is normally served with italian cheese, but i served with our very own paneer/cottage cheese subzi.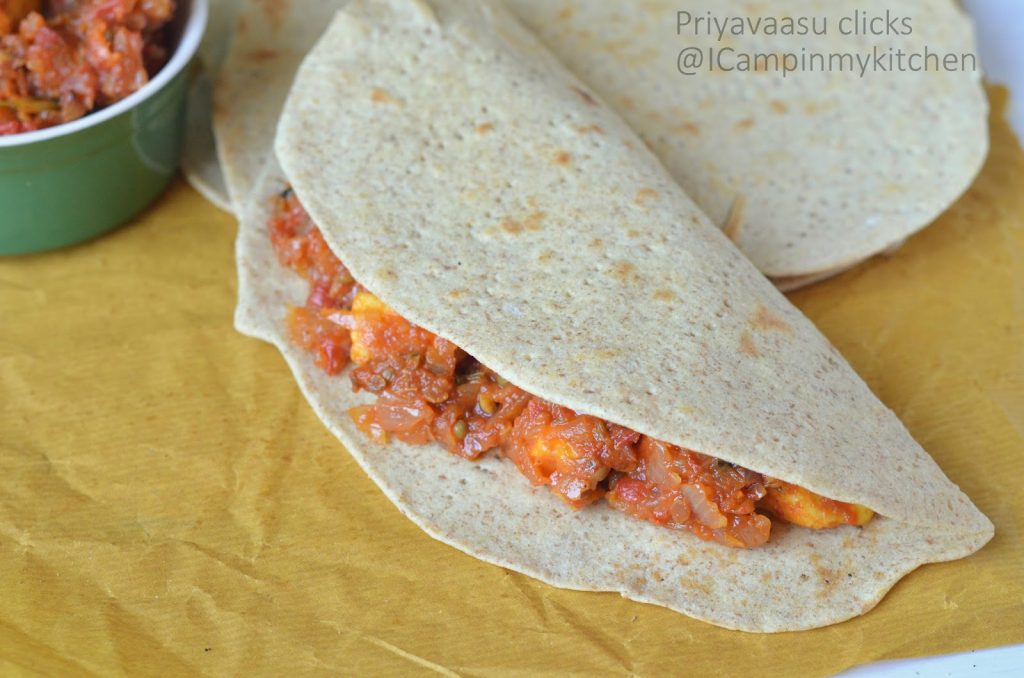 It turns a bit hard once it cools, so serve it warm. place the filling in the centre and fold it like a taco and serve immediately.