Its been quite a crazy month so, far. Kuttu still not well, now its the same old Weather Problem, Adenoids!!!!! After much waiting, the Doc started Anti-biotics yesterday, hopefully he gets better soon!!!!
This Month
ICC
is a Baking Challenge. Srivalli has chosen
Karanataka Special Khara Biscuits
from
Champa's Versatile Vegetarian Kitchen
. It was a Quick Recipe to Make and Quite a pleaser!!!! My Hubby Loved the taste, though his xerox wanted a Sweet one!!!!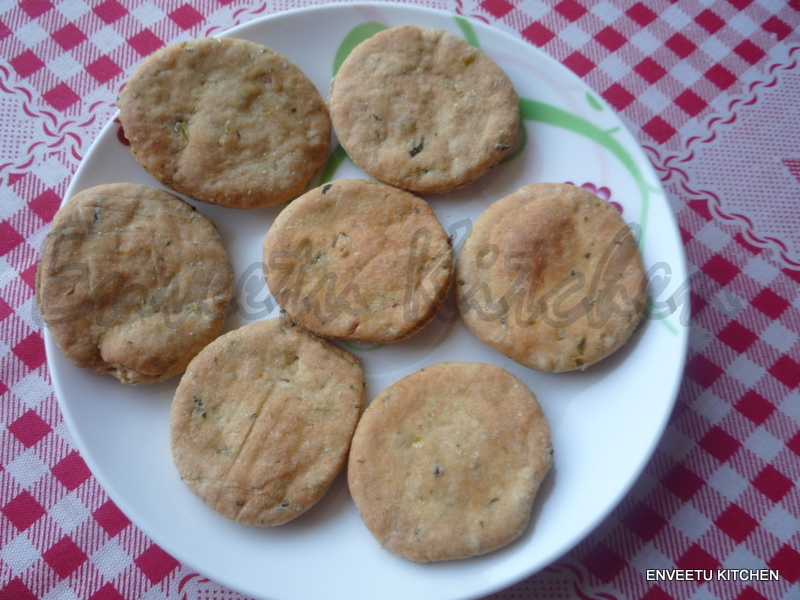 Ingredients
All purpose flour - 2 cups
Butter - 5 tablespoon + 1 tsp
Sugar - 4 tsp
Salt - 1 tsp
Yogurt - 2 - 3 tablespoon (start with 2 TBSP)
To Grind Coarsely
Green Chillies - 6 chopped fine or more per taste
Cilantro - chopped 2 - 3 tablespoon (See Notes)
Curry leaves a few
1 teaspoon Cumin seeds
Method:
Preheat the oven to 170 C. Line the baking tray with parchment paper. If you line them with aluminum foil, very lightly grease with vegetable oil spray. Set aside. In a bowl, whisk together flour and salt. Set aside. In another bowl, cream butter and sugar till creamy. Add the 2 tablespoon yogurt and continue to beat. Add the dry ingredients and beat slowly. Use your hands to work the dough, don't use too much of pressure, Now add the coarsely ground mixture to the dough, if necessary, another tablespoon of yogurt. I added ½ tablespoon of yoghurt at this stage and worked the dough.
The Original recipe, calls for Chopping the chillies and coriander finely and adding it to the dough. But, I didn't know whether my kid will like this savory biscuit or not, if at all he likes it, he would prefer a smooth texture, so, I grinded the ingredients for the Kharam to a Coarse mixture.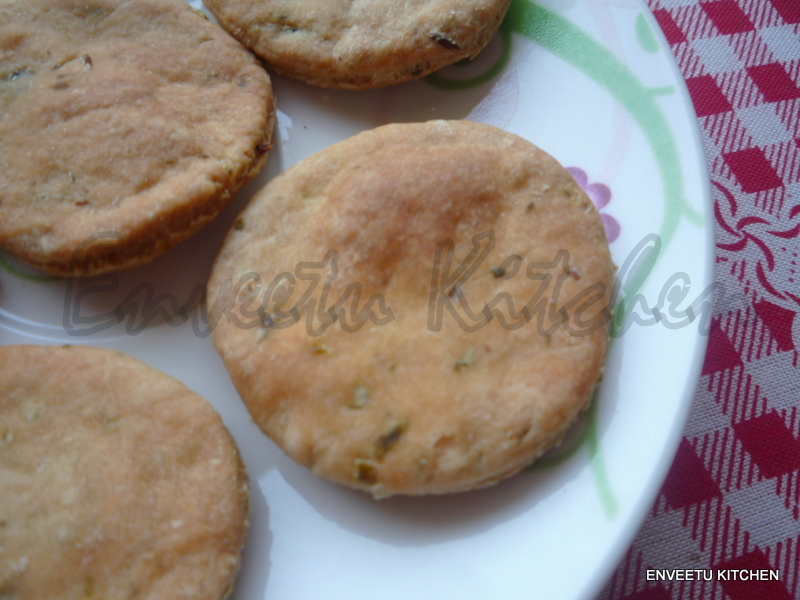 Roll the dough and Cut with your cookie cutters. Place on the prepared baking sheets and bake for 18 - 20 minutes. Do not forget to rotate halfway. Since these do not have lot of sugar or soda, they don't brown on the top much. Bottom will have a golden brown when done. You might feel they are still soft when done, but they will get firm when cool.
I wanted Crispy Cookies, so i baked 2 minutes extra to get it crispy. Cool them on the wire rack and transfer to an air tight container. Stays fresh for 4 days.
Notes
Champa Suggests to experiment with the flavors, Try using Cracked Pepper/Mint instead of chillies/cilantro.