Srivalli has chosen Jalebi's for this Month Indian Cooking Challenge. An Easy Recipe, that needs a bit of practice for getting the shape proper. If you dont mind the shape, then its an easy, and definitely pleasing recipe. I wasn't feeling well for the past 2-3 days, so, couldn't post this on time, sorry for the delay.
Ingredients
1 Cup All purpose flour / Maida
2 Cups Curds/ Yoghurt
2 teaspoon Lime Juice
¾ Cup + 1 tablespoon Cornstarch / Cornflour
Hot oil - 2 tbsp
Orange Food colour a pinch
pinch of salt
Oil for deep frying


For the Sugar Syrup
2 Cups Sugar
1 teaspoon Lime
Water, Just enough to cover the sugar.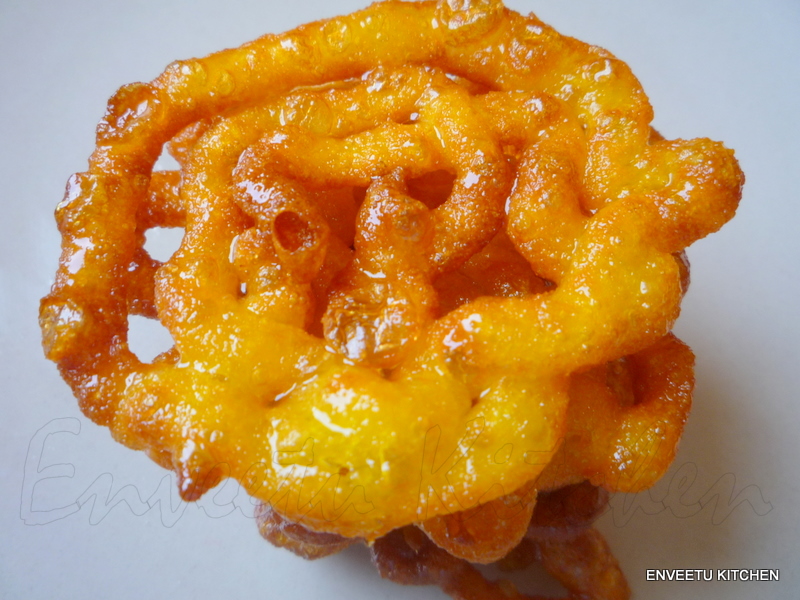 Method
In a bowl, take the flour, add salt, then add in the curds, whisk well.

Then add lime juice, cornstarch, Food colour, and finally the hot oil. Mix everything well together and make sure there are no lumps. The batter needs to be thick.

Once Mixed well, set it aside to ferment overnight.

Next day morning, When the batter is all ready, make the sugar syrup first. Take a pan with sugar, add just enough water to cover all the sugar. Keep stirring so that the sugar melts. Strain if required. Add lime juice to avoid sugar crystallization.

Heat oil in a kadai. Once it is hot enough, reduce the flame to medium.Spoon batter into a piping bag / zip lock bag or any thick plastic cover. Cut a tiny hole at one end, pipe the batter into the hot oil.
Fry till it's crisp and starts changing colour. Flip and cook on both sides. Once done, drop the hot jalebis into the warm sugar syrup.

Dunk them into sugar syrup, Let it sit for 8-10 seconds. flip the other side and again let them sit for 8-10 seconds. Remove it out using a slotted spoon. Serve it warm.
Notes
I used a Non-stick pan for pipping the jalebi's. Once the Oil was hot enough, i reduced the flame to medium and fried the jalebi's. that worked fine for me, the jabeli's though not in best of their shape/size, came out crisp. May be little practice, will make me get them perfect.

Be careful, if you are using plastic cover for pipping the jalebi's. While pipping the last round of the batter, my cover tore and the whole batter fell into hot oil and it splashed on my left hand. Got some Scalding on my left hand. but nothing serious. Even though i used a new cover for every round of pipping, this happened. So, please be careful!!!!!!! Have no distractions around and definetely NO KIDS Around while doing this!!!!