I would name it exotic chutney recipe. Never in my wildest dream i thought i would make breadfruit peel chutney. Don't bother about the peel, i haven't cooked with breadfruit yet!!! As i said while discussing with PJ, about H alphabet recipes for today, she suggested breadfruit bajji, while looking for the bajji, i came across this exotic chutney here. Since i already bought the fruit for making the bajji, i immediately peeled the skin and tried the chutney. Though the look of the peels, might turn you off, i suggest you to try it.
The taste of the peel is as such bland, so you need to add good amount of spice to make it a good combo with your idly/dosa. Do give it a try and let me know how you liked it
Ingredients
2 cups of breadfruit skin or 2 medium sized breadfruit, skin peeled
1 cup freshly grated cocnut
a small marblesized tamarin, soaked in ½ cup water
handful of fresh coriander leaves
Tempering
Method
Wash the breadfruit well. Grease your hands with some oil, peel the breadfruit skin with a peeler or a paring knife, keep it immersed in water. Peeled breadfruit too should be kept in water as it turns color immediately.

After you are done with peeling and chopping the fruit, clean your hand well by first rubbing it with oil and then with plain water, soap if necessary. Extract tamarind juice.

Now take the peel along with tamarnd water and green chilies, pressure cook for 2-3 whistles. Take it off the stove, let the pressure release on its own.

Once done, drain the cooked skin. there won;t be much water left,as we added only ½-3/4 cup of water. Reserve the drained water to add while grinding the chutney.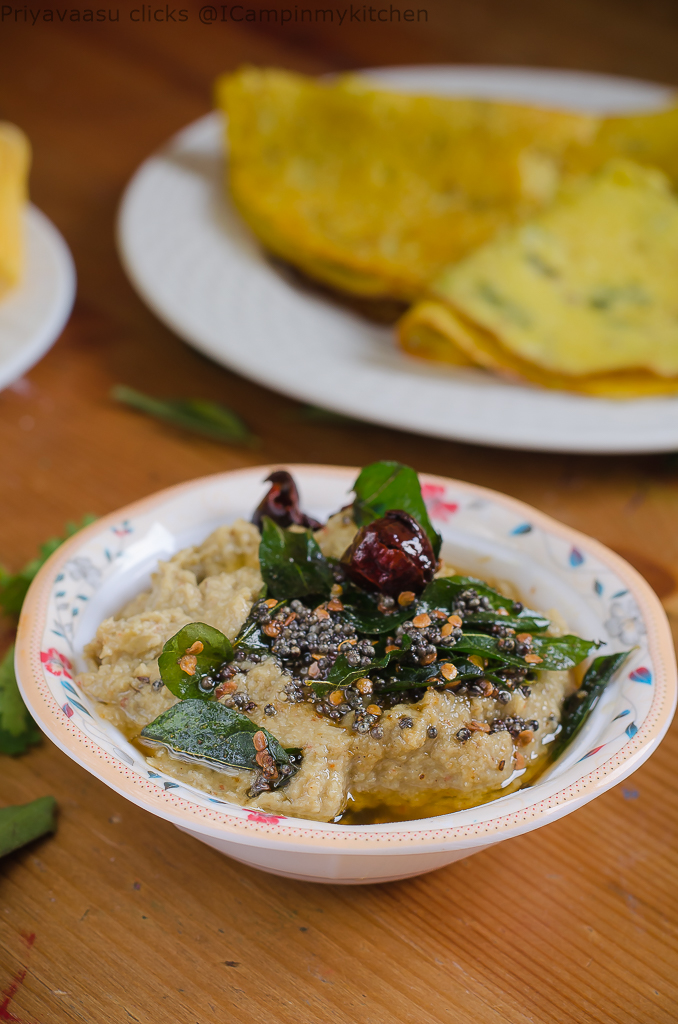 Take the cooked skin, along with grated coconut, ginger, red chilies, and coriander leaves. Add salt and grind it to a fine chutney. If water is, required add the drained liquid..

Heat oil in a small tadka pan, splutter mustard seeds, add hing and curry leaves and chilies. Pour this sizzling tadka over the chutney. Serve it along idly/dosa. I served it with

Jack fruit dosa/Halasinakai Dosa