Jowar dosai, also called as vellai cholam dosai, a popular breakfast dish made with sorghum millet and urad dal. A perfectly healthy and a hearty breakfast dish to enjoy with variety of chutney.
How to make millet dosa | Easy millet dosai | Vellai cholam dosai | White Cholam dosai | Jowar Recipe | Millet Breakfast | Recipe for millet dosa | How to use jowar | Healthy dosai | Low GI Recipe | Fiber rich recipe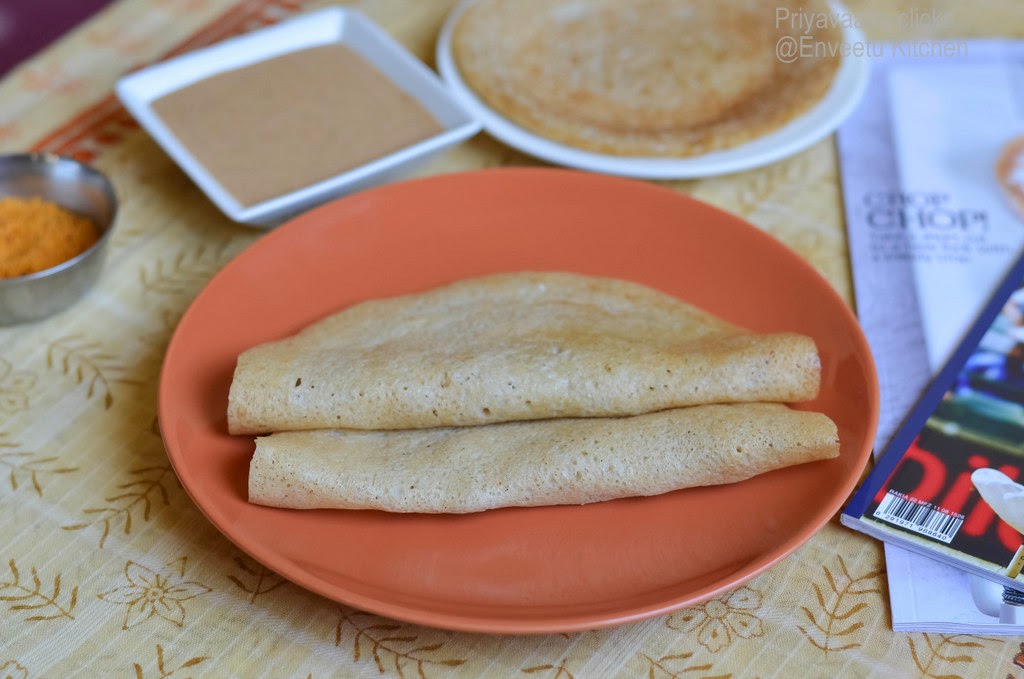 Jump to:
International Year of Millets - 2023
Are you aware? This year 2023, has been officially announced as the International year of millets. Millets can grow on arid lands with minimal inputs and are resilient to changes in climate. They are therefore an ideal solution for countries to increase self-sufficiency, a possible and positive way to reduce food shortage and hunger crisis.
The #IYM2023, is used increase awareness about millets, to spread knowledge about their nutritional value and health benefits, and also about sustainable cultivation of the same.
Let's Talk about Jowar | Cholam
Jowar or sorghum , a fibre-rich millet, cultivated extensively in India. It is a flowering plant belonging to the grass family Poaceae, and it is cultivated globally in Australia, Africa, Asia and Central America.
Jowar is known by several names such as durra, Egyptian millet, great millet, kafir corn, feterita, guinea corn, Sudan grass, milo, Juwar, Jowari in Marathi, Cholam in Tamil, Jolal in Kannada and Jonnalu in Telugu.
Jowar is a drought and heat-resistant plant which grows in an arid and dry region and forms the staple grain for poor and rural people. It was a part of a regular meal plan for human for more than 5000 years across the globe through civilizations.
It is after the introduction of fancy and sugary cereals, our traditional millets took a back seat. Thanks to the information exposure, people now are reading and gaining knowledge about food sustainability and are making an effort to return back to roots and eat how our Grandmother's ate.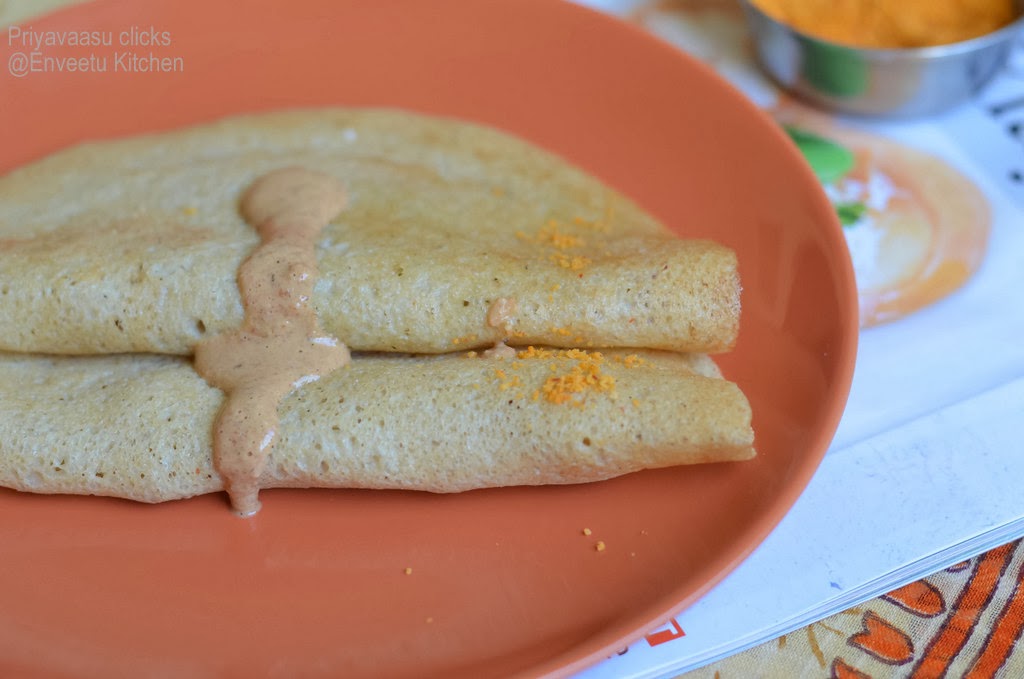 More interesting Jowar | Jowari Recipes
Ingredients
Millet : I have used Jowar / Sorghum or Cholam as the main ingredient in this millet dosai recipe.
Dal : Urad dal along with few methi seeds is used.
I served this crispy and soft jowar dosai with peanut chutney and mysore style idli podi.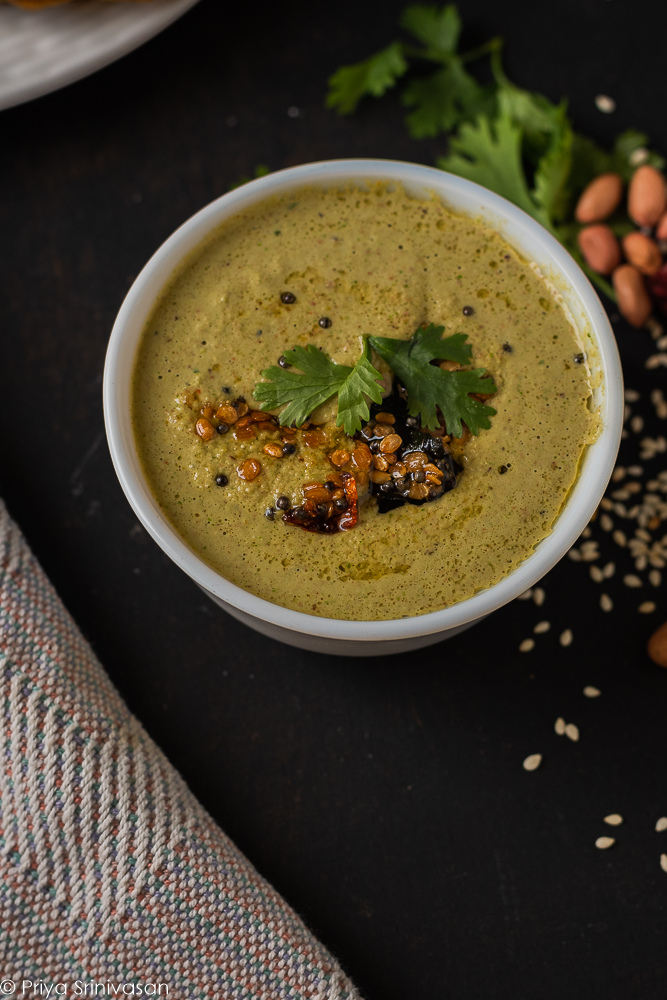 Stepwise Instructions to Make Cholam Dosai
Please check recipe card below for exact measurements of each ingredient used and also for the detailed instructions
Wash jowar/sorghum 2-3 times in water and soak it in water for 3 hours. Wash and soak urad dal too separately in water. Add methi seeds to the urad dal.
After the said time, drain and grind the dal first to a smooth consistency with enough water. Since the quantity soaked is less, i have used my mixer jar to grind the batter.
Urad dal batter should be airy and light, when its ground well. Remove the ground urad dal batter to a vessel.
Now to the same mixer jar, add the drained jowar and grind it to a smooth batter.
Finally mix both the batters together and leave it to ferment overnight or for a minimum of 6-8 hours.
Next day morning or after the said fermenting time, add salt to the batter and give it a brisk stir.
Heat a Dosa pan, add a ladle of batter to the center of the tava and spread it thin with the back of ladle.
Add gingely oil or ghee to the sides, let it cook nice and brown in a medium flame. Flip the dosa and let it cook for another minute. Remove the dosa and repeat the same for the rest of the batter.
Serve the dosa with idli podi or your favorite chuntey.
Any remaining batter can be stored in the fridge for a 3-4 days. The above quantity will make enough dosas for 4-5 adults in a family for one time.
Recipe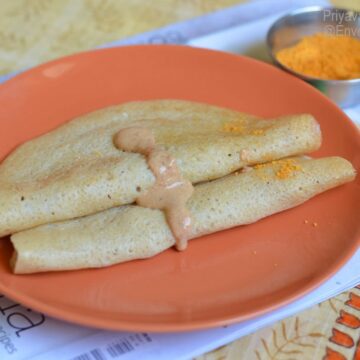 Jowar Dosa | Vellai Cholam Dosai | Sorghum Dosa | Millet Dosai
Jowar dosai, also called as vellai cholam dosai, a popular breakfast dish made with sorghum millet and urad dal. A perfectly healthy and a hearty breakfast dish to enjoy with variety of chutney.
Print
Pin
Rate
Equipment
Indian style mixie or any heavy blender
Ingredients
1

Cup

Jowar/Sorghum/Cholam

¼

cup

urad dal

¼

teaspoon

methi seeds/fenugreek seeds

Salt to taste

Oil/ghee for making the dosa
Instructions
Wash & Soak
Measure and take jowar/sorghum and urad dal separately in different bowls. Wash them 2-3 times with water.

Soak jowar and urad dal in water, separately for 3 hours. Soak methi /fenugreek seeds along with urad dal.
Grind & Ferment
Since the quantity of ingredients is less, I m using my mixer grinder jar to grind the batter.

After the soak time, drain the excess water from both Jowar and urad dal. Grind urad dal first by adding enough water to a smooth batter. Remove it to a deep bowl.

Urad dal batter will be nice, fluffy and airy when ground well.

Grind jowar next by adding enough water.  Jowar will grind to almost smooth batter. You will see brown specks of jowar in the batter. 

Mix both jowar and urad dal batter together. Let it sit on the kitchen counter for 8 hours for fermentation.  If the climate in your place doesn't cooperate well for fermenting,  then leave the batter inside the oven with the lights on.
Let us make jowar dosa
Next day morning, add salt to the fermented batter, give it a good stir. Heat the tava /non-stick pan,  pour ½ teaspoon oil and wipe clean all over the tava using a tissue or a cut onion. 

Poura laddle of batter in the centre of the pan and spread it thin from the centre in a circular motion. Dot the edges of the dosa with ghee/oil.

Cook until the edges turn brown,  flip and cook the other side too. Serve hot with chutney or sambhar
Nutrition
Calories:
260
kcal
|
Carbohydrates:
34
g
|
Protein:
7
g
|
Fat:
13
g
|
Saturated Fat:
1
g
|
Polyunsaturated Fat:
4
g
|
Monounsaturated Fat:
7
g
|
Trans Fat:
0.04
g
|
Sodium:
3
mg
|
Potassium:
136
mg
|
Fiber:
4
g
|
Vitamin A:
1
IU
|
Vitamin C:
0.4
mg
|
Calcium:
17
mg
|
Iron:
3
mg
Disclaimer
I m not a Doctor or a Nutritionist The Nutrition information provided above comes from the plugin and is only an estimate.