Recently i have started experimenting with different type of dosa's for our breakfast. Why only dosa's? yes, if you are following me for quite  a time, then you must be aware that my kuttu loves dosa, though he never gets bored of the same old dosa everyday,but i can't!!!! So, i m constantly searching for different dosa recipes and been quite successful in making my kiddo's too enjoy them. Kuttu always stresses that the dosa should be light brown(original dosa color), so apart from barley dosa and barley adai,this is the other dosa he prefers to have.
. 
The first time i tried this dosa, i added little bit of rice, may be i messed up with the measurements or was it my pan, the dosa got stuck to the pan. Since i use a Iron tawa for dosa's and roti's, it was even more tough. I had to use my non-stick appam pan to make dosa's. So this time, i tried it without adding rice and kept my fingers crossed while making the dosa. It came out good and tasted yum too.
I personally felt that 3 medium dosa's with a good amount chutney/sambhar, keeps you full for a longer time. I would suggest using ghee for making the dosa's, gives a good taste.
Ingredients
1 Cup Jowar/Sorghum/Cholam
¼ cup urad dal



2 pinches of methi seeds/fenugreek seeds
Oil/ghee for making the dosa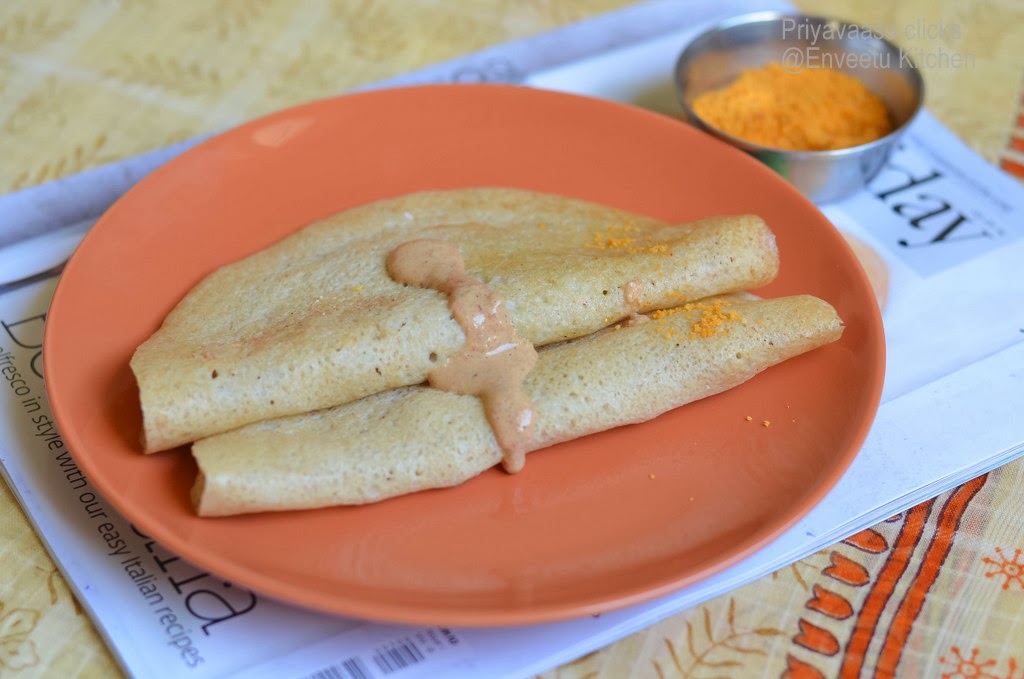 Method
Soak jowar and urad dal separately for 3 hours. Soak methi along with urad dal.
After the soak time, drain the excess water from both Jowar and urad dal. Grind urad dal first by adding enough water to a smooth batter. Remove it to a deep bowl.
Grind jowar next by adding enough water.  Jowar will grind to a almost smooth batter. You will see brown specks of jowar in the batter. 
Mix both jowar and urad dal batter together.  Let it sit on the kitchen counter for 8 hours for fermentation.  If the climate in your place doesn't cooperate well for fermenting,  then leave the batter inside the oven with the lights on.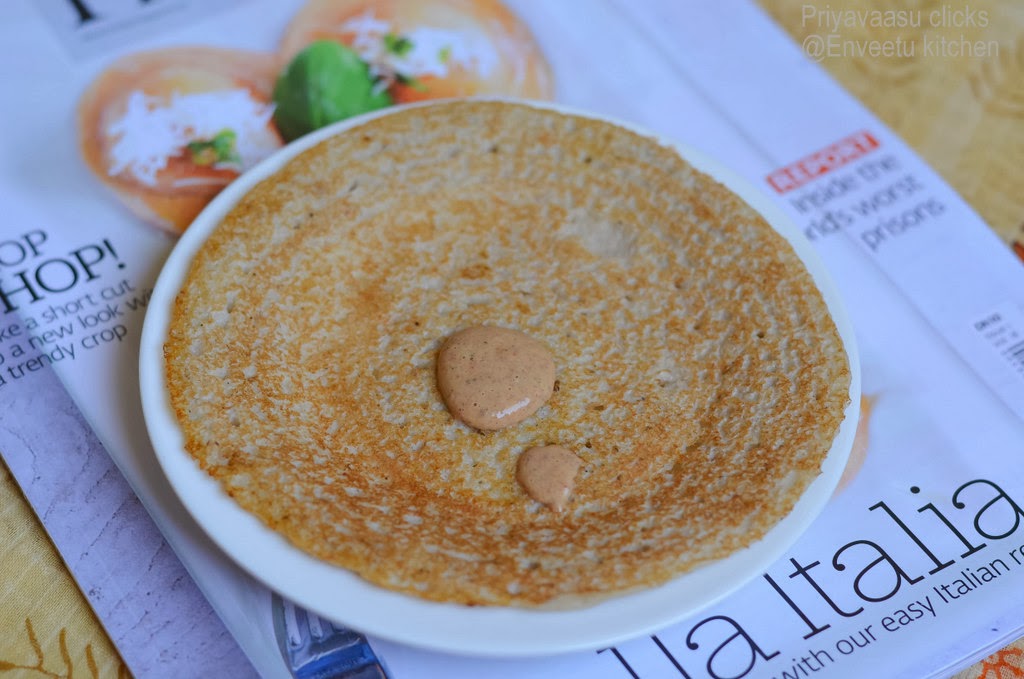 Next day morning, add salt to the fermented batter, give it a good stir. Heat the tava /non-stick pan,  pour ½ teaspoon oil and wipe clean all over the tava using a tissue or a cut onion. 
Pour a laddle of batter in the centre of the pan and spread it thin from the centre in a circular motion. Dot the edges of the dosa with ghee/oil. Cook until the edges turn brown,  flip and cook the other side too.Serve hot with chutney or sambhar.  
You can make thin/thick dosa's with this batter. I served the dosa's for our weekend breakfast with peanut chutney and idly podi.