When i posted Kambu choru, i decided to post this more kanji using leftover cooked kambhu/bajra. Certain households like mine, they make 2 or 3 breakfast, suiting the needs of the rest of the family. At my place, it is 3 different types one for my hubby, one for me and one for my kiddo's. For me, i always try to make up with whatever i have at hand. Usually when i cook millets, i make little extra so i keep it for next day also. So, with this leftover bajra/kambu i made this filling and healthy more kanji/porridge or to put it more stylish smoothie!!! This is again a simple recipe which is made using leftover rice, an age-old practice across various cuisines, Panta bhath/Neeraagaram/Pazhaya kanji/Pakhal bhat. The same recipe is followed with millet here.
This is the best smoothie one can ever have for this hot hot weather. It is a perfect body coolant and keeps you full for a longer time.


Ingredients
1 cup cooked bajra/kambhu/pearl millet
4 nos small onions/shallots
handful of chopped coriander leaves
½ teaspoon salt or to taste
Method
Soak the cooked millet in ½ cup of water and let it sit in the fridge overnight. Since it is very hot these days, and there is a chance of food spoilage, i chose to leave it in the fridge. If the climate is normal, you can leave it on the kitchen counter.
Next day morning, take the soaked bajra along with the water, in a mixer, add green chili, curry leaves, coriander leaves, shallots, ginger.

Grind fine or to a coarse mixture. Add curd to this and pulse it once. Transfer it to another bowl, check the consistency, if it is too thick, add ½ cup more water or thin buttermilk. Adjust the salt.

The smoothie should be of pourable consistency, not too thick nor too thin. Serve it glass along with small shallots and green chili for an extra spice!!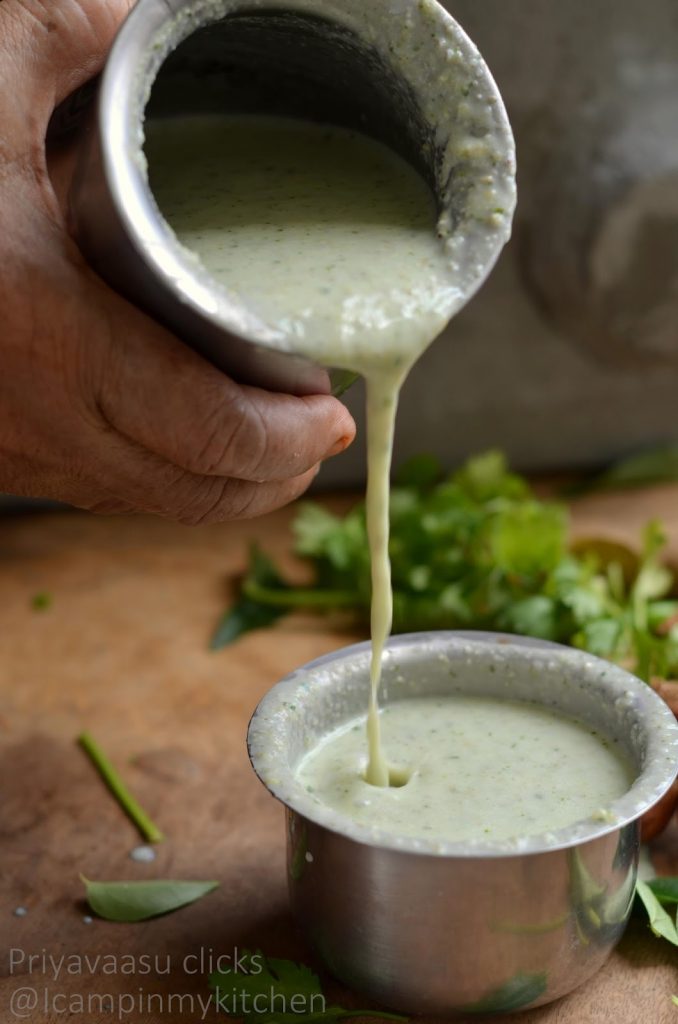 The best breakfast smoothie for this hot weather, this not only keeps you feel, but also cools your body well. But for some, with sinus or other cold trouble, this smoothie might not suit. So, know your health and enjoy this!!