We were literally waiting for the weekend. Last week's science exhibition, drained us out completely. Kuttu did a great job playing Roy M Harrigan. It was so good to see him on stage, so confident and loud before a huge audience. I was one proud mommy!!!
Though we didn't win, we were happy for the opportunity provided and thought of celebrating it with a quick sweet. Here is a simple and easy to make dessert celebrating my kiddo's first inter-school performance.
Kasi halwa/poosanikai halwa/white pumpkin halwa is a popular south indian traditional sweet served during weddings. You can make this halwa with milk or without milk.
Ingredients (Makes 2 servings)
1 Cup Shredded Poosanikaai/Ash gourd/Winter Melon, tightly packed
6 tablespoon Sugar (can be increased to ½ cup if you prefer a sweeeeet halwa)
4-5 pods of cardamom crushed
2 tablespoon silvered almonds
a pinch of orange food color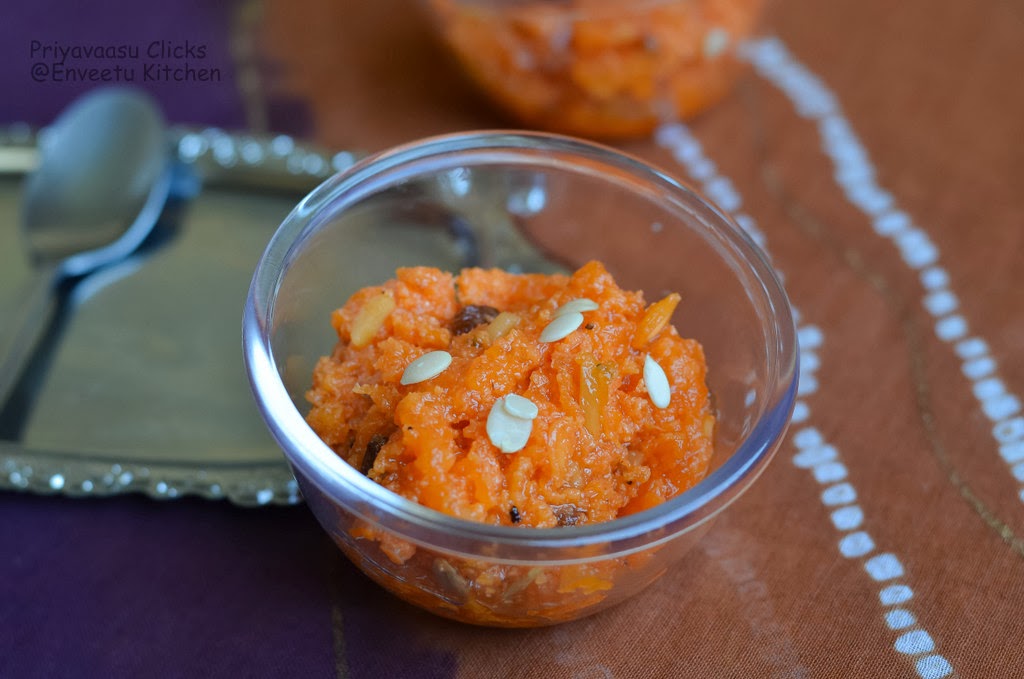 Method
Squeeze the excess water out of the shredded ash gourd/poosanikaai. Then measure it. Do not throw away the squeezed out juice. It can be added to you rasam/sambhar or can be added to buttermilk, with a little hing and salt, makes a refreshing drink to cool the body.

In a Non-stick pan, add ghee, add almonds and raisins. Saute for 2 minutes, until the raisins puff up. Next add the shredded ashgourd/poosanikai. Saute for about 3-5 minutes until it looks a bit wilted.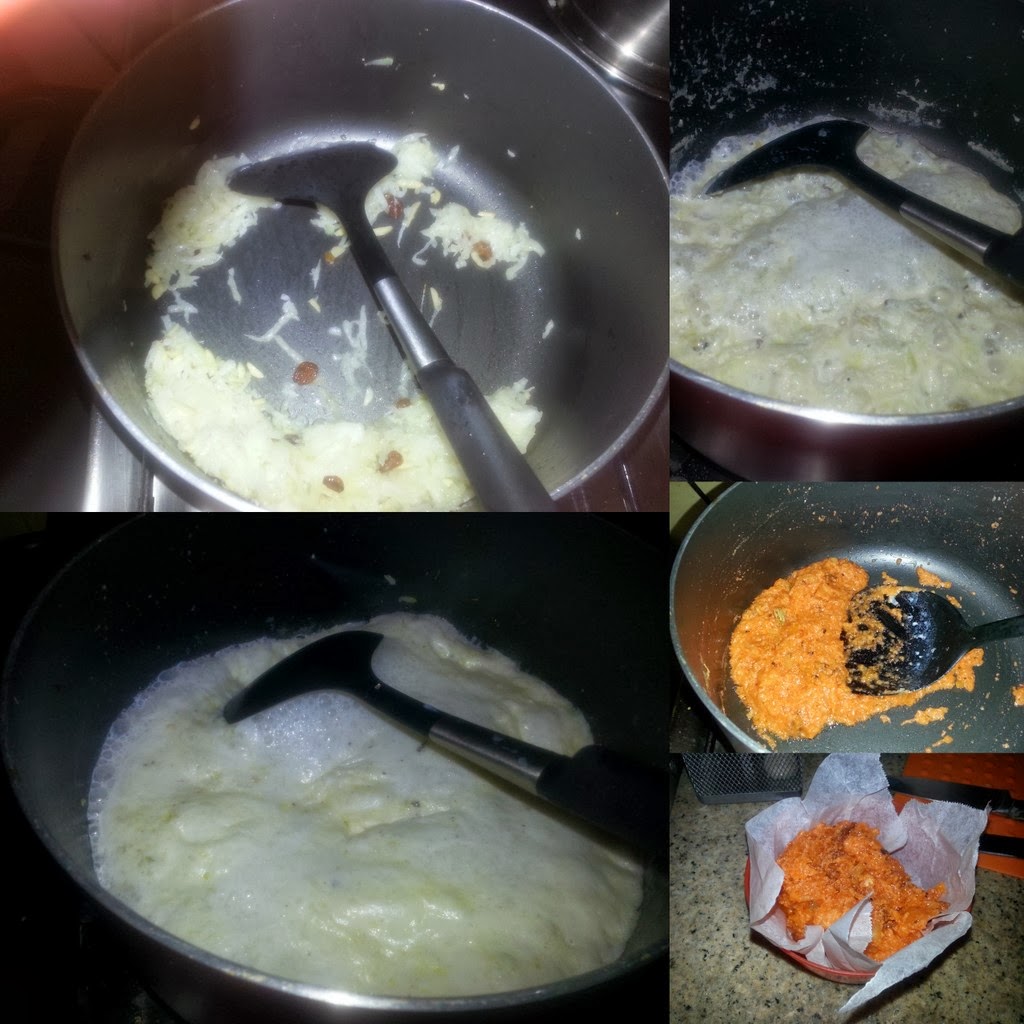 Now add Milk and reduce the flame to simmer for the ash-gourd to cook. As it begins to boil, add crushed cardamom pods and mix well.

After 10-15 minutes, the milk would have almost dried up, add sugar and mix well. As the sugar starts to melt, the mixture will turn a bit watery again, not to worry, it will dry up.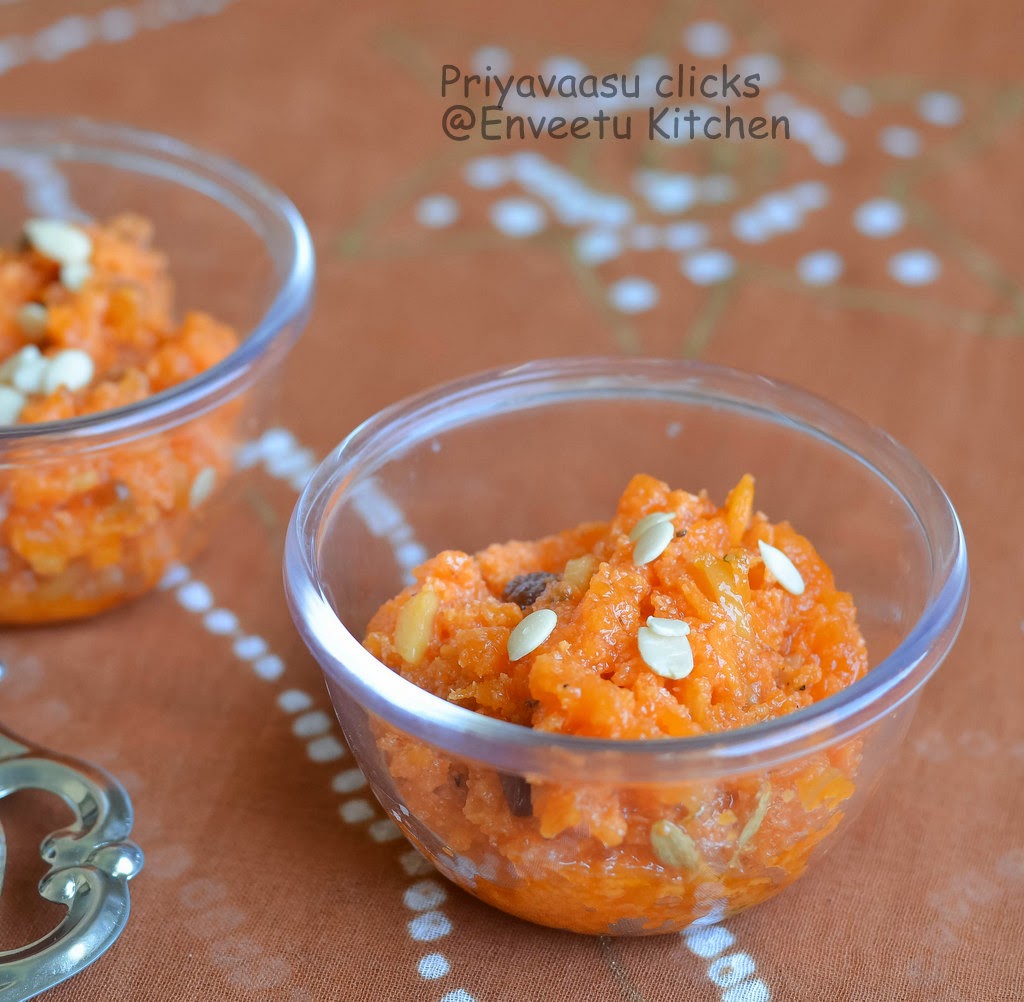 Keep the flame simmer and stir on and off. It will start coming together, gaining halwa consistency. Add the food color now and mix well. When the mixture fully dries up and the halwa starts following your laddle as you stir, take it off the stove. Transfer it to another bowl.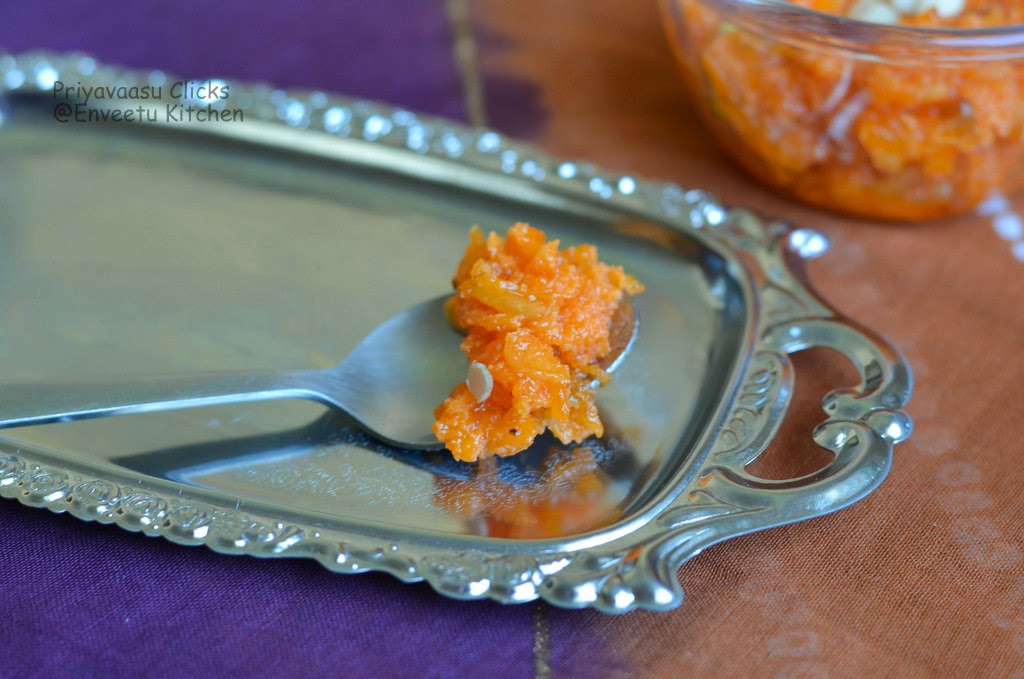 Sprinkle some melon seeds on top and serve warm. Leftover can be stored in the refrigerator, just warm for 20 seconds in a microwave before serving.
Notes
The halwa can be made without adding milk. In that case, do not squeeze the excess water from the pumpkin, while sauteing

the shredded pumpkin in ghee, it will start to loose water, let it cook in its juice, until it dries up, then add sugar and continue the rest of the process.