I always have a fear while making Burfi's, since it involves a lotttt of Stirring and need to have an eagle-eye for the Syrup consistency. But, now-a-days i m trying to overcome that block of mine. This Coconut Squares/Thengai Burfi  I tried first with Varalakshmi Pooja's Kalasam Coconut. It turned out so well and got some great reviews from my Hubby's Colleagues. So, i made this again on request for my family friend or i should  i say more than a Friend A and his Wife R.  They are a wonderful couple, fun-filled people and anybody with A will be always Rolling and Laughing, hearing all his jokes!!!!! So, here goes this post dedicated for my Dear RA. May God Bless you and I wish you guys be as humorous and happy as you are today. 
The plus about this burfi is, no need to Stir a lot, no to need to make sugar syrup. Got this recipe from my Amma. It was very easy to make, and very quick too. Enjoy this Sweet, made without a Sweat!!!!!
Ingredients
2 cups of Freshly Scrapped Coconut
a generous pinch of cinnamon
4-5 pods of Cardamom, Crushed
In a heavy bottom pan, take Coconut and Sugar and almonds together. Keep the Flame Simmer, add water and mix well. Keep Stirring, The Sugar will start melting and mixtures begins to boil.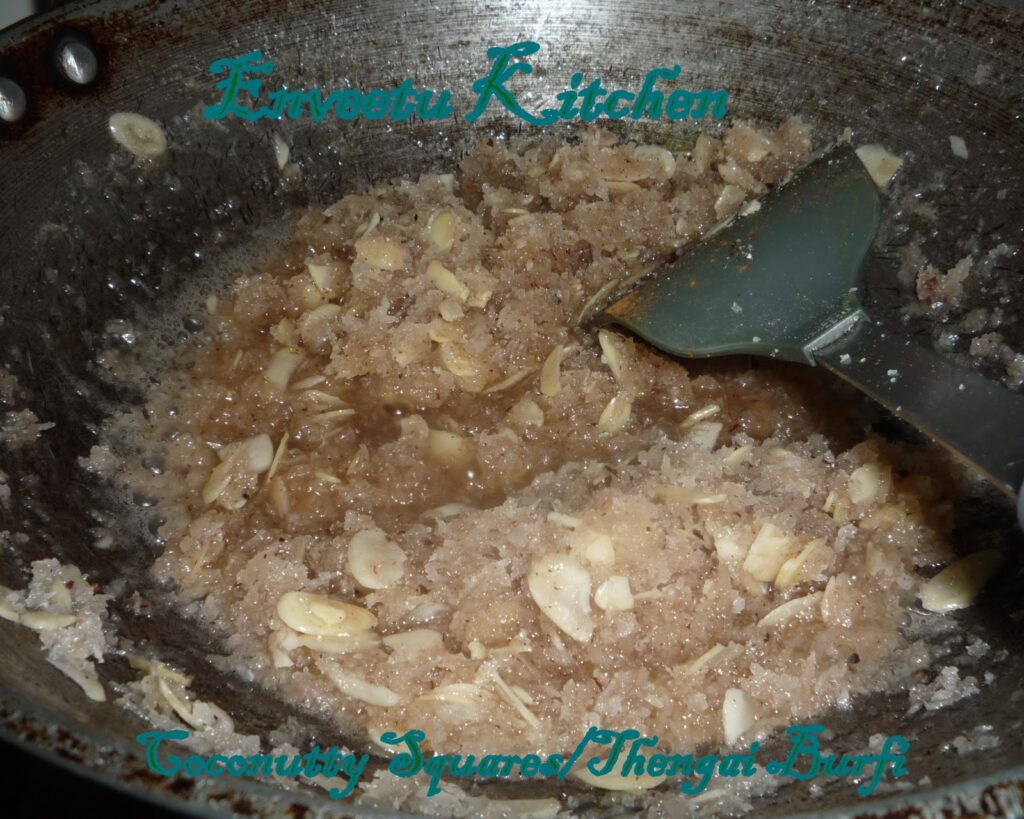 Meanwhile, Keep a Flat Plate greased with little ghee. Now add cardamom . Mix well. As the mixture, starts thickening, add ghee. When the mixture starts leaving the sides of the pan, 
Put off the flame, sprinkle Cinnamon, mix well and pour the mixture on to the greased plate, smoothen the top with a greased katori.
Let it cool a bit, Mark squares with knife, Let it cool well. Cut out the squares, store it in a air-tight container. 
I promised my friend to make this once he comes back from his india trip, so i was in hurry to keep my word, made them in a jiffy as they were visiting us. 
Didn't Keep much for myself, so the final photos will be only one square and some crumbs. But believe me, let them cool for 1-11/2 hour, before taking them out. Enjoy this Nutty treat!!!