Phirni, one of those desserts my lil one is crazy about. We usually don't eat out much. If at all we go, we got to Kamat, a restaurant nearby. It is the only restaurant we visit for lunch or sometimes for dinner. My lil ones menu there is constant, he will order manchow soup with poori, he loves to dip his poori in the soup and enjoy. This combination is so famous amongst our gang, that when we are all together all the kids order poori and manchow.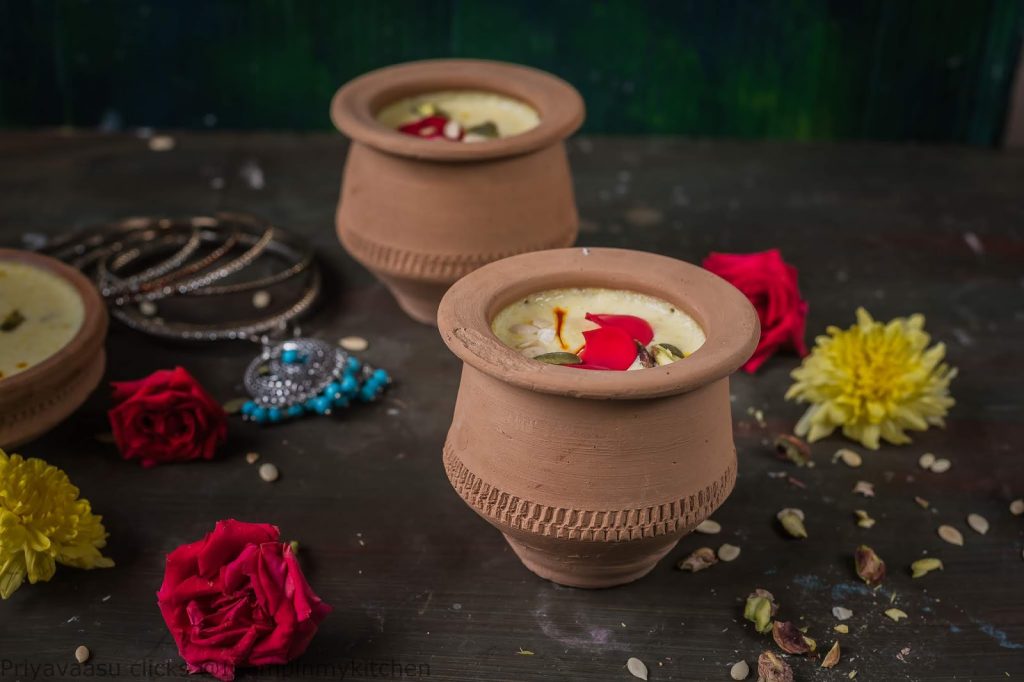 After mopping his soup and poori, he orders matkha phirni. It is his favorite dessert, next to mango lassi, which we order during the mango season. He never shares his phirni with anyone, his dad would wantedly fights with him for a spoonful. Seeing his love for phirni, i decided to make it for him at home.
The day i made phirni, he asked me whether i have made 'Matkha', he thought the name of the dessert is matkha/earthern pots😆. I tried to explain him that matkha is that bowl and actual name is phirni, but even then he likes to call it matka and i have stopped correcting him now. Afterall, what is in a name?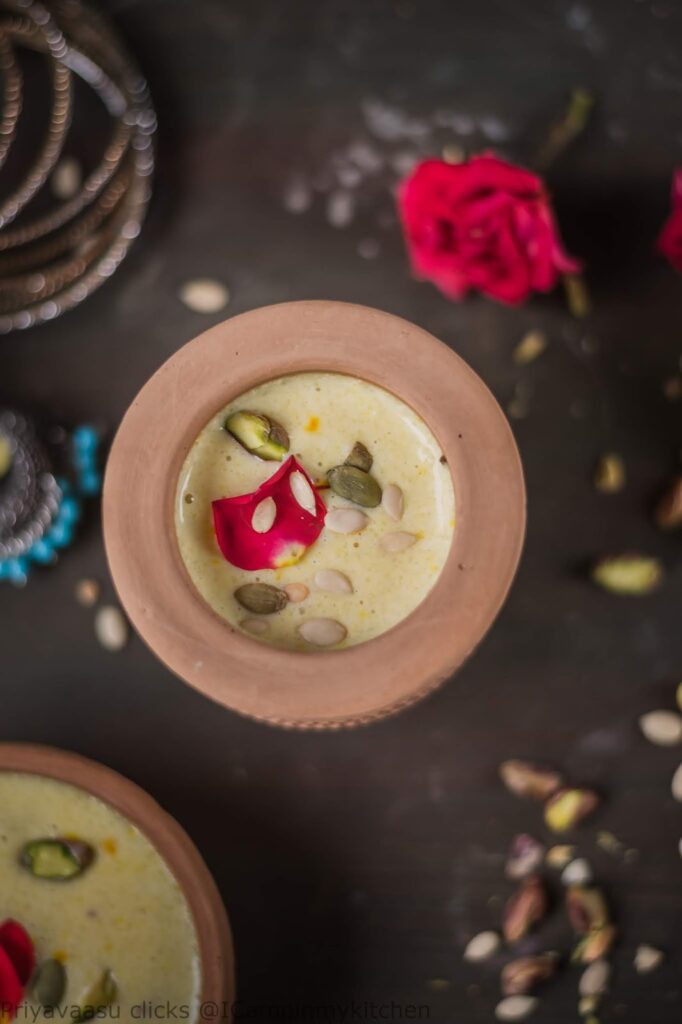 What is this Phirni?
Phirni is dessert made with milk and coarsely ground rice, sweetened wtih sugar, flavored with cardamon and saffron. The origin of this rich dessert is believed to be from the mughals rule in India. The dessert can be made in numerous flavors, kesar phirni, gulab phirni, makhana phirni and the list is endless and your imagination is the limit for the flavors in this versatile dessert.


Phirni Vs Kheer
Though it sounds similar to kheer, but kheer is made with whole rice, whereas phirni is made with coarsely ground rice. Kheer can be served warm, whereas phirni is mostly served chilled. Phirni thickens as it cools and the texture of it closely resembles that of a jelly, which attracted my lil one more.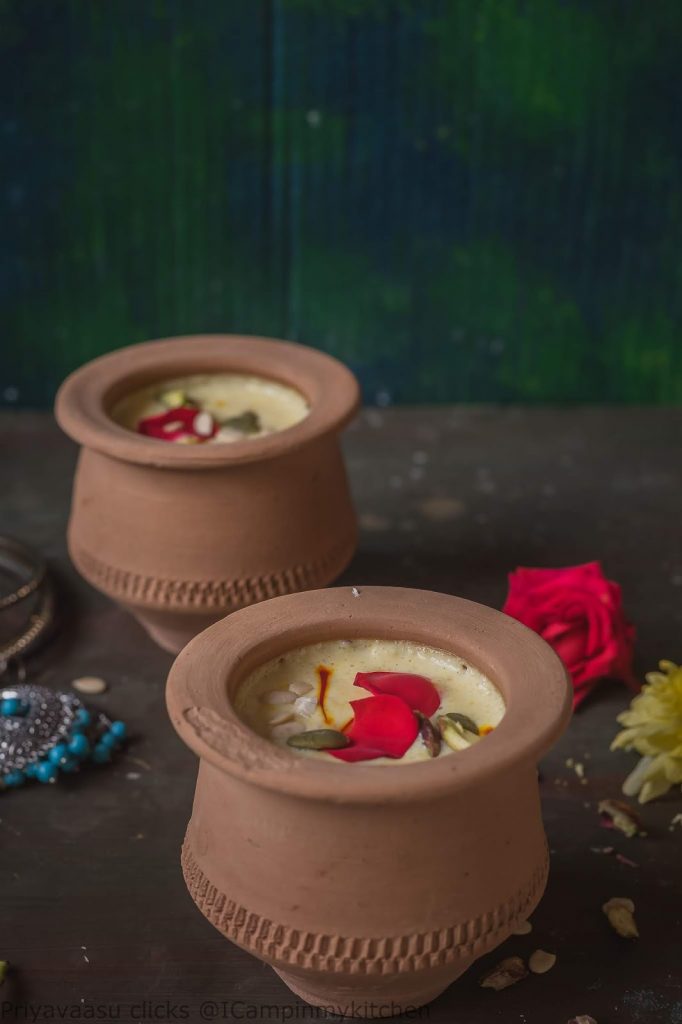 This is an easy make-ahead dessert for parties and festivities. When made fresh you can keep it refrigerated for good 2-3 days. I usually make it towards the weekend and all the boys enjoy it for the next 2 days. I wouldn't recommend storing it for more than 3 days, that too if the climate at your place is more hot and humid, it is not advisable.
The below quantity serves 7-8 people, depending on the amount served. The earthen pots i have used here holds 2-3 ladles of phirni each.
Do try this luscious and rich kheer for this holi and enjoy it with your family. Do not forget to tag me #icampinmykitchen and let me know how you liked it


Ingredients
2 generous pinches of saffron
⅓ cup - ½ cup sugar or (½ a tin condensed milk)
2-3 tablespoon of chopped nuts ( i have used almonds and pistachios)
few watermelon seeds and pumpkin seeds
Soak basmati rice in water for 2-3 hours. Towards the end of the soaking time, in a heavy-bottomed vessel boil the milk, remove 2-3tbsp of milk from the vessel and soak the saffron in it and set aside until use.

While the milk is boiling, drain the water from the rice, take it in a mixer along with cardamom and clove pods and grind it to a coarsely. I usually add 2-3 tablespoon of water to ensure smooth running of the mixie. Once done, add this coarsely ground rice to the boiling milk and mix well.

Keep a whisk ready and whisk the mixture as you add the rice mixture to the milk. This will help in breaking any lumps that might form.
Reduce the flame to medium or even simmer and let the rice cook well in the milk. Stir often to ensure the bottom doesnt get burned. Usually it takes around 8-10 minutes for the rice too cook.

Once the rice is cooked,add the sugar to it and mix well. Once you add sugar, the phirni might liquify, but do not worry, it will thicken soon.

Let it for another 8-10 minutes, keep stirring, add the saffron soaked milk to this and mix well. Once the milk mixture is reasonably thick, take it off the stove and let it cool. Remember it will thicken more as it cools. I usually add some roughly chopped almonds and cashews to the phirni, we love the bite while enjoying the smooth phirni.
Once it comes out to room temperature, pour it to individual matkhas/earthen pots and refrigerate. While serving, garnish with chopped nuts and rose petals and enjoy it chilled.