We are starting the 3rd week of Blogging Marathon and it is going to be Ice-cream all the way!! Oh yeah, mercury is on the high and we literally, literally want to soak ourselves in something cold other than sweat ofcourse!!!
When i took this theme, my first choice was to do this delicious kulfi. We have warm memories with this kulfi. As a kid we used to get this from the road-side kulfi-wala, who comes every night, driving his little tricycle, ringing that little bell.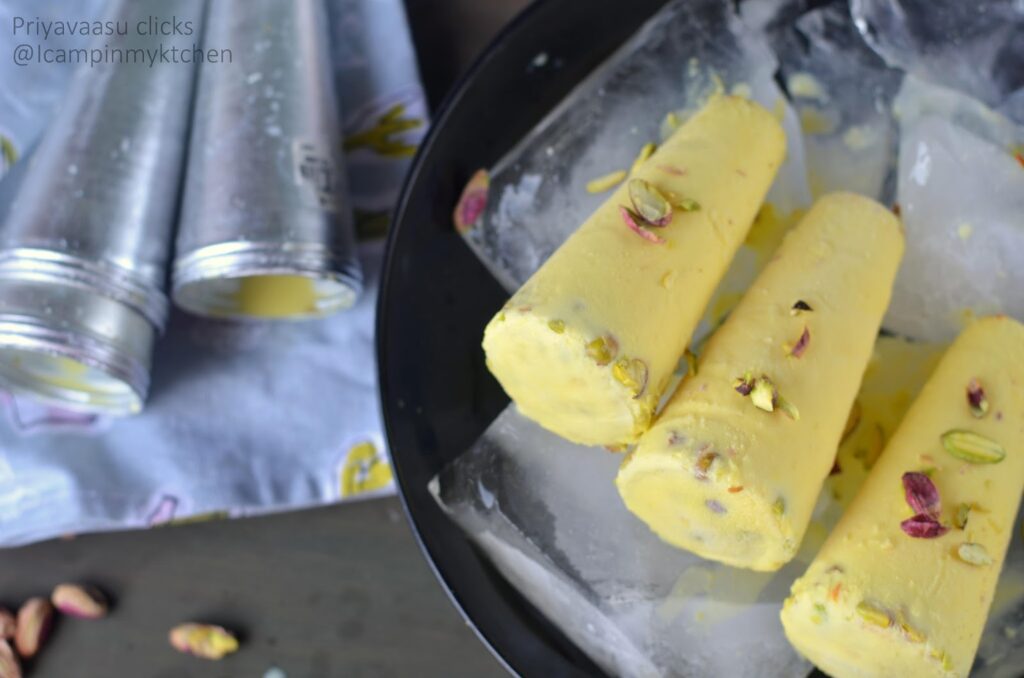 We never questioned those days, whether it is hygienic, made using milk or water, whether it was using real ingredients or synthetic?? All we had was fun, waiting for that bell to ring, we would rush out, and look in awe, the way the guy takes the kulfi out of the bigg matka, push that little stick in, twist and take the kulfi out and hand it to us!!! Hmm, it was good, but i doubt whether we would like to try the same now, will be thinking all the hundred questions before buying a small kulfi.
A homemade kulfi is no that tough, a simple recipe and all you need is an hour and lot of patience for it to set. If you have both then go and try it and enjoy this goodness.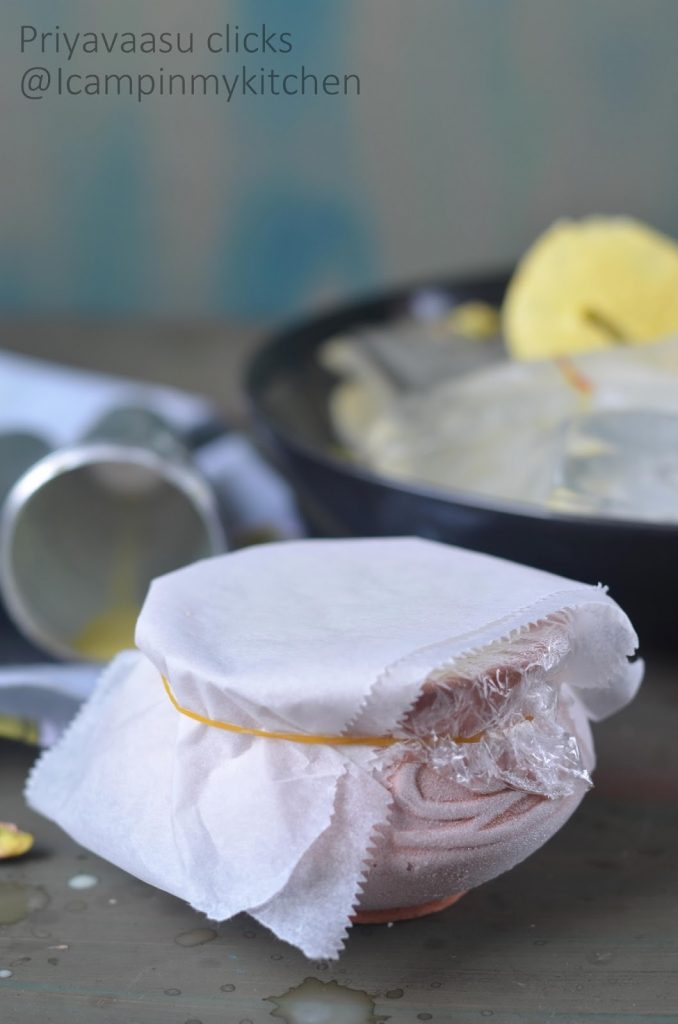 Ingredients
2 generous pinches of saffron
3 tablespoon of pistachios, chopped
200 gms of condensed milk (i used 2 small 100 grams cans)
3 tablespoon of ground almond & pistachios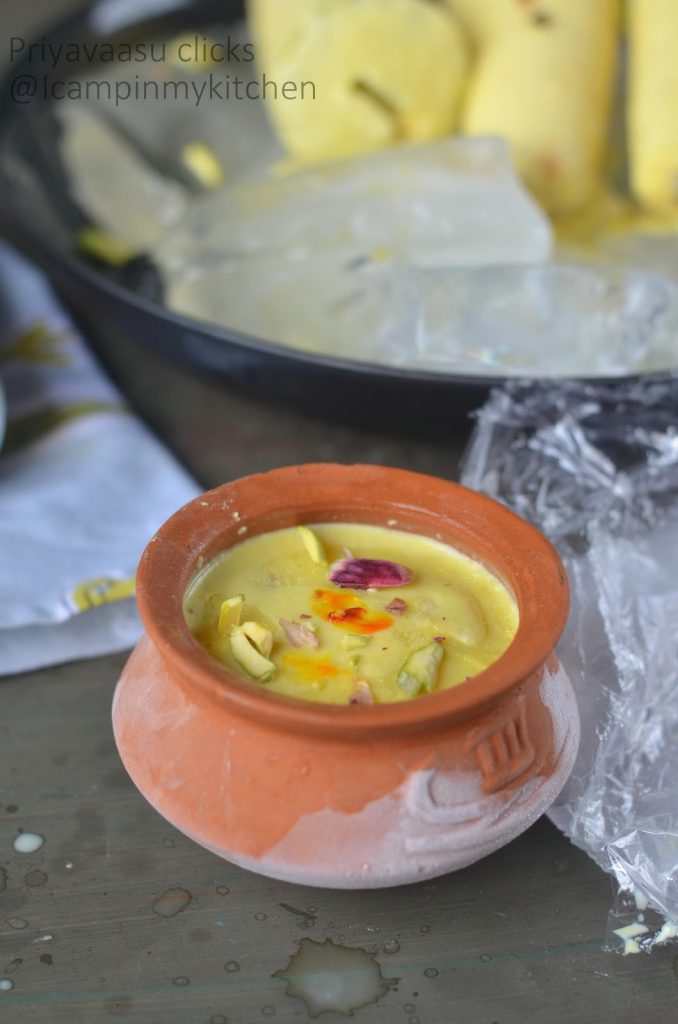 Method
In a heavy bottom pan, boil milk. When it starts boiling, reduce the flame to simmer.

Add saffron, condensed milk and stir well. Let it simmer around 15-20 minutes, stir frequently to avoid burning or spilling of milk. Stir well, and scrap the sides down and mix it back into the milk.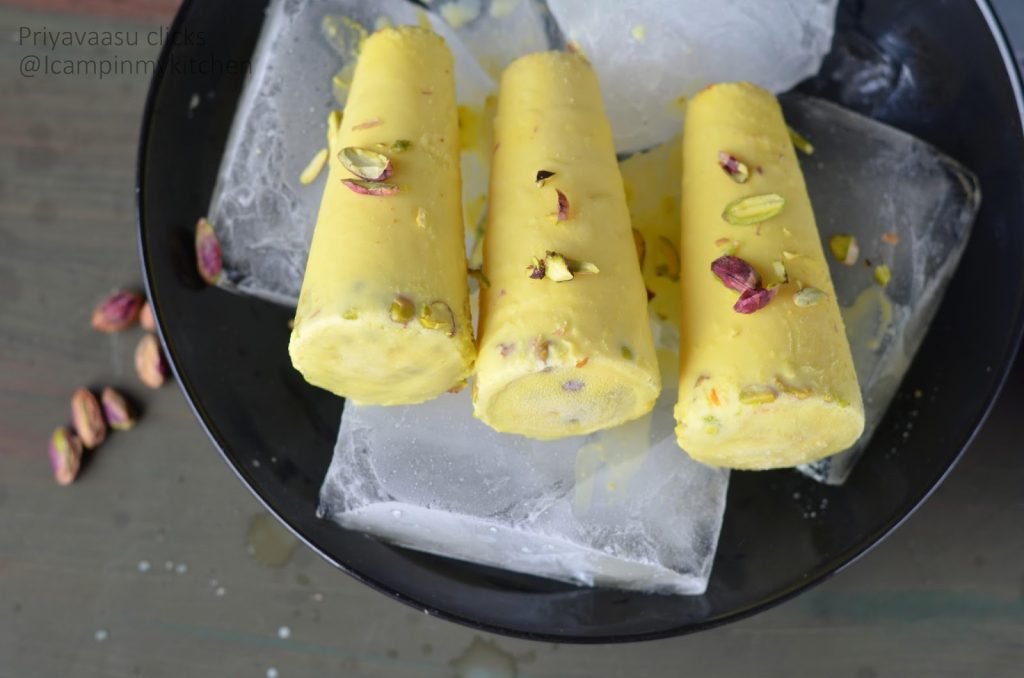 When the milk is reduced to 3 cups, add the ground nut-mix powder to it. and add the chopped pistachios to it. Stir well.

Take it off the stove and let it cool completely. Fill them up in kulfi moulds or in matkas/mud-pots. If using matkas, cover it well with a cling wrap first and then cover again with a wax paper and secure the wrap with an elastic band.
Freeze it for 6-8 hours. To unmould the kulfi, just show the mould, under running water. Open the lid, kulfi slides out easily.
Notes
If you have any store-bough badam milk mix powder, you can try adding that instead of nut-mix powder. I have tried aavin badam mix powder, it gives a nice taste to the kulfi.

If you don't have kulfi mould, you can use paper cups. But see to that, you cover it well with a cling well. you can also insert an ice-cream stick, after wrapping it with a cling-wrap.

If adding sugar, use around ½ cup and let the milk to reduce a little further, may be from 4 cups to 2.5 cups.