Khaman nu ladoo is something similar to our kozhukattai, a dumpling made using a cornflour/rice flour and stuffed with sweetened coconut along with almonds and raisins. This is a traditional sweet dish made when a baby starts walking - Th
e Puglarva, a simple little custom to celebrate a baby's first steps.
To mark the occasion when the child starts to take his/her first steps, Parsis celebrate the "pug ladoo" ceremony. Pug is the Gujarati word meaning "foot" and ladoos are balls made of sweetened dough. The presence of ladoos in this ceremony is significant because they are placed near the child's feet.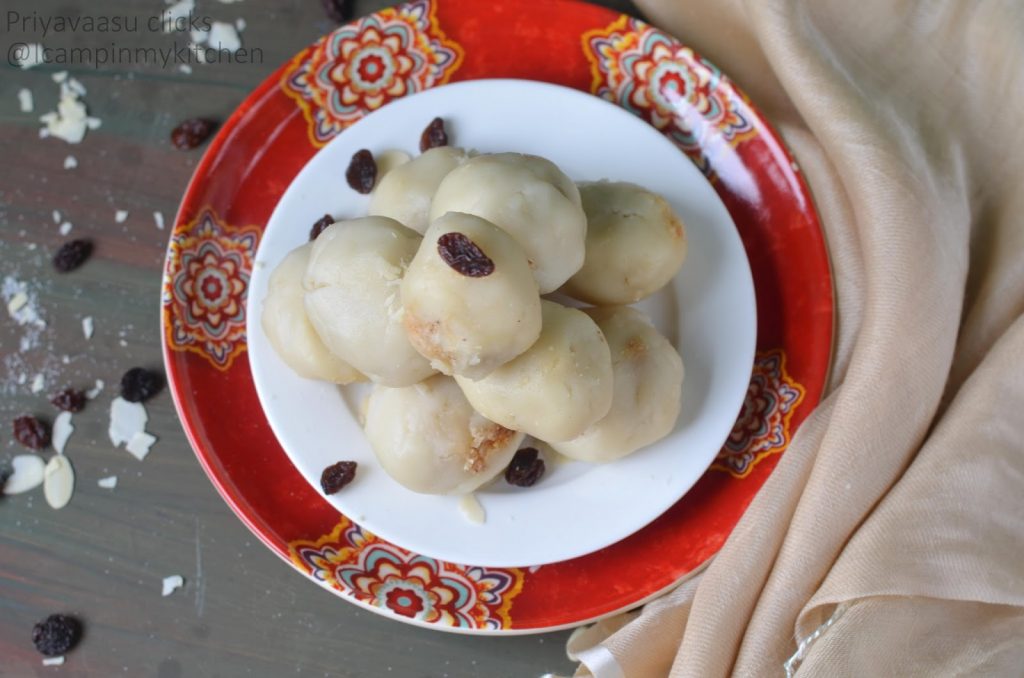 There is a similar tradition in our culture too, i m not sure how many of us remember it. We too, make sweet kozhukattai when the baby starts crawling and crosses the Nilapadi(entrance of a room), usually it will be bit high than the normal flooring with a wooden beam as frame. So, when the baby crosses it, a beautiful scene to behold, they would hold the frame and carefully put their foot on the other side, crawl across and then again holding the frame. To celebrate that occassion they make kozhukattai. It was surprising to learn something similar being celebrated in another culture that came for Far middle-east.
Source : Eat, Live & Pray by FEZANA
Ingredients
2 tablespoon All purpose flour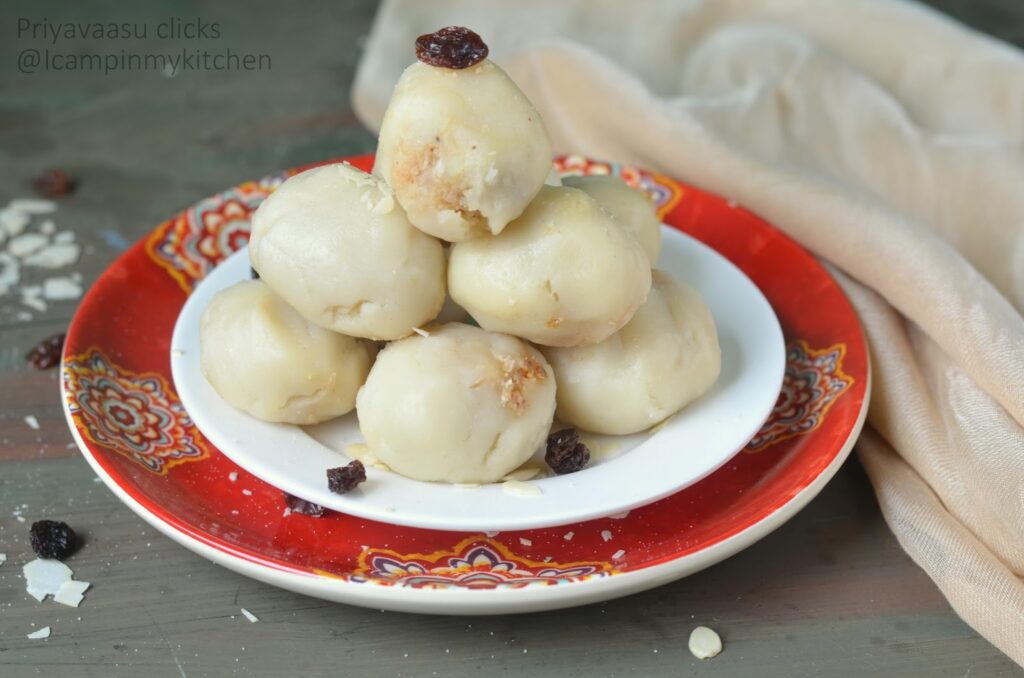 Stuffing
1 cup freshly grated coconut
3 tablespoon almond flakes
Method
Let us first make the stuffing, take sugar, milk, coconut, almonds and raisins in a deep dish, let it cook in a simmer flame, until the liquid is completely absorbed. Take it off the flame, let it cool.
In another sauce pan take water and let it boil, when it starts boiling, reduce the flame, add rice flour and all purpose flour to this and mix well with a spoon. The flour will absorb the water and it would look clumpy. Take it off the flame, when it touchable hot, add butter to the flour mix and knead well to a smooth dough.
Now divide the dough into 10-12 equal balls. Work with one ball at a time, keeping the rest covered. Grease your palm with butter/oil/ghee, knead the dough ball well. Make flat patty out of it, keep a 1 or 2 tablespoon of filling inside it and cover it with dough to make a ball shape.
You can also shape the dough ball like a modak/kozhukattai and keep the stuffing inside and seal the dough and shape it into a ball. Repeat the same with rest of the dough. There would be a ¼ cup of filling leftover, you can use it making kheer or stuff it into roti.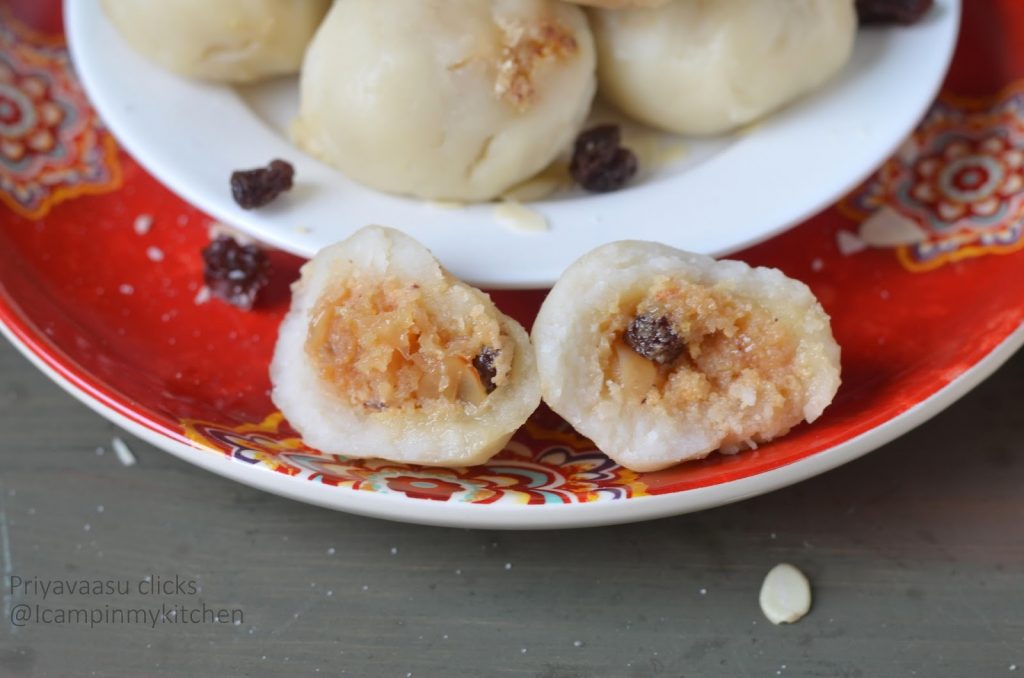 Once all the dough balls are shaped. Take a colander, lay it with a muslin cloth, place the made balls/ladoos in the cloth, cover it with a lid or foil. Place it in a steamer and steam cook for about 10-12 minutes.

Since i didn't have a steamer, i used my kadai, with water and a plate at the bottom and placed the colander on it, to give a height to the colander. You can even use the idly steamer.

Once done, remove it from the steamer, serve it warm.