Khubz Arabi or khuboos as it is known here in this part of world, is nothing but the pita bread(for rest of the world) a soft, pillow-y flat-bread, baked using wheat flour.
Pita are baked at high temperatures causing the flattened rounds of dough to puff up dramatically. When removed from the oven, the layers of baked dough remain separated inside the deflated pita, which allows the bread to be opened to form a pocket. However, pita is sometimes baked without pockets and is called "pocketless pita.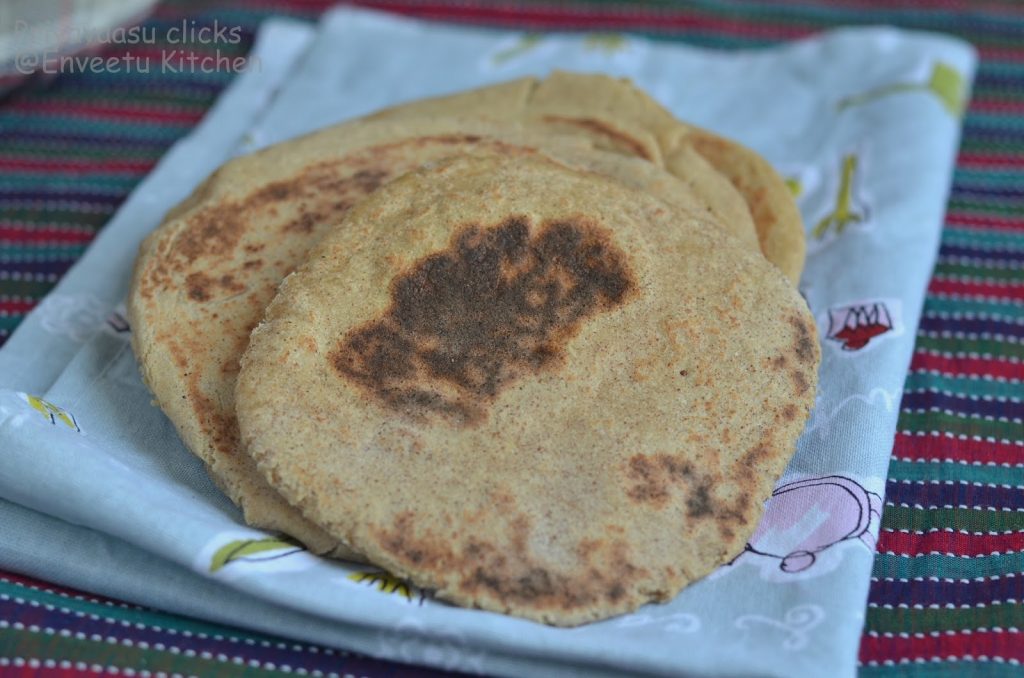 When i decided to make pita's, i didn't check my pantry, when i started the preps, i noticed, wheat flour is very less. So, i used Multi-grain flour to make these pocket breads. I was in a big doubt, whether it will fluff up or not. But to my surprise,the bread puffed up like a cloud and we enjoyed our breakfast with a healthy dose of cheese, vegetables stuffed Pita's.
Pita's/Khuboos is a good make ahead bread. You can make a good batch of dough, and stuff in the refrigerator after the first rise. Take out what is required and stuff it back in the fridge, the dough keeps well up to a week.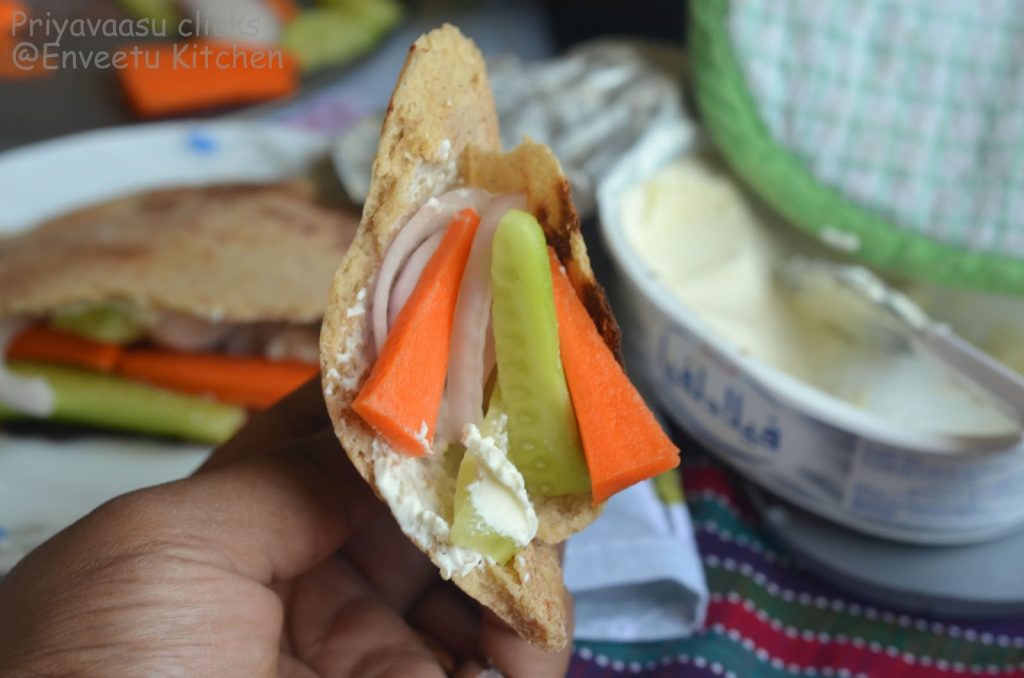 1.5 teaspoon instant yeast
For the filling
1 cucumber, peeled and chopped 
lengthwise
1 carrot, peeled and chopped lengthwise
Method
Take flour, yeast, honey/sugar and salt in wide bowl. Add warm water  and oil little by little and start kneading a dough.

Once the dough is formed, take it to flat kneading surface, i did it on my kitchen counter. Dust it with little flour and knead for 8- 10 minutes to get a soft dough.

Let the dough rest in a well-oiled bowl for about 90 minutes or until doubled in size. Once it doubles, take it back to the kneading surface, punch it down and knead again to smooth ball. 
Divide the ball into 10 portions. Take one portion, cover the rest with a kitchen towel. Roll out the dough bowl into a circle of about 6inches in diameter. Let the rolled out dough rest for 10 minutes, keep it covered while resting.I worked at 3 dough balls at a time, and keeping the rest covered.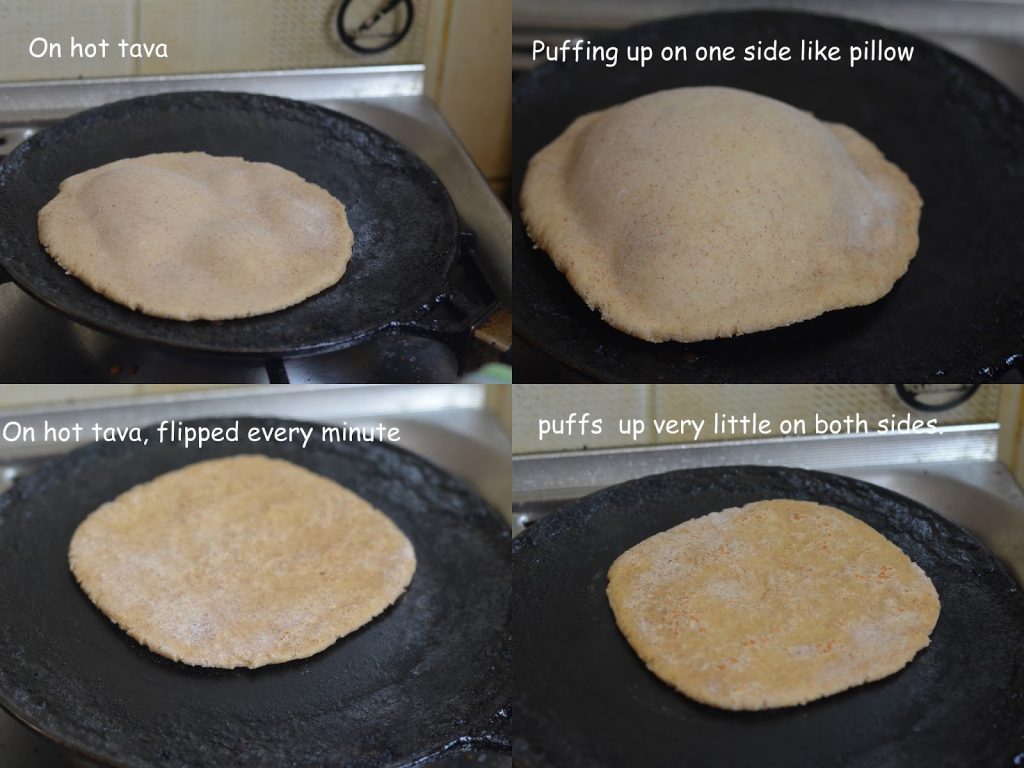 Now heat a tava-non-stick/cast-iron for 3 -4 minutes. I used Cast-iron, when it is hot enough, place the bread on the hot tava. It will start cooking and puffing!!!After a minute, flip and cook the other side. I flipped both the sides twice.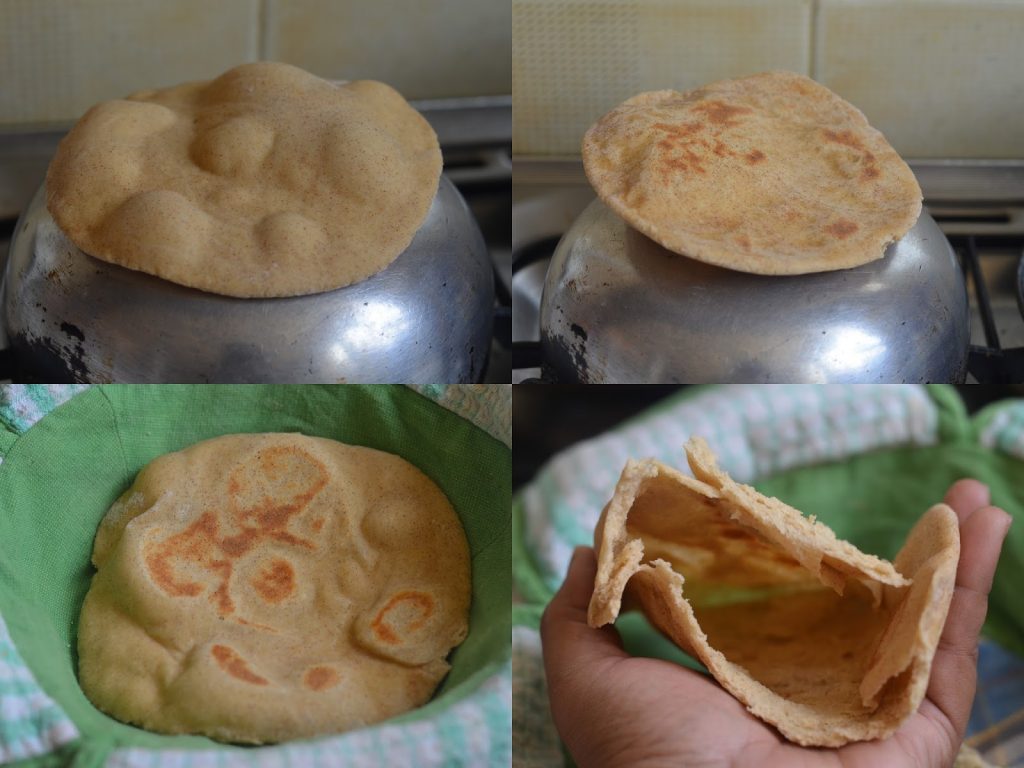 You can also cook the bread on an inverted kadai, like a tandoor. Place the bread on the hot kadai back, let it puff up well, will take 2 minutes, flip and cook the other side.

You can also cook it on open fire like a phulka, cook both sides on a tava and keep the bread on open flame, for it puff up. 

Keep the cooked pita, covered in a kitchen towel, until it is served.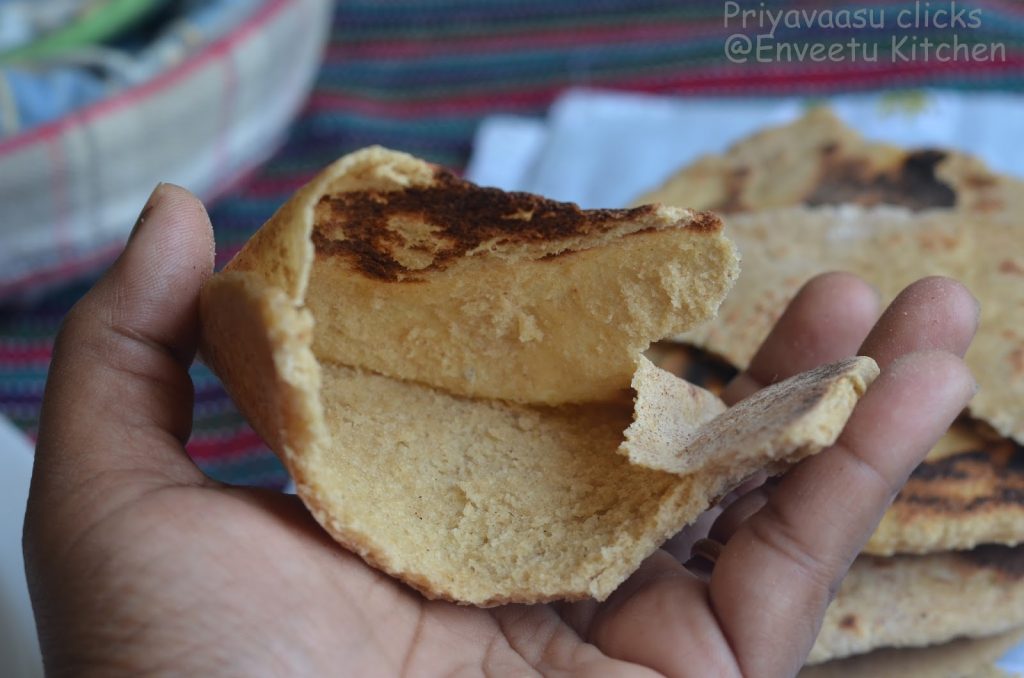 I served the bread pockets, stuffed with cream cheese, chopped onions, cucumber and carrots and drizzled little lemon juice. It was a very filling and tasty breakfast.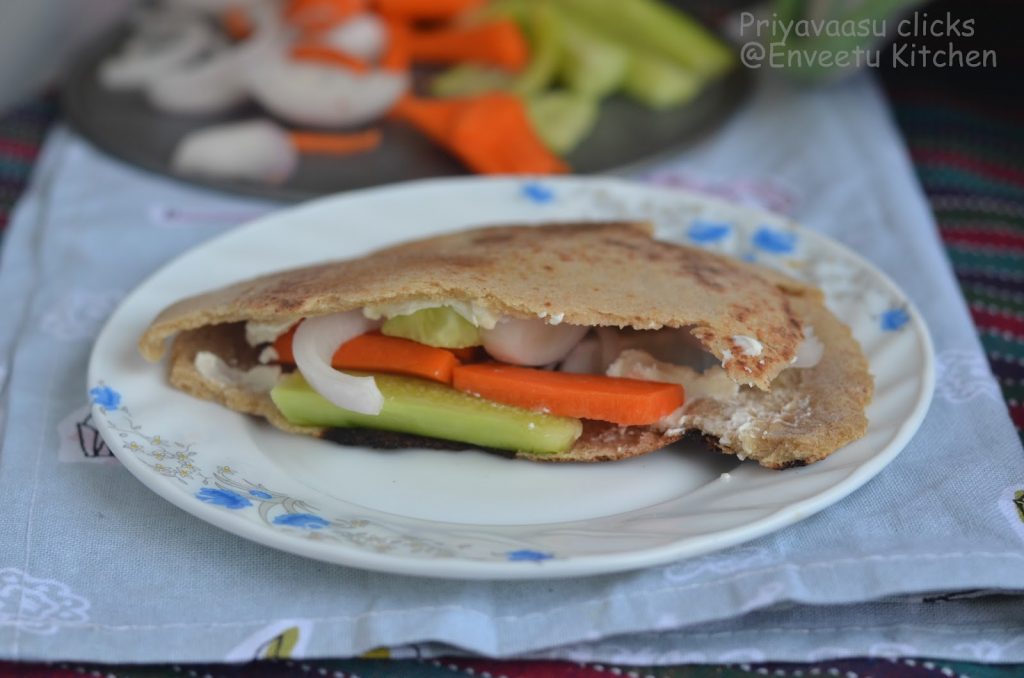 Notes
The bread can be made with All purpose flour or whole wheat flour or with a mix of both.

While cooking on the tava, if not flipped for more than 2 minutes, the bread puffs up well. But when flipped for every 1 minute for a even browning on  both sides, the bread puffs only a little. May be the flipping causes little gap  in the edges, that causes the steam to escape through.

Though it doesn't puff like a pillow while flipping, the bread did have a good pocket for filling.
Check out the Blogging Marathon page for the other Blogging Marathoners doing BM# 44