I had too many options to cook for today's alphabet 'K'. I had to chose the easiest of all, kootu curry, a Onam sadya dish. I m not sure whether they make it for regular cooking, i have so many keralite friends but never bothered to ask them too. This kootu curry is something which i would prefer for my lunch with steaming hot rice, My hubby loved with both rice and roti, 
the  combination of almost dry gravy with roti's was very good. My elder one prefered the curry with rice, whereas my lil one warned me not to serve him the curry again!!😆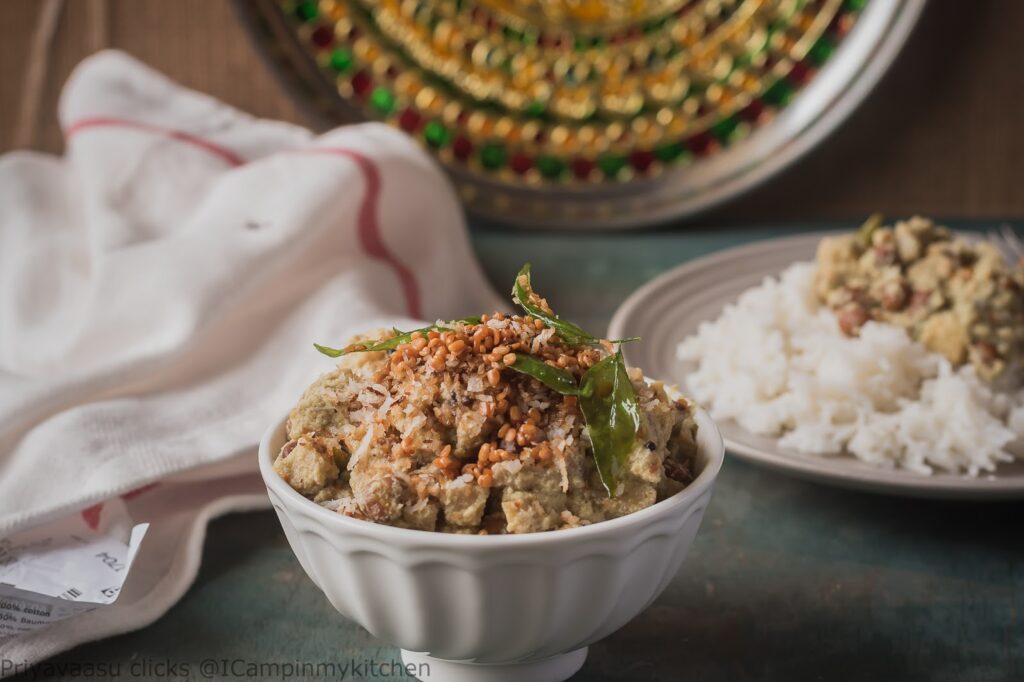 The veggies and the chana all perfectly cooked and balanced with coconut masals makes it one divine experience on your plate. If you keep the veggies and the chana ready, it is easy to make this curry in the morning. It takes almost 15- 20 minutes if everything is ready, if we can manage to the cook the veggies in the right consistency in a Pressure cooker then this is a breezy curry to make.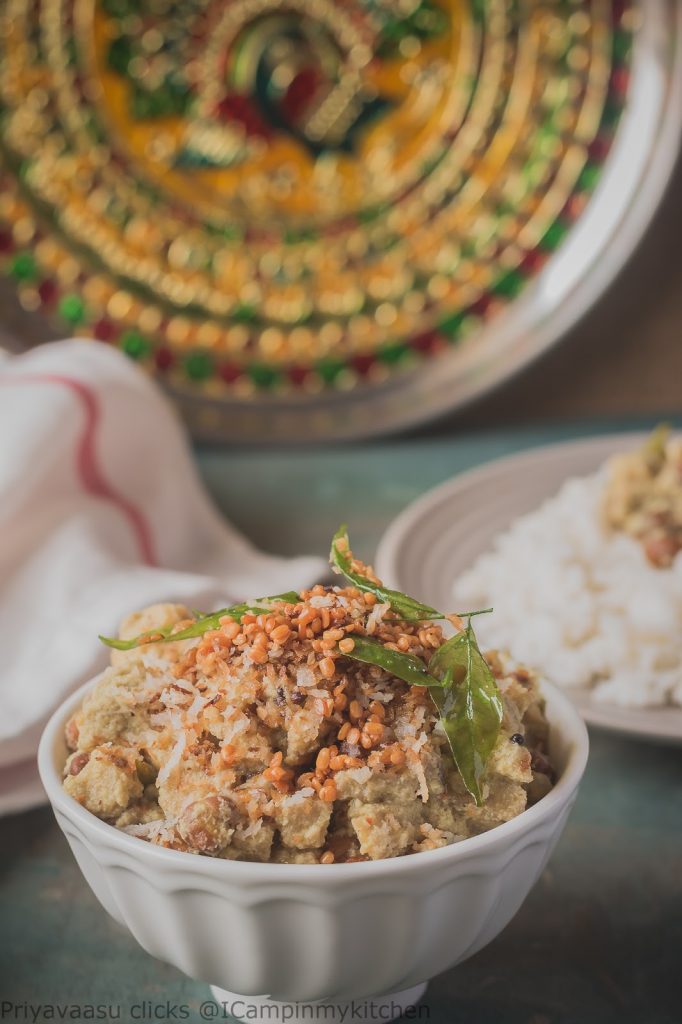 Ingredients 
170 grams yam/elephant foot/Chena 
130 grams raw banana/vazhaikaai , 2 raw bananas
100 grams black chickpeas
2 pinches of turmeric
salt to taste
To grind
1-2 tablespoon coconut oil
2-3 tablespoon fresh coconut


Method
In a heavy bottom vessel take the chopped yam and raw banana, add enough water for the veggies to immerse, add turmeric and let it cook in a simmer flame.

While the veggies are cooking, take the chickpeas in a pressure cooker add salt and turmeric powder and cook for 4-5 whistles or until done. Once done, let the pressure fall on its own, drain the water  and add the chickpeas to the veggies cooking.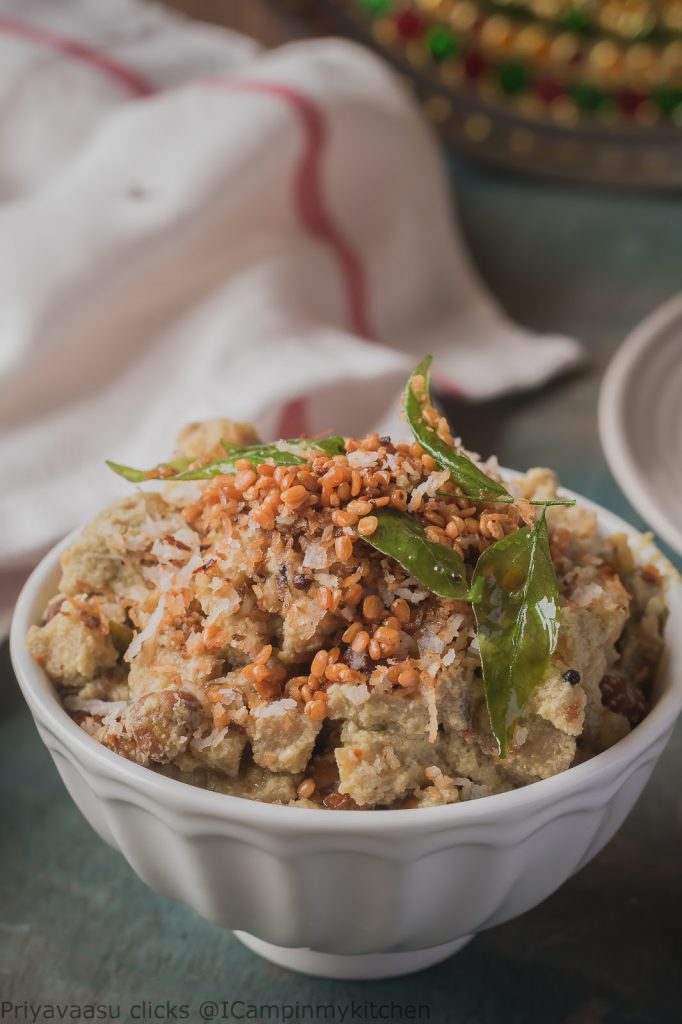 By this time the veggies must be almost done, take all the ingredients given under grind in a mixer, add ¼ cup of water and grind it to a smooth paste.Pour this paste into the veggies. Add salt and mix well.

Let this simmer and get to the point where all the liquid gets almost absorbed.Take it off the stove.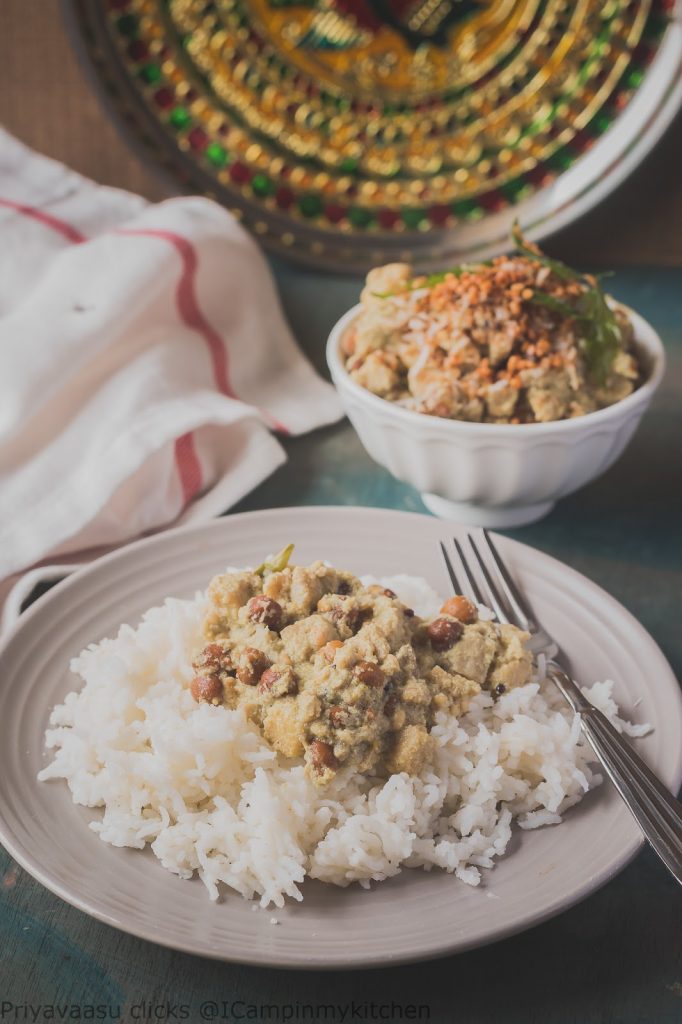 Heat a pan with coconut oil, splutter mustard seeds, add urad dal and sauté until it turns golden brown , add curry leaves and the fresh coconut to it. No's sauté until the coconut gets nicely toasted and golden beown. Add this hot tadka to the curry and serve to warm with hot rice.